Tender roasted carrots are an excellent healthy snack or side dish. This recipe makes perfectly roasted carrots in the air-fryer or oven.
Roasted vegetables make quick and easy side dishes. Crispy mushrooms, roasted asparagus, air fryer cauliflower and crispy fingerling potatoes are all excellent choices.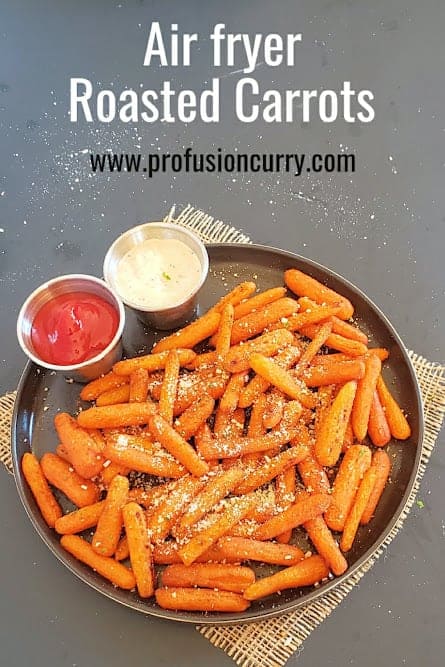 Air Fryer Roasted Carrots
Air fried baby carrots are crisp on the outside and tender on the inside with a good bite to them. You can use different types of carrots to make this recipe.
Roasting at high temperature caramelizes the carrots. It accentuates the natural juicy sweetener. End result? Sweet carrots that are full of flavor.
Quick and Easy Side Dish
The important advantage of Roasting carrots in an air fryer is that it's quick and fast compared to an oven. They get done in half the time. I love quick, easy and delicious food that also is so good for you !
Make them sweet or savory, whichever you prefer. I like them both.
The best part of this recipe ? The whole thing comes together in under 15 minutes.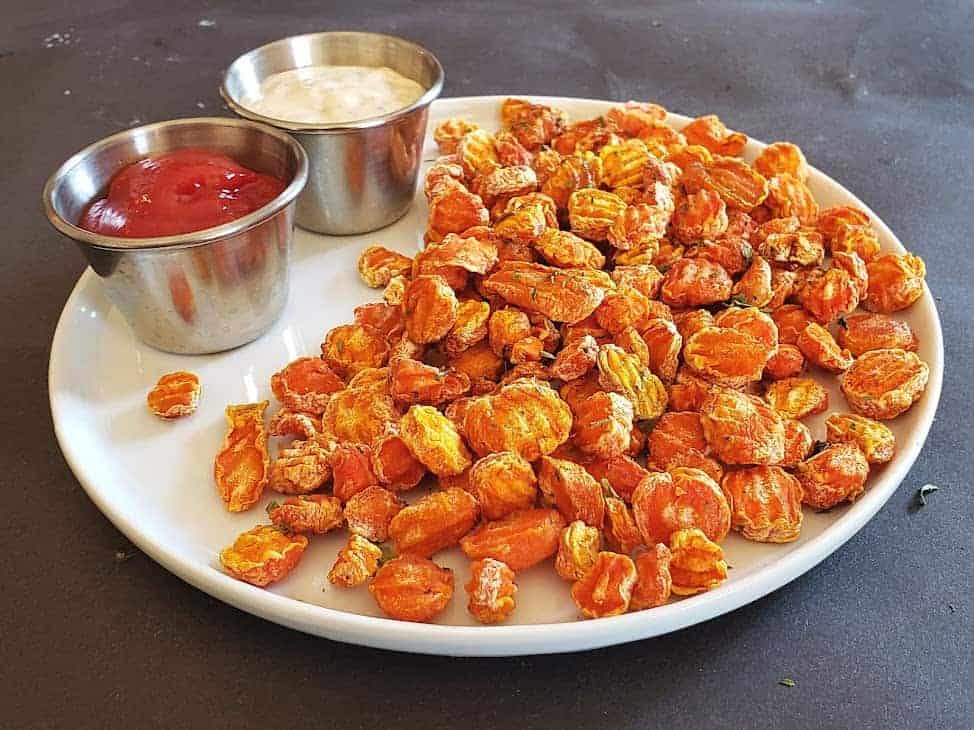 Which carrots are good for roasting?
I prefer to use bagged baby carrots to make this recipe. It cuts down on the prep time since there is no need to wash and peel or cut the carrots.
I also like to use frozen crinkle carrots. They make excellent carrot chips. No need to thaw them if you are making them in the airfryer either.
You can also use regular carrots. Make sure to cut the top off and remove the greens. Wash and scrub them well to remove any soil and peel the outer layer of skin.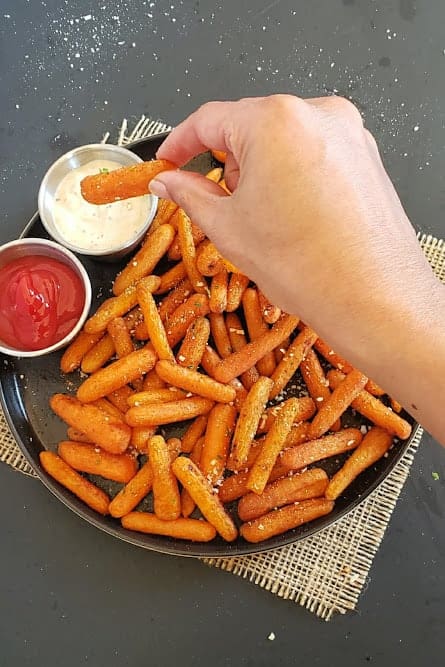 Ingredients
CARROTS – I prefer to use baby carrots or frozen crinkle cut carrots . If you plan to use regular carrots, Wash them and then cut the green leaves and top off. Peel and cut them into 3-4 inches lengthwise and then half or quarter depending upon how big and thick the carrots are.
OIL or OIL SPRAY – Just a little oil so the carrots stay warm and not dry out while cooking. You can use few spritzes of oil spray as well. For WFPB cooking, skip oil.
SEASONING – Salt, ground Black Pepper, smoked paprika and garlic powder are my favorite flavor combo. I am listing few other sweet and savory flavor combinations which taste amazing with this recipe. Do try them.
HERBS – You can use fresh or dry herbs for additional earthy flavors. I like parsley but rosemary, cilantro, thyme, or Oregano also works.
PARMESAN CHEESE – This is optional. But a little sprinkle on the top adds great depth of flavor. Use vegan version or nutritional yeast to make this recipe plant based and dairy free.
Useful Kitchen Gadget
Air fryer – I love my Instant Vortex Air Fryer. Totally recommend it if you are looking to buy a new one.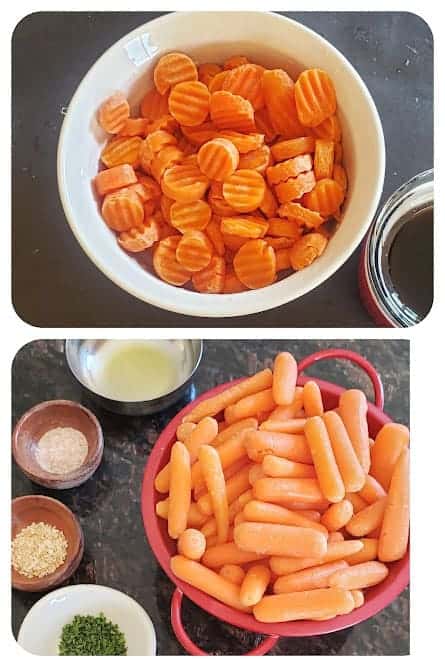 Other Flavor Combinations that taste well
Balsamic Glaze
Honey + Paprika
Curry Powder + Lemon juice
Maple + Cinnamon
Ranch dressing
Brown sugar + Cinnamon
Air Fryer Instructions
In a large mixing bowl, combine the carrots with olive oil and salt and pepper.
Place in the air fryer basket and cook on 380 degrees Fahrenheit for 15 minutes, shaking halfway through.
Once done, toss in with garlic powder, paprika, parsley and parmesan cheese (if using). Mix well. Adjust the salt and pepper. Serve warm. Enjoy.
Oven Instructions
Pre heat 400 degrees Fahrenheit. Line a large baking sheet with parchment paper.
In a large mixing bowl, combine the carrots with olive oil and salt and pepper.
Place the carrots on the baking sheet and bake for 20 minutes, shaking halfway through.
Once done, toss in with garlic powder, paprika, parsley and parmesan cheese ( if using). Adjust the salt and pepper. Serve warm. Enjoy.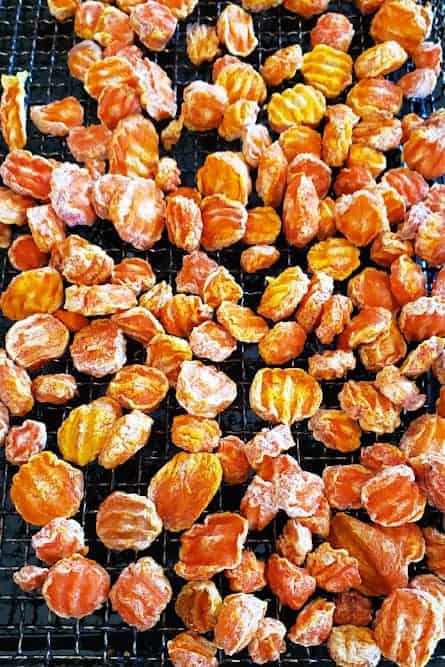 Pro Tips
To save on efforts, use baby carrots or frozen carrots.
Seasoning tends to burn and taste bitter when cooked on high heat so I prefer to roast carrots with just a little oil and salt and pepper. I season them right after the cooking so the flavors are perfect and no burnt taste.
Use crinkle cut frozen or fresh carrot chips so the seasoning stays on the chips. These carrot chips are my favorite healthy snack.
Serving Ideas
Roasted carrots make excellent side dish. You can pair it with hearty stews or soups like Moroccan Lentil Stew, Stuffed Cabbage Stew or Portobello Mushroom Burgers.
Looking to enjoy healthy , non-greasy snack? Make roasted carrot chips in air fryer. Similar to Crispy Roasted Chickpeas , Kale Chips and Smashed Potatoes, these carrots are non fried, low -oil and delicious.
Pair it with dips like ranch dressing, avocado lime dressing, homemade tzatziki or creamy hummus for appetizer or after school snacking.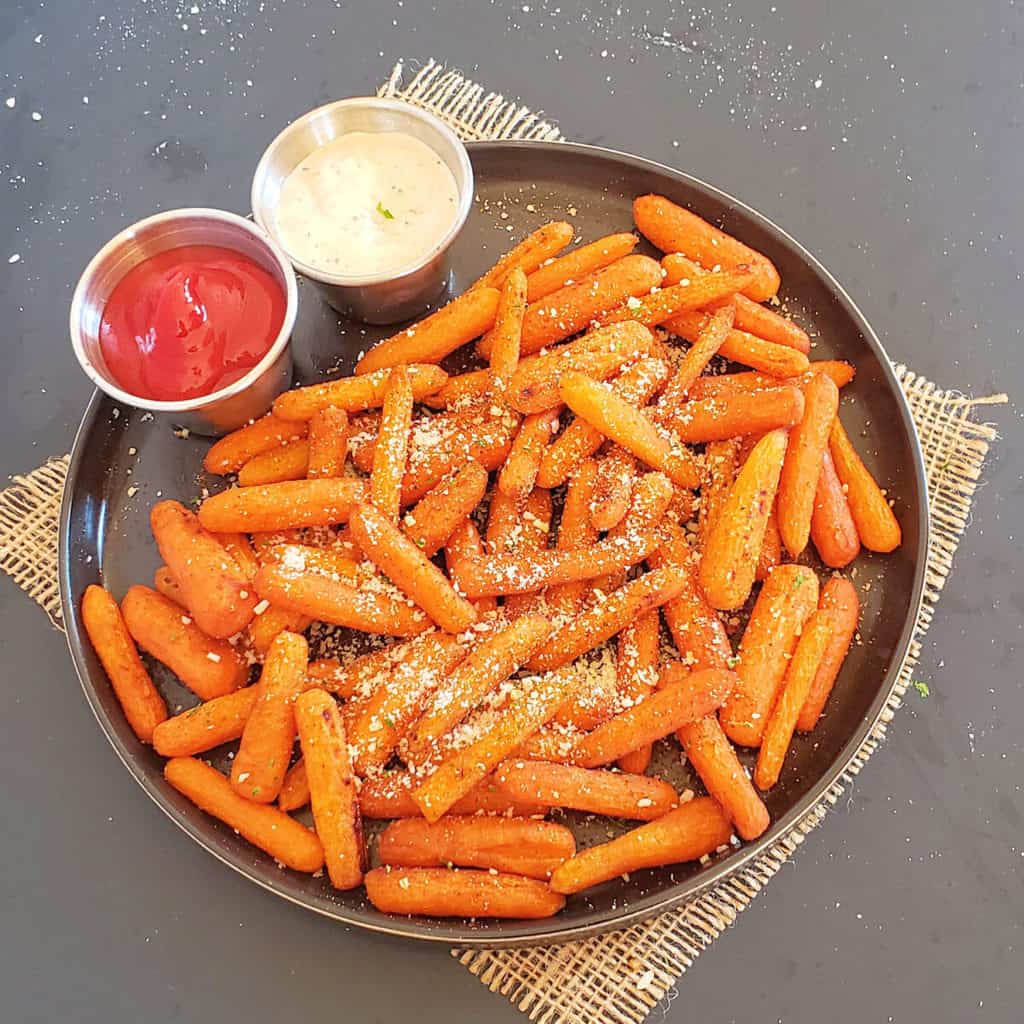 Storage and Reheating
Roasted carrots stay well in the refrigerator for up to 3 days. They are SO GOOD, chances are you won't have much of leftovers. I do not recommend freezing them.
To reheat, simply put the microwave for a minute or two. You can also air fry them for 3-4 minutes until heated through.
Additional Vegetarian Air Fryer Recipes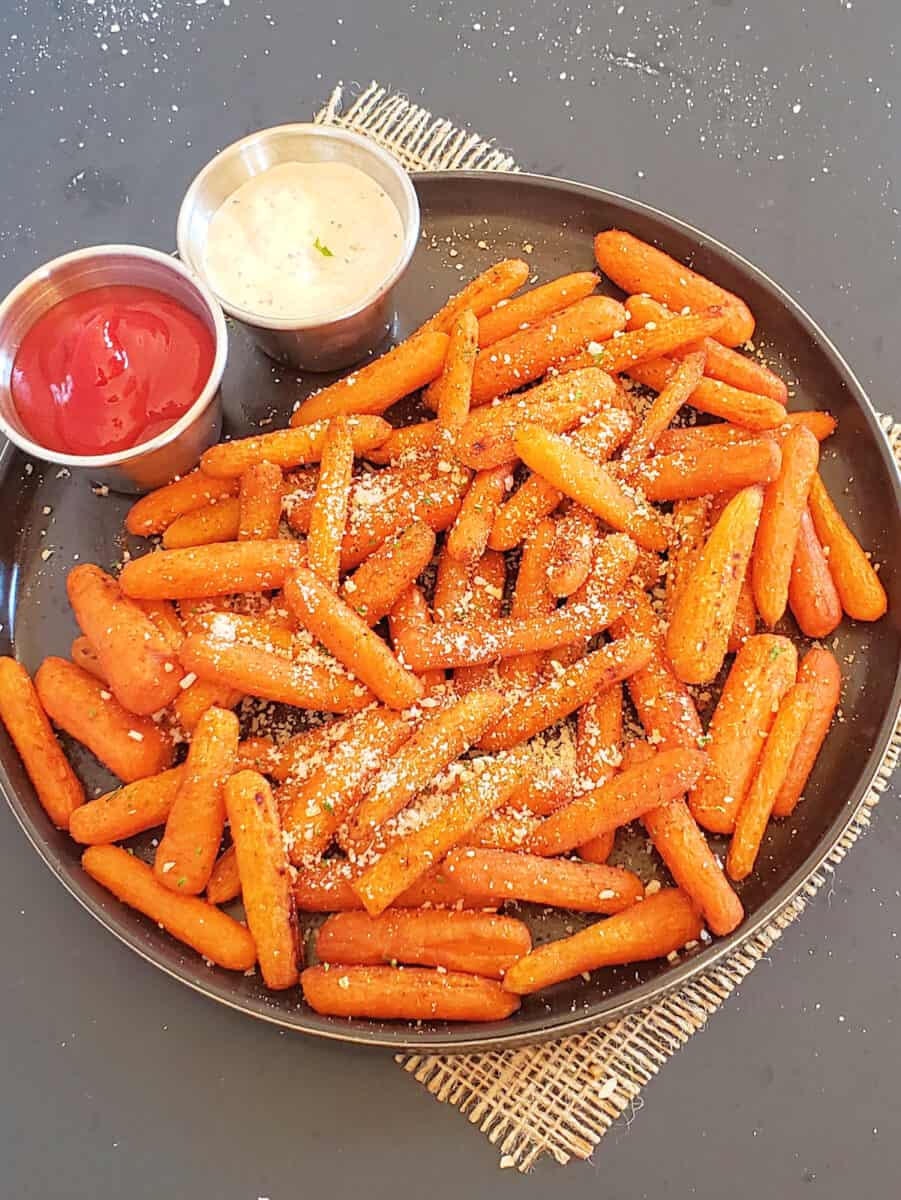 ♥ Follow us on PINTEREST and like our FACEBOOK page. We love creating delicious and easy family friendly recipes from around the world. DO JOIN US ♥
We would love to hear your feedback!! Use the PIN button in the recipe card or image below to pin this recipe !
★ If you make this Air Fryer Roasted Carrots Recipe , do let us know how you like it by ★ star rating it and leaving a comment below.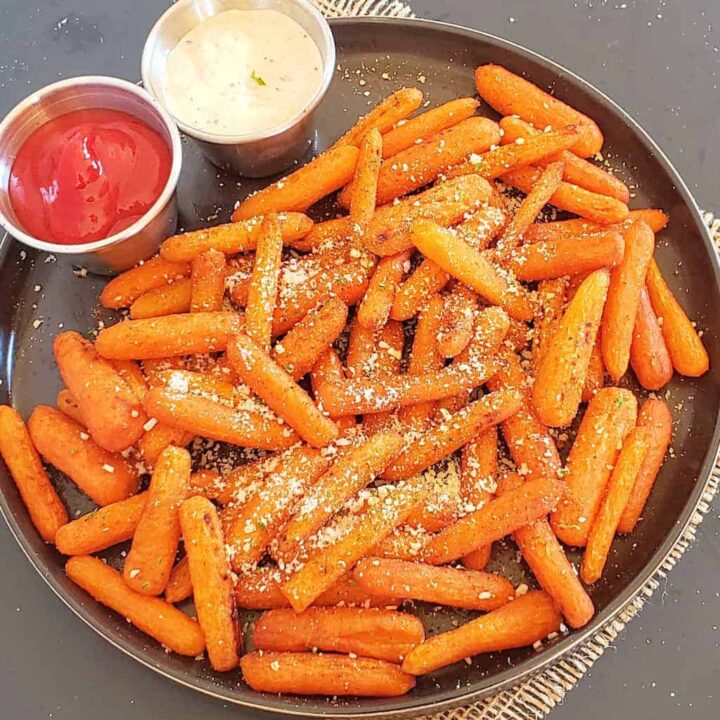 Roasted Carrots in Air Fryer or Oven
Roasted carrots are easy to make and a healthy addition to any meal. Our recipe provides basic instructions on how to roast carrots in the air fryer or oven.
Ingredients
4

cups

carrots - use fresh or frozen

baby carrots or carrot chips preferred

1

Tablespoon

Olive Oil or Oil Spray
Optional Garnishes
Herbs - dry or fresh chopped parsley

parmesan cheese or nutritional yeast
Instructions
Air Fryer Instructions
In a large mixing bowl, combine the carrots with olive oil and salt and pepper.

Place in the air fryer basket and cook on 380 degrees Fahrenheit for 15 minutes, shaking halfway through.

Once done, top with garlic powder, paprika, parsley and parmesan cheese (if using). Adjust the salt and pepper. Serve warm. Enjoy
Oven Instructions
Pre heat 400 degrees Fahrenheit. Line a large baking sheet with parchment paper.

In a large mixing bowl, combine the carrots with olive oil and salt and pepper.

Place the carrots on the baking sheet and bake for 20 minutes, shaking halfway through.

Once done, top with garlic powder, paprika, parsley and parmesan cheese ( if using). Adjust the salt and pepper. Serve warm. Enjoy
Notes
Other Flavor Combinations that taste well
Balsamic Glaze
Honey + Paprika
Curry Powder + Lemon juice
Maple + Cinnamon
Ranch dressing
Brown sugar + Cinnamon
Nutrition
Serving:
1
g
Calories:
189
kcal
Carbohydrates:
22
g
Protein:
4
g
Fat:
10
g
Saturated Fat:
1
g
Polyunsaturated Fat:
8
g
Cholesterol:
1
mg
Fiber:
7
g
Sugar:
7
g