These grilled portobello mushrooms are a tasty vegetarian alternative to meat burgers. These mushrooms are brushed with a lemon and olive oil as they grill. Simple yet delicious ingredients come together to make a quick, vegetarian dinner . Perfect for weeknight dinners or even sophisticated entertaining, Portobello mushrooms make a major contribution when it comes to meatless options. I can't remember how many times I have been served this combination dish in the events when I put vegetarian as preference.
You can pair the grilled mushrooms with several vegetables. Zucchini, colorful peppers or even Brussels sprouts grill well when seasoned and marinated. Early spring, when asparagus is in season and abundantly available, I love to combine these two. Simple marinade lets you enjoy all the natural flavors .
I often make it on the stove top on the indoor grill. Spring temperatures are very unpredictable around us . So firing the grill outside is often tedious. The stove top grill chars the mushrooms and asparagus very quickly. Of course, if you have the outdoor grill available, by all means use it there. The slight smoky and delicious flavor might just invite your neighborhood too ?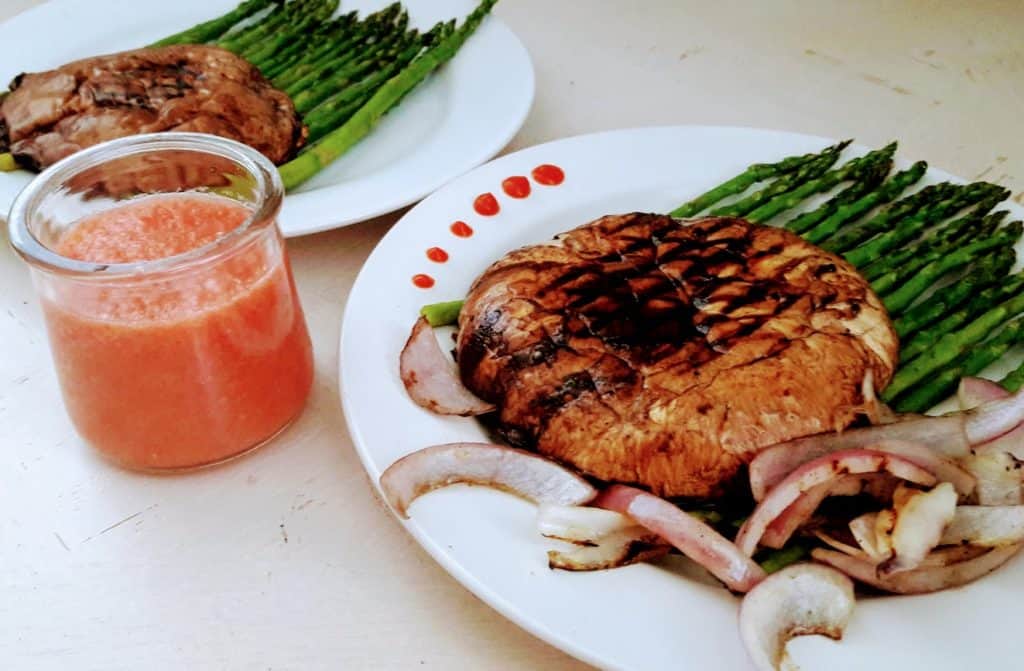 For making this vegan, Glutenfree and grain free recipe you will need
Ingredients:
4 caps of medium size Portobello mushrooms
1 pound of fresh asparagus
1 red onion
For Marinade:
2 tablespoon evoo – extra virgin olive oil
2 tablespoons of balsamic vinegar
4 cloves of garlic minced
All purpose seasoning. ( I am using 21 seasoning salute from Trader Joe's)
Fresh stalk of basil ( dried works too )
Salt and pepper to taste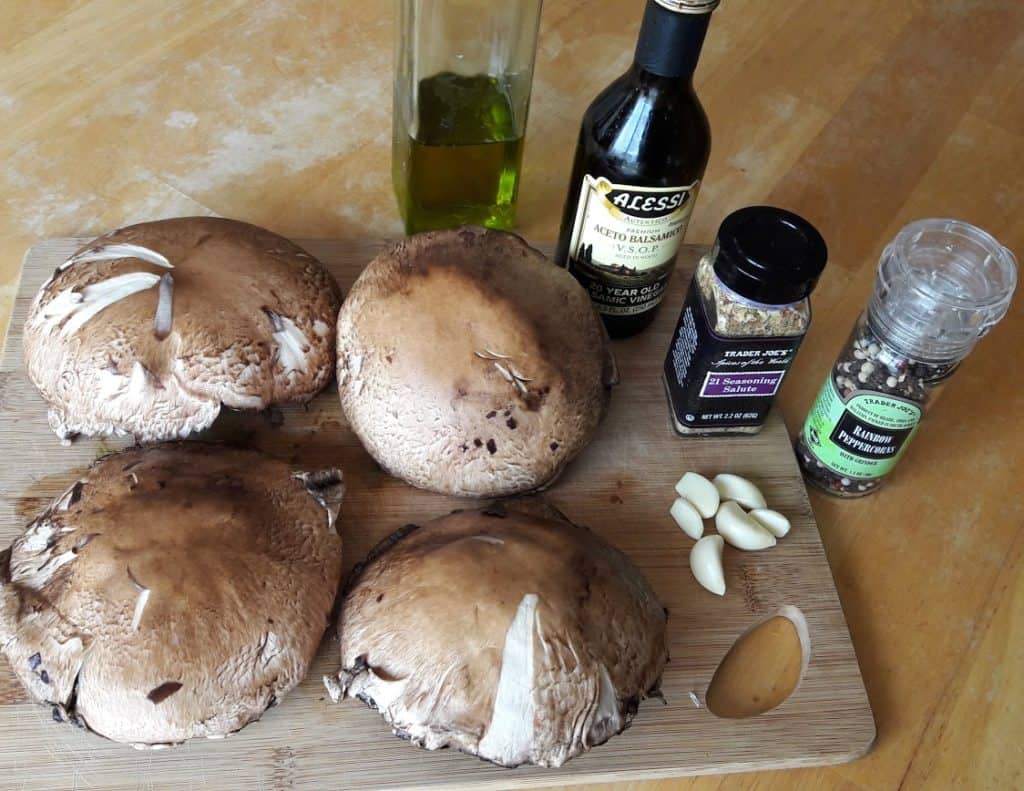 Directions :
Rinse and dry fresh asparagus. Cut the bottom 1/3 of the steams. They often have sand stuck to them so wash carefully.
Clean mushrooms and remove stems. Wipe the soil with wet pepper towel if any. Place caps on a plate with the gills up.
Combine all the marinade ingredients together. Whisk well so they blend in well. Pour a spoonful over each mushroom cap. Spread it around so it covers entire cap. Toss and add some marinade on asparagus and coat well. Let it sit for an hour so the ingredients get soaked well in the vegetables.
Prepare an outdoor grill or indoor grill pan by lightly brushing the oil. Remove mushrooms from marinade. Grill mushrooms for 15 to 20 minutes, turning once. Remove from grill to a platter. Add the marinated asparagus to the grill . Let it char on one side about 5 mins, then flip over other side 3-4 more minutes. Repeat the grilling for cut red onions. Take them out of the grill. Squeeze fresh lemon juice over and sprinkle some fresh herbs on the top ( optional) . Together it becomes one scrumptious meatless meal. Very satisfying and healthy. Meaty mushrooms, tender asparagus and grilled onions give your palate an unforgettable experience.
Serve hot or at room temperature. Sit down, relax and enjoy sensational and restaurant worthy fancy meal .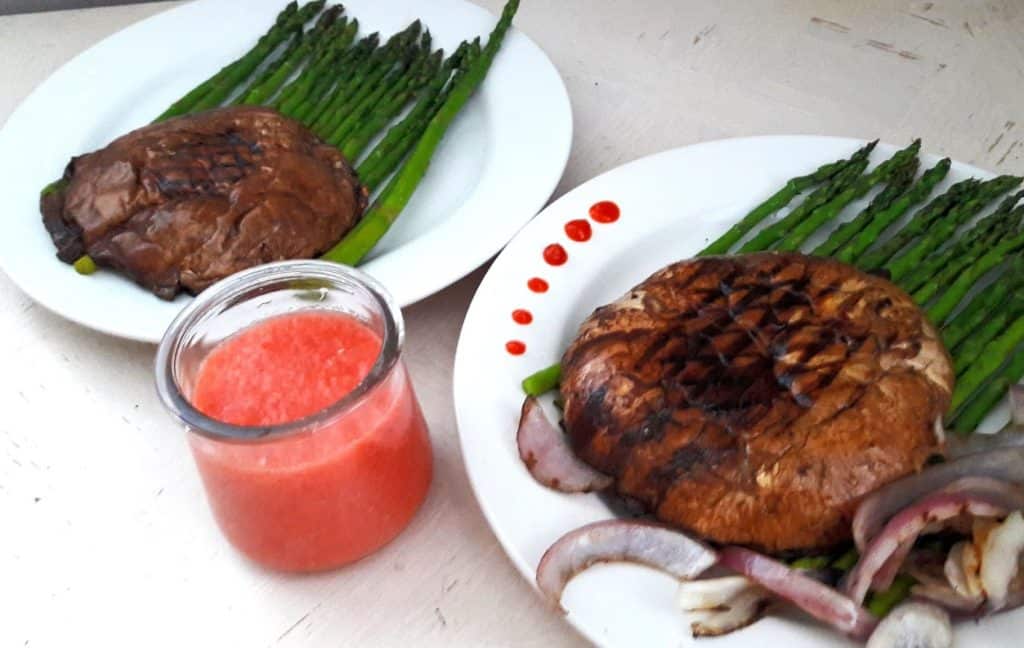 On a hot summer days of dining el fresco, I like to whip out quick Gazpacho to serve along this dish. A pop of color and refreshing taste surely takes this meal to another notch. A complete nutritional meal that is easy to prepare and satisfying. Life is good with good food and healthy body !!
Check out the Refreshing Summer Gazpacho Recipe here
■Let us know how you like this recipe by leaving a comment and rating it so other readers know it too. And while you're at it, take a picture and tag it #profusioncurry on Instagram! We love seeing what you come up with. Cheers, friends■