Instant Pot Dal Palak is delicious Spinach Lentil Curry. This healthy and wholesome Indian Dinner Curry is packed with plant protein and fiber. Pair it with steamed rice for a delicious, nutritious and comforting meal. You can make this recipe in under 30 minutes.
This vegetable dahl recipe is super easy to make. All you need is basic pantry staples and fresh or frozen spinach to make this delicious curry. This recipe is perfect for everyday easy meals similar to Potato and Peas Curry and Black Eyed Peas Curry . It also does not need much pre-planning.
This Dal Palak recipe is vegan, gluten-free, nut free and soy free. You will love that using only basic ingredients and spices that are already in your pantry, turns into a comforting healthy meal.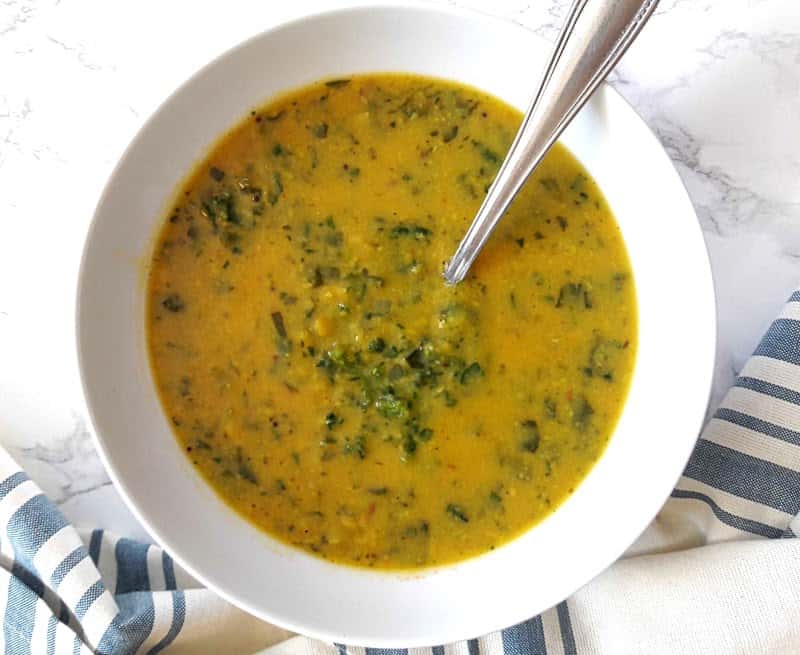 Dal (dahl) is a basic staple across all Indian subcontinent. Dal is a generic term used to describe all dry legumes/lentils, beans and even peas.
For vegetarians, it provides an extremely good source of plant based protein and complex carbohydrates, it is my go to choice for making healthy one pot complete meals.
Spinach , widely regarded as Super food, is very nutritional dense addition to any meal. It is high in vitamins including folate, niacin, vitamin A, vitamin B6, vitamin C. It also provides important minerals including iron, potassium, manganese, zinc, magnesium and even some plant calcium to the body.
Spinach is also rich in pigments like beta-carotene, lutein, xanthene, and chlorophyll. Similar to other green leafy vegetables, spinach has very low-fat content. It also helps boosts metabolism.
With increasing screen time for all of us including our precious kids, maintaining and improving eyesight is a major concern. Spinach with it's well regarded benefits helps with that naturally. So, we try adding in spinach in most meals possible.
I prefer to cook spinach along with most beans and lentils or even grains like rice and quinoa to get all the extra benefits while making a naturally healthy meal.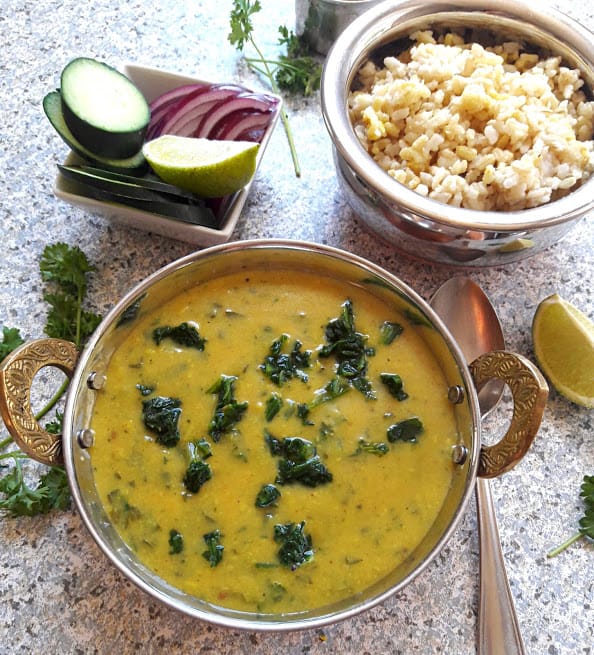 Can I Use Dal Palak / Spinach Dal as A Meal Prep?

You absolutely can. You also can easily double or triple the recipe. Cooking time will remain the same. It freezes well and makes excellent choice for wholesome and delicious lunch.
I often pack it with Basmati rice, some cool cucumber slices and Flax Seed Chutney. This budget friendly recipe provides nutritious and comforting lunch at a fraction of cost. All without much of hands on cooking. A win win for sure.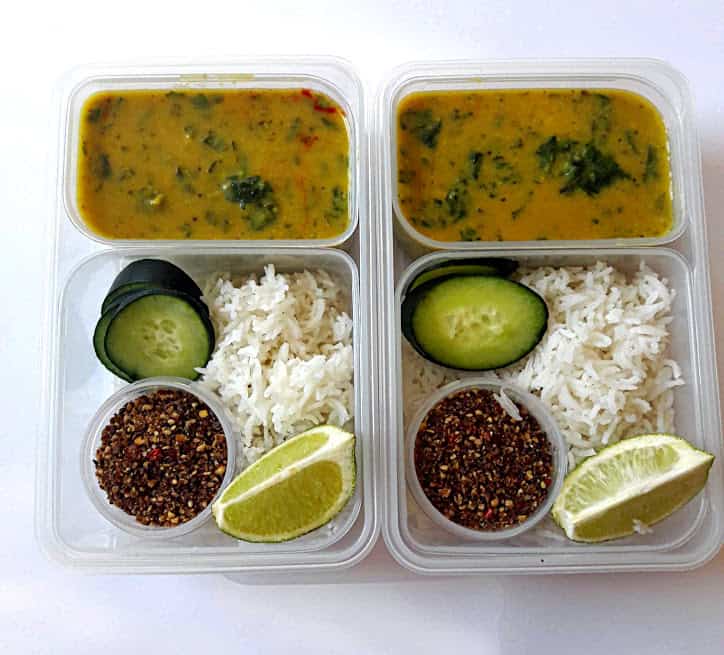 How To Make Dal Palak / Spinach Lentil Curry?
To make this Dal Palak / Spinach Lentil Curry, you can use InstantPot or Stovetop cooking method. If using Instantpot, you can do tampering of the oil, sauté the washed dal and cook it with spices.
Traditionally, dal is cooked separately and then spices and oil tampering is added later. However, doing it one go saves times, and makes it a one pot wonder meal. Less dishes to clean and less time monitoring the cooking too.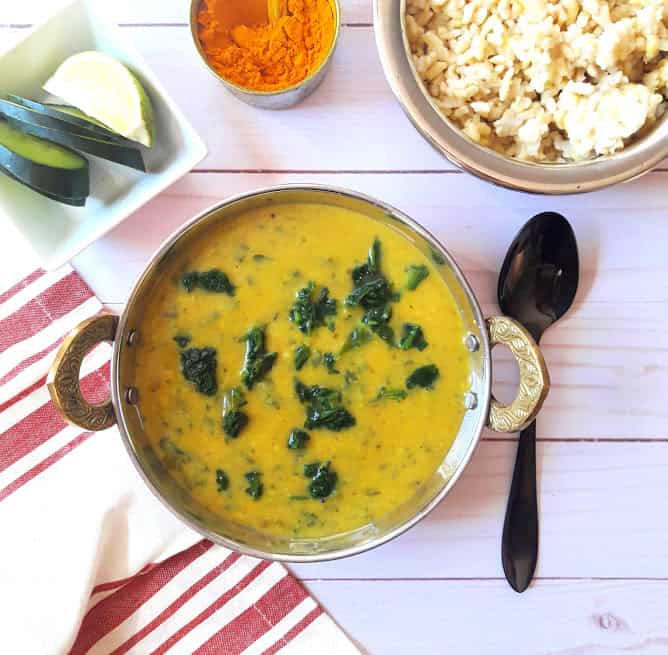 What are Ingredients of Instant Pot Dal Palak?
Dal – As the name suggests, the dal and the spinach are the star ingredients of this recipe. I use ½ cup each of Moong dal and Toor dal ( called Arhar Dal in Hindi) . You rinse and wash these lentils and drain the water. No pre-soaking is required.
Spinach – I also use a cup of chopped spinach. You can use fresh or frozen. I often have Trader Joe's Organic Frozen Spinach bags stocked up in my freezer. I use them for almost all my recipes that require spinach.
Garlic, Lemon juice and Cilantro – We add garlic cloves for additional flavors. A bit of lemon juice adds freshness and so does cilantro as garnish.
Spices– I like to keep this dal simple. So very few spices are used. We tamper the oil with mustard and cumin seeds and add curry leaves for extra flavors. The red chili powder and turmeric powder and garam masala round up the spices.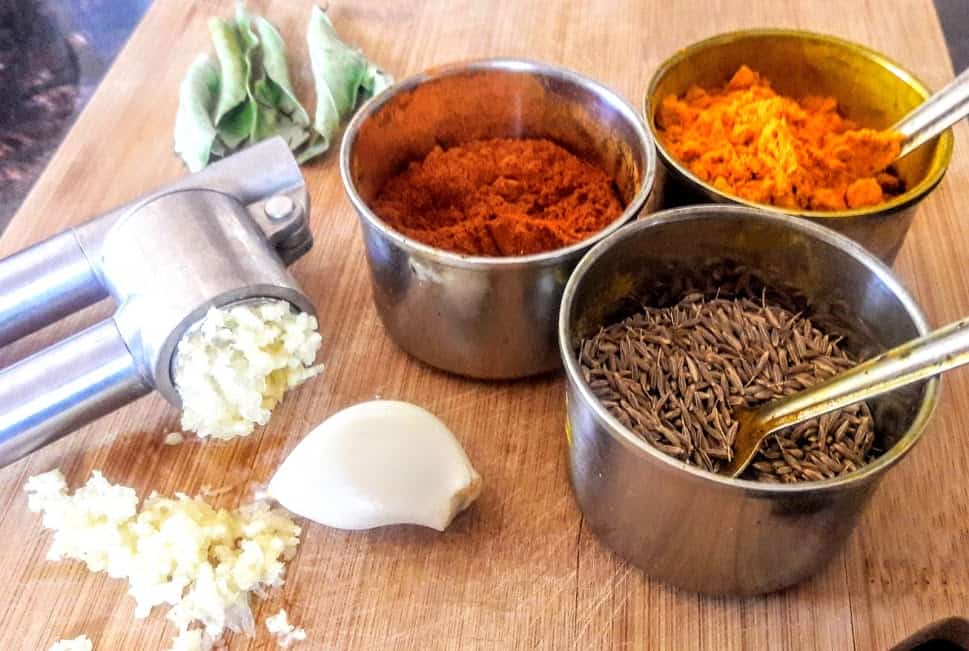 How to Make Dal Palak and Rice together in Instant Pot?
While you are preparing the daal, In the same pot, you can make up to 2 cups of rice using PIP –"Pot In Pot" method.
Make the mixture of the dal as described above in the main insert. Put a tall trivet in the middle of the mixture. Use a stackable container.
Add rinsed rice grains, add 1:2 ratio of water for rice to cook. Since the dal and rice cooks at the same time. You get one complete, healthy, nutritious meal in one pot.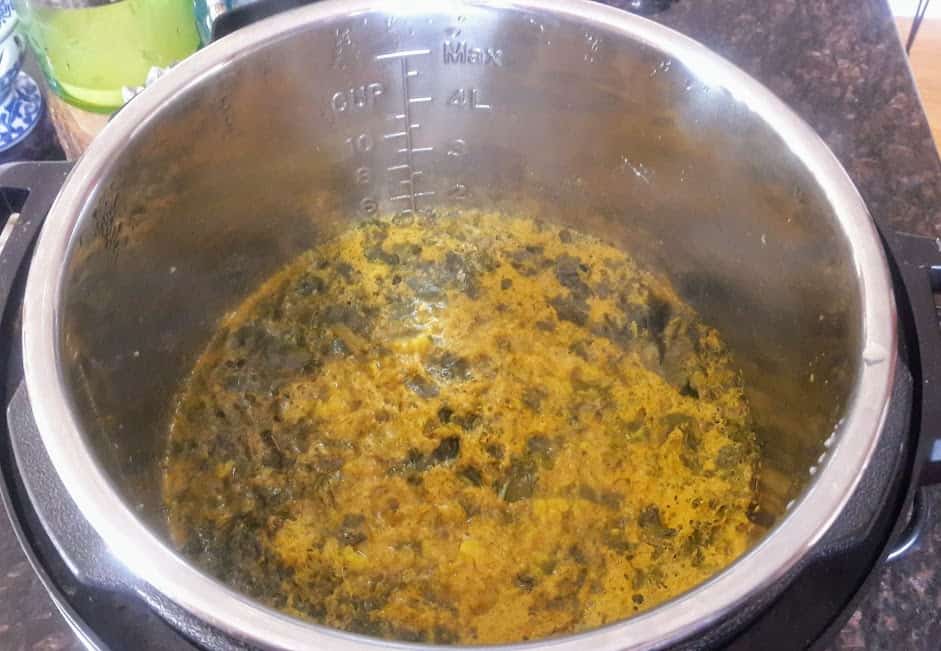 Do you like Indian Food? Check out these delicious and popular recipes from our kitchen.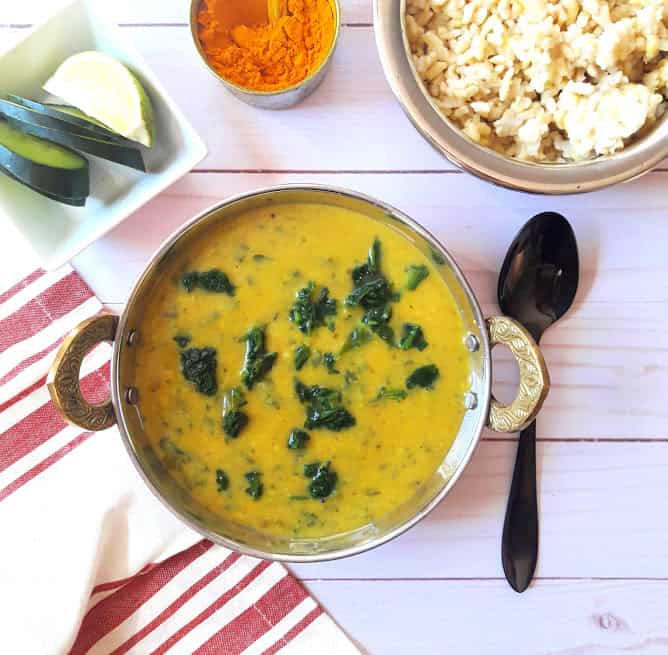 Don't forget to take pictures when you make our delicious recipes. Tag us with #profusioncurry on Instagram ! We would love to feature your creation.
Join us on Pinterest and FACEBOOK . You will love all our delicious, wholesome, plant based recipes from around the world.
★ If you make this Instant Pot Dal Palak Recipe do let us know how you like it by ★ star rating it and leaving a comment below.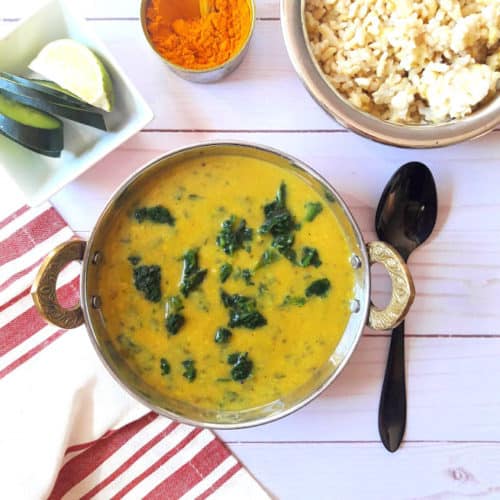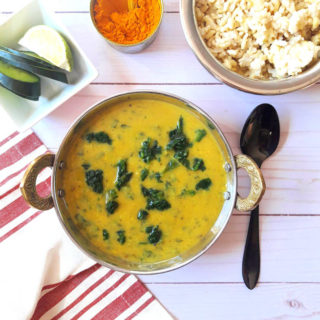 Instant Pot Dal Palak - Vegan Spinach Lentil Curry
Dal Palak or Spinach Lentil Curry is delicious and comforting Indian staple recipe. This nutritional main dish is packed with plant protine and fiber. Wholesome, healthy dish is vegan and glutenfree. It easily can be made in the Electrical Pressure Cooker.
Instructions
Instant Pot Directions:
Turn Instant Pot on SAUTE. Add oil, once heated, add cumin and mustard seeds. Once they crakle, add curry leaves and minced garlic and cook for 15 seconds.

Add spinach , turmeric, red chili powder, garam masala and salt and cook for 2 minutes. Add both the lentils (dals) and 2.5 cups of water. Mix well. Close the lid. Cancel Sauté. Change it to Manual 6 minutes High Pressure.

Once Instant Pot does cooking, let pressure release naturally. NPR

Add lemon juice and mix well. Adjust consistency of lentils by adding more water if needed. Adjust seasoning and salt if needed. Garnish it with chopped cilantro leaves and serve hot.

In the same pot, you can make up to 2 cups of rice using PIP - Pot In Pot method. Since the daal and rice cooks at the time . So you have one wholesome, healthy, nutritious meal in one pot.
Stove Top Instructions
On a medium heat, add oil in a Soup pot or Dutch oven. Once oil feels hot, add cumin and mustard seeds. Once they splutter in a minute or so, add minced garlic and curry leaves. The oil will sizzle some.

Add all other ingredients except spinach and cilantro and mix well. Cover the pot and let it simmer on low heat for about 15 minutes. Check frequently to make sure there is enough water for it to cook.

The dal should be smooth and tender. Add spinach and cilantro and let it cook further for 5 minutes. Add lemon juice and mix well. Serve hot.
Notes
For WFPB Oil Free Cooking - Simply skip the oil tampering part. You can use 2 tablespoons of warm water and follow rest of the instructions.
Curry leaves add a distinctive earthy flavor to the daal. It is widely available in most Indian grocery stores. However, if you can't find it easily, you can easily skip it and won't sacrifice much of the taste. You can always add a bay leaf for additional flavors.
Nutrition
Serving:
1
cup
Calories:
138
kcal
Carbohydrates:
17
g
Protein:
7
g
Fat:
5
g
Polyunsaturated Fat:
4
g
Sodium:
480
mg
Fiber:
7
g
Sugar:
2
g