Tangy, spicy and lip smacking yummy – Dabeli ! This popular Indian street food is simply the BEST. And it's very easy to make at home.
Mashed potatoes are infused with spicy dabeli masala and served with myriad of delicious toppings. All this gets stuffed in buttered buns or pav. Results are finger licking delicious Indian Chaat that is simply da BEST !!
THE RECIPE CARD IS LOCATED TOWARDS THE END. Amazon affiliate link disclosure is below as well. Before scrolling to the recipe card, do check the HELPFUL RECIPE TIPS in the post.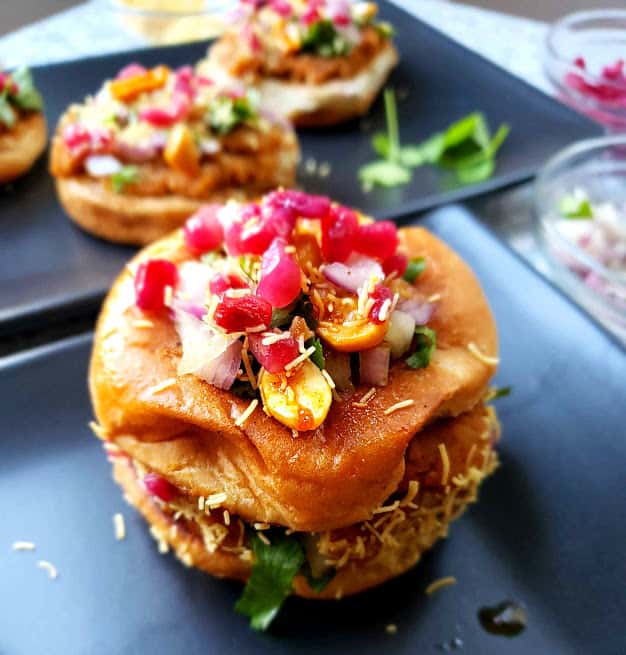 Indian street food ! Absolutely best thing out there. Lots of varieties but same nostalgic taste that tickles your memories and taste buds..
It can be eaten any time of the day.. breakfast, lunch , snack, in between, dinner and afterwards too.
Any time is good time to grab some delicious street food variety. Cornucopia of flavors and fiesta for the taste buds.
There is chaat, bhel, samosas, kachori, pani-puri, pav bhaji, tawa pulao, misal and more.. endless combinations…all sooo good and affordable.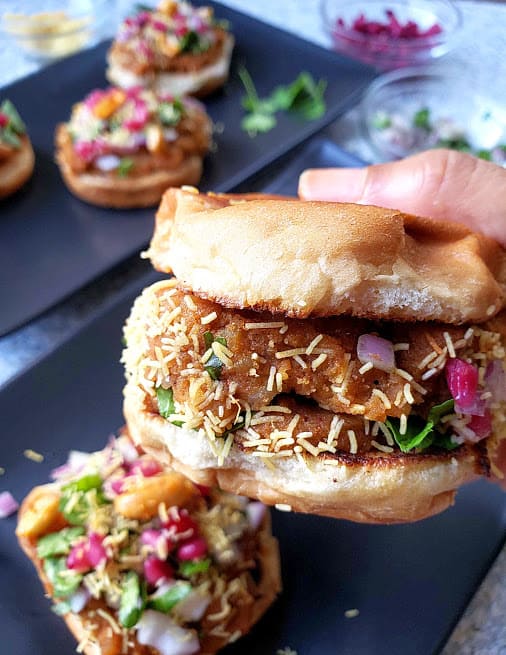 Dabeli or dhabeli or Kachchi Dabeli is one such popular Indian Street food snack. This popular recipe originated in Kutch ( Kachcha ) region of India so it's called Kutchi Dabeli.
You find street vendors with big platter of dabeli masala and stacks of garnishes across many street corners of Mumbai, Pune and cities across Maharashtra and Gujarat.
Dabeli is one of the easiest recipe to make at home too. You dress it up bit fancy and it becomes a perfect hors d'oeuvre for parties.
Beautiful , delicious sliders as my kids call it, dabeli is my go to choice to serve at Diwali and other festival parties.
It also is a great party appetizer to serve during tea parties, kitty parties, book club meetings and casual get togethers.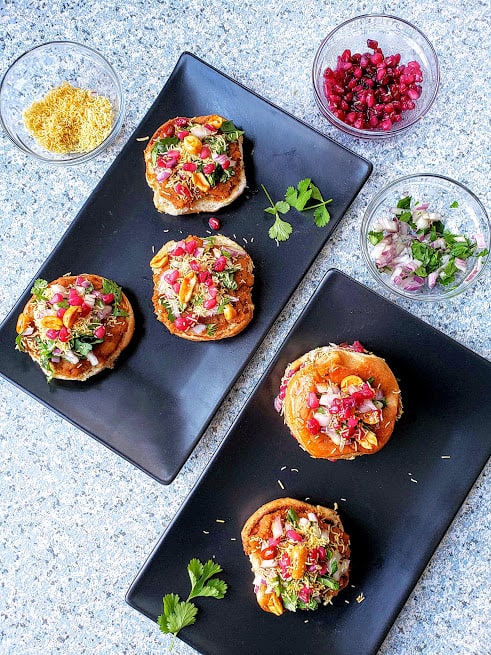 You will love this dabeli recipe since
✓ is tangy, spicy, bursting with flavors and texture.
✓ total crowd pleaser – perfect party appetizer
✓ Dhabeli is very easy to put together.
✓ Dabheli stuffing can be made ahead of time as well.
Gather all ingredients together and roast some paav or slider buns and you are good to go!
What are the ingredients of Dabeli ?
Dabeli has several layers of flavors involved in it. Let's meet them.
Dhabeli Masala – this is the base or the main ingredient. You can make it at home or use store brought. I have used both and they taste amazing either way.
Mashed potatoes: we sauté the dabeli masala with boiled mashed potatoes. It creates the base of the stuffing.
Paav or buns : you can use Indian style pav bhaji buns if they are easily available. I also have used hot dog buns and they turn out perfect too. For open face beautiful presentation, I prefer to use SLIDER buns. They are easily available in regular grocery stores.
Chutneys: no chaat is complete without good chutneys. Dhabeli uses sweet tamarind chutney and chili garlic chutney.
Extra garnishes: this is flavor layering part. You top it off with sev (fried savory chickpea flour snack), pomegranate seeds, masala peanuts, desiccated coconut, cut onions, lemon juice and cilantro. Yummy !!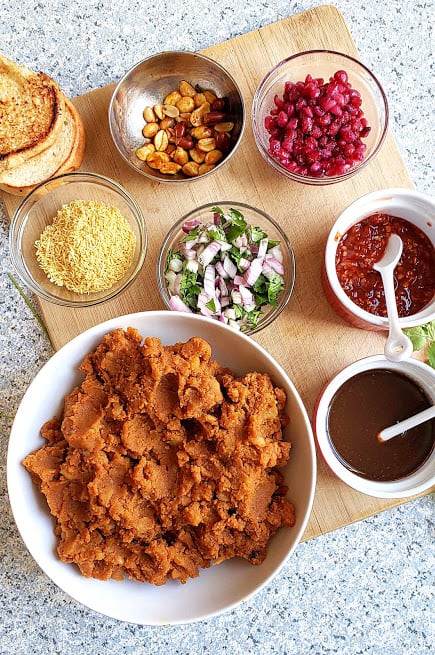 It short, it's a party for your taste buds with all the amazing and explosive flavors ! Exotic yet easy , you will love this recipe.
I am listing recipes for making homemade chutneys and dabeli masala in the recipe card. However if you are pressed for time, store brought items work just as well.
Adding Amazon affiliate links for my go to items below.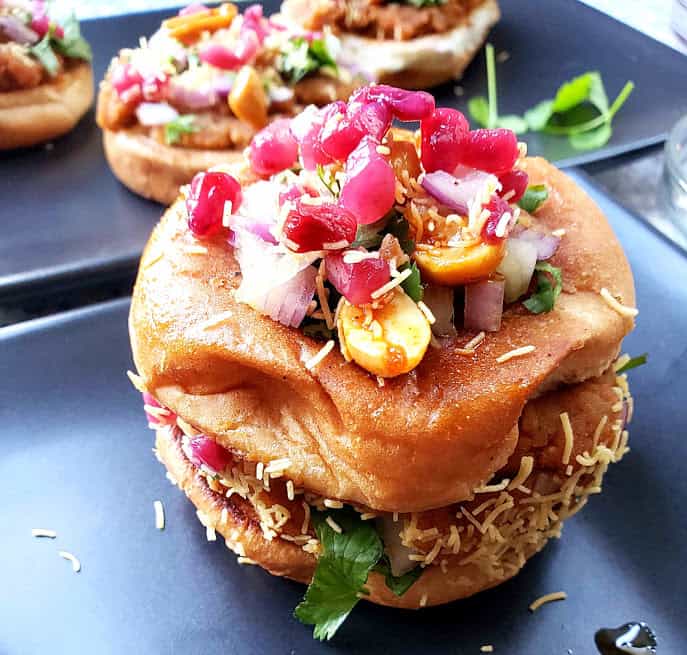 How to make dabeli at home ?
Below are easy steps to make this delicious recipe at home.
1. Boil the potatoes. Remove the skin and mash the potatoes. Adding InstantPot directions to make boiled potatoes in the recipe card below.
2. Roast the dabeli masala with little oil. Once it heated, add mashed potatoes and mix everything well.
3. Roast the paav or slider buns with butter or oil on heated tawa.
4. Arrange and assemble the dabeli.
5. Devour and repeat!!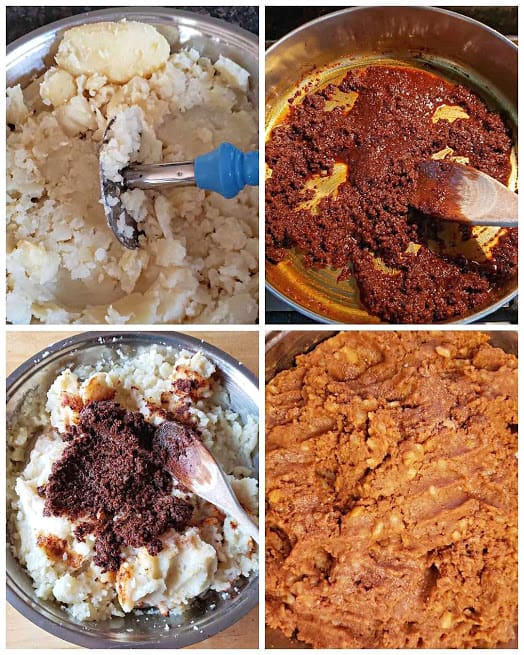 InstantPot Instructions to cook the potatoes :
You can use InstantPot or electric pressure cooker to boil potatoes instead of stove top. I love this method since I can leisurely do it anytime. Even on timer. Unlike stovetop, I don't have to actively monitor the cooking process either.
Pour 1.5 cup of water in steel insert of the InstantPot or electric pressure cooker. Put a steamer basket in the main insert. Arrange the potatoes in single layer. Close the lid. Set the valve to sealing or vent closed. Choose MANUAL or PRESSURE COOK setting on high for 6 minutes.
Once InstantPot or electric pressure cooker beeps after it's finished cooking, wait on keep warm timer for 5 minutes. Release the leftover pressure by moving the valve from sealing to venting. Open the lid. Your boiled / steamed potatoes are ready !!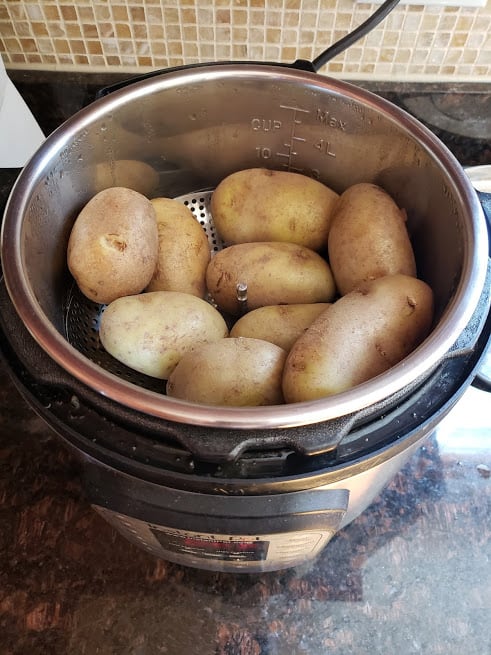 Do you like Indian Food ? Want to learn some easy Indian Food Recipes ? Do check out some our favorite and popular recipes.
Don't forget to follow us on Pinterest and like our FACEBOOK page. We love creating delicious , plant based recipes from around the world. DO JOIN US !!
We would love to hear your feedback!! Use the PIN button in the recipe card or image below to pin this recipe ! ★ If you make this Dabeli Recipe, do let us know how you like it by ★star rating it and leaving a comment below.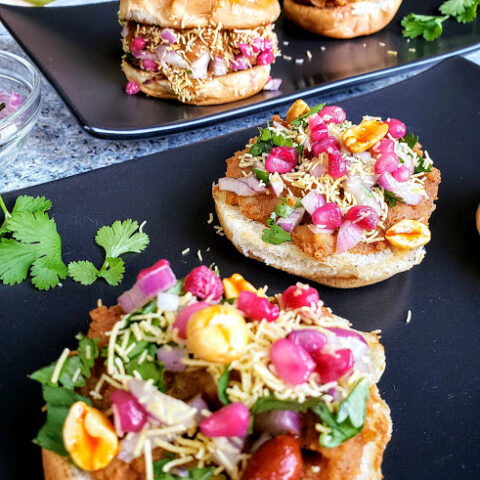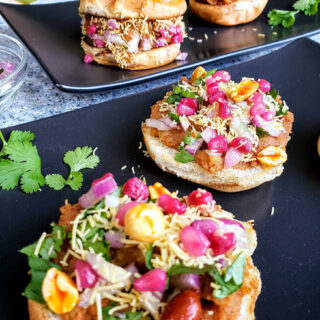 Dabeli - Kutchi Dabeli Recipe - Indian Chaat - Party Snack
Dabeli is delicious and famous Indian street food. These spicy and tangy sliders are perfect party appetizers or snack. Learn how to make dabeli at home with step by step detail instructions.
Ingredients
6

medium

Potatoes - boiled

skin removed and mashed.

3

Tablespoon

dabeli masala - adjust per taste

2

Tablespoon

oil or butter

2

medium

Onions finely chopped

½

cup

tamarind date chutney

¼

cup

Chili garlic chutney

½

cup

Roasted Masala Peanuts

½

cup

Pomegranate Seeds

½

cup

desiccated coconut

12

pieces

Paav /bread rolls / slider buns

½

cup

Thin Nyon Sev

½

cup

chopped cilantro

⅛

teaspoon

Salt

per taste
Instructions
To make Potato Filling :
Boil potatoes. Peel the outer cover and mash them well. In a pan, heat some oil. Add dabeli masala and sauté for few minute on low heat for 2 minutes.

Add boiled potatoes to the roasting masala pan and mix well. Add 2-3 tbsp. of water to get the right consistency. Continue to stir for few minute till the potatoes are well coated with the spice mixture. Turn off the heat. Let the mixture cool down till it's safe to handle.
Assembling the Dabeli :
Arrange the potato masala stuffing on the flat platter. Sprinkle raw chopped onion, chopped cilantro, desiccated coconut ( optional) pomegranate seeds and roasted masala peanuts . Your colorful and delicious stuffing is ready.

Take bread rolls or pav. Cut them in half. Heat the pan with butter or oil. Toast the bread or pavs on the pan on both sides pressing gently while toasting them. Remove from the heat. Apply a layer of date tamarind chutney on the toasted bread. Apply a layer of chili garlic chutney over it.

Generously layer the the prepared dabeli masala mixture of potato, onion, pomegranate seeds and peanuts. Your sliders are ready !!Dip the sides of the dabeli in thin nylon sev and serve hot !! You can add more garnishes on top. Your dabeli is ready !! Enjoy !!
Notes
How to make Dabeli Masala at home ?
Mix together 3 Tablespoons garam masala powder, 2 Tablespoon amchur powder, 1/4 teaspoon salt, 2 Tablespoon sugar, 1 Tablespoon citric acid. Add 1 Tablespoon of oil in the pan. On a low heat, dry roast all these ingredients for few minutes, stirring frequently. Add in 2 teaspoon red chili powder. Mix well.
Fresh aromatic Dabeli masala is ready !!
How to make Tamarind Date Chutney?
Take 2 Tablespoon of tamarind paste, 8-10 dates ( pits removed) and 1 Tablespoon jaggery. Add 1 cup of water and gently boil the mixture for 10 minutes on low heat.
Once it cools down, blend into a smooth paste adding some salt, red chili powder and roasted cumin powder. This tamarind date chutney stays good in the refrigerator for couple weeks.
How to make Chili Garlic Chutney?
Blend 8-10 raw garlic pods, 4-6 dry red chilies, 2 Tablespoon lime juice, salt per taste and 2 Tablespoon water into a smooth paste.
Nutrition
Serving:
1
dabeli
Calories:
292
kcal
Carbohydrates:
44
g
Protein:
7
g
Fat:
11
g
Saturated Fat:
3
g
Polyunsaturated Fat:
7
g
Cholesterol:
4
mg
Fiber:
5
g
Sugar:
8
g