Penne pasta with pesto sauce and sauteed vegetables ! "Penne Pesto Primavera" say it repeatedly-doesn't it feel like a good tongue twister 😉 . Oh well ,a little humor to start off a simple classic Italian dish that is all time favorite of my family. I remember, when Pranjali was visiting me first time in Chicago almost a decade ago. I had a list of dishes which I wanted her to taste and thought she will enjoy. One of the many foods we tried was penne pesto in one of the family run Italian joint. She instantaneously loved it. We learnt how to make it at home. Authentic Italian items weren't readily available in India then . So I use to pack and take pesto sauce and some pasta along when I visited India. Those good old golden days ?
Now back to pesto pasta love. I think of all the Italian menu items, this combination is my favorite. Over last few years, our family has turned increasingly Gluten free as a preference. Initially , we cut down on our Italian eating substantially since we were figuring out the best alternatives to wheat pasta and pizza dough. Now the GF pasta and pizza options are widely available. I typically use Trader Joe's Organic Brown Rice Pasta. If you cook it exactly like they say on package, its done perfectly al dente ( cooked but firm) and tastes amazing . You won't miss the taste either.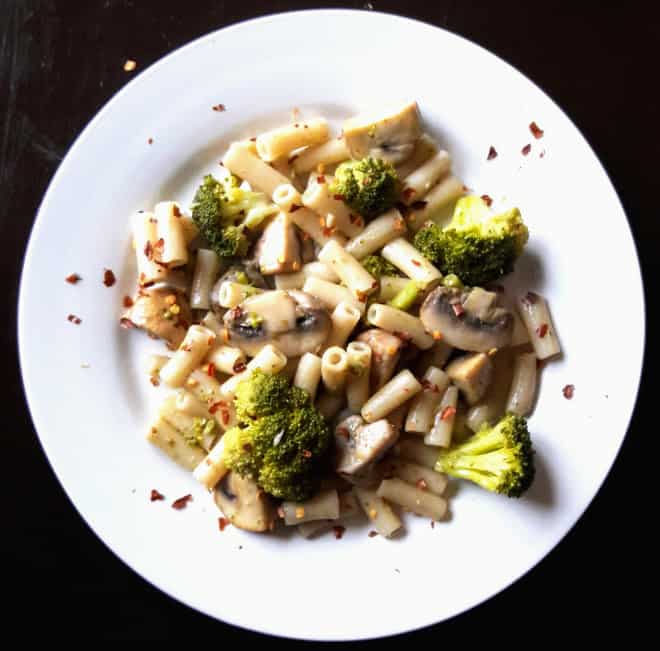 Making pesto sauce at home is also very easy. All you need is fresh basil leaves, any nuts ( preferably pine nuts or walnuts), olive oil and salt. Put them in a food processor and pulse to combine. While the machine is running, slowly add the olive oil until the pesto is smooth and creamy. Season with salt and pepper to taste. Yummy pesto sauce is ready. Towards the end of summer season, there is usually abundant supply of basil from the garden. I often make big batches and freeze them in ice cube sizes. That makes it easy to defrost in each serving portions . They almost last till next season and taste amazing.
This is a recipe you can serve hot or cold. A great side-dish or can be a full meal. My kids love this when I pack it for school lunch in warm thermos . It's always a hit in any potluck style gatherings too. I about 20 minutes you will have prepared delicious classic meal .
Ingredients:
12 ounces, bag of Penne Pasta, ( in my house, I use gluten free pasta, Traders Joe's brown rice penne or quinoa penne )
2 tablespoons of pesto sauce * see note
2 tablespoons of evoo – extra virgin olive oi
1 whole Medium Onion, Diced Small
3-4 cloves Garlic, Minced
2 cups brocolli florets
2 cups mushrooms cleaned and quartered
1/4 cups finely grated Parmesan cheese ( use nutritional yeast if vegan)
Fresh basil leaves for garnish ( optional)
Salt & plenty of cracked Black Pepper
Red chilli flakes for extra spice boost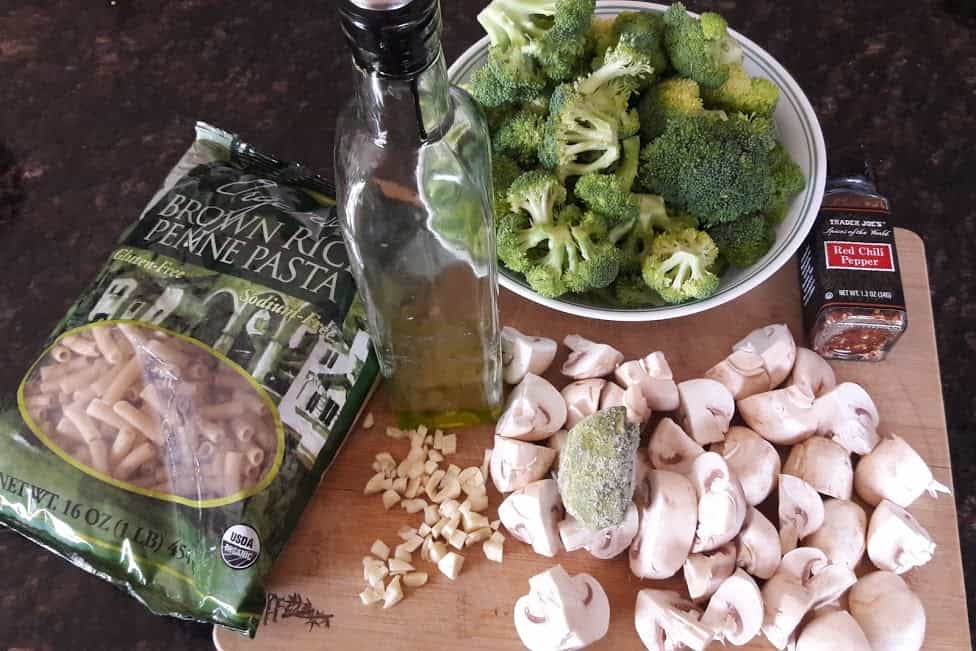 Directions:
For the vegetables: Heat 1 tablespoons of the olive oil in a big pot over medium-high heat. Add the cut garlic and onion and cook for 1 minute. Then add the broccoli; cover and cook for another 3-4 minutes until broccoli is tender. Remove the vegetables from the skillet and set aside.
To the pot, 1/2 tablespoon oil; allow to heat up. Add the mushrooms and cook until starting to soften, 2 to 3 minutes. Mushrooms will start to release the water. Cook for another minute and remove from the skillet and add them to the broccoli. Set aside. Typically , I prefer to cook mushrooms separately to retain crunchy or firmness of all the vegetables . Other vegetables get watery when cooked with mushrooms together.
To Make Pasta :
Use the same pot to make the pasta according to the package directions and cooking time. In the boiling water, I add tablespoon of oil and 1 teaspoon of salt so pasta gets the taste and doesn't stick together. Reserve 1/2 cup of cooked water and drain the pasta completely. Put the pasta back in the pot. Add the pesto sauce . Add the cooked vegetables to the sauce, along with the basil; stir and toss well to combine. If the sauce needs a little more liquid, splash in a small amount of reserved cooking water. Place the cooked pasta in a large serving bowl . Sprinkle with extra basil, and serve with grated Parmesan cheese ( nutritional yeast if vegan) and cracked black pepper and chili flakes. !
*I often pack this pasta in school lunches in warm thermos. Comforting and refreshing, it's great lunch option especially for kids since they have limited school menu choices.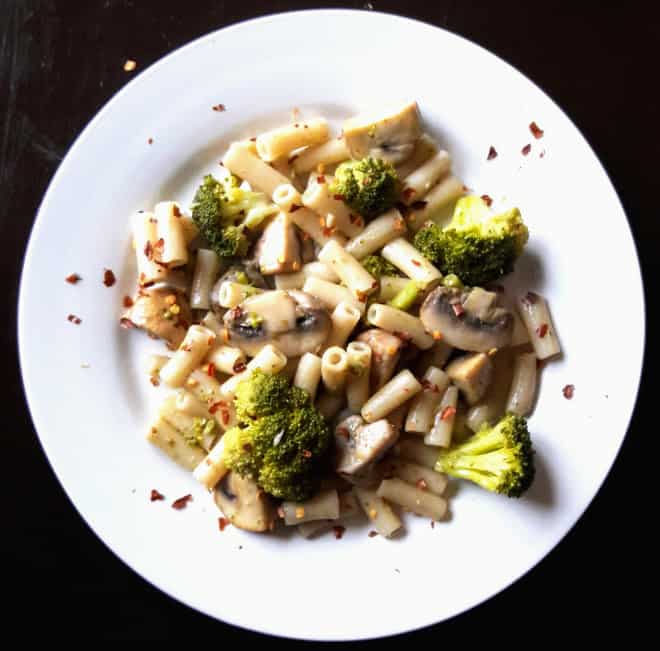 ——————————————————————–
■Let us know how you like this recipe by leaving a comment and rating it so other readers know it too. And while you're at it, take a picture and tag it #profusioncurry on Instagram! We love seeing what you come up with. Cheers, friends■