Creamy Lemon Basil Pasta is delicious and refreshing dinner recipe. This healthy and delicious pasta is loaded with plant based protein and filled with veggies! And it is gluten free and dairy and soy free and vegan.
Al dente spaghetti tossed with juicy cherry tomatoes, tender broccoli, fresh herbs & an easy homemade silky lemon basil creamy sauce. It's beautiful, fresh, and full of flavors.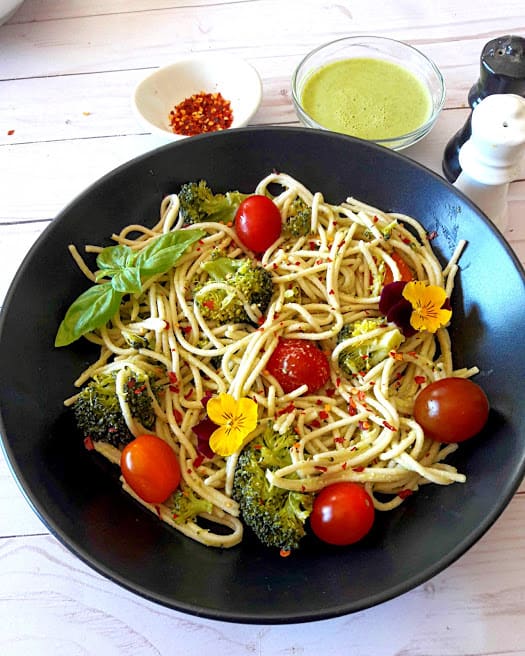 Easy and light pasta meals are welcome any time of the year in our kitchen. We love to mix and match ingredients and marinades to create dynamo dinners to elevate the dinner mood vibes. And I am sure you will love to add it in your dinner menu rotations too.
So for warm breezy summer nights, this lemon basil pasta will ideally take a center stage along with fresh green salad and frizzy drink.
On the other hand, for cold, blustery winter nights, use it to elevate the mood and spirit with it's bright and refreshing taste. So go ahead and enjoy it every time you need a mood boost.
You can tailor it to the season, your preferences, and there truly is no right or wrong.. whatever foodie wants, foodie gets !!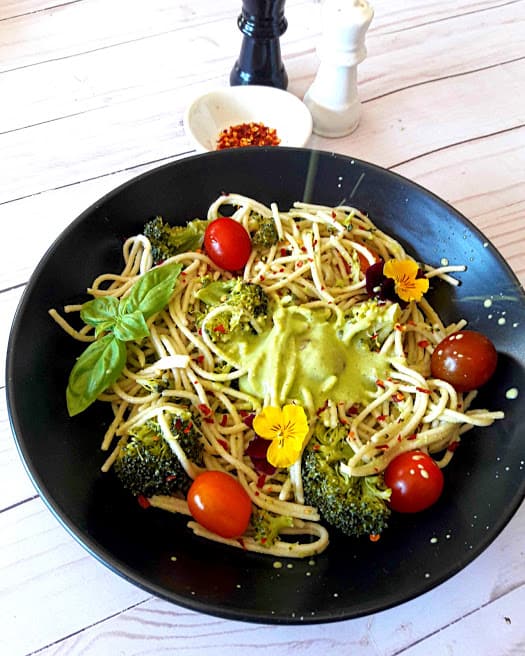 What are the ingredients of Creamy Lemon Basil Spaghetti?
Pasta – I am using gluten free spaghetti as a base for this recipe. You can use and choose whichever type and shape of pasta you have readily available.
Vegetables – I had pint of cherry tomatoes and fresh broccoli in my refrigerator. That worked beautifully for getting a nice bite and adding freshness to the recipe. Again, no hard and fast rule. Use any or all the veggies you have and like. More the merrier!!
Creamy Lemon Basil Dressing This is where the flavors take a center stage and shine bright . Cashews, basil, lemon juice, garlic and dash of salt and pepper is all you need. This dressing is AMAZING!!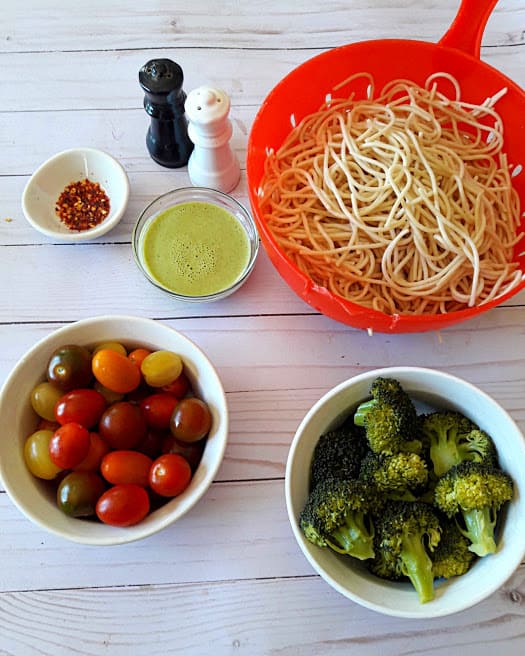 This refreshing and lightened up Pasta tastes best after sitting for a bit. So all the ingredients have a chance to absorb the flavors of the dressing. Simply outstanding as my family calls it !!
It can be prepared several hours in advance. Leftovers taste AWESOME!! Makes a delightful lunch option so you can make a big batch and save for later too. My kids love this meal in their school lunchbox.
The ingredients used are wholesome and nutritional dense. Plant protein, superfoods and whole grain pasta is well balanced with complex carbs, fiber, and good fat, vitamins and minerals. You will be happy feeding your soul with this nourishing meal.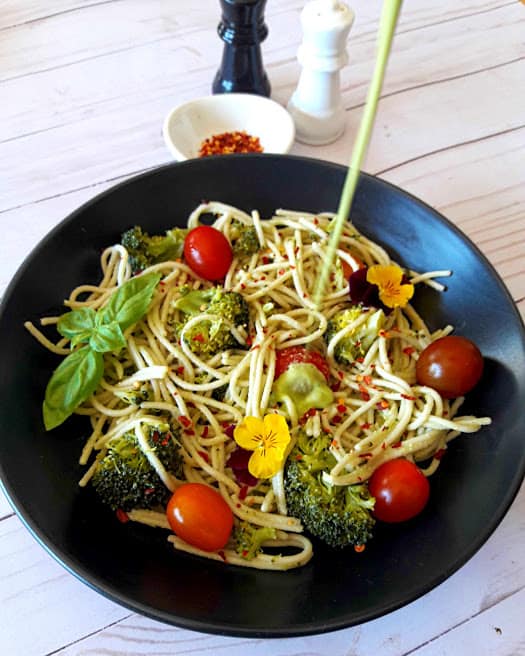 This Creamy pasta is destined to become a new favorite dinner or potluck / picnic crowd pleaser. You can make it ahead of time and just add more dressing before serving for the perfect dish everyone will love.
All it takes is less than 30 minutes to make this bright, bold and tantalizing pasta salad. It couldn't be any easier or simpler. And you can customize the ingredients with your favorite veggies. Drool worthy, luxurious Lemon Basil Sauce is all you need to bring a win home !!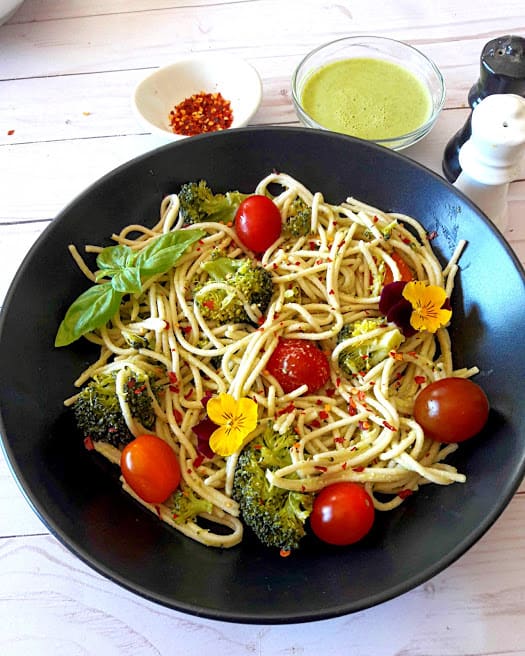 What's so special about this Lemon Basil Noodles you ask ?
It is everything! This yummy recipe is hands down one of my favorite quick and easy go to meal options!!
It's quick, easy, filling and affordable.

It's perfect pick me up meal for any season.

It's veggie packed, flavor packed and nutritional dense.

It can easily be made for meal prep.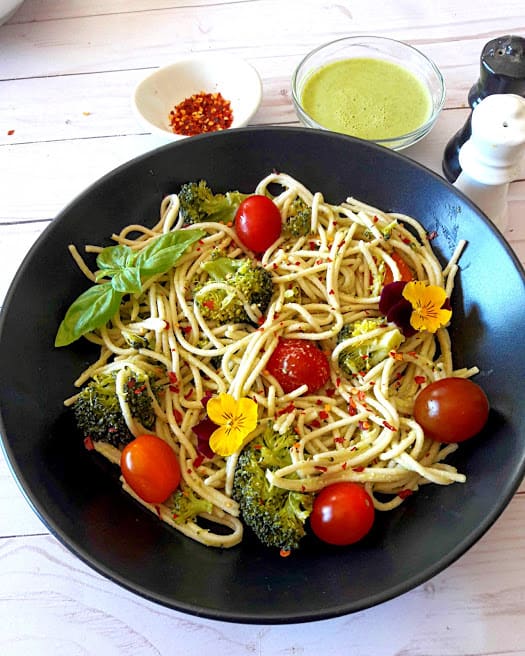 How to make Creamy Lemon Basil Dressing?
The dressing can be used with countless other dishes. It has smooth velvety texture and delicious pleasant savory taste.
We blend 1 cup of cashews with packed cup of fresh basil, juice of half lemon, 4 garlic pods and ¼ cup water. Add salt and pepper. Simply add all of the ingredients to a high-speed blender & let it blend for a 1-2 minutes until the mixture is nicely creamy and thick. Voila!
I prefer to use my Ninja Food Processor. The smoothie attachment is perfect for making all kinds of puree and dressings/ marinades too.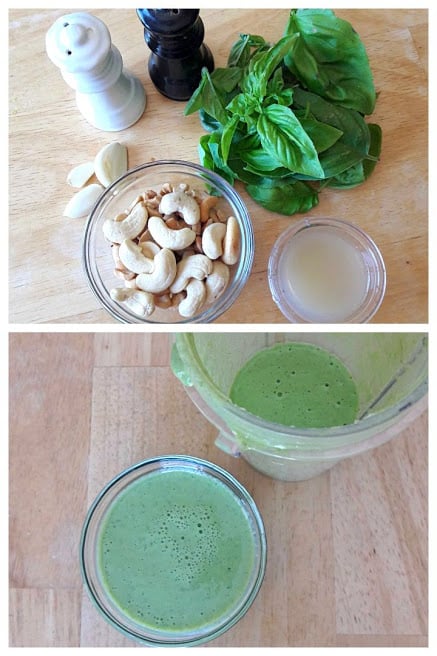 The absolute best part about this creamy lemon basil vegan pasta recipe is how easy it is to throw together, especially on a weeknight. The whole dish comes together in less than 30 minutes. Simple and easy steps include,
Boil and drain your pasta

Chop and sauté some veggies

Prepare the Lemon Basil Dressing

Toss, toss toss- done and dusted!! Devour with gusto 🙂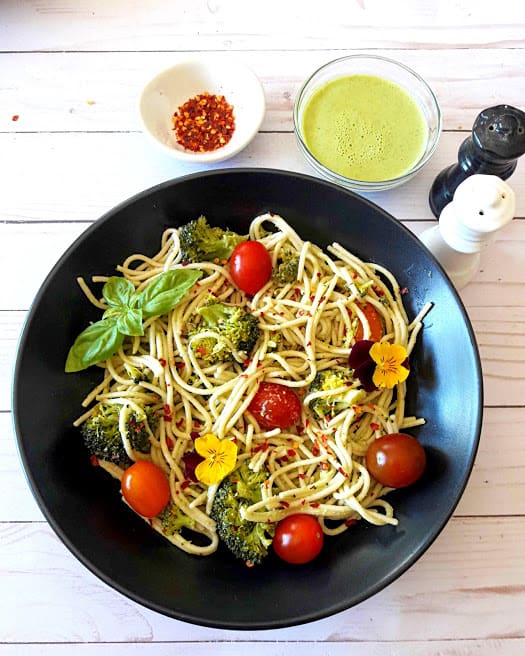 How to Make Pasta in InstantPot or Electrical Presure Cooker?
To make pasta in InstantPot or electrical pressure cooker is super simple. Pour pasta in the main insert. Add a teaspoon of oil and salt. Pour just enough water to cover the pasta. DO NOT SUBMERGE. Close the lid. Place the knob in Sealing position.
Now the fun part to select the cooking time. Read the cooking time on the pasta package. You want to choose ½ that time. So for example, if the pasta box suggests you to boil pasta for 8 minutes, for InstantPot you should choose 4 minutes.
Let it sit for 4 min after it beeps when cooking is done. Then release the leftover pressure by moving the valve to venting. (QPR) . Your delicious pasta is ready to go !!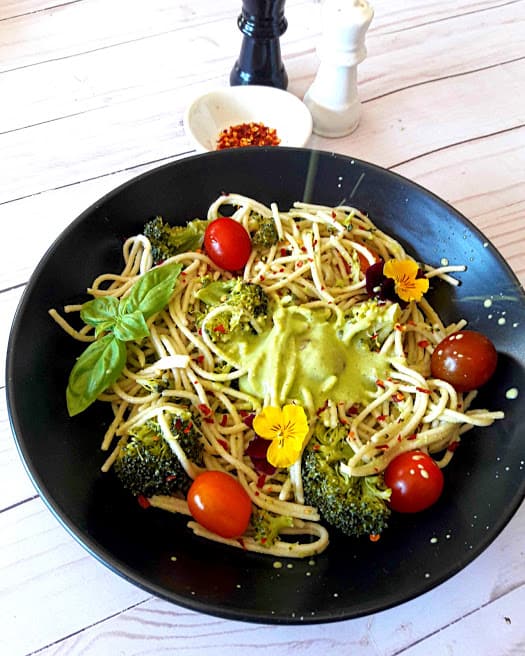 Don't forget to follow us on Pinterest and like our FACEBOOK page. We love creating delicious , plant based recipes from around the world. DO JOIN US !!
Here are few more beautiful dinner options to try from our website. We would love to hear how you like them.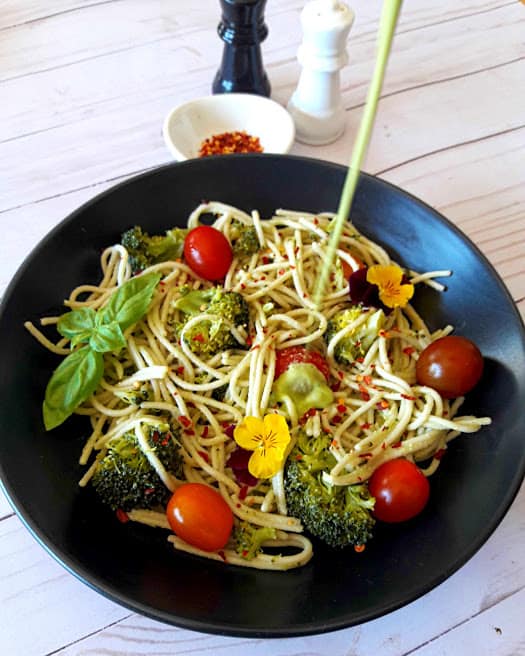 ★ If you make this Creamy Lemon Basil Pasta Recipe, do let us know how you like it by ★ star rating it and leaving a comment below.
We would love to hear your feedback!! Use the PIN button in the recipe card to pin this recipe.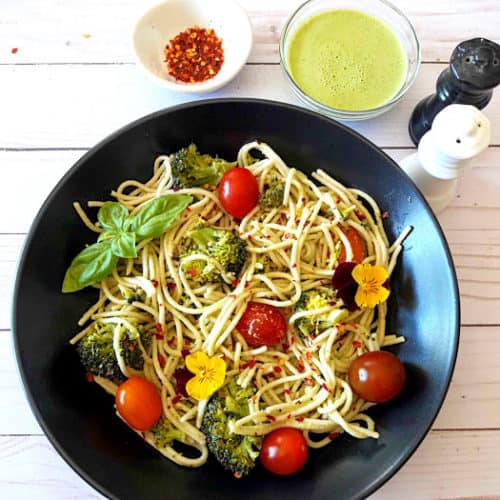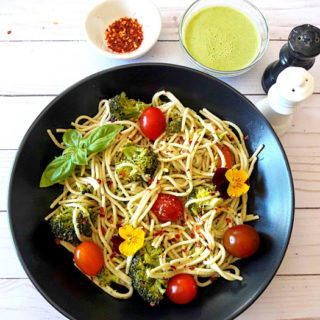 Creamy Lemon Basil Pasta
Creamy Lemon Basil Pasta is delicious and easy vegan weeknight dinner recipe.
Ingredients
12

ounces

gluten free spaghetti

1

Tablespoon

olive oil

4

cups

broccoli florets

1

pint

of grape or cherry tomatoes

¼

teaspoon

Kosher salt and ground black pepper
To Make Creamy Lemon Basil Sauce:
1

cup

roasted cashews

1

cup

packed fresh basil

4

cloves

garlic

½

lemon

juiced

½

cup

water

½

teaspoon

Kosher salt

½

teaspoon

black pepper powder
Instructions
Boil the Spaghetti
Bring a large pot of water to a boil. Once boiling, add some salt the water. Add in the pasta and cook to al dente, according to package directions. Reserve 1 cup of the starchy pasta water. Drain the pasta and set aside.
Sauté the veggies
Add the olive oil to a large skillet over medium heat. Once hot, add broccoli florets. Season with salt and pepper. Cook, stirring occasionally, until the color wilts and florets are tender. ( about 5-7 minutes) Turn off the heat.
Make the creamy lemon basil sauce
Add all the sauce ingredients to a high-speed blender. Blend until smooth and creamy. You can store leftover sauce in an airtight container in the refrigerator for up to 1 week
Finish Creamy Lemon Basil Pasta
Once the broccoli is ready, add the drained pasta and tomatoes to the skillet. Pour the lemon basil cashew cream sauce over top. Using a tongs, toss to combine everything. Add a little bit of the reserved starchy pasta water so everything coats well together.

Taste and adjust seasoning if required. Sprinkle some fresh chopped basil, cracked pepper or a squeeze of fresh lemon juice, as desired. Serve and enjoy! Bon appetit !!
Instant Pot or Electric Pressure Cooker Instructions :
Start Instantpot on SAUTE mode and add oil in the main steel insert. Wait for couple minutes so oil warms up. Add broccoli florets. Season with salt and pepper. Cook, stirring occasionally, until the color wilts and florets are tender. ( about 3-5 minutes) . Cancel SAUTE. Remove the broccoli and set aside.

Pour the spaghetti in the steel insert. Add a teaspoon of oil and salt. Pour just enough water to cover the pasta. DO NOT SUBMERGE. Close the lid.

Place the knob in SEALING position. Press MANUAL ( or PRESURE COOK) Choose 4 minutes. After IP does cooking, wait on keep warm timer for 4 minutes and then release the leftover pressure by turning the valve to VENTING. Drain excess liquid (if any) in the sink and your cooked pasta is ready.

Follow steps 3, 4 and 5 as above. Bon Appetit!!
Nutrition
Serving:
1
cup
Calories:
149
kcal
Carbohydrates:
30
g
Protein:
4
g
Fat:
3
g
Polyunsaturated Fat:
2
g
Sodium:
240
mg
Fiber:
6
g
Sugar:
7
g