Healthy, crunchy and so in vouge! Kale chips are super easy to make and they look and sound so sophisticated! These chips are a low calorie nutritious snack. Just like potato chips, once you pop, you just can't stop eating one. Wonderful afternoon snack for kids and adults alike, they are great for parties and make a good conversation topic.
Kale leaves bake quickly. Often, I make a bunch of different baked snacks out of vegetables I have in refrigerator. I would start with doing one of our all time family favorite Spicy Oven Roasted Chickpeas and baked zucchini chips. Towards the end, when these are about to be done, I remove them, put the prepared raw kale in the oven and just turn the oven off in few minutes. Crispy kale chips will be ready in few minutes. Own it's own, you should be baking them at a low temperature for a longer period of time. This ensures that the kale gets crispy without browning or burning, making perfect chips every time.
This recipe is versatile and can be modified to include whatever seasonings you desire. My favorite is just olive or avocado oil and pink salt. You can use coriander cumin powder, smoked paprika, lime chili powder or curry powder to season it differently. Alternatively, you can use your favorite sauce for quick dipping.
Ingredients:
1 large bundle curly green kale – about 4 cups packed
1-2 Tbsp olive or avocado oil
1/ 2 tsp sea salt, or seasoning of your choice
Instructions:
Preheat oven to 225 °F . Use convection bake if you have it. It helps to speed cooking time and evenly distributed heat. It also helps chips crisp up even more.
Rinse and thoroughly dry kale ( very important step , if it's not completely dry, chips will not get crispy)
Tear the leaves from the stalks into little more than bite size pieces and discard the stems.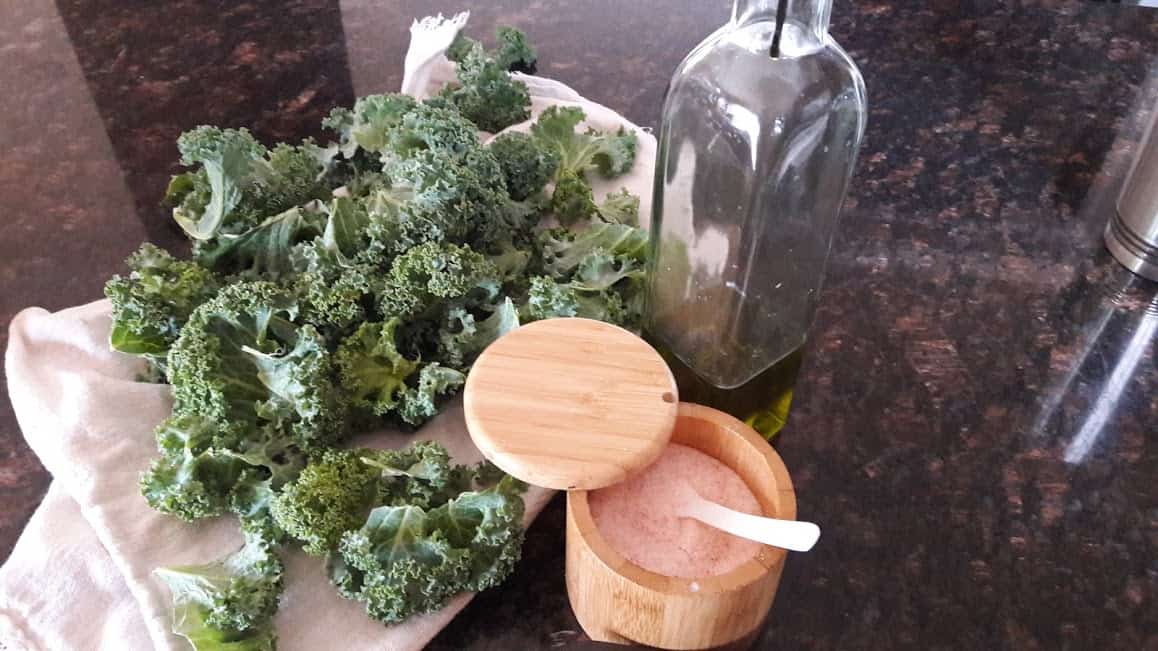 Line up 2 baking sheets with parchment paper. Put the kale on the sheet. Drizzle with oil and salt and any seasoning if you using. Toss thoroughly to combine, using hands to slightly massage and distribute the oil and seasonings evenly on kale pieces.
Spread the kale over 2 large baking sheets. Make sure it doesn't overlap each other. Don't overcrowd the leaves in one tray.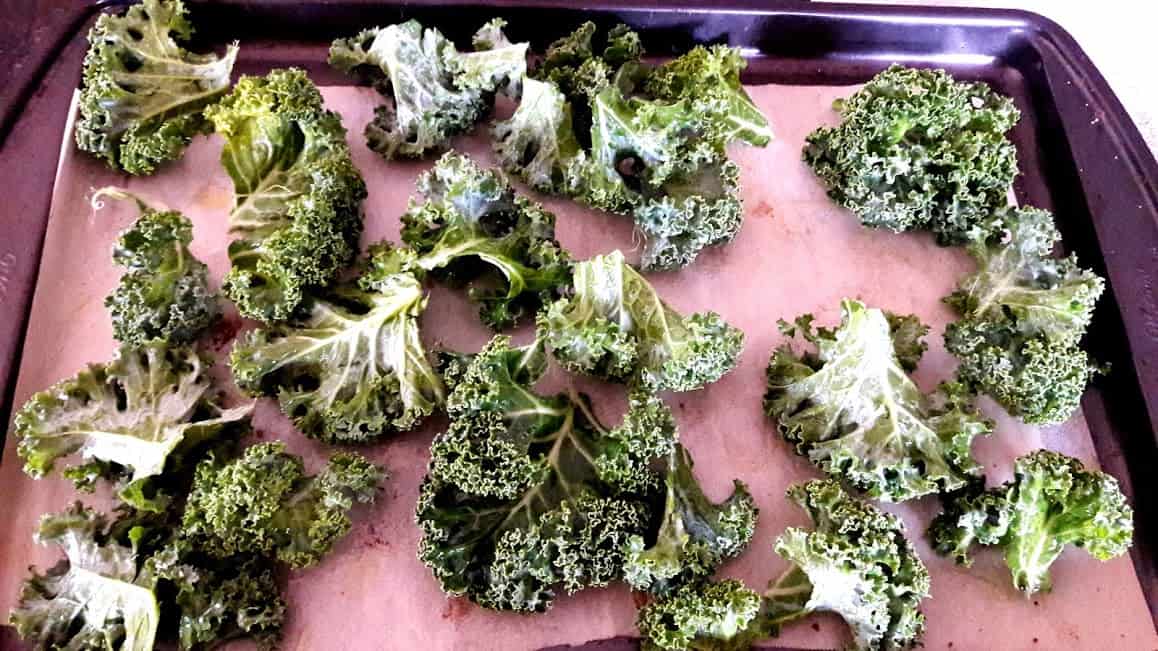 Bake for 15 minutes, check , turn the chips around to ensure even baking. Bake for 5-10 minutes more, or until kale is crispy and very slight golden brown. You need to watch it very carefully as it can burn easily.
Remove from oven and let it cool slightly. Chips will crisp up even more once out of the oven. Enjoy immediately! the crackling crunch is something worth listening to . They are unbelievably crispy and crunchy. The chips taste best when fresh. If you have any leftovers, store them when completely cooled, covered at room temperature for 2-3 days.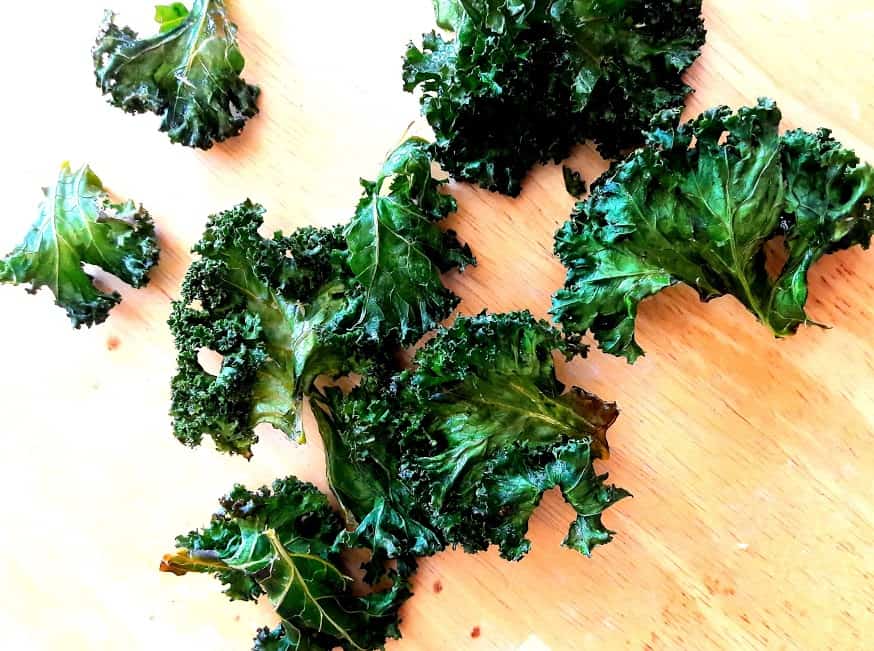 Do checkout one of our other very popular baked snack recipes below. Using the oven space wisely and to it's optimum, these baked goodies can be prepared at once and enjoyed for a while.
Spicy Oven Roasted Chickpeas
are yummy irresistible snack for all ages.
Not to mention they are high in fiber, high in protein, and low in fat, which makes them the perfect guilt-free energy boosting addition in your evening healthy snack rotation.
Cheers to happy life !! Eat well-Eat Healthy-Be Happy !!
—————————————————————————————————————-
♦We would love to hear your feedback. Let us know how you like this recipe by leaving a comment and rating it so other readers know it too. And while you're at it, take a picture and tag it #profusioncurry on Instagram! We love seeing what you come up with. Cheers, friends■