Olive tapenade makes snack-time and happy hour easier and healthier. Learning how to make this classic Mediterranean Dip is a cinch!
Salty, earthy and rich olives, the sweet, chewy sun-dried tomatoes, pungent fresh garlic, and a bright note of lemon throughout. It's a divine amalgamation of all beautiful things under the Tuscan sun.
This Olive Tapenade is vegan, grain-free, gluten-free and dairy-free condiment. It qualifies to be Paleo, Whole30, and Keto friendly. The net carb count for each serving is only 3 grams.
Traditional classic olive tapenade includes anchovies and capers. In this vegan version, I am omitting both. Instead, we are adding sun dried tomatoes and garlic. Feel free to make necessary changes as you like.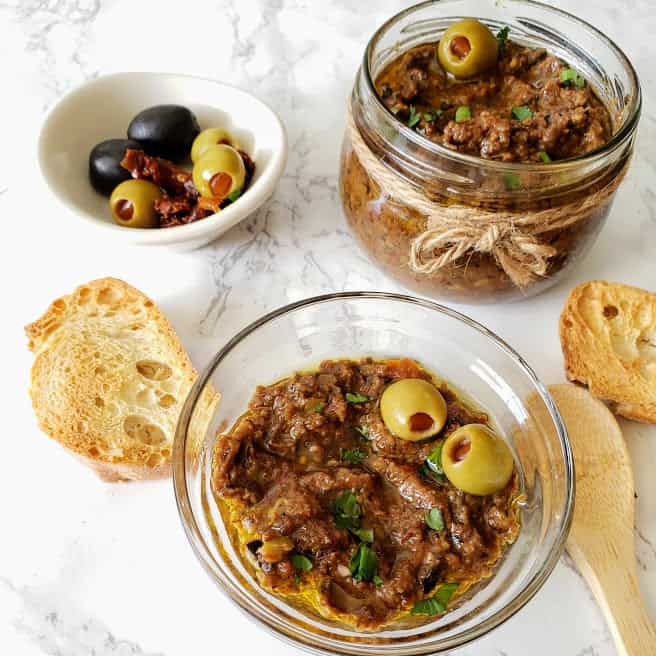 On our recent trip to Italy, I must have had this wonderful dip 3 times a day , everyday. I simply love – loved it 🙂
Rolling greens of Tuscan countryside are filled with bright breezy sun soaked days. There is farm fresh produce, abundant red wine and happiness abound.
When I make this dip at home, it instantly transports me back to the memories of wonderful Italian Holidays. So needless to say, I am a huge fan of this recipe.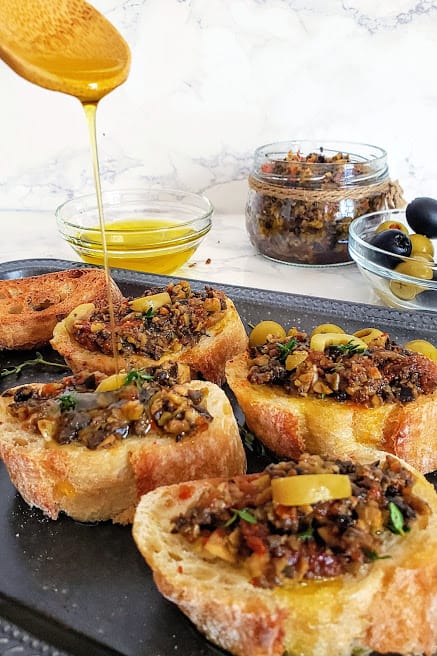 It's one of my go to Mediterranean item to serve when I am hosting a party. This make ahead, 5 minute, no-cook dip tastes amazing and feels fancy. It is a surefire crowd pleaser.
Whether it's my book club meet, wine testing or usual BBQ and potlucks, I always keep a selection of dips. I love to create beautiful appetizer platters that are so popular among our guests.
Check out these amazing easy to prep ideas for your happy hour munchines. They taste WAY BETTER THAN the store brought things.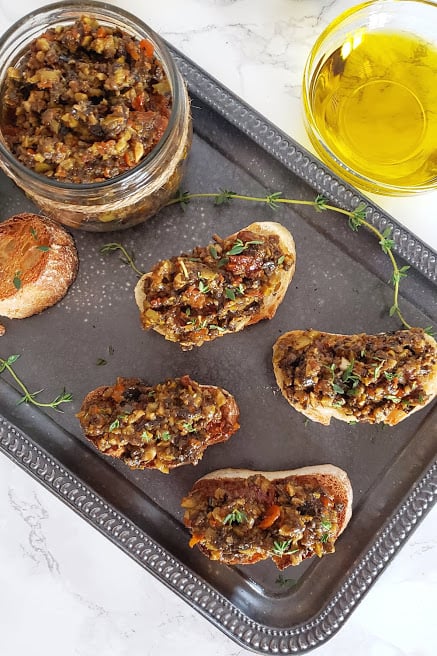 HERE ARE SOME MORE PARTY APPETIZERS AND DIPS FROM OUR KITCHEN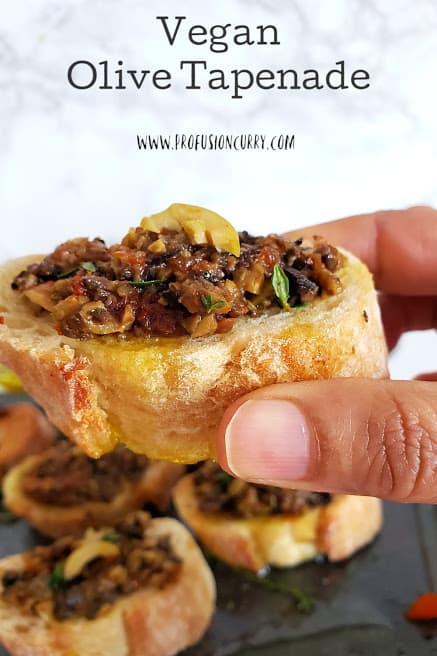 HOW TO MAKE OLIVE TAPENADE
This dip is a mix of olives, olive oil, fresh garlic, lemon juice, sun dried tomatoes, Italian seasoning and fresh ground black pepper. All of the ingredients get blended together in food processor.
Mediterranean influence of this dip comes from staple ingredients like olives, sun-dried tomatoes and Italian herbs. Each one of them is armed with their own element of bright, briny flavor and sweetness.
I prefer a mix of black and green olives. Manzanilla olives add touch of pimento to the dip. Kalamata olives are simply best if you have them easily available. Also buy pitted olives for ease of blending.
I highly recommend you taste the olives before using. Saltiness differs in large proportions in different brands. If you find olives to be too salty, then rinse them. You can also soak them in water for up to an hour, to pull the salt out into the water.
I am using dry packed sun dried tomatoes instead of oil packed ones. That way, I get to add best testing olive oil in the recipe. Put dry sun dried tomatoes in warm water for 20 minutes so they liven it back up. If you use oil packed sun dried tomatoes, you don't need extra olive oil.
I love budget friendly gourmet food. You can buy reasonably priced quality ingredients and make a big batch at home . That is so much cheaper than buying a ready made item at a store.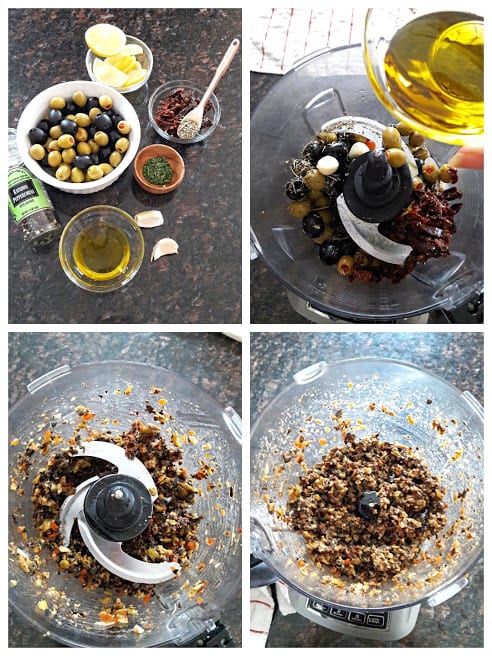 OLIVE TAPENADE VARIATIONS
This is a classic recipe with explosive flavors, but you can add other ingredients into the mix to customize the flavors.
Artichokes: Add ½ cup chopped marinated artichoke hearts.
Fresh herbs : Add roughly chopped ¼ cup of fresh basil leaves for burst of fresh colors and freshness.
Red Pepper Flakes: If you want to add a subtle spice kick to the dip, add ¼ teaspoon red pepper flakes.
HOW TO SERVE OLIVE TAPENADE :
My favorite is to spread it on toasted baguette
As a spread on sandwiches or paninis
Serve as an appetizer on a cheese board
Serve with garlic naan, pita triangles or crackers.
Add it to pasta salads as extra layer of flavors perfect for Italian Summer Pasta or Greek Fresh Pasta Salad
For wine and cheese parties, use it on Charcuterie board.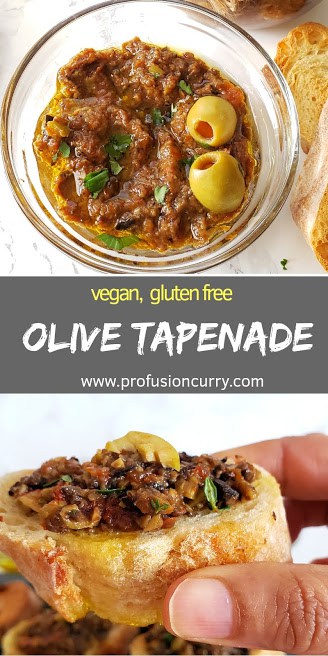 Don't forget to take pictures when you make our delicious recipes. Tag us with #profusioncurry on Instagram ! We would love to feature your creation.
Join us on Pinterest and FACEBOOK . You will love all our delicious, wholesome, plant based recipes from around the world.
★ If you make this EASY VEGAN OLIVE TAPENADE RECIPE , do let us know how you like it by ★ star rating it and leaving a comment below.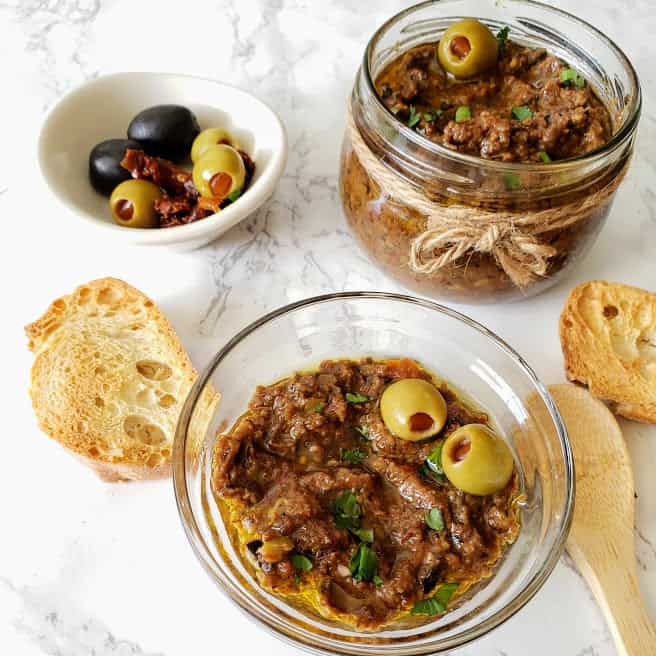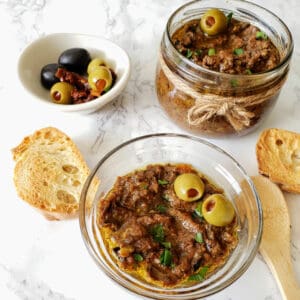 Easy Vegan Olive Tapenade
Easy Vegan olive tapenade makes snack-time and happy hour easier and healthier. Learning how to make this classic Mediterranean Dip is a cinch!
Instructions
In a food Processor, pulse all ingredients until coarsely chopped. Transfer to serving bowl.

Garnish with fresh herbs if desired and serve.
Notes
I like my olive tapenade to be grainy coarse. I needed to pulse about 8-10 times to get the perfect texture. You should scrape the food processor bowl so the ingredients stuck on the side get pulsed.
If you prefer fine paste, add little water and grind it to fine paste. If you prefer more coarse texture, roughly chop all the ingredients and mix them by hand instead of using the food processor.
I do not add extra salt in the recipe since olives and sun dried tomatoes are naturally salty. Choose according to your taste preference.
Nutrition
Serving:
1
Tablespoon
Calories:
64
kcal
Carbohydrates:
3
g
Protein:
1
g
Fat:
6
g
Saturated Fat:
1
g
Polyunsaturated Fat:
5
g
Sodium:
87
mg
Fiber:
1
g
Sugar:
1
g