Coconut Rice Kheer or Payasam is creamy indulgent Indian dessert. It often is prepared to celebrate special occasions and during festivals. This vegan and gluten free kheer is just as delicious and satisfying as traditional one.
Fragrant basmati rice is cooked with milk and cream ( plant based ) and infused with saffron, nutmeg and cardamom. It's often garnished with raisins and assorted dried fruits.
THE RECIPE CARD IS LOCATED TOWARDS THE END. Amazon affiliate link disclosure is below as well. Before scrolling to the recipe card, do check the HELPFUL RECIPE TIPS in the post.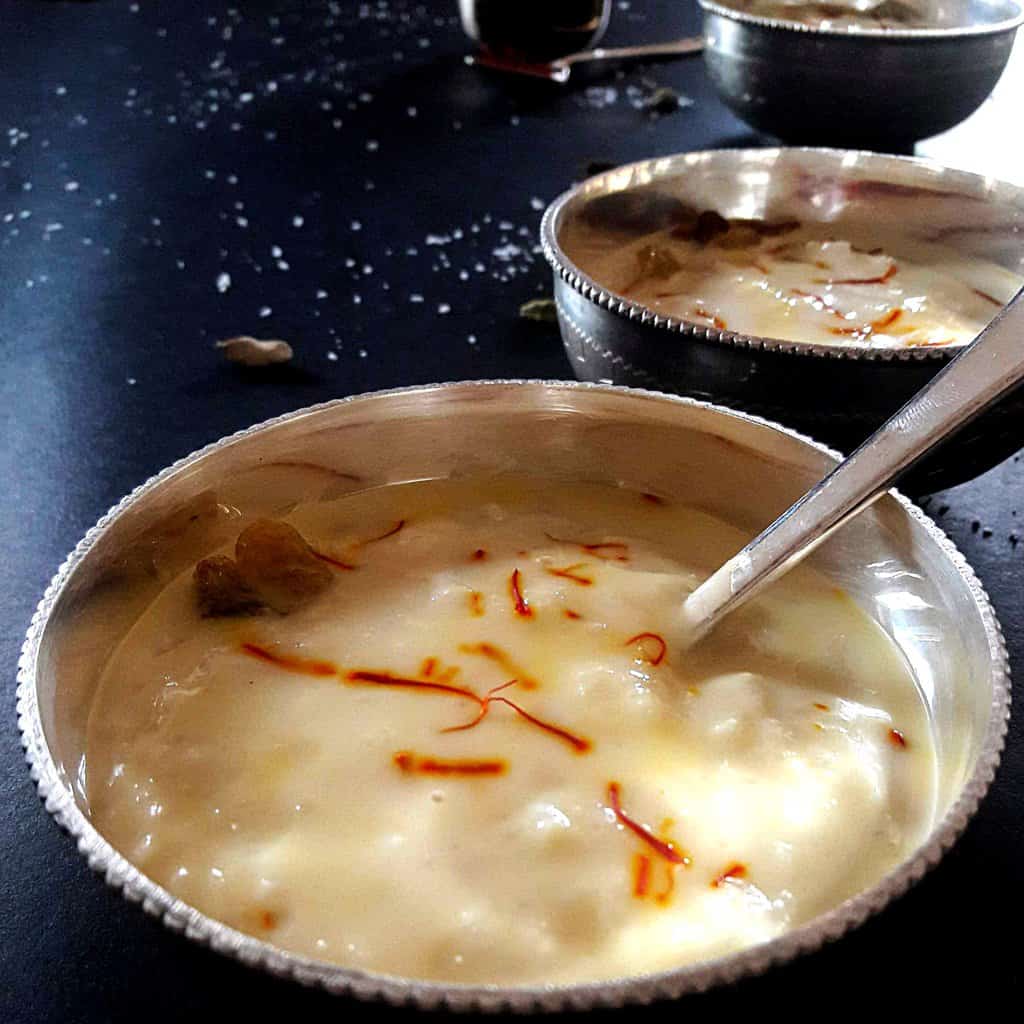 This rice kheer or Payasam is offered as a PRASAD during most pooja ceremonies. So in India and abroad, this dessert is very popular during month of Shravan.
It also makes routine appearance on festival likes of Diwali, Dashera and Holi.
Traditional recipe of making Rice Kheer or Payasam involves hours of intensively involved cooking and monitoring. The rice while cooking with milk needs to be monitored constantly as it tends to burn quickly if ignored.
However electric pressure cooker like InstantPot, makes the process of making kheer a complete breeze. The best thing is it's hassle free – stirring free. Just a dump and go type recipe. The dreamy creamy dessert gets ready in less than 30 mins!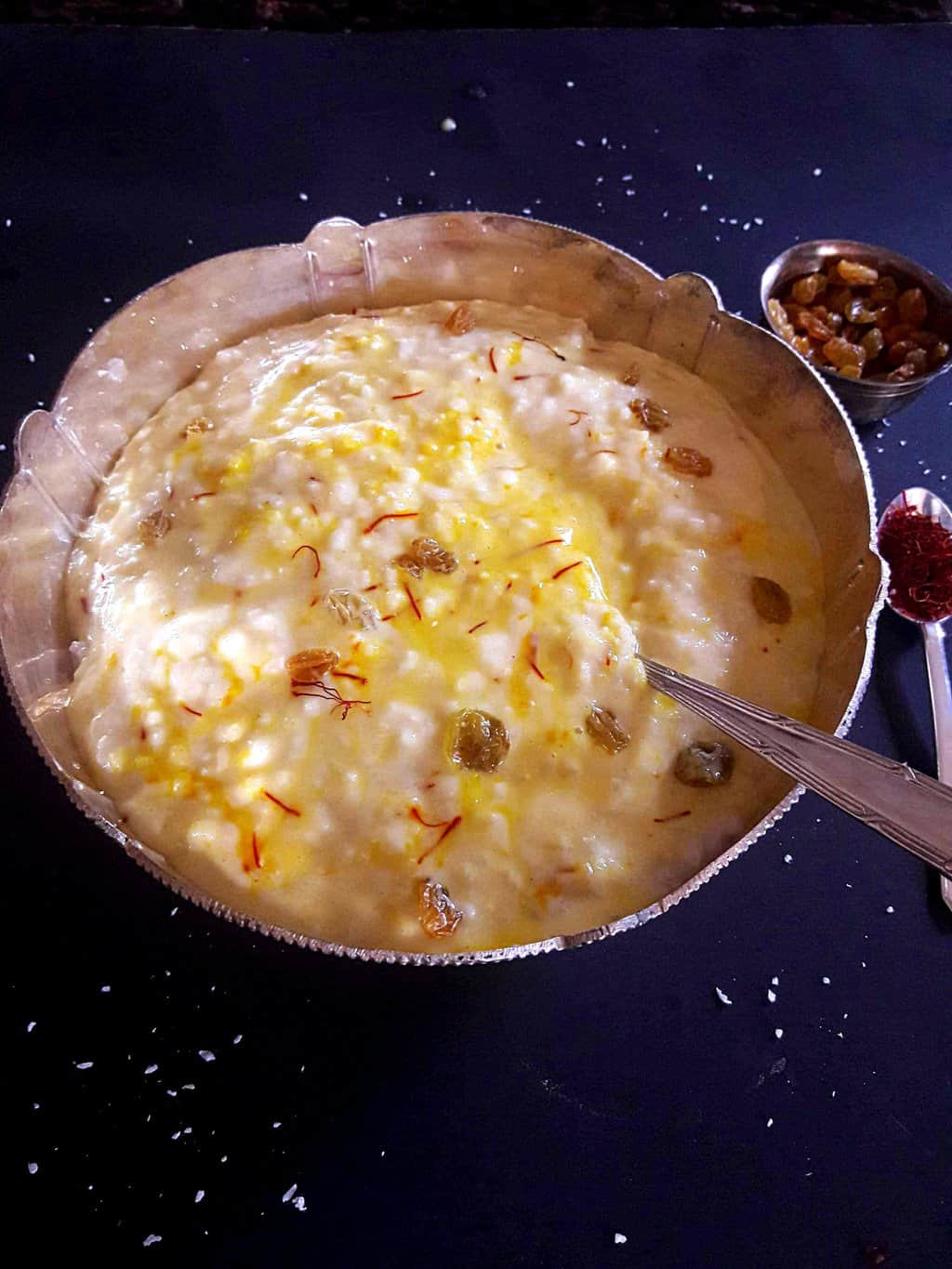 The kheer tastes amazing since the rice is cooked in milk itself. It makes the dense creamy morsels as the milk thickens along.
The Porridge setting in instant pot is ideal to make this recipe. Since cooking is done with lid closed, all the flavors infuse intensely. With much less monitoring, you have just as good if not better results. Happy me !!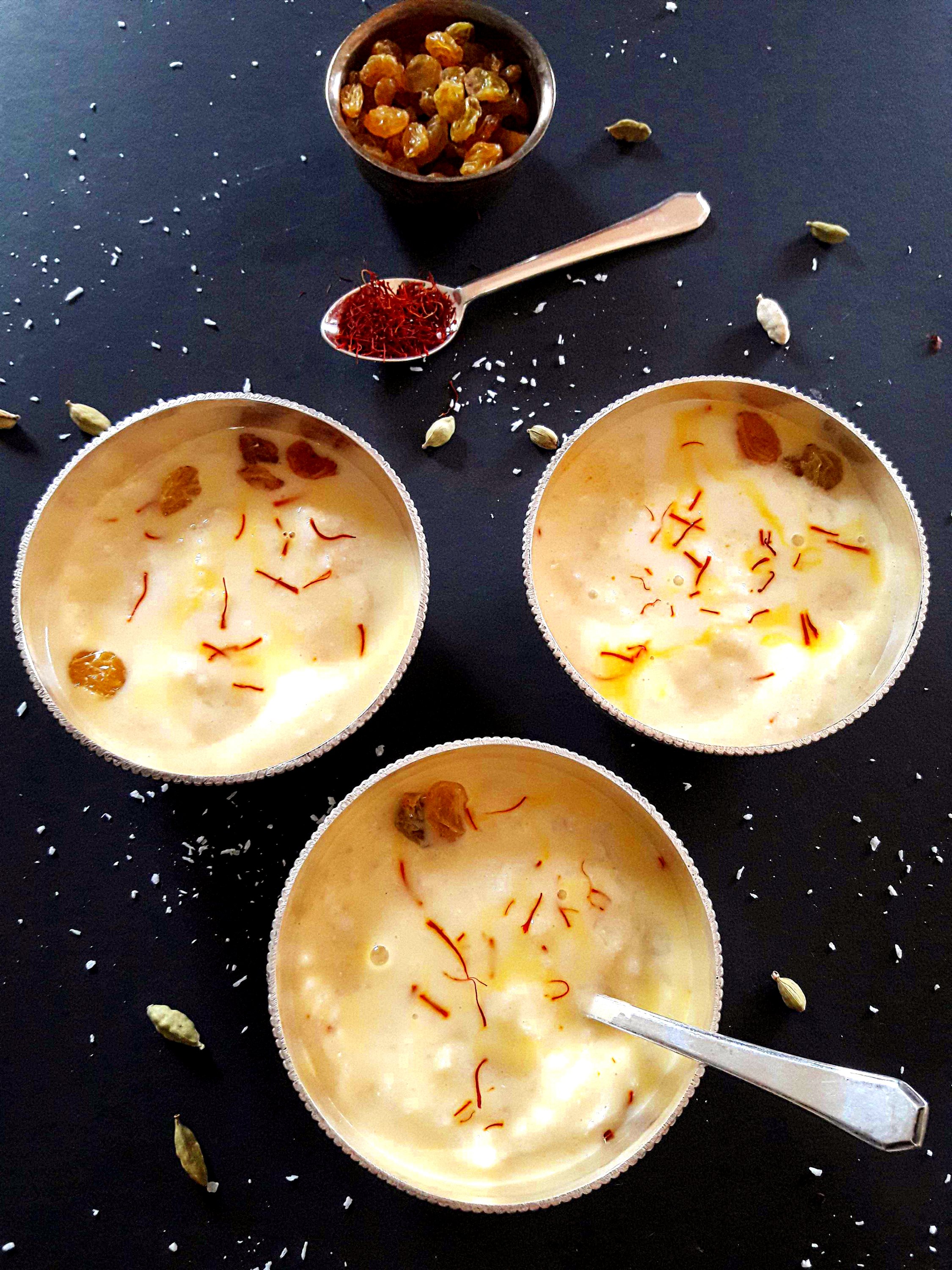 What are the ingredients of InstantPot Indian Coconut Rice Kheer ?
Rice – Basmati or Sona Masoori rice works well so does any other short grain rice. Avoid using Jasmine or sticky rice. Wash and rinse it in cold water and drain excess water.
Milk – this recipe uses coconut milk to thicken the kheer. Coconut milk gives excellent decadent feel along with marvelous flavor to this kheer.
Desiccated coconut flakes or coconut powder– for an extra layering of texture , we use coconut powder. It gives ultra rich taste without heavy dose of calories like heavy cream. Trust us, you will love it.
Sugar – to sweeten the kheer. You can use any sugar of your choice. White, brown, coconut, palm sugar. Any other sweetener like maple syrup or agave nectar also works but adds different flavor.
Saffron – this is how traditional kheer gets it's golden and orange hue.
Cardamom and nutmeg powder – crushed cardamom seeds and nutmeg powder add intense and distinctive aroma to this kheer or Payasum.
Raisins and crushed nuts like almonds or pistachios are added as garnish. You can keep it optional based on dietary preferences.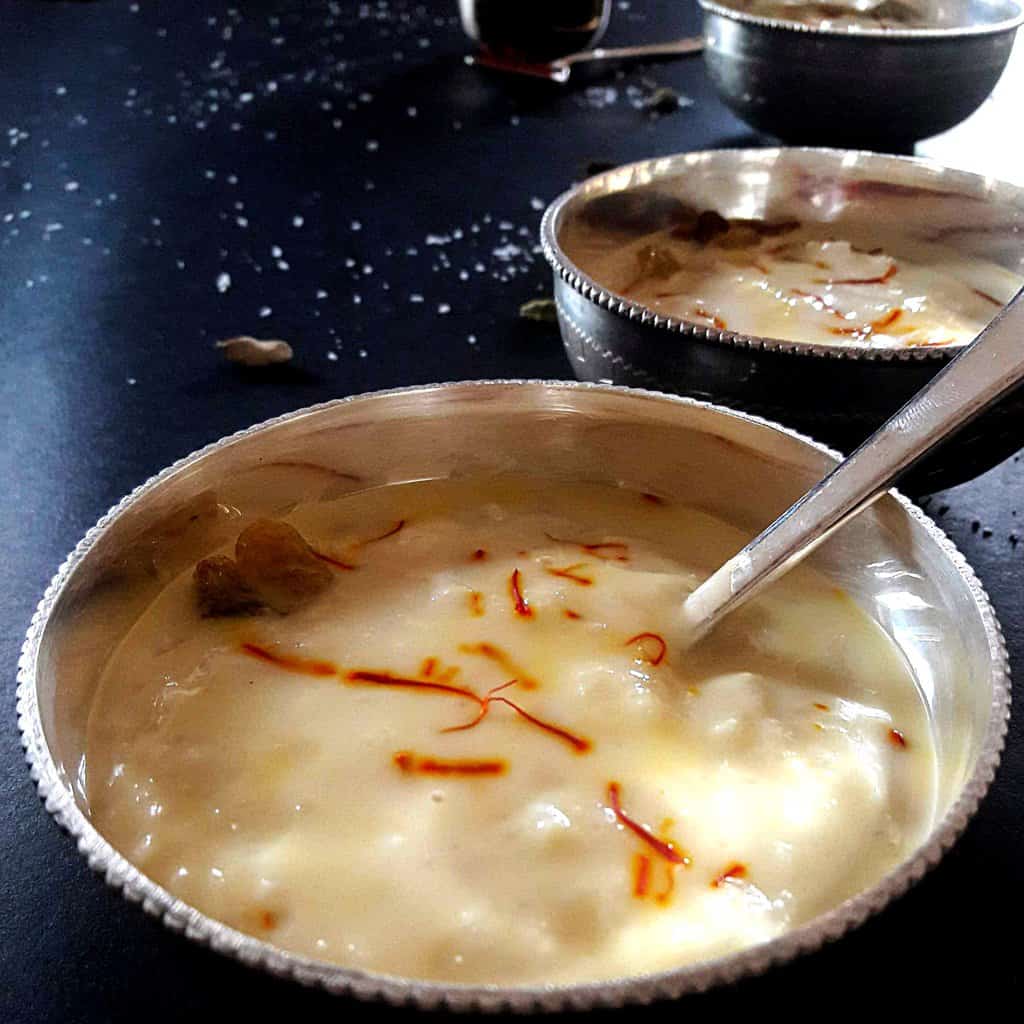 Why choose dairy free and Vegan Rice Kheer/ Payasam
There are so many families dealing with food allergies and restrictions. I was looking to make this dessert dairy free and vegan. It also is soy and nut free.
It also is low calories but with rich creamy texture. You will enjoy it guilt free without sacrificing the taste.
One more important thing I notice often with Indian desserts and party menu is that food sits outside for several hours. There always a risk with heavy milk and cream based foods that are not properly refrigerated. This recipe avoids that issue since coconut milk is used.
Let's make this lovely kheer together..
Don't forget to follow us on Pinterest and like our FACEBOOK page. We love creating delicious, wholesome, plant based recipes from around the world. Do join us !!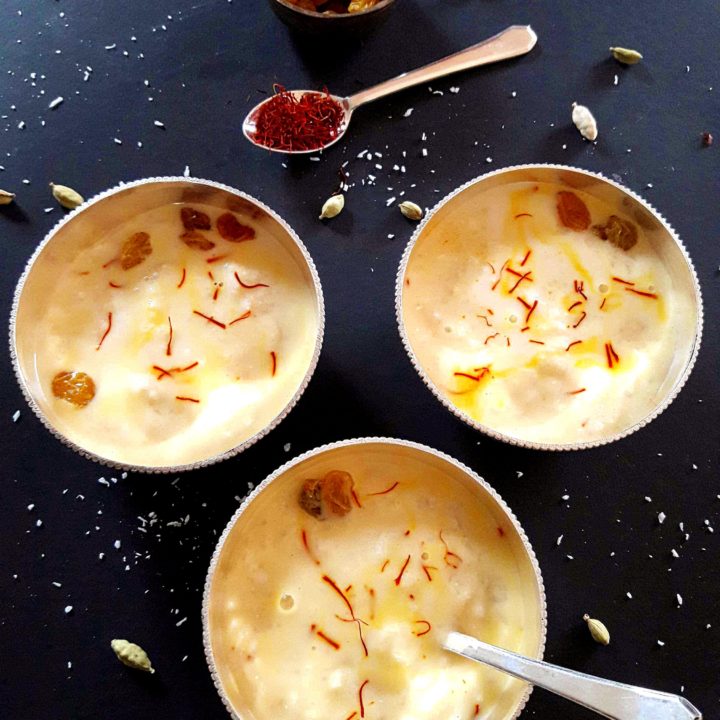 Coconut Rice Kheer - Payasam - InstantPot, Vegan
Coconut Rice Kheer or Payasam is creamy indulgent Indian dessert. It often is prepared to celebrate special occasions and during festivals. This vegan and gluten free kheer is just as delicious and satisfying as traditional one.
Ingredients
1/2 cup White Rice
1.5 cups water
3 cups coconut milk ( divided into half for cooking and half for later)
1/2 cup shredded coconut or coconut powder
1/2 cup Sugar (adjust to taste)
1 tsp Cardamom powder
1/8 tsp Saffron
1/8 tsp nutmeg powder
2 tbsp raisins optional
Pinch of salt
Instructions
Add all ingredients except half of the coconut milk in the instant pot. Give it a good stir so everything mixes well. Close the lid with vent in SEALING position.

Set instant pot to PORRIDGE mode for 20 minutes on high pressure. When instant pot beeps, let the pressure release naturally.

Open Instant Pot lid. Mash cooked rice with the back of a spoon. Add rest of the coconut milk and stir well. Adjust sugar if needed.

Rice kheer/ Payasum is ready. Garnish with few saffron strands on top. Serve warm.

To get the desired consistency, additionally cook on SAUTE mode for 2-3 mins if needed. You can also keep it on KEEP WARM mode until ready to serve.
Notes
If you extensively use your InstantPot for making savory foods like curries, you may want to change the seal ring before making dessert. Many times the sealing rings carry the strong flavors of garlic and gara,m masala for longer duration. You don't want curry flavored rice kheer. I keep a separate ring when making dessert items.
Nutrition Information:
Yield:

6-8
Serving Size:

1/2 cup
Amount Per Serving:
Calories:

281
Total Fat:

20g
Saturated Fat:

18g
Trans Fat:

0g
Unsaturated Fat:

1g
Cholesterol:

0mg
Sodium:

73mg
Carbohydrates:

28g
Fiber:

2g
Sugar:

20g
Protein:

2g
★

If you make this Coconut Rice Kheer Recipe, do let us know how you like it by

★

star rating it and leaving a comment below.
Do you like Indian Food ? Want to learn some easy Indian Food Recipes ? Do check out some our favorite and popular recipes..
Aloo Matar – Potato Peas Curry
We would love to hear your feedback!! Use the PIN button in the recipe card or image below to pin this recipe. Cheers !!