Penne Rosa is delicious and super simple Italian Pasta in Tomato Cream Sauce. This comforting pasta dish is filled with colorful veggies, tangy tomato sauce and touch of cream. You will love this Instant Pot Pasta recipe for busy weeknights.
Delicious al dente penne pasta, chunks of mushrooms for that perfect umami, spinach and tomatoes for burst of colors and freshness. This delectable Italian pasta is a rockstar of Easy Italian dinner scene.
This meatless, vegetarian pasta dish has only 8 main ingredients that are easy to find. And it takes only 20 minutes to make! Stovetop and Instant Pot instructions are included below to make this gourmet family friendly meal in jiffy.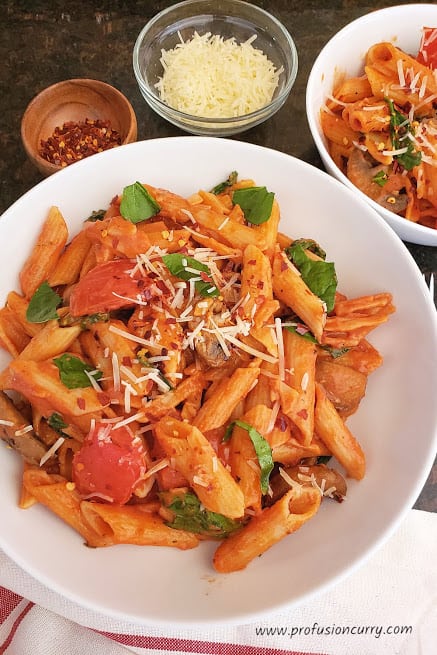 THE RECIPE CARD IS LOCATED TOWARDS THE END. Amazon affiliate link disclosure is below as well. Before scrolling to the recipe card, do check the HELPFUL RECIPE TIPS in the post.
BETTER THAN CARRY OUT
"Noodles and Things" restaurant style penne rosa recipe is one of our family favorite. And once you realize how easy and simple it is to make, chances are, it will be your's too.
Making restaurant quality meals at home is our family favorite activity. It saves money, we get to use quality ingredients and it is great family bonding activity. I highly recommend it.
This pasta also works beautifully for meal prep. I often make a big batch for dinner and pack leftovers for lunch.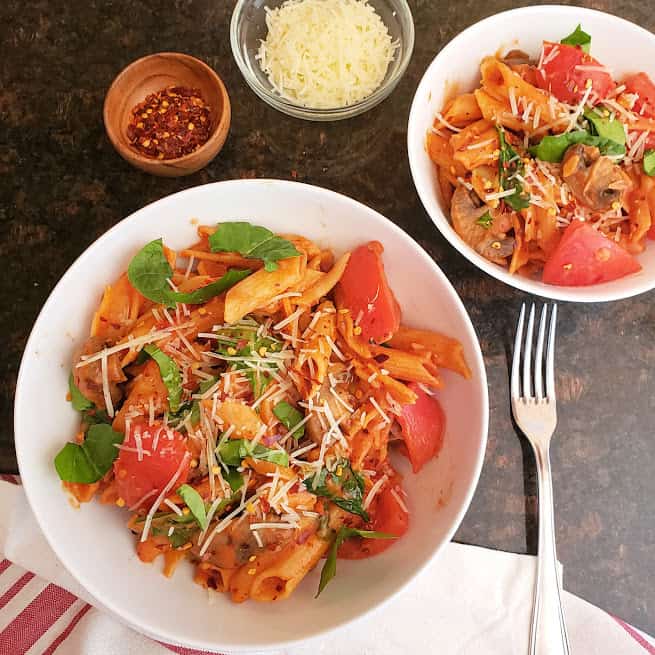 PRO TIPS :
Half-and-half, cream cheese or Greek yogurt can easily replace the heavy cream. You can use vegan cream to make this recipe vegan and dairy free.
Spinach adds a boost of nutrients and beautiful color contrasts. You can use kale, turnip greens, chard or your favorite greens.
For the perfect umami and meaty texture, I am adding mushrooms. You can use your favorite protein.
Choose a good quality marinara sauce. I like the sweet and tangy Italian San Marzano marinara sauce. Adding a splash of wine won't be bad choice either.
Last but not least, instead of penne, you can use any short pasta like fusilly, rigatoni, macaroni or rotini. All good choices !!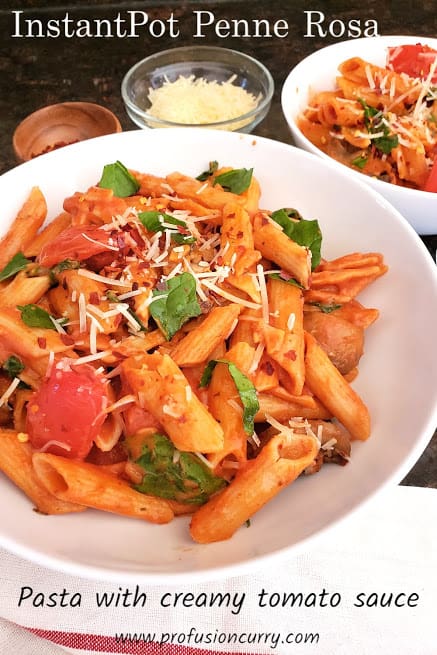 WHAT ARE THE INGREDIENTS OF PENNE ROSA?
Exact measurement for the ingredients are listed in the recipe card below. But here is the summery:
Penne pasta : I am using gluten free penne pasta.
Marinara Tomato Sauce: I love the sweet and tangy taste and bright red color of San Marzano tomato marinara sauce. Highly recommend it if you can get it. Otherwise, use your favorite marinara sauce.
Vegetables : Mushrooms, tomatoes and baby spinach for freshness and wholesomeness. Couple of cloves of minced garlic for the flavors.
Olive oil, Heavy Cream and Parmesan Cheese: The cream and Parmesan cheese add quite a bit of richness to the dish. We are only using 1/2 cup of each so it's not heavy calorie laden either.
Freshly ground black pepper , red pepper flakes and dusting of salt to bring it all together in one happy meal !
If it's easily available, toss few fresh basil leaves on top just before serving. It adds immense sense of vibrant freshness to this rich dish.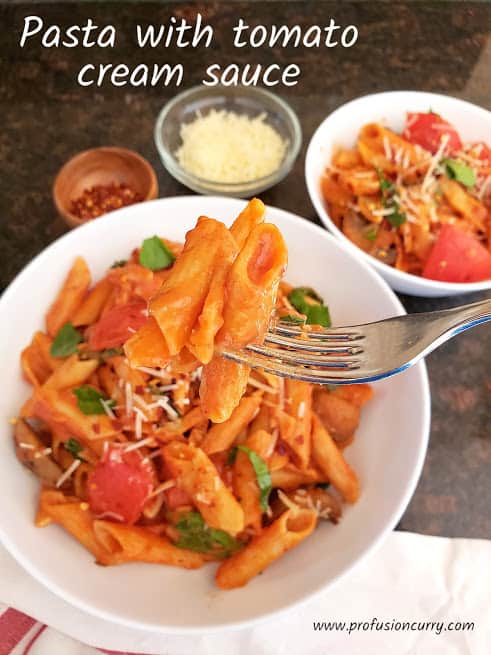 Our Popular Italian Dinner Recipes: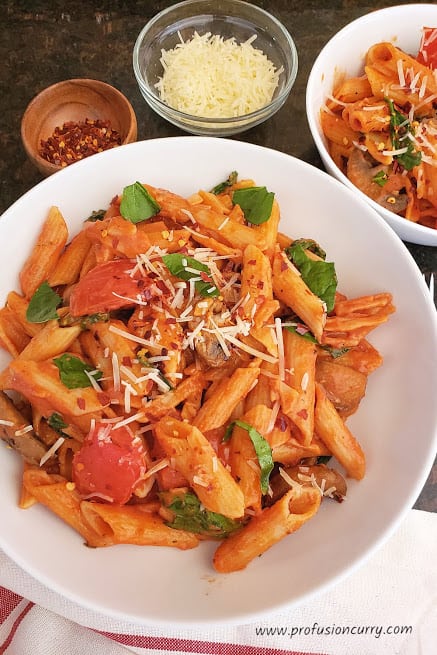 SERVING IDEAS
Pair this pasta with full bodied red wine for ultimate gourmet dining experience. Serve it with a side of garlic bread or a sliced baguette with olive oil dip.. heavenly!
Simple salad also works well. Toss together all leftover veggies from the refrigerator and make a delicious salad.
For Café style meal pair it with Vegetable Barley Soup or Broccoli Cheddar Soup. For a sweet finish, make a quick Almond Chocolate Mug Cake or big batch of Eggless Tiramisu. Bon Appetite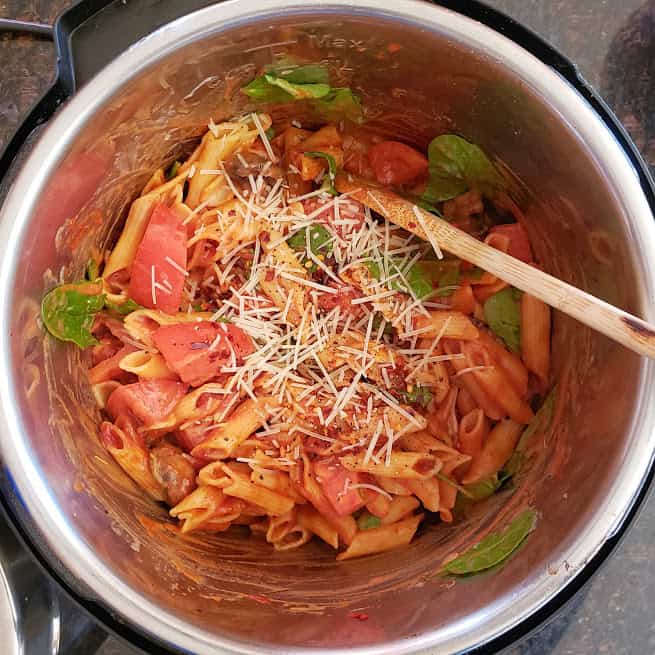 WHY YOU'LL LOVE THIS CREAMY ITALIAN PASTA
It is easy 20 minutes recipe that tastes amazingly delicious and rich.
Works perfectly for meal prep so make a big batch to pack for lunch too.
Healthy and full of nutrients recipe with lots of veggies. Spinach, mushrooms and tomatoes taste amazing when combined together!
Looks and tastes restaurant style yet very easy to make. The contrast of colors make this beautiful pasta dish truly gourmet quality!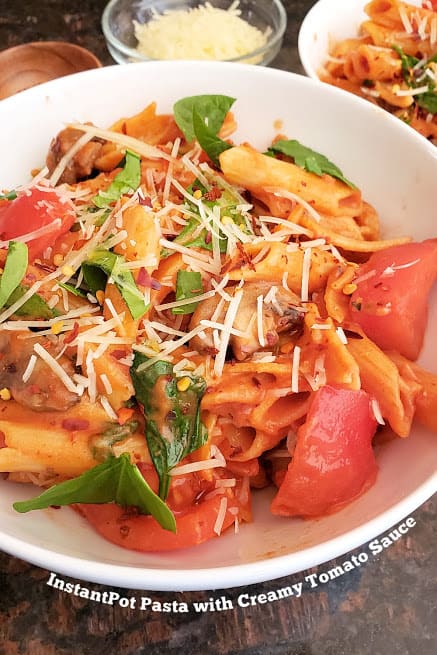 HOW TO MAKE PENNE ROSA
Cook pasta – make pasta according to package instructions. If using Instant Pot, choose Manual or Pressure cook setting and choose half the time suggested on the box.
Sauté Mushrooms in olive oil. Add cooked pasta, tomato sauce, bit of water and heavy cream.
Stir in baby spinach. Finish off with fresh cracked black pepper, shredded parmesan cheese and red pepper flakes. And ta da !!
Your Penne Rosa is ready for dinner !! Scoop out on the dinner plate and devour !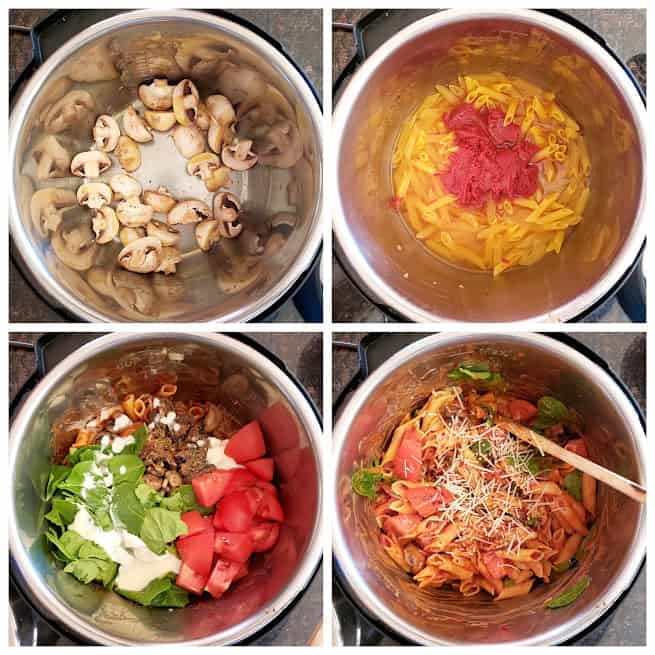 Don't forget to follow us on PINTEREST and like our FACEBOOK page. We love creating delicious , plant based recipes from around the world. DO JOIN US !!
We would love to hear your feedback!! Use the PIN button in the recipe card or image below to pin this recipe !
If you make this Instant Pot Penne Rosa Recipe , do let us know how you like it by ★ star rating it and leaving a comment below.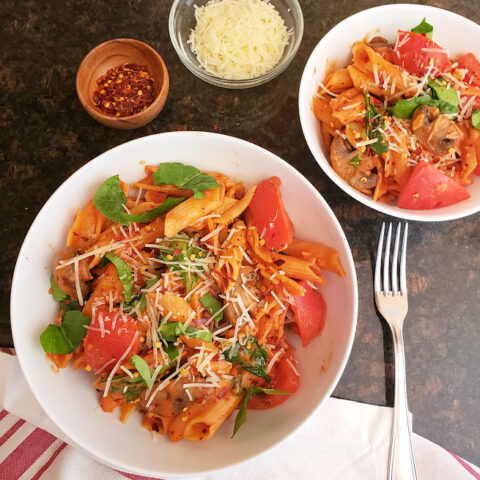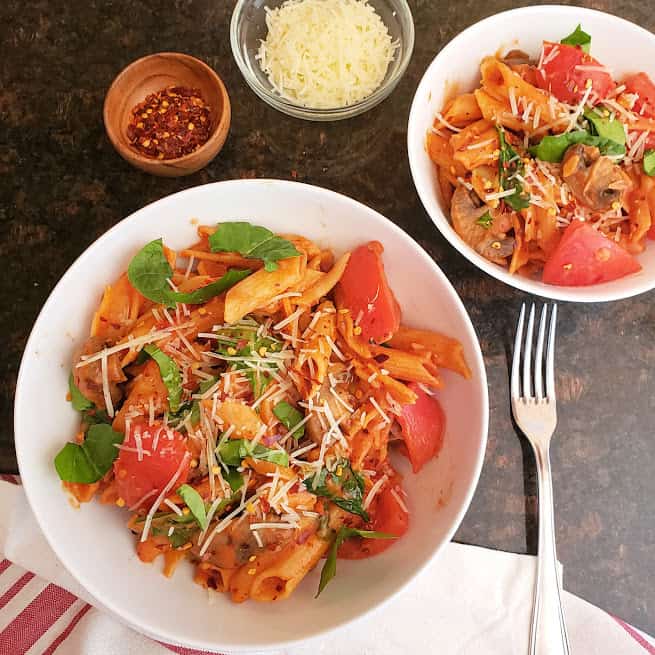 Penne Rosa - Pasta in Tomato Cream Sauce - Instant Pot
Penne Rosa is delicious and super simple Pasta in Tomato Cream Sauce. You will love this 20 minutes Italian pasta dish filled with veggies, tangy tomato sauce and touch of cream. This one pot wonder recipe is perfect family friendly meal for busy weeknights.
Ingredients
2 cups fresh baby spinach leaves
8 oz. Mushrooms -sliced
2 Roma Tomatoes - diced
1/2 cup heavy cream
1/2 cup shredded parmesan cheese
1/4 teaspoon crushed red pepper flakes
1 cup water ( for Instant Pot method only)
Instructions
INSTANT POT INSTRUCTIONS:
Start the instant pot in sauté mode and heat oil in it. Add the mushrooms, salt and garlic and cook for few minutes. Cancel Saute.
Add the pasta and water and mix well. Scrape if anything is stuck to the bottom of the pot. Most of the pasta should be covered in the water.
Pour marinara sauce over the pasta. Do NOT stir.
Close the instant pot lid with vent in sealing position. Choose MANUAL or PRESSURE COOK mode at high pressure for 4 minutes. ( do half of the time suggested on pasta box cooking time )This will result in al dente pasta.
When the instant pot beeps, quick release the pressure manually by moving the valve from sealing to venting. Open the lid.
Stir in the cream, tomatoes and spinach and mix well. Taste and adjust the salt if needed. Penne Rosa is ready to be served.
Garnish with grated parmesan cheese, crushed red pepper flakes and black pepper. Serve warm. Bon Appetit!!
STOVE TOP INSTRUCTIONS:
Cook pasta according to package directions.
Meanwhile, heat olive oil in a large skillet over medium-high heat. Add in minced garlic, sliced mushrooms and salt. Sauté for few minutes, until mushrooms are soft and tender. You should sense the garlic aroma too.
Stir in cooked pasta, marinara sauce , tomatoes and spinach. Stir to combine.
Stir in heavy cream. Gently mix everything well together. The pasta starts to soak up the liquid and sauce. Adjust the salt if needed.
Sprinkle parmesan cheese and crushed red pepper flakes and black pepper on top. Serve warm. Bon appetit!!
Notes
Instant Pot pasta cooking Tips:
Remove the steel insert from the instant pot, so the bottom does not continue cooking from the heat.
For al dente pasta, cook for 1 minute less than half the time recommended on the box.
For well done pasta cook for half the time suggested on the box. For example, if the pasta box says 10 minutes, then I would pressure cook for 4 minutes for al dente and 5 minutes for well done pasta.
If pasta is not the exact consistency you like, start the sauté mode again and cook for a couple of extra minutes till sauce gets thicker.
Nutrition Information:
Yield:

6
Serving Size:

1
Amount Per Serving:
Calories:

275
Total Fat:

12g
Saturated Fat:

6g
Trans Fat:

0g
Unsaturated Fat:

5g
Cholesterol:

29mg
Carbohydrates:

34g
Fiber:

5g
Sugar:

5g
Protein:

10g
Nutritional values are provided as a courtesy and the values are approximate. The values will change depending on the exact ingredients, measurements and brands used. As always. for specific health issues and dietary requirements please consult medical professional.