Instant Pot Stuffed Shells make the best comfort dinner. It's a one pot magic meal of jumbo pasta shells, tangy tomato sauce, healthy vegetables and cheese filling. This recipe makes BEST restaurant style Italian Pasta recipe at home.
Plus you will be happy to see that this hearty dinner recipe that can be done without much mess and very few dishes to clean. It also gets ready in no time. Truly a one pot wonder meal ! Simply stuff the shells with your favorite ingredients and let the magic happen. No boiling, pre-cooking or baking needed.
I love cooking pasta in Instant Pot. Penne Pesto Primavera, Lemon and Peas Orzo and Creamy Mushroom Pasta are some of our dinner time favorites.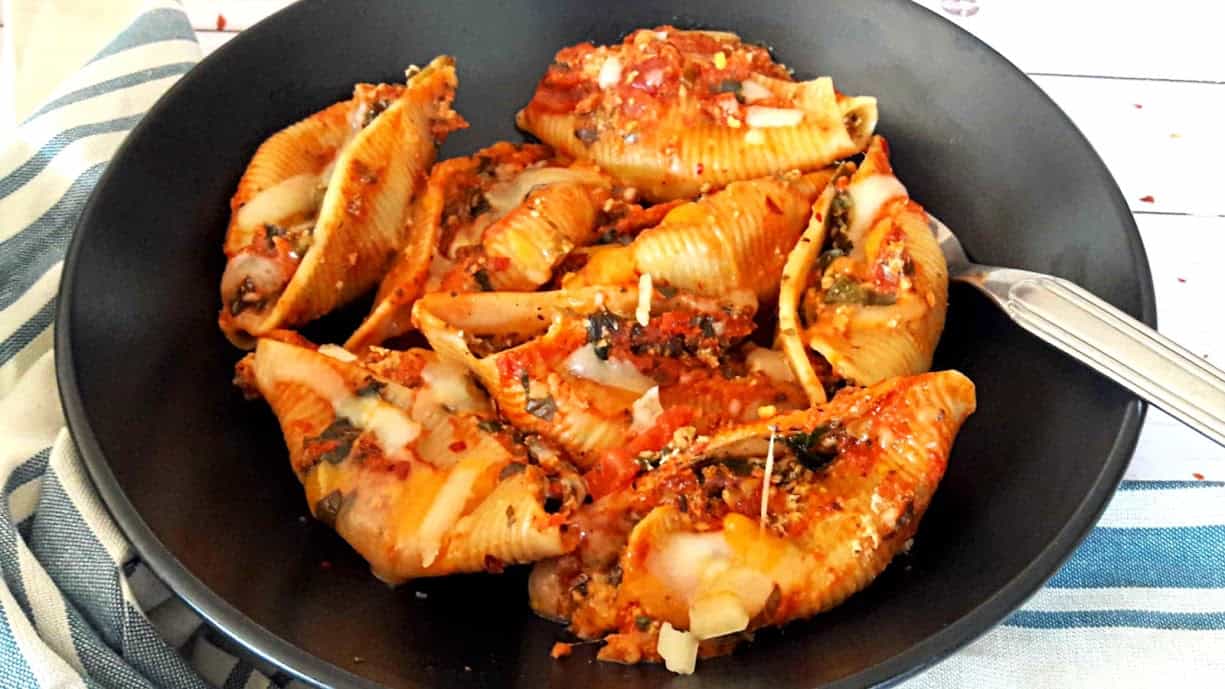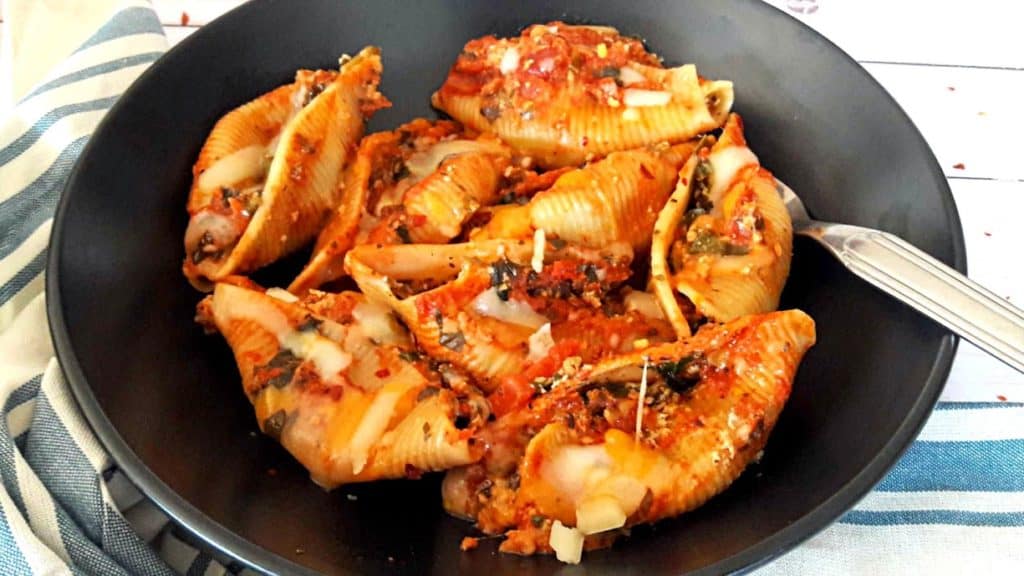 THE RECIPE CARD IS LOCATED TOWARDS THE END. Amazon affiliate link disclosure is below as well. Before scrolling to the recipe card, do check the HELPFUL RECIPE TIPS in the post!
Have you tried making Instant Pot Stuffed Shells? If you haven't, I highly recommend doing so. Jumbo shells, tangy tomato sauce, creamy cheese and flavorful veggies complement each other and create a delicious dinner.
Why should I buy Instant Pot?
If you are yet to join the Electric Pressure Cooker bandwagon, wait no further. I use the Instant Pot DUO60 6 Qt 7-in-1 Multi-Use Programmable Pressure Cooker. It can be used as a Slow Cooker, Rice Cooker, Steamer, Sauté, Yogurt Maker and Warmer in just one gadget.
I simply love my Instant Pot. No need to buy several kitchen appliances. I love tidy, minimalist and clean kitchen and Instant Pot helps me tremendously.
As a busy family constantly on the go, having a timer to make food is also a great plus. So while you are not actively watching it , food gets ready and you come back home to a warm happy meal.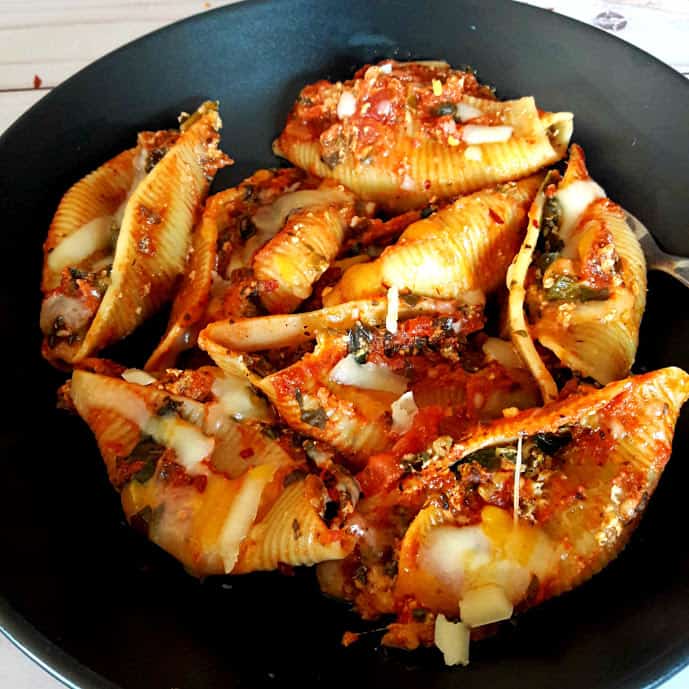 By the way, if you are looking for more pressure cooker recipes, check these ones out. You will love these reader's favorite, fusion, easy and healthy dinner recipes from our kitchen.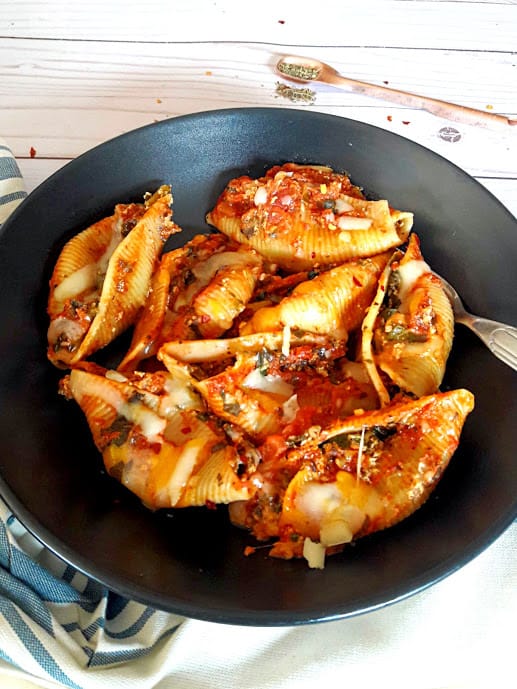 Why make Pasta in Instant Pot
Making pasta in Instant pot or electric pressure cooker is the easiest thing. It makes any pasta dish practically dump and go recipe . It means, you dump all the ingredients in the pressure cooker. Set the timing and walk away. Hot, yummy dinner gets done in very little time and saves you lot of time.
No need to wait for water to boil
No monitoring and stirring pasta in hot water
No draining the hot water and cooked pasta in colander

YES

to time saving, less mess and less dishes to clean. And doing your own favorite things while dinner is cooking.
The whole family will be happy with One Pot Pasta Dinner. It is so, so easy to make. After all, who doesn't love a good cheesy, saucy, filling pasta dish?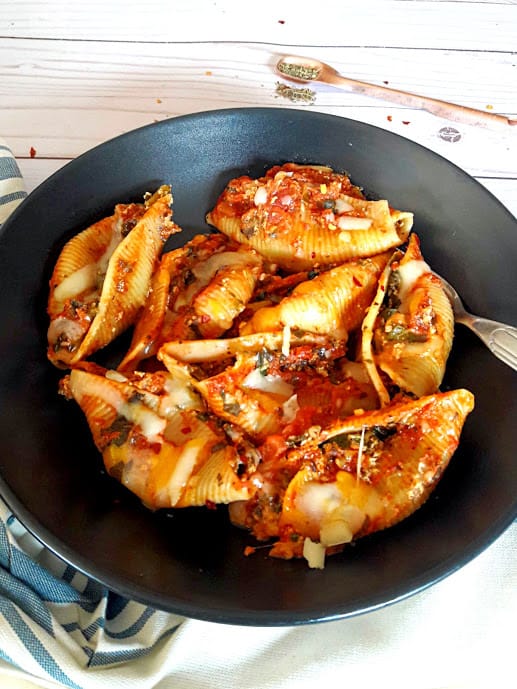 Great for meal-prep
Vegetarian Stuffed Pasta can be stored in the fridge for up to 4 days! Leftovers make great school lunches in warm thermos. My kids love these lunches all year round.
What's so fabulous about this recipe? Everything !! And I mean it. This InstantPot Vegetarian Stuffed Shells recipe is elegant enough to serve at a dinner party or just for weeknight supper. They are easy, loaded with flavors and textures and nutritional powerhouse.
And guess what?? They look and feel fancy. A restaurant style meal at a fraction of cost and at comfort of your own home.
Stuffed Pasta Recipe
Stuffed pastas are a favorite in my home. We love to get creative with stuffing and sauces. Likewise, you can try and mix and match to your taste. And as a pro mommy tip, it's a great way to sneak some veggies into your kids meals if they are picky eaters.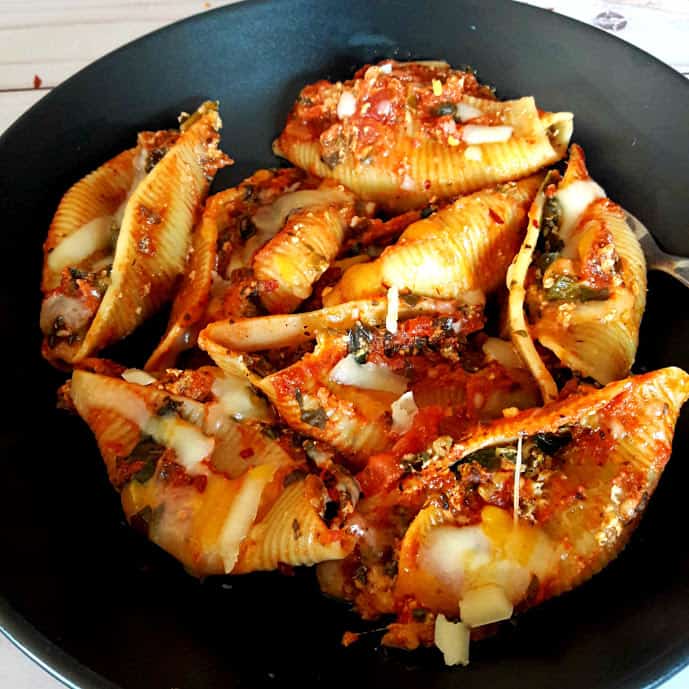 Ingredients
To make things incredibly easier, I love semi home made dinners. For this recipe, I used frozen chopped spinach. Store brought marinara sauce saves lot of time.
I am layering the Instant Pot with sliced mushrooms to bring out meaty texture. Ricotta cheese and Italian seasoning mix round up the flavors. Jumbo shells are awesome to make stuffed dishes.
Exact measurements are listed in the recipe card below.
Substitutes
I often have so many odds and end of veggies in the fridge so I also make mix vegetables stuffing. Zucchini, mushrooms, corn and bell peppers work very well ! You could easily use any vegetable in this dish and it would taste great!
You can also change the sauce and create very different tasty meal. White sauce, pesto, Bolognese sauce or marsala wine sauce, all of them are worth experimenting.
And you can use any filling to stuff the shells. Lentils, veggies, meat and leftovers all work just fine.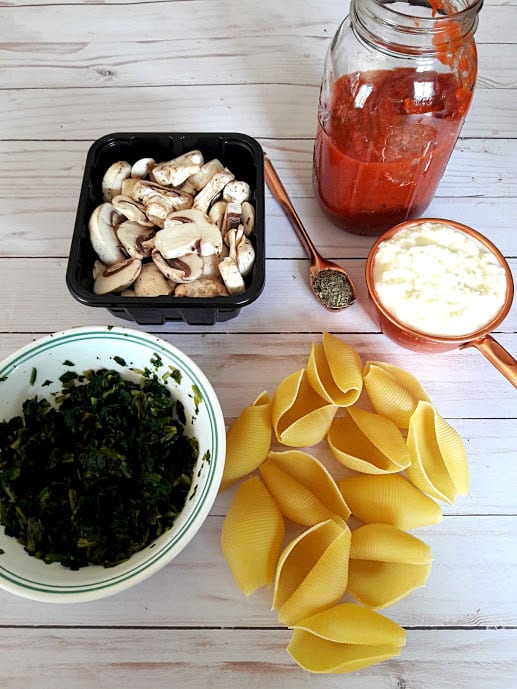 How to Make Vegetarian Stuffed Shells in Instant Pot?
We begin by creating a filling to stuff the shells. Mix the Spinach, Ricotta and mozzarella cheese, garlic, pepper and Italian seasoning together.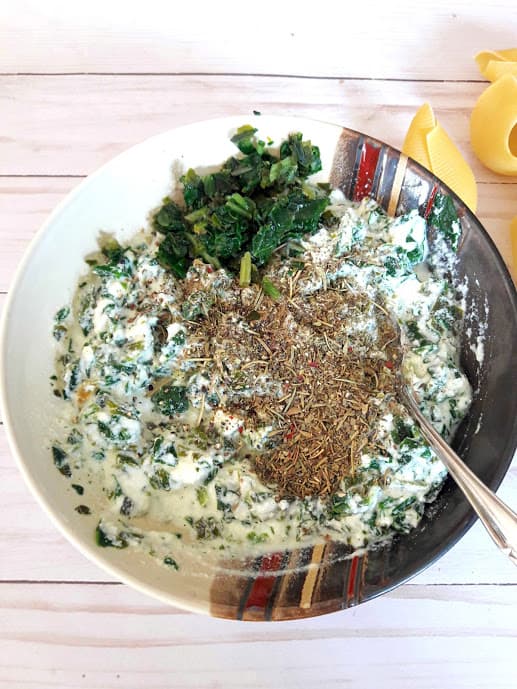 Spoon the spinach-cheese mixture into each pasta shell. Alternatively, line a large tall glass bowl with zip lock bag. Gently pour the spinach/cheese mixture into the bowl lined with plastic zippered bag. Close the zip and cut the tip off of one corner of the bag for easy squeezing into the shells. Squeeze the mixture into each shell.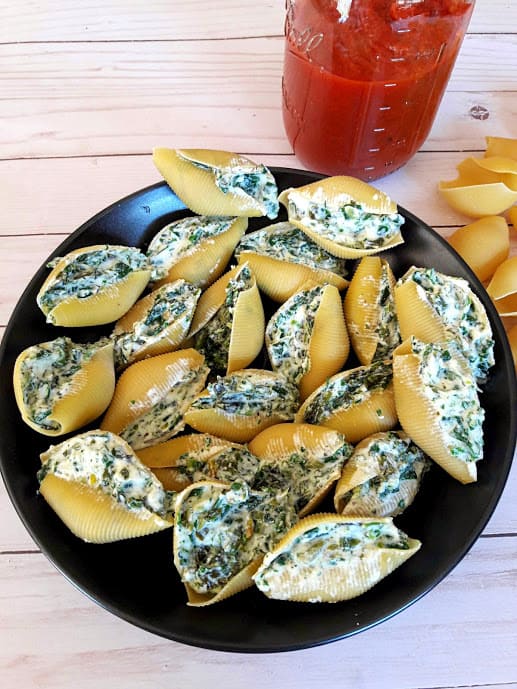 Once all the shells are stuffed, the cooking process begins. In Instant pot, you sauté the mushrooms for extra layer and prevent burns at the base. Sautéed mushrooms add extra meaty texture to the dish as well. We add extra water for cooking. Layer the stuffed shells in Instant Pot. Add marinara sauce on top. I highly recommend you do NOT stir the sauce.
Close the lid. Choose cooking time and press start. Now grab your favorite drink or a glass of fine Italian wine and play some music ( you need to set a perfect tone to enjoy this delicious meal)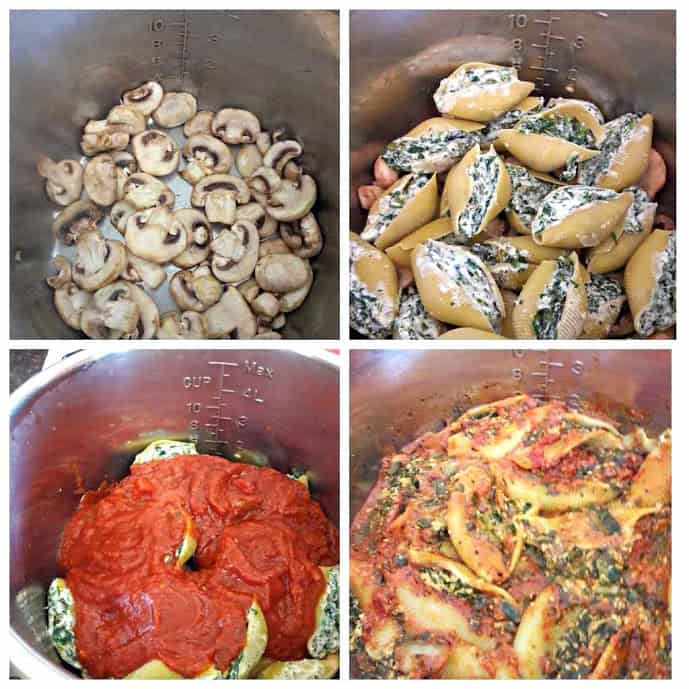 When Instant Pot is done cooking, wait for 5 minutes and then do a quick pressure release. You can further melt some cheese on top. And there you have your gooey, delicious comfort meal ready without pile of dishes and hours of cooking !! Bon appetite my friends !!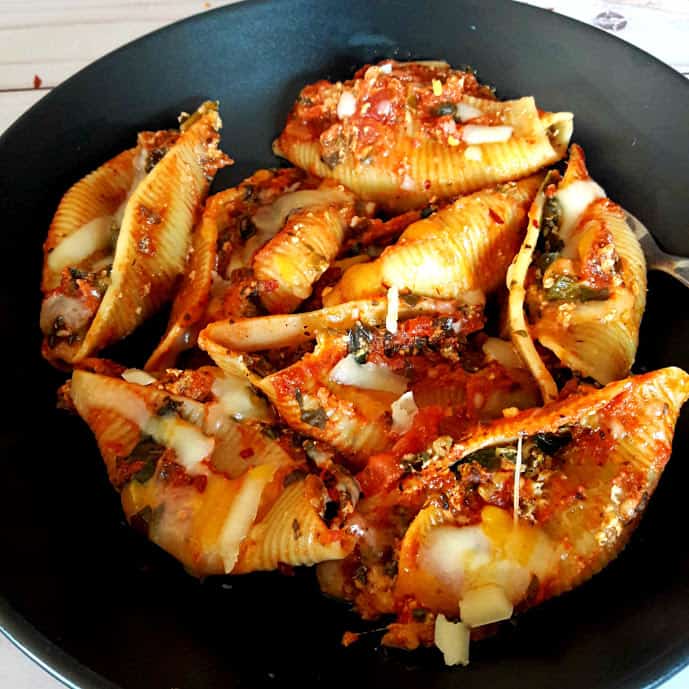 OUR FAVORITE COMFORT FOOD RECIPES
Join us on Pinterest and FACEBOOK . You will love all our delicious, wholesome, plant based recipes from around the world.
★ If you make this INSTANT POT STUFFED SHELLS RECIPE do let us know how you like it by ★ star rating it and leaving a comment below.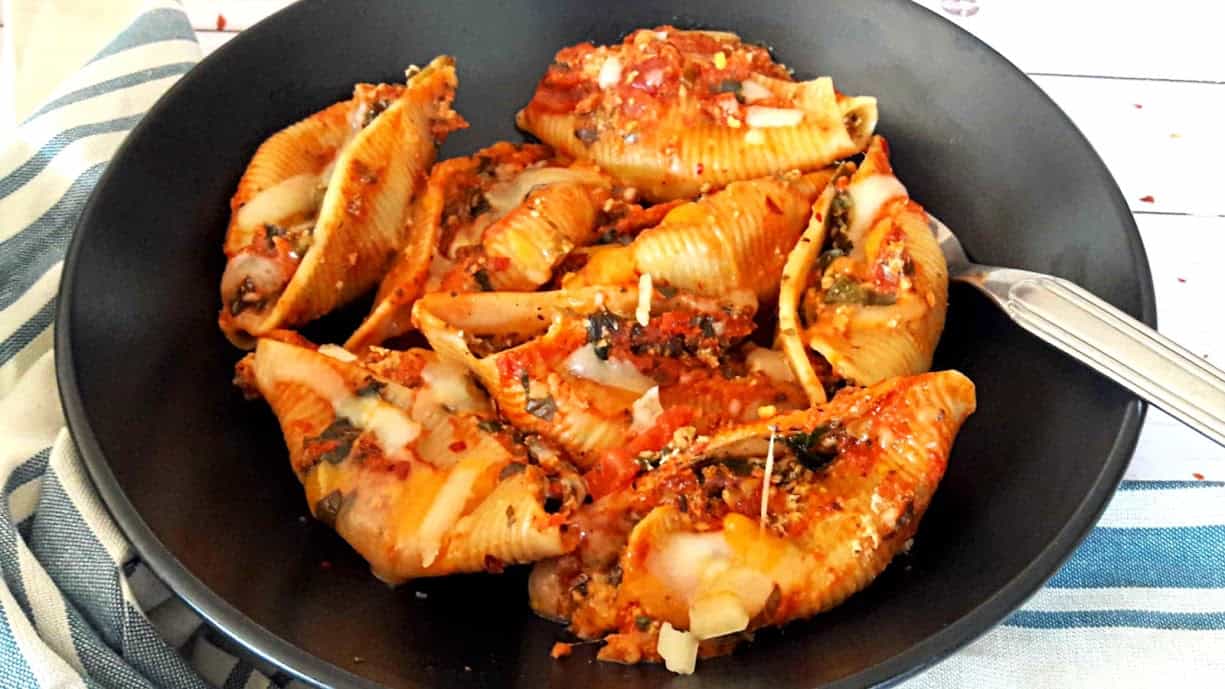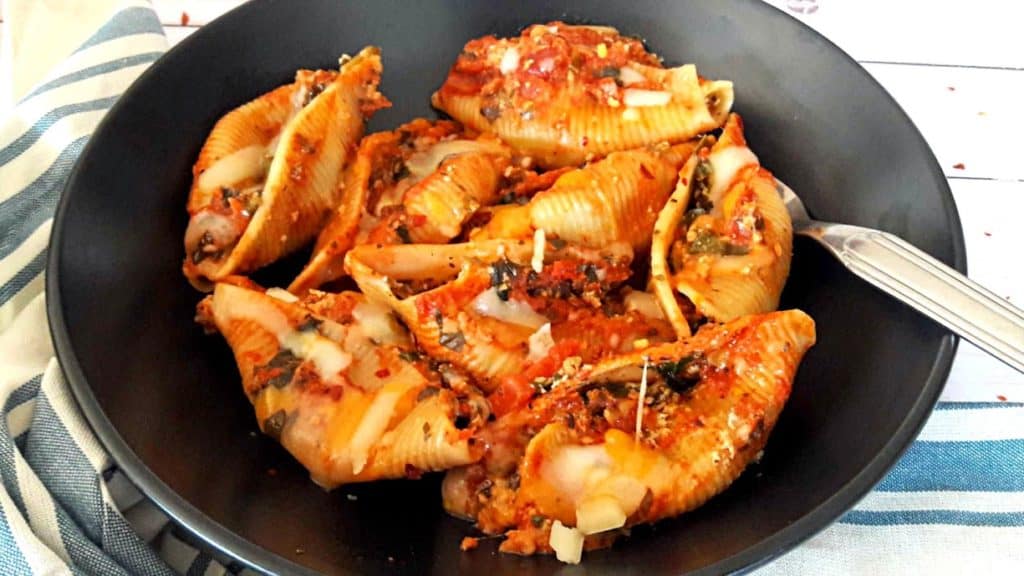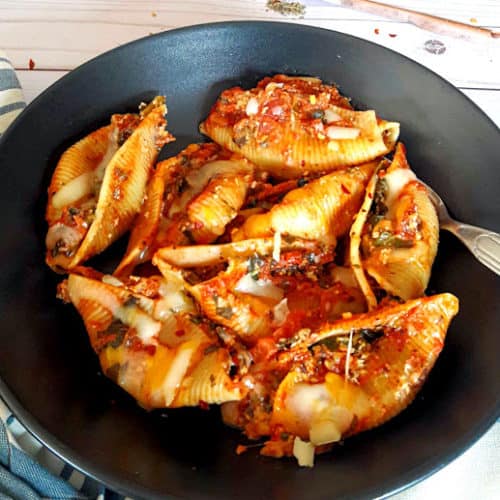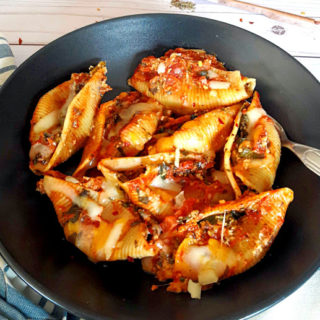 Easy Instant Pot Stuffed Shells
Instant Pot Stuffed Shell are ultimate comfort Italian dinner recipe. Spinach and Cheese stuffed shells made in pressure cooker with robust Marinara Sauce.
Ingredients
8

oz

box jumbo pasta shells

uncooked

24

oz

jar marinara sauce

16

oz

frozen spinach

thawed and squeezed until dry

8

oz

pack sliced mushrooms rinse clean and drain

3

cloves

of garlic

minced

16

oz

container part-skim ricotta cheese

1

cup

mozzarella cheese

1

Tablespoon

Italian Seasoning

½

cup

grated parmesan cheese

1

cup

water

1

Tablespoon

Olive oil
Instructions
In a medium bowl, mix together spinach, ricotta and mozzarella, garlic, Italian seasoning and salt & pepper.

Spoon the spinach-cheese mixture into each pasta shell. Alternatively, line a large tall glass bowl with zip lock bag. Gently pour the spinach/cheese mixture into the bowl lined with plastic zippered bag, zip close, and cut the tip off of one corner for easy squeezing into the shells. Squeeze the mixture into each shell.

Press the SAUTE button on your Instant Pot and add oil. Wait few seconds then add sliced mushrooms and stir for few minutes till mushrooms start to brown and release water. Cancel SAUTE.

Add water to the pot. Make sure to deglaze the bottom of pot by scrapping the base with wooden spatula to ensure nothing is stuck at the bottom.

Layer the stuffed shells by keeping them upright. If you have more than one layer, arrange on top of each other . Ensure that they stay upright. Do NOT put more than 2 layers at once.

Pour the jar of marinara sauce over the stuffed shells. Do NOT Stir.

Lock the lid on the Instant Pot.

Press MANUAL and adjust the time to 6 minutes and close the steam valve.

Once IP is done cooking, wait for 5 minutes . Then release the steam valve to venting to release the steam and pressure. Open the lid carefully.

Sprinkle parmesan cheese over top and place the lid back on for 1-2 minutes or until cheese melts.

Scoop out shell with sautéed mushrooms in a dinner plate. Serve warm with optional ground black pepper, chili flakes and parmesan cheese sprinkled on top. Enjoy!
Notes
If you want to make Gluten free Stuffed Pasta : Please use Gluten free Jumbo Pasta Shells instead of regular shells. Adjust cooking time according to package directions.
To Make Vegan Stuffed Pasta Shells : Use vegan and diary free cheese instead of regular cheese. Vegan cheese does not melt so texture will be different.
How to choose cooking time in Instant pot Pasta Cooking ? Read the cooking time listed on the package. Choose half that time . SO if the package suggests 12 minutes choose 6 minute pressure cooking.
This recipe makes 8-10 generous servings. Depending on the size of the Instant pot, you may want to make the recipe in half. Also for proper cooking, do not layer more than 2 levels of the shells at once. You can freeze stuffed uncooked shells and cook in batches if needed.
We have tested this recipe several times without getting burnt signals on our Instant Pot. Newer models are sensitive to burn messages. Usually there is piece of food is stuck at the bottom . So please make sure to deglaze the pot thoroughly to avoid burn messages
Nutrition
Serving:
1
cup
Calories:
310
kcal
Carbohydrates:
30
g
Protein:
18
g
Fat:
14
g
Saturated Fat:
6
g
Polyunsaturated Fat:
6
g
Cholesterol:
36
mg
Sodium:
749
mg
Fiber:
6
g
Sugar:
6
g