This Instant Pot Enchilada Rice is quick, healthy, easy and delicious dinner recipe. Bursting with your favorite Mexican flavors, this bowl will become your favorite wholesome meal prep.
This recipe is Gluten Free, Vegan and low calorie. If you enjoy Mexican food like my family, you will really enjoy making this Instant Pot Enchilada Rice Bowl.
This recipe is so versatile that you can make many different dishes using it as a base. Think tacos, burritos and salads. You can also devour it as-is if you so wish. It's truly a ONE POT WONDER MEAL.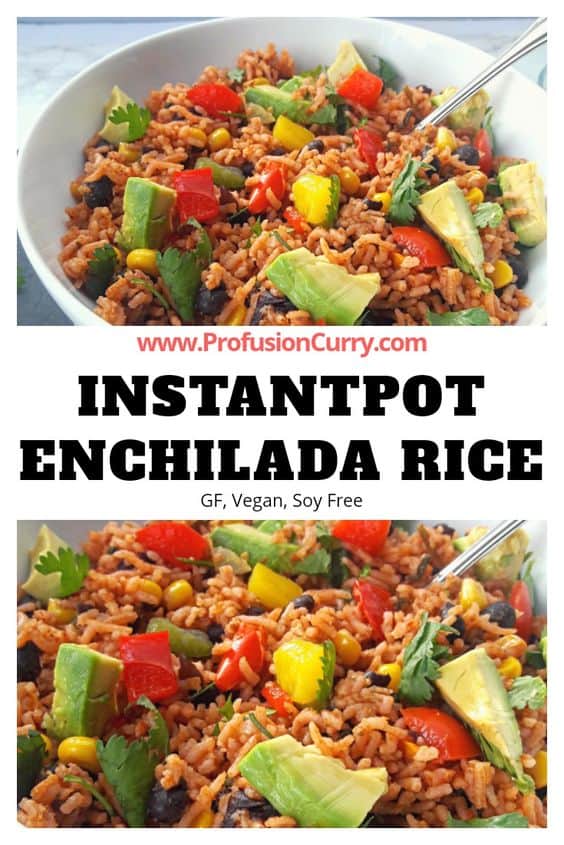 THE RECIPE CARD IS LOCATED RIGHT TOWARDS THE END. Amazon affiliate link disclosure is below as well.
If you are looking to spice things up around your dinner time, don't forget to follow us on Pinterest and like our FACEBOOK page. We love creating delicious , plant based recipes from around the world. DO JOIN US !!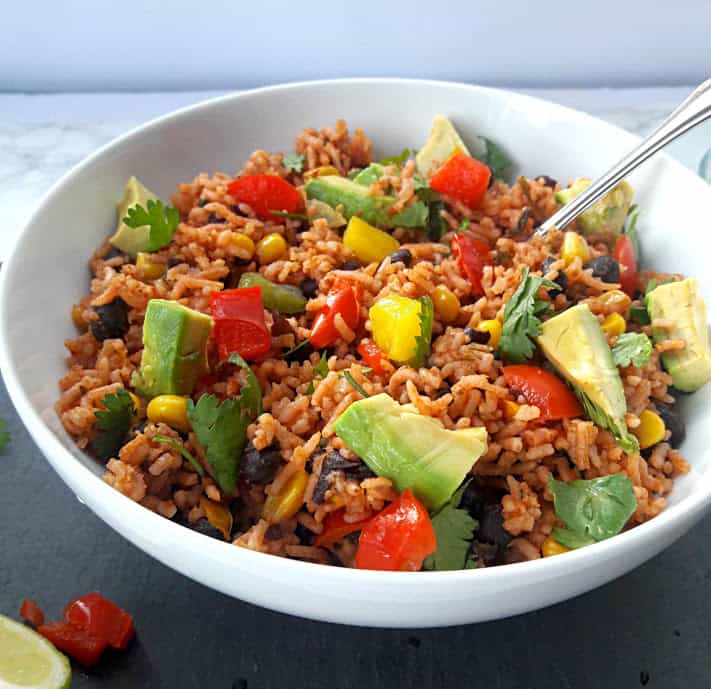 Healthy and wholesome cooking doesn't get much simpler than Instant Pot Vegan Enchilada Rice Bowl.
Just a handful of simple, clean ingredients and a few minutes of cooking in your Instant Pot, and lip smacking yummy dinner is yours in no time…without having to actively watch and cook it !!
I simply enjoy making one pot complete meals. They make weeknight meal planning go so much smoother. This Instant Pot Vegan Enchilada Rice freezes well and makes an excellent lunch or meal prep option.
You can easily double the recipe and pack it for lunch. I often like it with side of butter lettuce and vegan cheese.
WAY better than Chipotle or any other Mexican taqueria and at a fraction of the cost. Plus with the quality of the ingredients you can trust.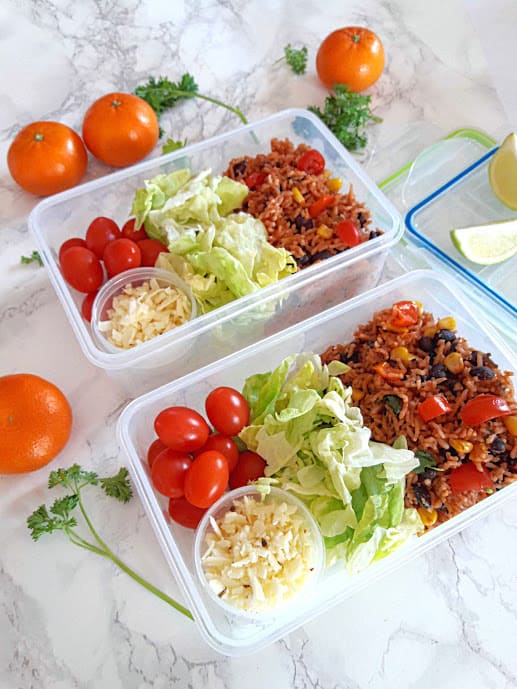 Perfect to feed a crowd on a budget. This InstantPot Enchilada Rice recipe has everything to make it perfect weeknight global fare fiesta. This recipe is
Delicious and filling – a flavor fiesta for your taste buds.
Quick cooking and clean up– it takes less than 20 minutes to put together! Everything cooks in just one pot. Only one pot to clean up !!
Healthy – loaded with plant-based protein, carbohydrates, fiber and nutrients without empty calories
Easy – you only need a handful of ingredients that are super accessible.
Life is busy. You want to stay on course with healthy eating lifestyle. You want food that tastes good without spending a lot of time in the kitchen.
So you create one pot well-rounded meals like Instant Pot Vegan Enchilada Rice Bowl.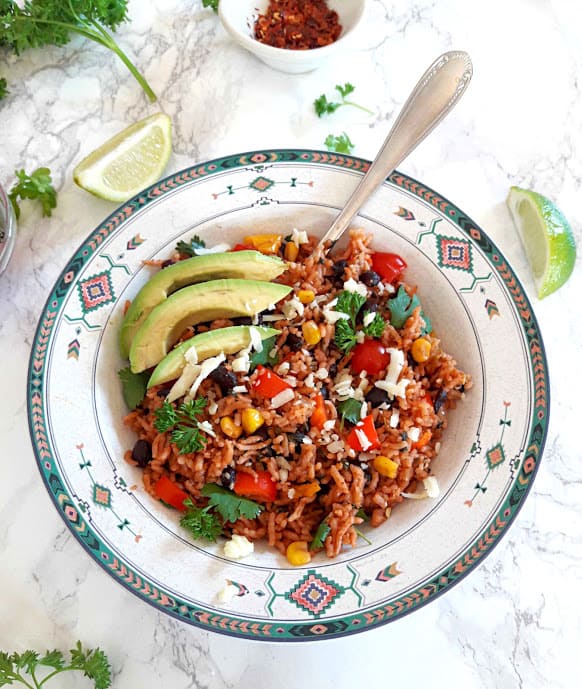 Why choose Instant Pot Pressure Cooker?
I love that the Instant Pot gives you the option to do most of cooking steps at one go. You can saute, simmer, cook and steam all in one pot. Most recipes thus become DUMP AND GO !!
On busy weeknight, I often prep everything in Instant Pot, set the timer and go out. Hot and delicious dinner awaits when I come back home. You won't believe how awesome and comforting that feeling is !! Simple pleasures of happy life.
What are Ingredients in Instant Pot Vegan Enchilada Rice ?
Colorful veggies, rice, black beans and corn cooked in robust enchilada sauce. All flavors mend together perfectly as they are simmered and pressure cooked together. A perfect fiesta to please all the senses from looks to taste !!
I am using Tres Latin Foods Red Enchilada Skillet Sauce to make this recipe. ( it's not a sponsored post) I like their list of clean, non gmo ingredients. It is also gluten free and vegan sauce which is perfect. The taste of this sauce is simply AMAZING !
It's easily available in most super markets. In case you want to order it on amazon, use the link ( affiliate link )
Do you and your family love Hot and bold spicy food ? Use the hottest sauce you can find to make this recipe! Are you serving this to the folks with sensitive taste buds? Then opt for a mild sauce so everyone can indulge on it. Use a sauce that reflects your spice preference!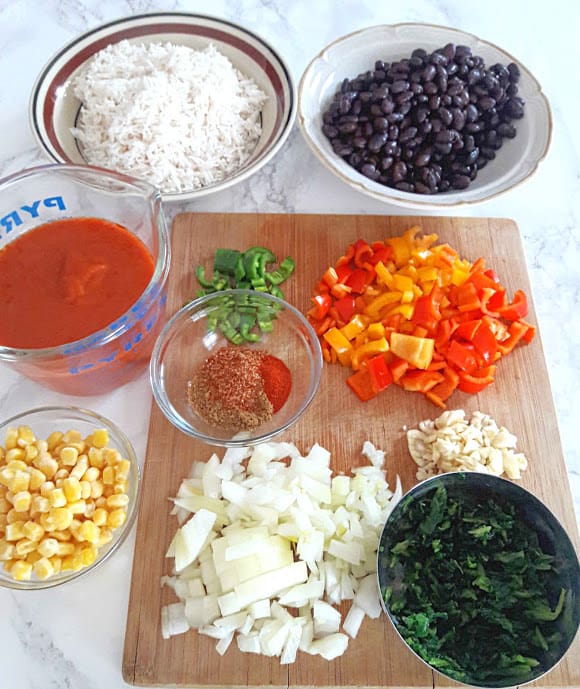 What Toppings Should I Use?
Choose one – choose all – choice is your's but here are few suggestions to make this enchilada rice bowl even more interesting
Avocado ( to avoid browning, use it just before serving)
Cilantro
Lime or lemon juice
Sliced jalapeno
Crunchy tortilla chips
Sour cream or Greek yogurt ( dairy free if vegan)
And if you like it SPICY – try mango Habanero sauce .. fiery hot but soo good !
How about cold frosty Corona or Dos Equis with lime wedges or Maragarita with salted rim for adults and mango lemonade for little tikes to round up this festive fieasta?
Vivir feliz vida gozosa todos los días ( Live the happy blissful life everyday )
Simple Instructions to make this Delicious InstantPot Enchilada Rice Bowl are included in the recipe card below. Here's the process shot to explain them
Sauté the chopped onions and jalapeno peppers in the oil till they sizzle

Add all other veggies, rice and beans and mix everything well.

Stir in Enchilada Sauce and Spices. Mix well.

Add water or broth and mix well. Pressure cook on high for 5 minutes. After cooking is done, wait for 5 minutes and then release the pressure and fluff the rice with fork. Your delicious rice is ready !!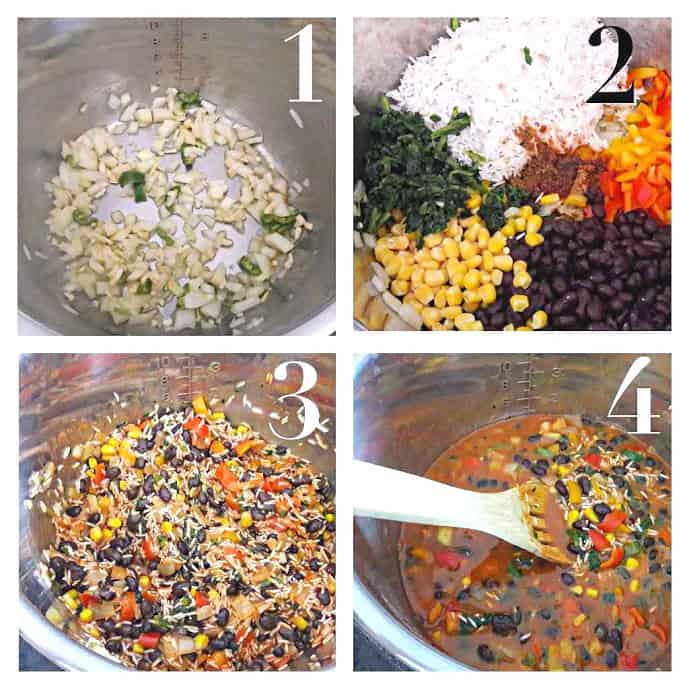 Try some of our Reader's Favorites Healthy InstantPot Recipes from the Profusion Curry for easy weeknight dinners.
♥ If you make this InstantPot Enchilada Rice Bowl, do let us know how you like it by ★ star rating it and leaving a comment below. We would love to hear your feedback !!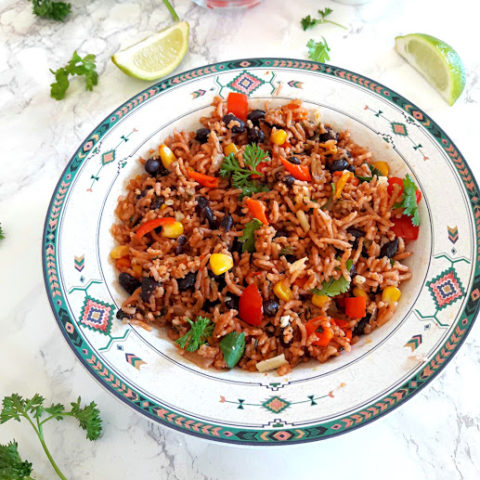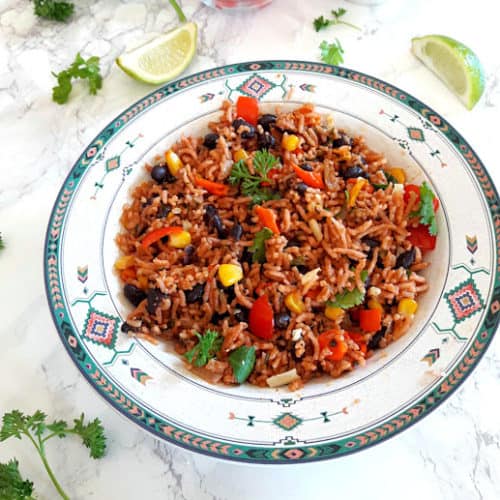 InstantPot Enchilada Rice Bowl
InstantPot Enchilada Rice is easy, healthy and delicious one pot wonder dish. Perfect for weeknight dinner and meal prep, this wholesome recipe is Glutenfree, Vegan complete meal in a bowl.
Ingredients
1 tablespoon avocado oil
1 medium onion chopped
1 jalapeño, de-seeded & chopped
3-4 large garlic cloves, finely chopped or minced
1 medium red pepper, chopped
1 cup white rice, long grain, rinsed and drained
15 oz. can black beans, drained & rinsed
1 cup sweet corn, frozen or canned
1 cup fresh or frozen spinach
1 cup red enchilada sauce
1 cup water or vegetable broth
1 teaspoon cumin powder
1/2 teaspoon smoked paprika
1/2 teaspoon salt, or to taste
Chopped cilantro, lemon or lime wedges, diced avocado, and tortilla chips, to serve
Mexican cheese blend for toppings optional
Instructions
InstantPot Instructions
Press the SAUTE button on the Instant Pot. Once it displays hot, add the oil to the pot. Add the garlic, onion, jalapeño and sweet peppers. Sauté for 1 minute, till they start to sizzle.
Add black beans, corn, spinach, cumin powder, smoked paprika and salt. Add Rice and red enchilada sauce. Mix everything well.
Add water or broth to the pot. Scrap everything at the bottom and make sure nothing is stuck there. ( de-glazing)
Close the lid, push valve at sealing position. Press the MANUAL or PRESSURE COOK button and select high pressure for 5 minutes.
After InstantPot beeps when it's done cooking, wait on the KEEP WARM counter for 5 minutes and then do a quick pressure release.
Open the lid. Using the fork, gently fluff the rice.
Stir in the cheese( if using) and garnish with chopped cilantro, a good squeeze of lemon juice and avocado slices. Serve warm.
Slow Cooker Instructions
To cook this in a slow cooker, saute all the aromatics first, then add all the rest of the ingredients to the slow cooker. Add water and/or broth. Mix well. Then cook for 4-6 hours until rice is cooked and fork tender.
Stove Top Instructions
Just follow the instructions as above, but use a large stockpot or Dutch stockpot and simmer on medium low until the water is evaporated. Lower the gas heat , cover and cook til rice are soft and tender. Total cooking time about 20 minutes.
Notes
To make it truly Dump and Go Recipe, you can skip the sautéing everything in oil for few minutes and just add the raw onion along with all the ingredients to your Instant Pot. The choice is totally up to you. I however, do like to sauté things just a bit before pressure cooking. I feel it adds to the flavor of the food.
You may use taco seasoning to make it more flavorful. If you do that, skip on the cumin powder and smoked paprika.
Cheese is optional. To make it vegan-skip the cheese at end or use vegan cheese.
To make it oil free and WFPB-simply skip the oil. You can use water or broth to saute the ingredients instead.
Recommended Products
As an Amazon Associate and member of other affiliate programs, I earn from qualifying purchases.
Nutrition Information:
Yield:

5
Serving Size:

1
Amount Per Serving:
Calories:

359
Total Fat:

12g
Saturated Fat:

2g
Trans Fat:

0g
Unsaturated Fat:

8g
Cholesterol:

5mg
Sodium:

1113mg
Carbohydrates:

53g
Fiber:

15g
Sugar:

9g
Protein:

15g
Don't forget to follow us on Pinterest and like our FACEBOOK page. We love creating delicious plant based recipes from around the world. DO JOIN US !!
Want to save this recipe for later use? Pin it here.