InstantPot Hibachi Fried Rice is loaded with veggies and spiced to perfection. Skip the takeout and make this delicious rice in less than 30 minutes.
Simple pantry ingredients is all you need to make this Benihana restaurant style fried rice at home.
THE RECIPE CARD IS LOCATED TOWARDS THE END. Amazon affiliate link disclosure is below as well. Before scrolling to the recipe card, do check the HELPFUL RECIPE TIPS in the post.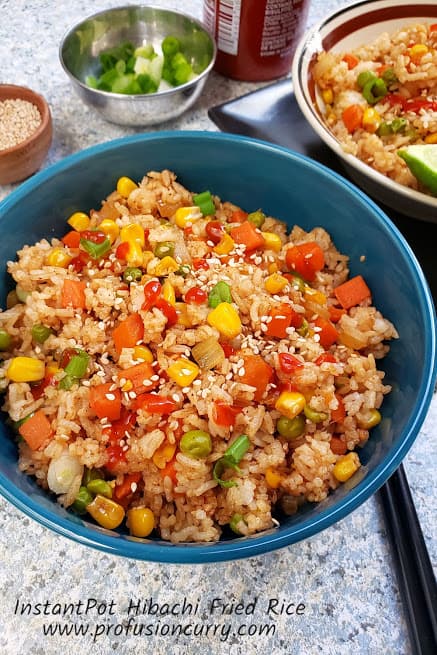 Easy, delicious, versatile and quick 20 minutes recipe to make savory and satisfying Asian Fried Rice.
I am including InstantPot and Stove top instructions to make Vegetable Fried Rice.
I love Japanese hibachi grill dinner every so often. And I crave that delicious and aromatic fried rice those chefs whip up in front you.
I love that rice so much that I wanted to recreate the recipe at home. After all, we need this zesty and flavorful rice to make weeknight dinners interesting.
This easy peasy vegetarian recipe also is gluten-free and vegan. It's always a hit with kids and adults alike.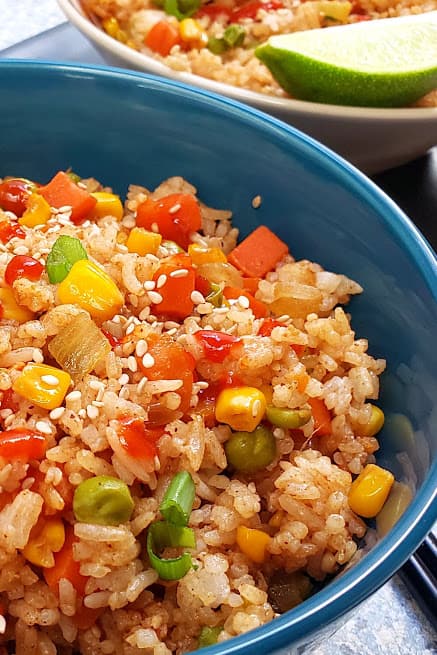 We love this zesty fried rice as a side dish with other Asian dishes like
So put your chef hat on. Gather all the ingredients. And let's get cooking.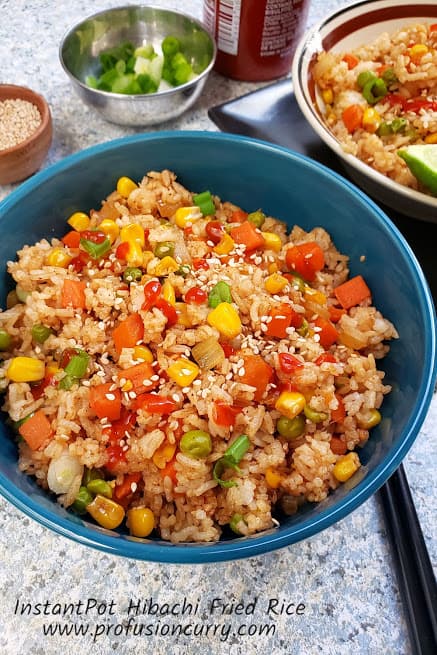 HOW DO YOU MAKE HIBACHI FRIED RICE?
You start off by making rice. Fried rice works best with cold rice. With cold rice, the grains are all separated and firm, and you'll get a better texture than you would with fresh cooked rice.
So if you have time, cook rice ahead of time and let it cool for few hours.
Fried rice made with just-cooked rice will be softer and won't have those crispy little bits.
If you are using Jasmine or short grain rice, make sure to rinse it for about a minute. It helps rice get less sticky.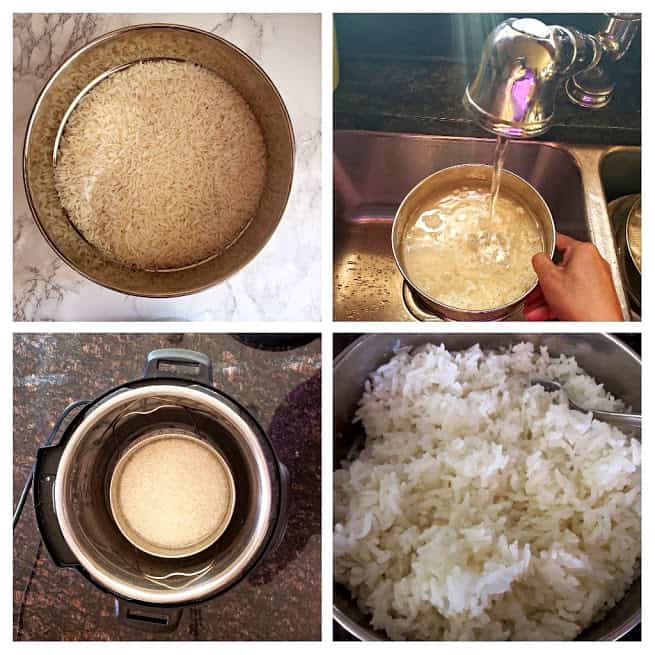 The next step is to make seasoned veggies. I am using frozen pack of carrots, peas and corn along with cut onion and celery.
You saute these veggies with the delicious sauce mixture. The bold and beautiful flavors all happen here!
If you are using eggs, you can mix it with veggies and make it like a scramble.
Finally, we mix in cooked white rice, toasted sesame seeds and cut green onions. Cook until everything is coated in sauce.
A drizzle of sriracha on the top and your culinary masterpiece is ready !!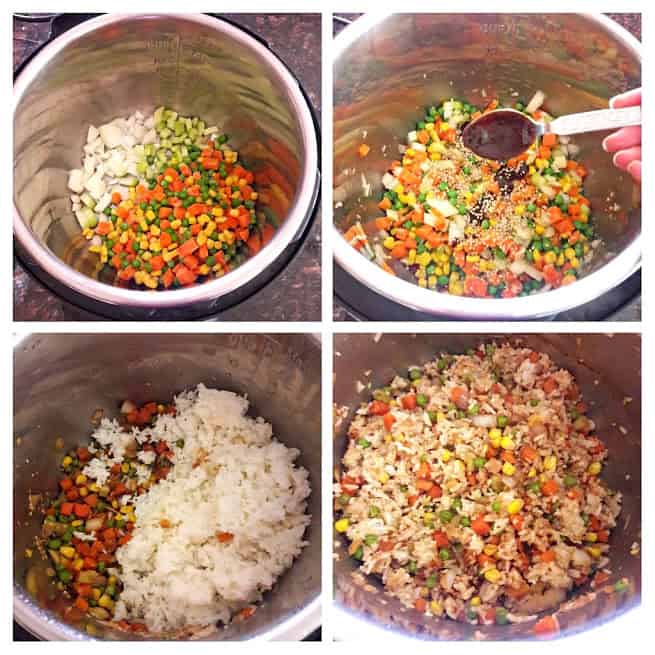 FRIED RICE VARIATIONS
Fried rice is wholesome and full of nutrients and protein.
You can add tofu or edmame beans for more hearty meal. Or use your favorite protein like chicken, eggs or shrimp for a simple but satisfying lunch or dinner.
I am using Jasmine rice for authentic texture and stickiness. However, you can make the same recipe with any leftover cooked rice or grains including brown rice or cauliflower rice.
Same goes for veggies used. Use up any leftover veggies in the fridge. Bok choy, eggplant, green beans, bell peppers all are great choices.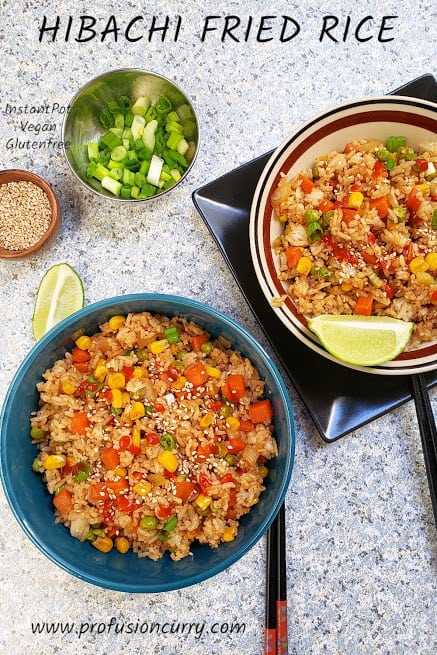 LEFTOVERS AND MEAL PREP OPTIONS
You'll be so glad you found this quick dinner recipe to add to your rotation!
This InstantPot Vegan Fried Rice is one of those recipes that tastes great as a leftover too. Flavors mend in longer resulting in even more delicious rice.
So make a big batch and use it for school or office lunches. You might want to sprinkle some water before reheating.
WHAT ARE THE INGREDIENTS OF HIBACHI FRIED RICE
The base of the recipe is Rice and veggies. I am using Jasmine rice and frozen veggie mix.
The Flavor Makers – Minced garlic and ginger gives classic Asian flair to this rice and so does Sesame oil. Usual suspects include soy sauce and rice vinegar. Adding hoisin sauce helps with darker color and more intense flavors.
Lime juice, sesame seeds and green onions are used as garnish which brings freshness, toasty crunch and perfect savory flavor.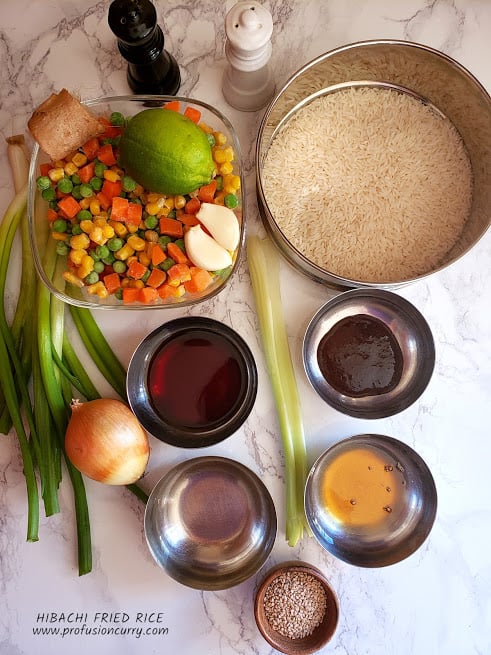 Follow us on Pinterest and like our FACEBOOK page. We love creating delicious, wholesome, plant based recipes from around the world. Do join us.
★ If you make this INSTANTPOT HIBACHI FRIED RICE Recipe, do let us know how you like it by ★ star rating it and leaving a comment below.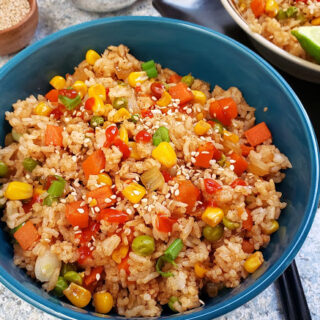 Hibachi Fried Rice - InstantPot
Instantpot Vegetable Hibachi fried rice is delectable and savory fried rice. This easy rice recipe is one pot wonder meal.
Ingredients
2 cups water
1 medium onion chopped
1 rib of celery cut into bite size pieces
1 cup each carrots, peas and corn - I used forzen mixture
1 lime juiced - optional
salt and pepper - per taste
1/2 cup green onions chopped - for garnish
Instructions
INSTANTPOT INSTRUCTIONS
To make rice :
Add rice and water in the steel insert. Close the lid. Valve at SEALING. Choose MANUAL or PRESSURE COOK for 3 minutes.
When your pressure cooker beeps, allow the pressure to release naturally for 10 minutes. Once the silver pin drops, remove the lid and fluff the rice with a fork. Remove the rice from the InstantPot.
To make the veggies : Press the SAUTE button and allow the metal liner to get HOT. Add the oil, swirl it around to coat the bottom of the pan, and add the veggies. Sprinkle some salt.
Cook for 4-5 minutes stirring frequently until veggies are softened. Add ginger and garlic and sauté for 30 seconds.
Add the cooked rice. Stir in the soy sauce, rice vinegar, hoisin sauce and mix gently until everything is thoroughly combined and warmed through, 3-4 minutes. Cancel SAUTE.
Adjust the seasonings as needed. Sprinkle sesame seeds, green onions and squeeze some lime juice over the top of the rice mixture, then serve warm.
STOVE TOP INSTRUCTIONS
Wash and rinse Jasmine rice until the water is clear and no longer cloudy. Use 1:1.25 rice to water ratio and cook rice until fork tender.
Heat 1 teaspoon of oil to the pan, along with the onion and other veggies. Sprinkle some salt. Cook for 4-5 minutes or until veggies are softened.
Add the ginger, garlic and cook for 30 seconds.
Add the cooked rice to the pan. Stir in the soy sauce, rice vinegar, hoisin sauce and mix gently until everything is thoroughly combined and warmed through, 3-4 minutes.
Sprinkle sesame seeds, green onions and squeeze some lime juice over the top of the rice mixture, then serve warm.
Recommended Products
As an Amazon Associate and member of other affiliate programs, I earn from qualifying purchases.
Nutrition Information:
Yield:

6
Serving Size:

1
Amount Per Serving:
Calories:

191
Total Fat:

5g
Saturated Fat:

1g
Trans Fat:

0g
Unsaturated Fat:

4g
Cholesterol:

6mg
Sodium:

600mg
Carbohydrates:

30g
Fiber:

4g
Sugar:

5g
Protein:

6g
If you make any of our delicious recipes, take pictures and tag it
#profusioncurry
on
Instagram
! We would love to feature your creation. Come join us on
Instagram.