Vegetable Lo Mein noodles is a classic Chinese noodles recipe full of colorful veggies and tossed in an easy sauce. No need for take out when you can make your own in just 20 minutes!
I am including instructions to make these vegan lo mein on the stove top as well as in electric pressure cooker like Instant Pot.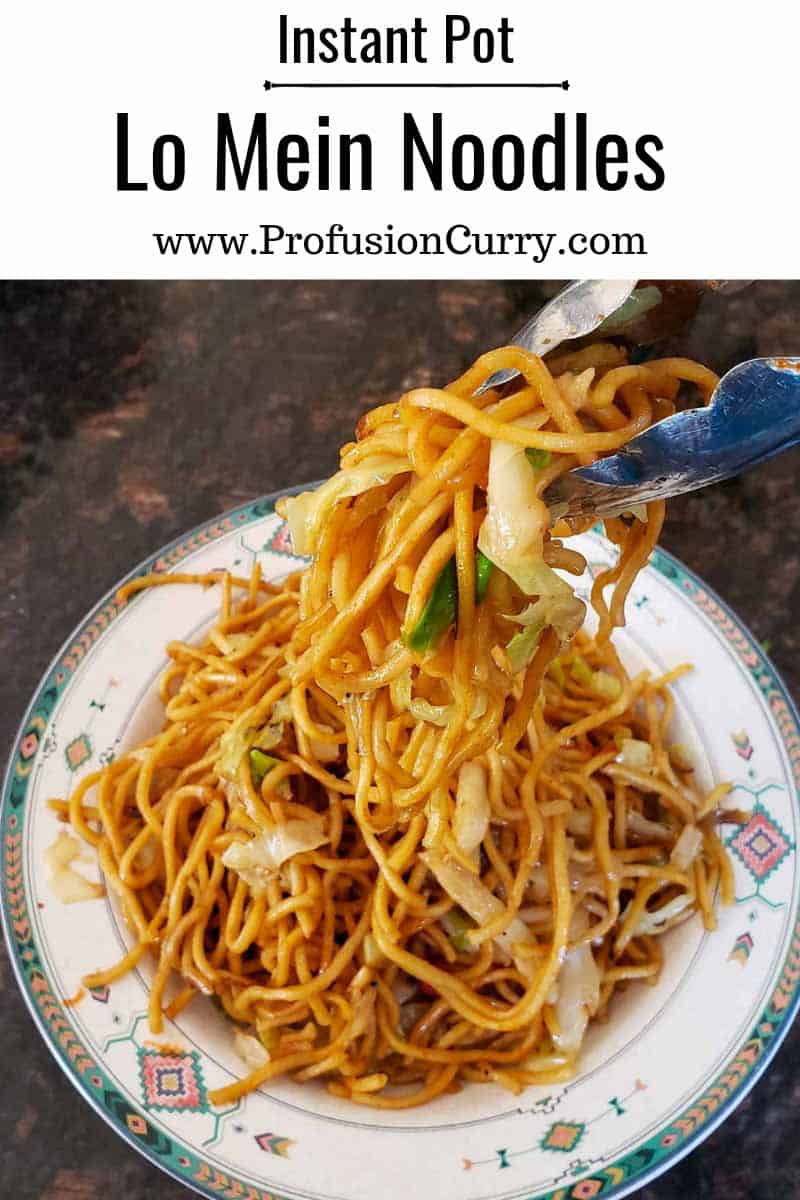 Similar to Chili Garlic Noodles and Stir Fry Rice Noodles , this is my favorite noodles recipe. Easy, scrumptious and family favorite.
Jump to:
Better than take out
P.F. Chang's, Panda Express and similar Chinese restaurants whip out some amazing lo mein noodles. I absolutely love these noodles for a quick and easy meal.
But time it takes to get out of the house and pick up the food or the time it takes for these places to deliver the food seems like eternity.
By the time food comes, kids and I often end up eating whatever is around and that's not good.
So I keep a few wonderful recipes that can be done in 20 minutes or so in my repertoire. These easy and quick recipes are life ( hunger) saviors since they are no fuss too.
Plus they match the flavors and taste of takeout. You control the quality of ingredients , don't have to worry about MSG or other hard to pronounce filler ingredients. Clean healthy eating made easy !
The beauty of these recipes is simplicity and versatility. You can get going with basic pantry ingredients and then mix and match with whatever you have in refrigerator… 20 minutes of chef show and dinner is served !!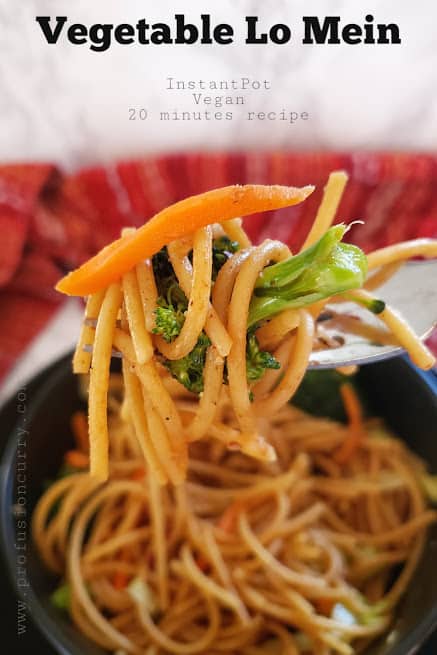 So my friends, let's put your chef's hat on and let's get cooking these Vegetable Lo Mein Noodles.
Ingredients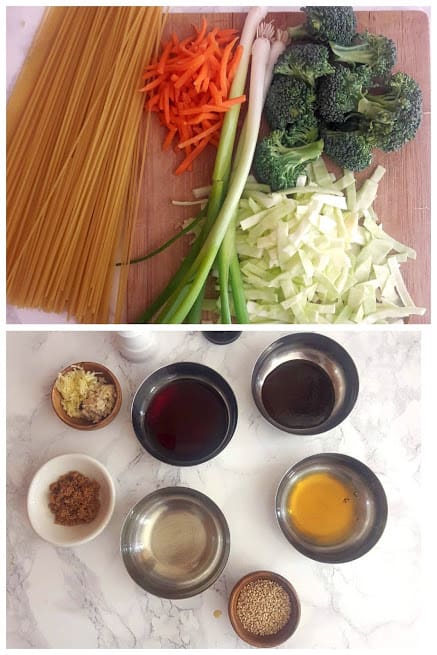 How to make
Prepare Noodles : The first step is to boil your noodles. I used spaghetti noodles, but you can really use any long noodle – linguine, Hakka noodles, Asian rice noodles, use any that you have handy.
Make The Sauce : While the noodles are boiling, gather ingredients to make that lip smacking yummy sauce. Most of the ingredients for the sauce can be found in the major grocery stores, Asian food markets or Amazon.
Prep the veggies: I like a little crunch in my lo mein noodles, so I add in some colorful veggies. Cut these veggies thin. So they cook quickly. A quick sauté/ stir fry is all you need to do.
Mix it all together : Adjust the seasoning and you are done !! Vegetable lo mein are ready to be devoured!!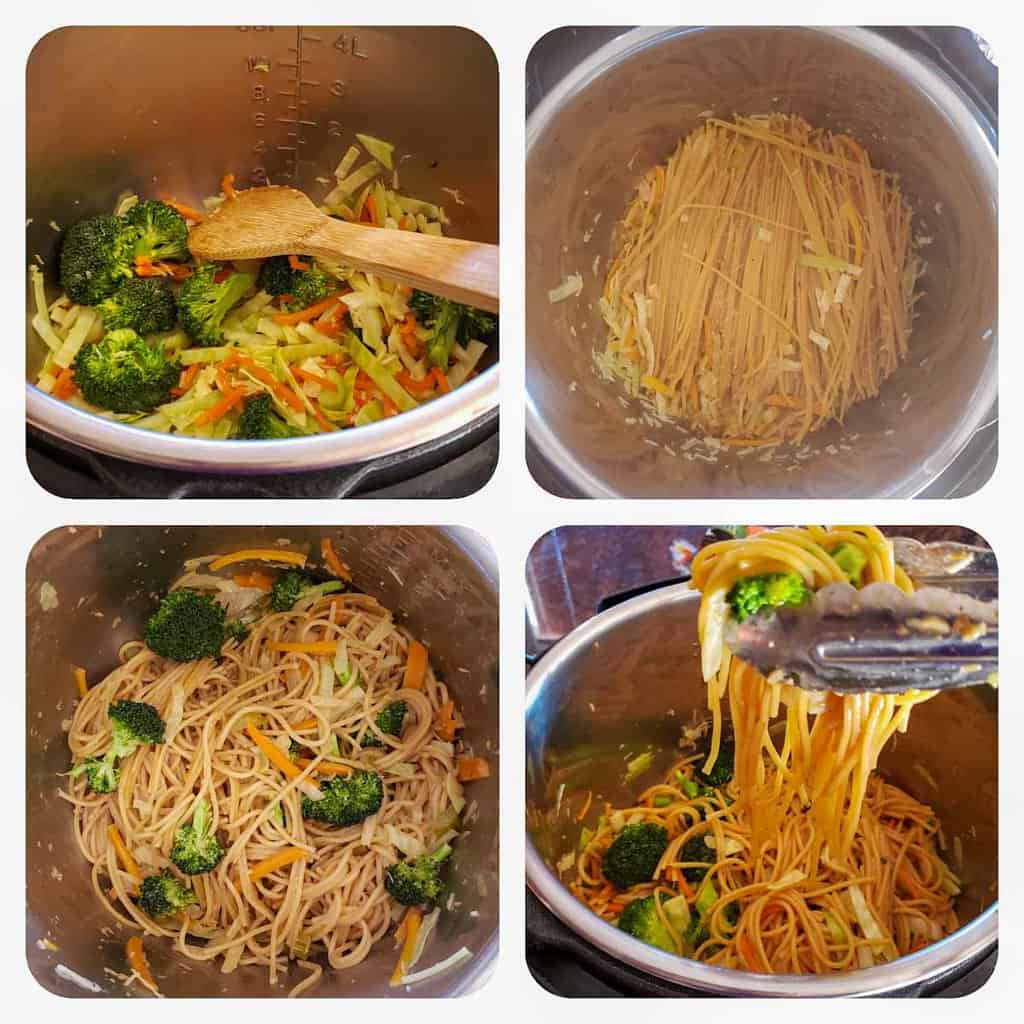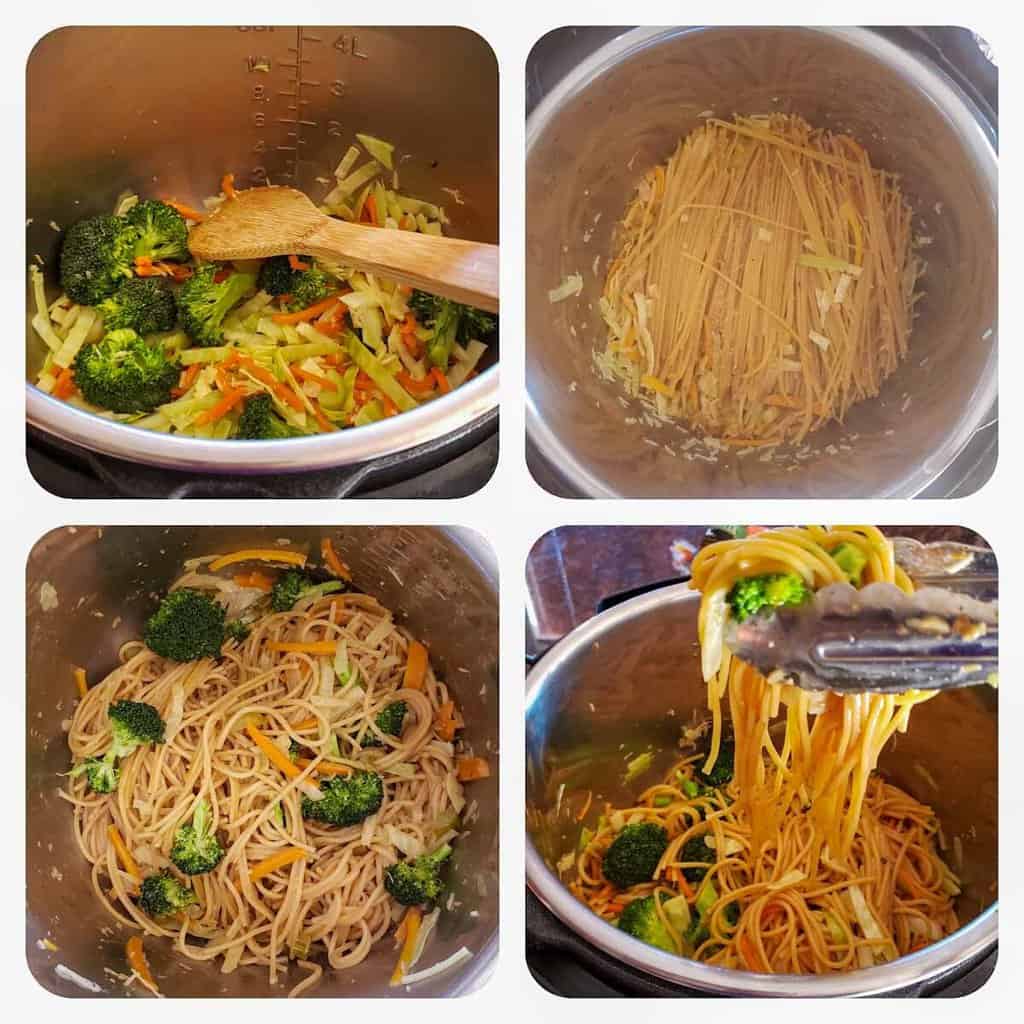 What are the benefits of cooking noodles in Instant Pot?
I love cooking noodles and pasta in Instant Pot. It is so much simple and easier. First only one pot is used in cooking. So easier clean up afterwards.
Additionally, it saves time and efforts since no need to boil the water and noodles, stir the noodles, drain the water etc. You are saving time by cooking everything in a single pot without monitoring it.
Pasta and noodles cooked in Instant Pot or electric pressure cooker are very moist and soft. They tend be little more stickier than traditionally cooked noodles.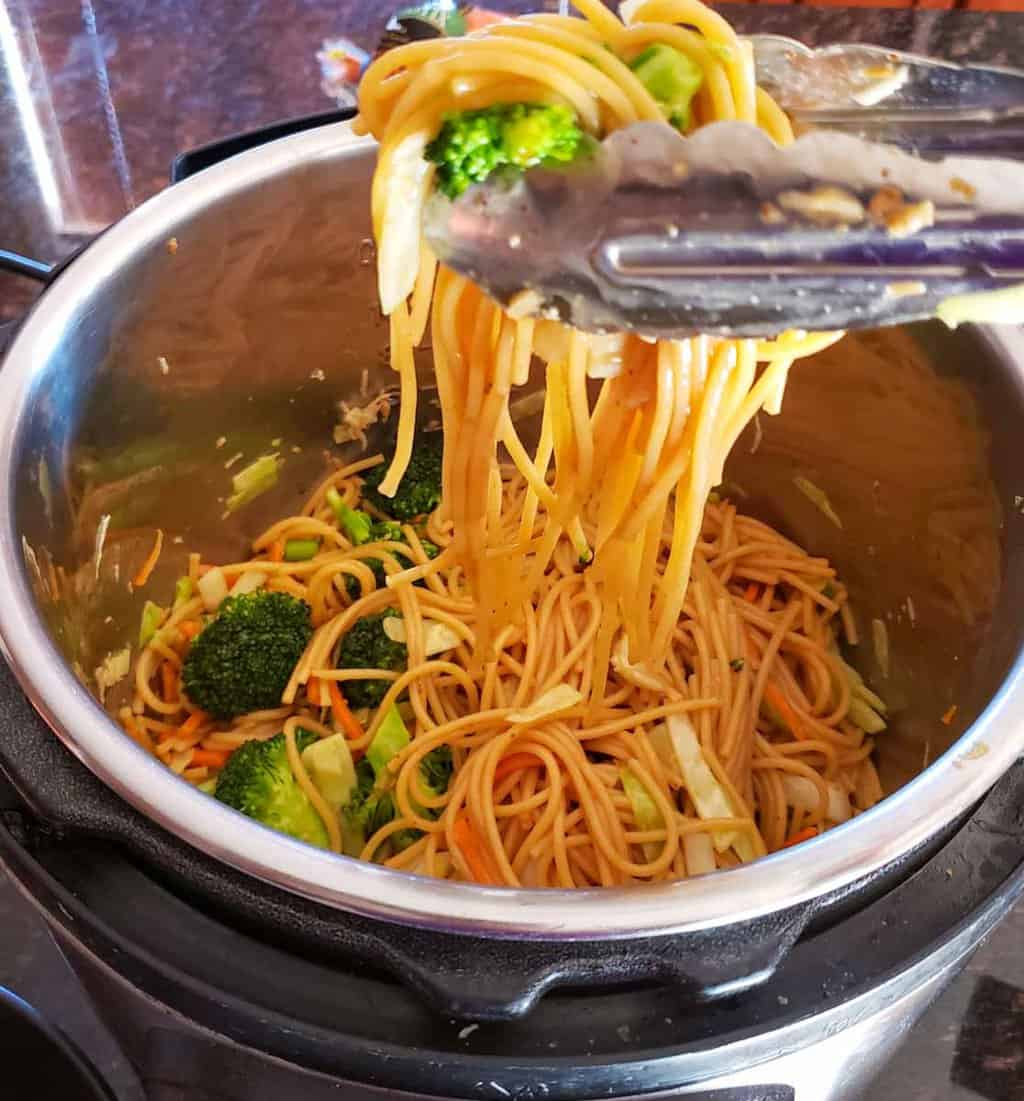 Variations
These lo-mein noodles are great served warm, cold or at room temperature.
Looking for a little more protein? Add in your favorite like tofu, seitan, eggs, chicken or shrimp.
Don't like the veggies I used ? Substitute your favorites. Just try to cut them even and thinly sliced so they cook well.
What if you don't have all the sauces ? You can skip a few like rice vinegar by using lemon juice instead. You can use any other Chinese stir fry sauce or even Teriyaki sauce.
Serving Suggestions
I serve my lo mein noodles with a side of Chili Garlic Edamame for a lunch or dinner that's authentic and satisfying. A side of Chinese Spicy Eggplant or Miso Glazed Grilled Veggies is wonderful too.
You can also serve it with a side of kung pao tofu or smoked tofu for wholesome filling meal.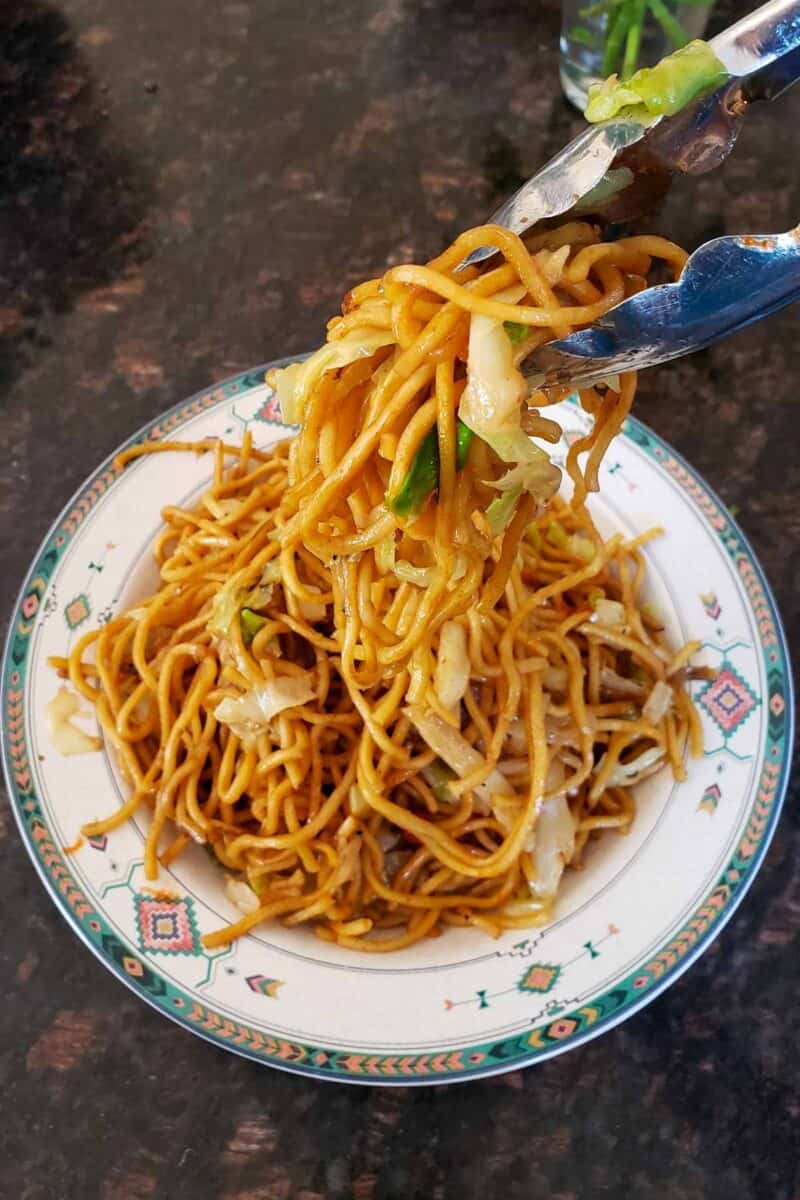 Delicious Instant Pot Recipes
FAQ
What is the difference between Lo Mein and Chow Mein ?
We hear both these terms used interchangeably every so often. The primary difference is in the cooking technique of how these noodles are prepared. Chow Mein are crispy crunchy noodles since they are fried. Lo mein, on the other hand, are soft and tender since they are boiled.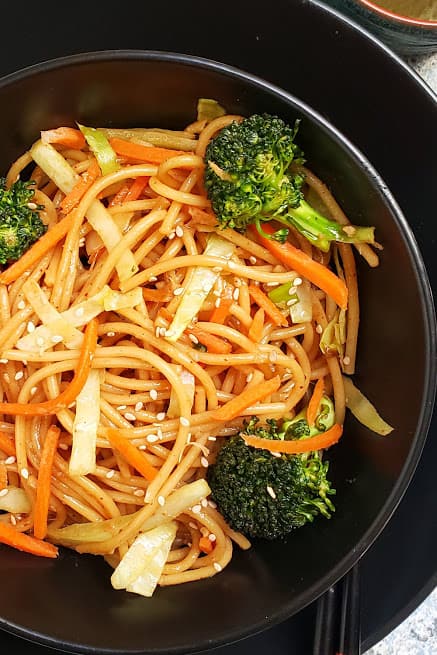 Connect with us on Pinterest and like our FACEBOOK page. We love creating delicious, wholesome, plant based recipes from around the world. Do join us.
★ If you make this INSTANT POT VEGETABLE LO MEIN Recipe, do let us know how you like it by ★ star rating it and leaving a comment below.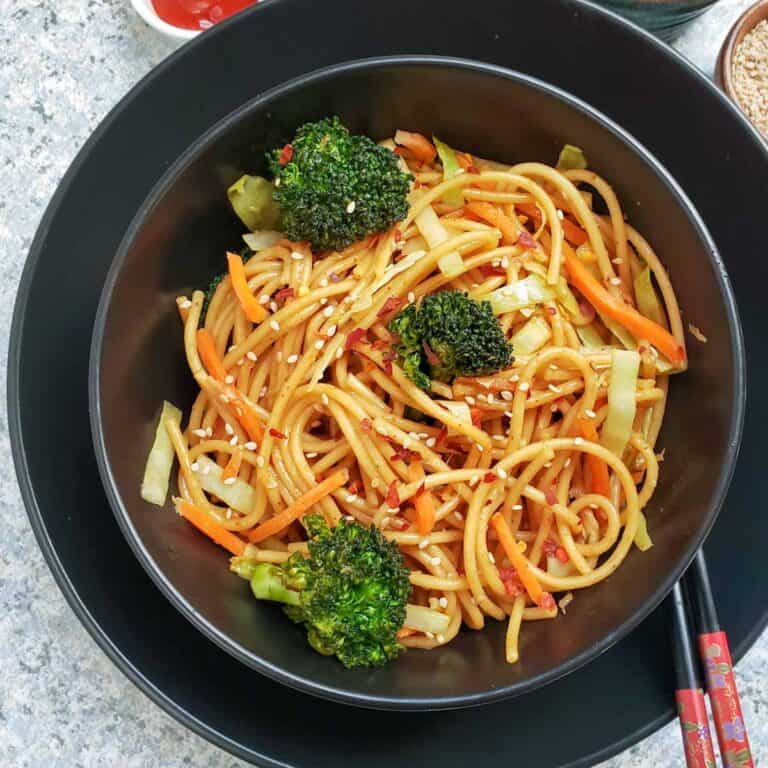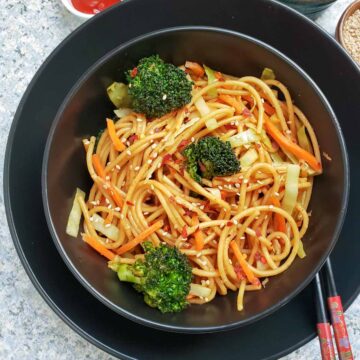 Vegetable Lo Mein Noodles – Instant Pot Recipe
Instant pot Vegetable Lo Mein noodles are easy to make at home. This 20 minute Chinese noodles recipe is ideal for weeknight dinners and tastes better than take outs.
Ingredients
Lo Mein Sauce Ingredients :
Optional Toppings / Garnishes
1

tablespoon

sesame seeds

4-5

stalks of green onions sliced

Salt and pepper
Instructions
INSTANT POT INSTRUCTIONS :
Press SAUTE button on the InstantPot. Add sesame oil to the inner pot of the Instant Pot and give it a swirl so the oil coats the bottom.. Add ginger and garlic and all the veggies. Sprinkle some salt. Stir and cook for few minutes till veggies are softened and tender. Cancel SAUTE. Remove the veggies and set aside.

Add water or broth to the inner steel insert. Deglaze the pot by scraping the bottom. Spread noodles across the bottom of the pot. Add all the listed sauce ingredients. Give the mixture a good stir. Close the lid. Valve at sealing position.

Choose MANUAL, high pressure, 4 minutes.

When Instant Pot is done cooking, do a quick release by moving the valve from sealing to venting. After the silver pin drops, carefully open the lid.

Stir the noodles few times, breaking up any that may have clumped together during cooking. Add back the earlier sautéed veggies.

Initially, your noodles will look watery. While stirring, you should see that noodles are absorbing the water. Stir well. Check and adjust the seasoning.

Scoop out the noodles. Garnish with chopped green onions, sesame seeds and serve warm.
Notes
If the noodles look wet after cooked, turn the sauté mode and cook for few minutes so water evaporates.
Take the steel insert out of the instant pot once cooked, so the noodles don't overcook.
Adjust the sauces to your taste when serving.
do not do the natural release as it will cause your food to overcook).
This noodles recipe is very versatile, you can change the vegetables and sauces to your preference.
How to Make Lo Mein Noodles on Stove Top?
Cook noodles according to package instructions. Heat oil in a wok or large skillet. Add in cut veggies. Sprinkle a pinch of salt. Sauté until tender, about 5 minutes. Add in minced garlic and ginger and cook for an additional minute. Stir in the sauce ingredients and cooked noodles and toss to combine. Serve immediately with sesame seeds and chopped green onions for garnish.
Nutrition
Serving:
1
g
Calories:
236
kcal
Carbohydrates:
27
g
Protein:
11
g
Fat:
10
g
Cholesterol:
18
mg
Sodium:
736
mg
Fiber:
3
g
Sugar:
7
g