Miso Glazed Grilled Veggies is a quick and easy vegetable recipe loaded with nutrients and perfect for weeknight dinners. This Japanese vegetable recipe is vegan and gluten free and utterly delicious !
Portobello mushrooms and bok-choy are char grilled with ginger, garlic and tamari sauce seasoned with miso paste and togarashi seasoning. Major drool alert 🙂
I am super excited to share this beautiful and incredibly flavorful Asian Gourmet recipe.
THE RECIPE CARD IS LOCATED TOWARDS THE END. Amazon affiliate link disclosure is below as well. Please scroll along to read the details about making this recipe.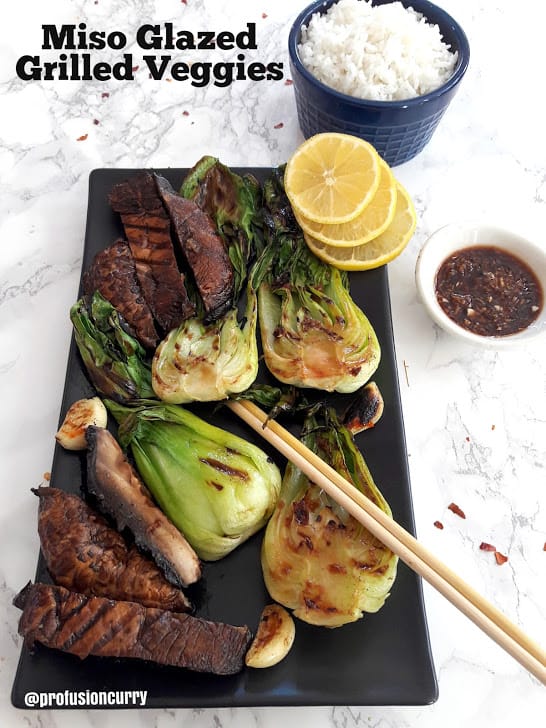 Weeknight meals can get boring very quickly if you aren't trying new things. However, the flavor combination has to work perfectly if you are putting so much effort into making a meal.
Even though my family is very fond of Japanese food, I had left all that cooking to restaurants thus far. We never experimented cooking with Japanese spices at home until recently.
But I'm always looking for new ways to incorporate different seasonings to flavor vegetables into my routine meal planning. It makes home cooking exciting and eating family dinners at home enticing.
So I am often shopping for different spices and seasonings. You change up seasoning and those same vegetables take all new avatars !! It's amazing.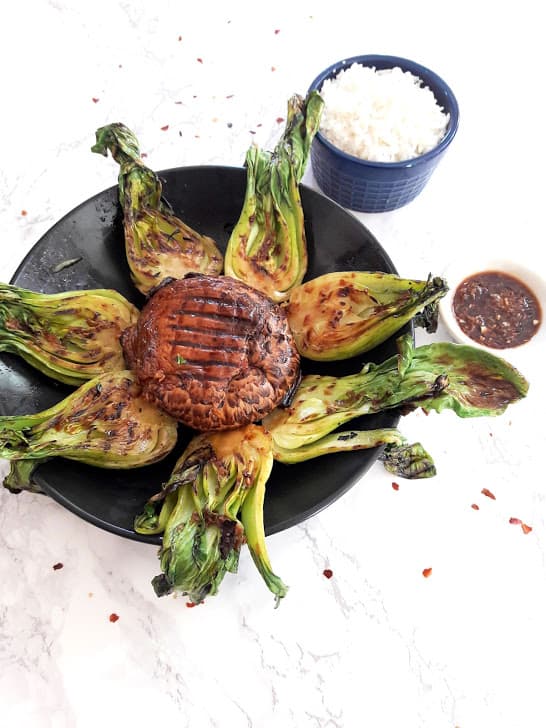 So I brought Japanese Schichimi Togarashi and Miso paste to spice up veggies and boy o boy they rocked it !! Now both these items have become a staple in my pantry.
This easy and quick recipe comes to life with lip smacking Miso glaze and the slight char. You can also make it a stir fry in a wok or use grill to get nice char.
If you like grilled food, and live in places like East coast or Midwest, definitely get yourself a nice indoor grilling pan like the one I using.
Weather here in Chicago is not outdoor grill friendly for 6-8 months. That doesn't deter us from enjoying nicely char grilled food year round thanks to this super useful and versatile pan.
I am including Amazon affiliate link in case you want to buy it online ( not a sponsored product). I use it to make roti, dosa, grilled sandwiches, pancakes, hash brown and all the grilled veggies.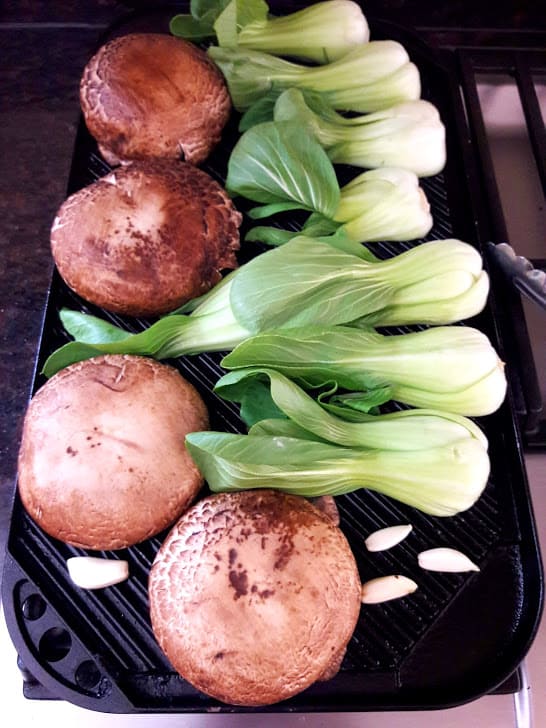 WHAT ARE THE INGREDIENTS OF MISO GLAZED GRILLED VEGETABLES ?
Portobello mushrooms are dense and meaty in texture. They are quite filling and moist.
Bok choy is nice and crunchy Chinese cabbage with delicate flavors.
Ginger and garlic for perfect earthy seasoning with immense healthy nutrients.
Miso paste – miso is a fermented soybean paste. It adds worlds of savory depth and umami flavor to this recipe. White miso paste is milder in flavor compared to red or brown paste.
Sesame oil – to help grill the veggies and make marinade glaze. For WFPB, use vegetable broth instead.
Brown sugar or maple syrup or raw sugar or other sweetener to balance the flavors.
Tamari or soy sauce or liquid coconut amino – for the perfect tart and savory flavor.
Shichimi Togarashi Seasoning – to further enhance the flavor and add a little spice kick to the veggies. You can use black pepper and red chili flakes as substitute.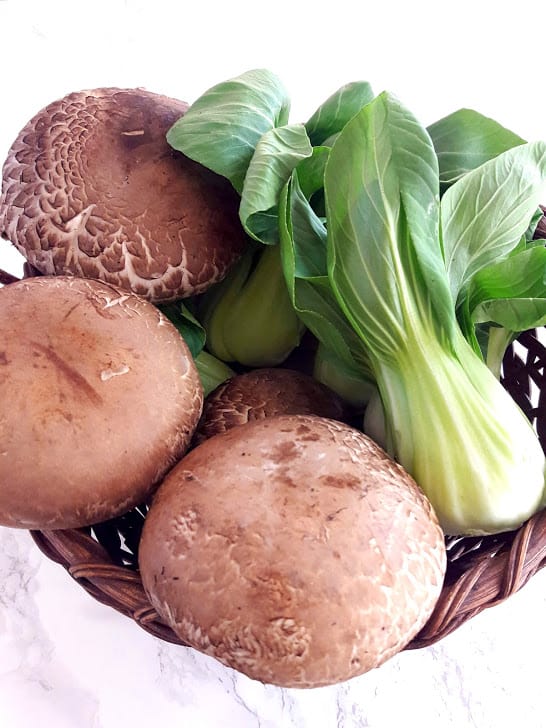 WHAT IS MISO PASTE AND WHERE DO I BUY IT?
Miso is a fermented soybean paste. It adds unbelievable savory and umami flavors. Since it's a fermented paste, it also has probiotic properties.
You can use miso paste glaze on any roasted or grilled veggies. I particularly love it on broccoli, cauliflower and sweet potatoes and even cabbage.
You can typically find miso paste in the refrigerated section by the tofu in most grocery stores. If you have any Asian market like H Mart or Mitsue Market nearby, they have large variety of colorful miso paste and so does Amazon.
WHAT IS TOGARASHI SEASONING?
Have you ever tried togarashi spice? It's a common Japanese spice mix usually includes 7 ingredients. It tastes amazing. Adding an Amazon affiliate link of my favorite gf, vegan brand here.
You can use togarashi to season tater tots, fries, stir fry vegetables, noodles or rice. I like to sprinkle it over cut fruit like papaya, melons and cantaloupe.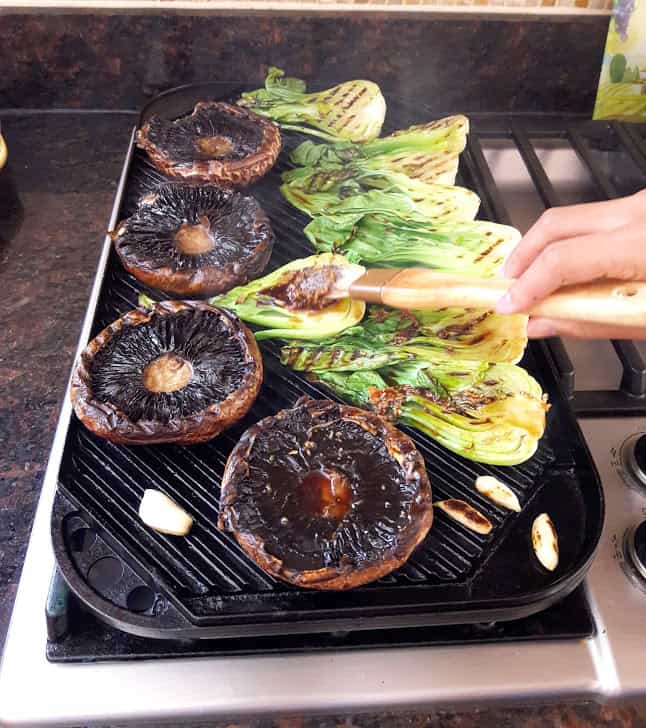 HOW TO CLEAN AND PREPARE PORTOBELLO MUSHROOMS
Chop off tough end stems of the mushrooms. ( I save and freeze those stems in Ziploc bags to make homemade veggie broth later)
Wash the cap under running water. Make sure there is no dirt in the outer round edge.
Pat dry completely using the paper towel.
HOW TO CLEAN AND PREPARE BOK CHOY
I use baby bok choy for most of recipes. Rinse it under cold water, and pat dry before using. I often notice some sand stuck at the base so please wash thoroughly.
Using the knife, slice the baby Bok Choy in half . If the base looks too tough, cut it off. ( it can be also saved and used in making flavorful homemade veggie broth later)
Baby Bok Choy are smaller in size and tend to be more sweet than regular (big) Bok Choy. If you get big or regular Bok Choy, cut them into small pieces so they are easy to cook and eat.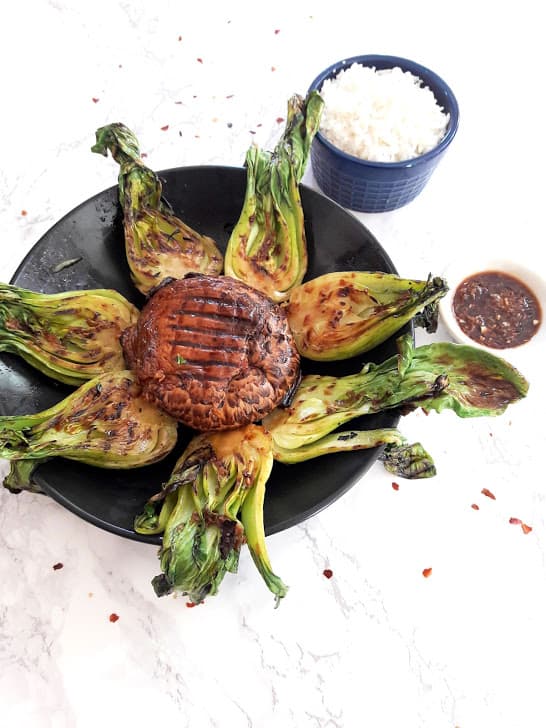 This Easy grilling recipe can be used to make lot of different vegetables. Healthy cooking and healthy living couldn't get much easier!
This beautiful Miso glazed Portobello Bok choy is bright yet deeply savory. It's perfect alchemy of flavors and textures.
What you get is dish full of mingling piquant, spicy and sweet taste with crispy and meaty texture. Handful of ingredients and 20 minutes is all you need to get this healthy dinner ready !!
Pair these grilled vegetables with just plain jasmine or white rice. This simple side dish is perfect for weeknight dinner. Portobello mushrooms are meaty and filling so even the meat eaters will love this recipe.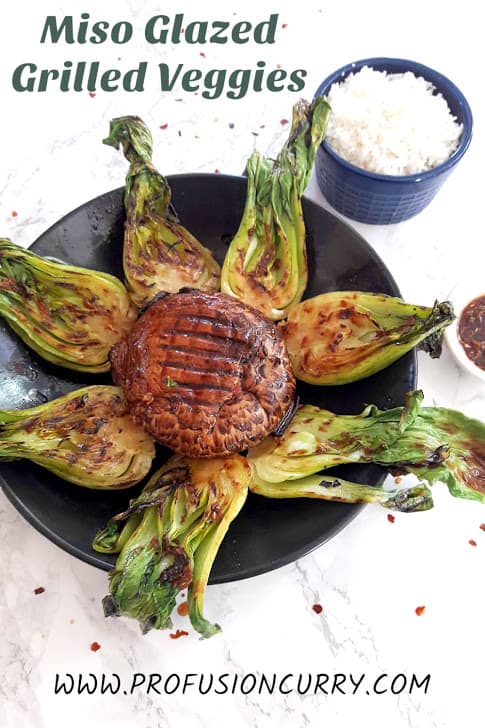 ★ If you make this Miso Glazed Grilled Veggies Recipe, do let us know how you like it by ★ star rating it and leaving a comment below. We would love to hear your feedback.
Follow us on Pinterest and like our FACEBOOK page. We love creating delicious recipes from around the world. DO JOIN US !!
Do check out some of our popular and oh so delicious Asian recipes. They are easy, healthy and delicious recipes. You will have them ready in less time than typical carry out . Let us know which one you like the most.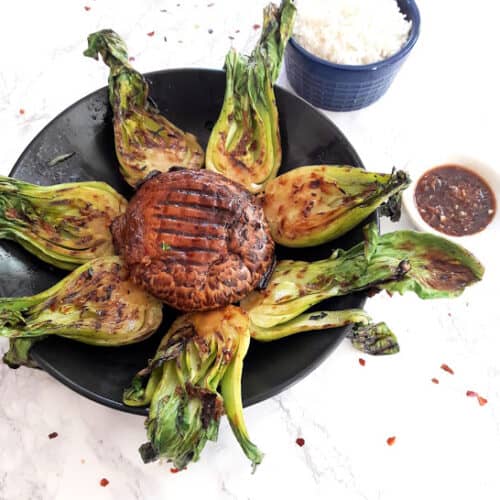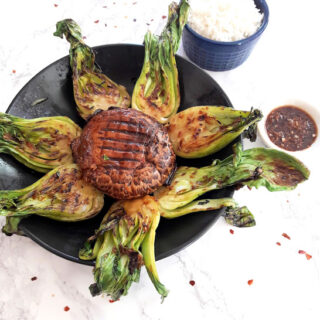 Miso Glazed Grilled Veggies
Miso Glazed Grilled Veggies is a quick and easy vegetable recipe loaded with nutrients and perfect for weeknight dinners. This delicious Japanese vegetable recipe is vegan and gluten free.
Ingredients
[½ cup miso paste

soy bean paste]

[½ cup tamari

or liquid coconut amino, or low sodium soy sauce]

6

portobello mushroom caps - trimmed and cleaned

6

baby bok choy halved
Instructions
To make the glaze: In a large bowl combine the miso paste, tamari or soy sauce, sugar, sesame oil, shichimi togarashi and minced ginger and garlic.

Preheat grill to medium.

Brush the portobello mushrooms and baby bok choy with the glaze. Place them face down on the hot grill. Grill over medium heat until you hear good sizzle and see nice grill marks. Mushrooms start to release water.

Using the tongs, flip the veggies and brush the top part with the glaze. Let the other side cook for few more minutes.

Turn off the grill. Remove the veggies for the grill. Brush the glaze one last time before serving. Serve warm.
Nutrition
Serving:
1
g
Calories:
120
kcal
Carbohydrates:
15
g
Protein:
10
g
Fat:
4
g
Saturated Fat:
1
g
Polyunsaturated Fat:
2
g
Fiber:
4
g
Sugar:
6
g