Vegetarian THAI RED CURRY simmered in creamy and invigorating aromatic sauce is hearty and comforting. This scrumptious homemade curry is perfect for cozy weeknight dinner.
Fresh, flavorful and fiery are the highlights of this delicious Thai curry. It's a robust full bodied curry yet very easy to make. It also is vegan and gluten free. Speaking of curries, we also love Vegan Thai Green Curry , Thai Pumpkin Peanut Curry and Thai Massaman Curry for easy dinners.
All you need is 20 minutes of prep and cooking to get this better than takeout-quality Thai dinner to the table. I am including instructions to make this scrumptious curry in electric pressure cooker like Instant Pot as well on the stove top.
THE RECIPE CARD IS LOCATED TOWARDS THE END. Amazon affiliate link disclosure is below as well. Before scrolling to the recipe card, do check the HELPFUL RECIPE TIPS in the post.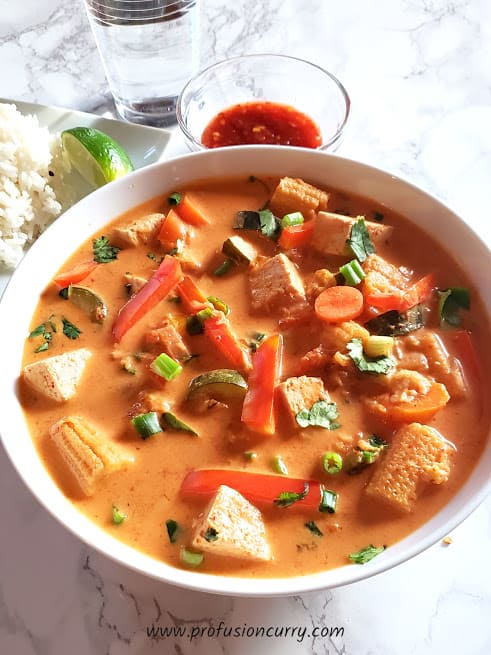 Easy Dinner Curry
This curry is so wholesome and delicious, it has become a weeknight staple in our house. Try it once and I am sure it will be yours's too! Pair it with white basmati rice for soul satisfying comfort food.
I dream of this curry.. seriously I do. Imagine the kind of satisfaction you get after devouring an amazingly flavorful, creamy rich , intense umami and filling meal.
Easy Substitutes
There are no hard and fast rules as to what goes in this curry. You can treat it as clean your refrigerator kind of curry as well.
I often add carrots, onion, zucchini, baby corn and red bell pepper. You can choose your favorites. Broccoli, squash, potatoes, asparagus, eggplant all are great choices. I am using tofu for plant protein and to amp up hearty quotient. If you aren't into tofu, just skip it.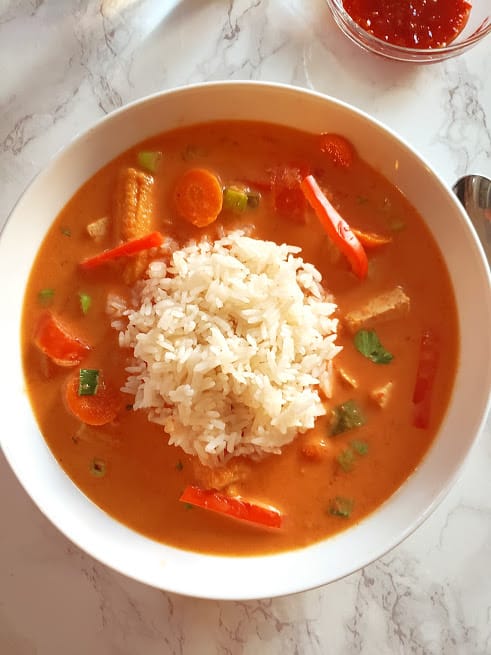 HOW TO MAKE INSTANT POT THAI RED CURRY
We start off by chopping all the vegetables into bite size pieces. Press the tofu firmly so excess water drains.
Then we sauté the onions and aromatics in oil for some time so the raw smell goes away. We then sauté the veggies and tofu briefly before adding the coconut milk, water and curry paste to the mix.
We let it simmer for some time ( if using stove top) or pressure cook quickly so the flavors mend together and curry thickens.
You then serve it with nice squeeze of lime juice and fresh herbs toppings.
You can simply skip the sautéing onions and veggies part and make it a Dump and Go Curry as well. However, I prefer to spend extra 5-7 minutes of sautéing before cooking so the aroma of flavors develops better.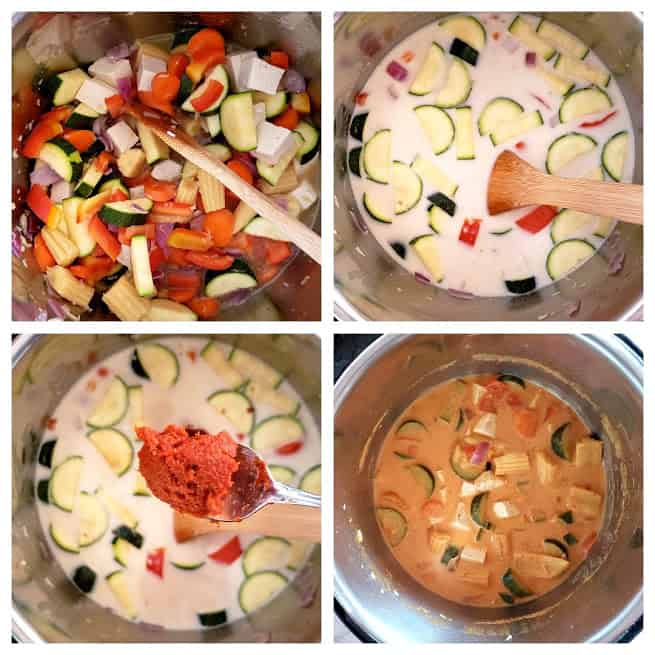 Best Thai Curry Paste
Even though home made Thai curry paste will be amazingly fresh and fragrant, a lot of ingredients like kaffir lime, galangal and lemon grass are very hard to find in regular grocery stores.
My favorite Maesri Brand of Red Curry paste includes ground paste of chili pepper, garlic, shallots, lemongrass, sugar, kaffir lime, galangal, coriander seeds, cumin and cardamom. I love this brand since there is no added color, preservative or MSG.
Since I make this curry for dinner almost weekly, I stock up on the ready made curry paste and coconut milk at local Asian market.
If you order groceries off Amazon, here are the products I use and recommend. ( affiliate link and NOT a sponsored product)
Coconut Milk
Thai Red Curry Paste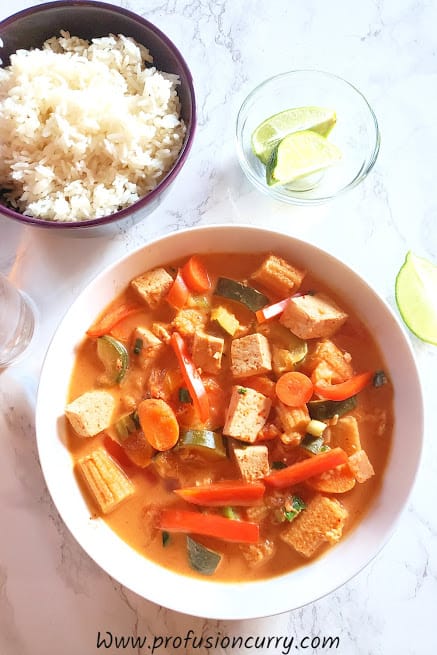 WHAT ARE THE INGREDIENTS OF VEGAN THAI RED CURRY
Vegetables – I am using onion, carrots, red bell pepper, baby corn and zucchini. You can use your favorite veggies.
Tofu – for meaty texture and making it complete meal full of plant protein. Use extra firm tofu. Make sure to press it well and drain as much water as possible. ( otherwise curry will be watery)
Sweetener – Hint of sweetness with a tablespoon of raw or brown sugar It adds another dimension to the rich flavorful curry broth.
Coconut Milk – for the heavenly rich and creamy texture, I use 1 can of full fat coconut milk.
Seasoning – thai red curry paste, minced ginger and garlic. I also add liquid coconut amino or soy sauce and rice vinegar for extra tart flavor enhancement.
Garnishes – Thai basil leaves, chopped cilantro leaves, lime wedges and green onions. Topping it with a squeeze of lime juice balances all the flavors. Chopped cilantro and sliced green onion adds cooling freshness and some authentic flare.
Thai basil adds immense extra fresh flavor to this recipe. However during winter months it's not easily available at least in my area. You can use Italian basil if easily available or simply skip it.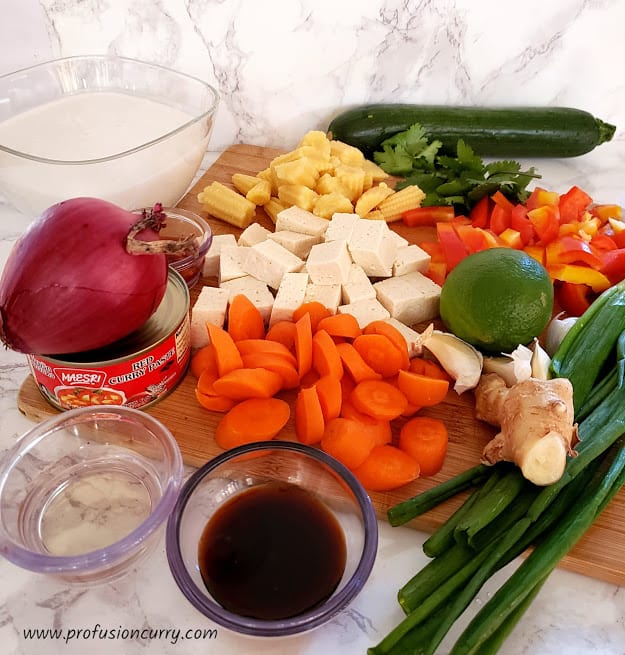 Here are some of our popular and classic Asian Gourmet recipes that are easy to make at home and taste WAY better than takeout. Do try and let us know how you like them.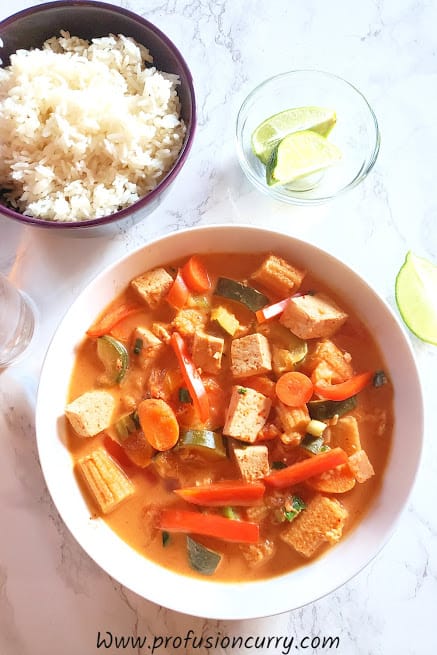 Join us on Pinterest and FACEBOOK . You will love all our delicious, wholesome, plant based recipes from around the world.
★ If you make this VEGAN THAI RED CURRY RECIPE do let us know how you like it by ★ star rating it and leaving a comment below.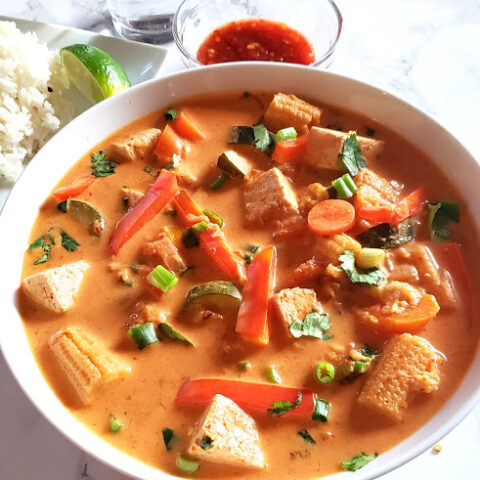 Vegan Thai Red Curry Recipe - Instant Pot and Stove top
Thai Red Vegetable Curry simmered in invigorating aromatic sauce is hearty and comforting weeknight dinner.
This vegan and gluten free recipe makes robust full bodied curry.
Ingredients
1 medium onion chopped
1 red bell pepper chopped
1 cup baby corn - cut into bite size pieces
1 cup extra firm tofu - water drained, pressed and cubed
1 cup carrot -chopped
1 zucchini cubed
1/2 cup water
1 tablespoon lime juice
Garnishes - Optional
5-6 stalks green onions chopped
1 tablespoon thai basil leaves chopped
1 tablespoon cilantro leaves chopped
Instructions
INSTANTPOT INSTRUCTIONS :
Turn Instantpot on ad press SAUTE button.
After it displays HOT, add oil, chopped onions and minced ginger and garlic. Stir well till onions get translucent and you sense the aroma.
Add all the veggies to the pot. Saute well. Add tofu cubes. Mix well. Add water and stir everything together making sure to DEGLAZE by scraping the base with spatula.
Add coconut milk, sugar, soy sauce, rice vinegar and curry paste. Give the mixture a good stir.
Cancel SAUTE. Close the lid with valve at SEALING. Press MANUAL or PRESSURE COOK and select 1 minute.
After Instant Pot done cooking, wait on keep warm timer for 3 minutes and then do QPR - quick pressure release by turning the valve to venting.
After the silver pin drops, carefully open the lid. Your steaming hot curry is ready.
If necessary, add more water to thin the curry. Alternatively, if you feel it's too thick, simmer it back on SAUTE for couple minutes.
Add in the thai basil leaves, cilantro leaves and chopped green onions and mix. Add lime juice just before serving.
Serve this vegan Thai Red Curry with jasmine rice or steamed white rice, brown rice, quinoa or noodles. Enjoy!
Stove Top Instructions
Heat 1 tablespoon oil in a pan on medium high heat.
Once oil is hot, add chopped onions and minced ginger and garlic. Stir well till onions get translucent and you sense the aroma.
Add all the veggies to the pan. Toss veggies for around 2 minutes on medium high heat.
Add tofu cubes. Mix well. Add water and stir everything together making sure to scrape the base.
Add coconut milk, soy sauce, rice vinegar, sugar and curry paste. Give the mixture a good stir.
Cover the pot and let the curry cook on medium heat for 7-10 minutes. It will come to a light simmer and become thick and creamy.
Adjust the consistency of the curry at this point. You can add water to thin it out if you so desire.
Add in the thai basil leaves, lime juice, cilantro leaves and chopped green onions and mix. Remove pan from heat.
Serve this vegan Thai Red Curry with jasmine rice or steamed white rice, brown rice, quinoa or noodles. Enjoy!
Notes
Store brought thai curry pastes are hot, so use sparingly. If you can't tolerate heat, use 1 tablespoon only.
Once it cools down, the curry really thickens so you will have to add some water while re-heating.
For Instantpot cooking , choose 1 minute for veggies with little bite to them. If you like soft veggies, choose 2 minutes.
Make sure to use Extra Firm Tofu for this recipe. Also press the tofu well so that most of the water is drained. The curry will be watery otherwise.
Recommended Products
As an Amazon Associate and member of other affiliate programs, I earn from qualifying purchases.
Nutrition Information:
Yield:

4
Serving Size:

1 cup
Amount Per Serving:
Calories:

162
Total Fat:

7g
Saturated Fat:

2g
Trans Fat:

0g
Unsaturated Fat:

4g
Cholesterol:

0mg
Sodium:

281mg
Carbohydrates:

21g
Fiber:

4g
Sugar:

10g
Protein:

9g
Nutritional values are provided as a courtesy and the values are approximate. The values will change depending on the exact ingredients, measurements and brands used. As always. for specific health issues and dietary requirements please consult medical professional.