This healthy, vegetarian Thai green curry features fresh broccoli, carrots, cabbage and green peppers. You can choose any vegetable combinations of your choice. Typically in Thai restaurants, they include snow peas, eggplants and baby corn too. I was using things in my refrigerator so broccoli, cabbage, carrots and peppers this time!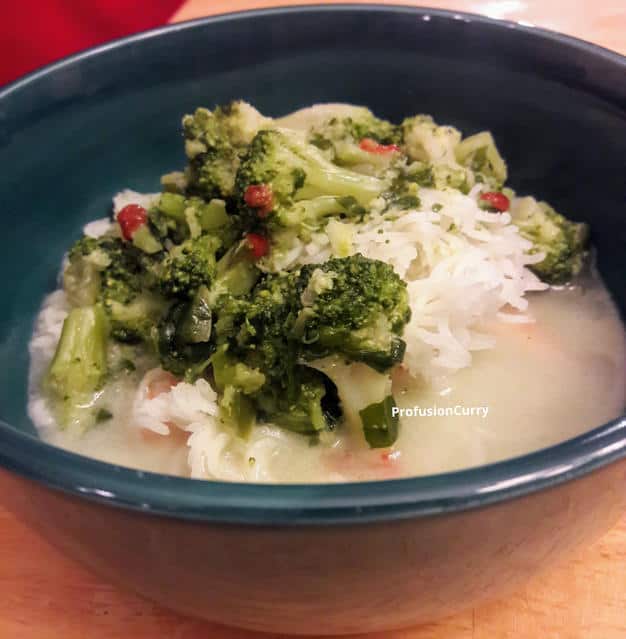 Super simple coconut curry with broccoli.. a delicious way to super foods ! Broccoli contains phytochemicals shown to benefit arthritis, cancer, immune system health, blood pressure levels, vision, skin health, blood sugar disorders and much more. Combine it with goodness of herbs and coconut milk and one yummy dish is ready !!
It's full of flavor and simple enough for weeknight dinners. Recipe yields two large servings or four small servings. Serve it with rice ( brown, basmati or jasmine ) or quinoa.
Ingredients:
2 teaspoons coconut oil or olive oil
2 tablespoons Thai green curry paste * see note below
1 small white onion, diced
1 inch finely chopped fresh ginger
1 serrano pepper finely chopped
2 cloves garlic, finely chopped
2 cups of vegetables of your choice
1 can (14 ounces) coconut milk (I used organic full-fat for a richer curry)
½ cup water
1 teaspoons coconut sugar or brown sugar
1 ½ teaspoons rice vinegar or fresh lime juice
Salt to taste
Garnishes: handful of chopped fresh cilantro and basil leaves and red pepper flakes or Sriracha Sauce to drizzle
Warm a large skillet over medium heat. Once it's hot, add oil. Cook the onion, ginger and garlic and serreno pepper with a sprinkle of salt for about 5 minutes, stirring often. Add the vegetables and cook for 3-4 more minutes, stirring occasionally. Then add the curry paste and cook, stirring often, for 2 minutes.
Pour the coconut milk into the pan, along with ½ cup water and 1 teaspoons sugar. Bring the mixture to a simmer. Reduce heat as necessary to maintain a gentle simmer and cook until the vegetables are tender and cooked through, about 5 to 10 minutes.
Once the vegetables are done cooking remove the curry from heat and add the rice vinegar. Mix well. If needed adjust the salt. Divide rice and curry into bowls and garnish with chopped cilantro , basil leaves and dash of Sriracha sauce. Serve warm.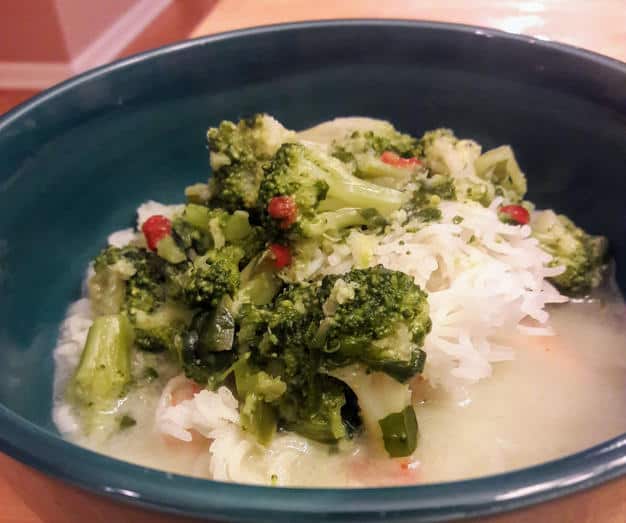 Note :
You can buy Thai Green Curry paste in any Asian grocery stores. It is however easy to make it at home. It may not be 100% authentic taste but comes very close to it. Also, you are avoiding all the preservatives and unnecessary fillers. To make Green curry paste you will need:
1 table spoon each coriander and cumin seeds
½ teaspoon black peppercorns
5 medium green chilies
3 stalks lemon grass chopped
1 small onion chopped
1 lime rind grated
¼ cup thai basil leaves
water as needed
Blend all the ingredients to smooth paste adding water if needed. Your Green Curry paste is ready.