Aloo Matar-Potato and Peas Curry is easy and delicious Indian vegetable curry made with basic pantry staples. The simple preparation makes it an ideal weeknight dinner choice. This recipe can be made in Instant Pot or Stove top. This trational recipe is Gluten free, Vegan and low calorie and grain free and easy to customize to your likings.
What is Aloo Matar?
A staple recipe from North Indian Cuisine, Punjabi Aloo Matar is popular dish served across all Indian Restaurants. Aloo Matar translates to Potatoes and Peas curry. Many places serve this dish as a dry stir fry. The Home Made Aloo Matar recipe is traditional recipe. These recipes are prepared and enjoyed as heirloom recipes. They are taught and learnt over the generations . Hope you like the version my mom has taught me.
THE RECIPE CARD IS LOCATED TOWARDS THE END. Amazon affiliate link disclosure is below as well. If you are looking to spice things up around your dinner time, don't forget to follow us on Pinterest and like our FACEBOOK page. We love creating delicious , plant based recipes from around the world. DO JOIN US !!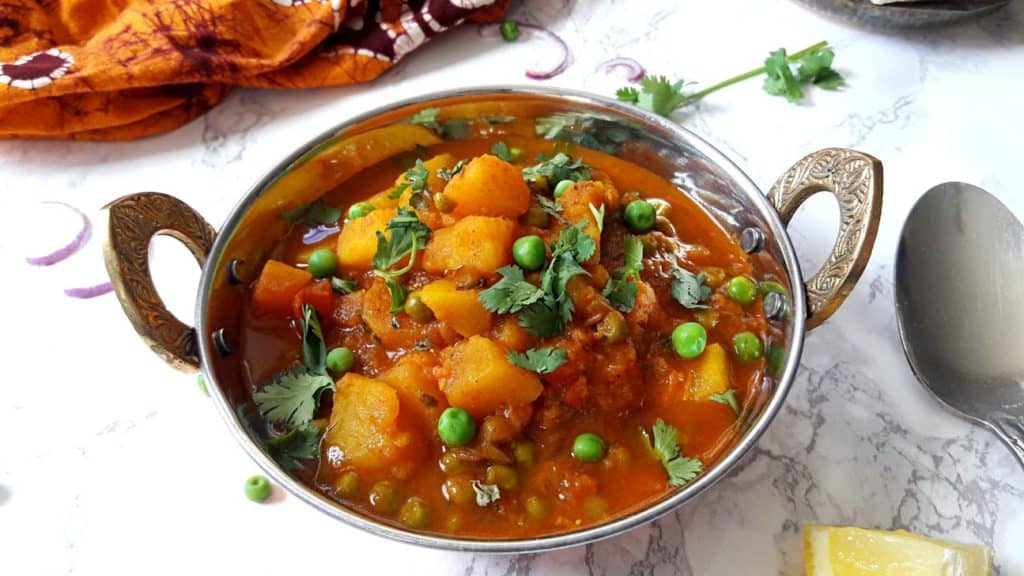 What Variations Can Be Made to Aloo Matar-Potato and Peas Curry Recipe?
You can make several alterations to this recipe to suit to your taste. Use this recipe as a starter curry recipe and let your imagination flow. Some suggested ideas below:
You can add Paneer ( Indian Cottage cheese) to make this Aloo Matar Paneer.
You can change up the veggies to make it cauliflower-potatoes ( Aloo Gobhi Masala) or cauliflower-potatoes- peas ( Aloo Gobhi Matar Masala) or Bell Pepper-potatoes-peas ( Aloo Mirch Matar)
You can skip the tomato based curry ( gravy) and just make dry stir fry. Many times I use 1/2 cup of coconut milk and 1/2 cup tomato sauce to make it creamy curry.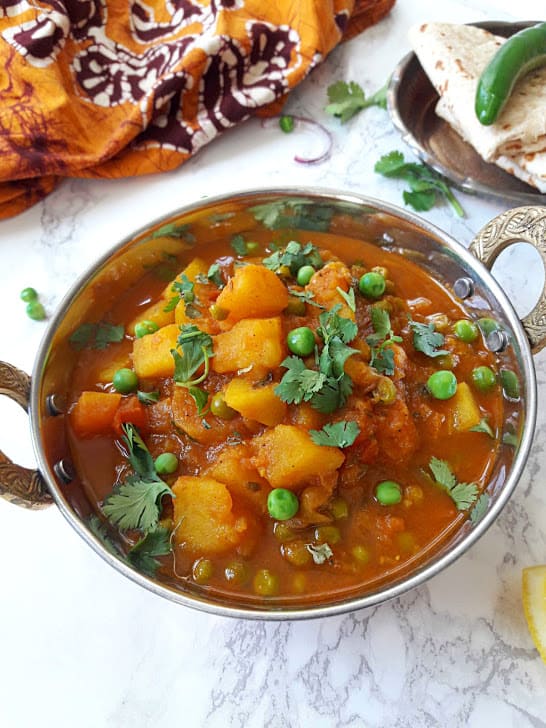 How To Make Restaurant Quality Aloo Matar at home?
You can easily make this potato and peas curry using electric pressure cooker like InstantPot. You can make it on stove top as well. Punjabi Aloo Matar is made by cooking potatoes & peas in onion, tomato, along with aromatic spices such a turmeric & garam masala. You can typically use any white or yellow potatoes you have in the pantry.
However, if you are particular about the texture of the cooked potatoes, here's my suggestion.
Red Potatoes- if you prefer firm and pieces that hold their shape in tact. No need to remove the skin.

Yukon Gold Potato – soft bites that hold their shape and don't dis-integrate while cooking.

Russet Potato- Melt in mouth potato bites that tend to loose their edges while cooking making it creamier curry.
What can I serve with this Healthy Aloo Matar?
This recipe makes it as curry ( gravy ) which can be served as a healthy side dish along with all types of rice, roti, couscous, quinoa or even on a bed of salad.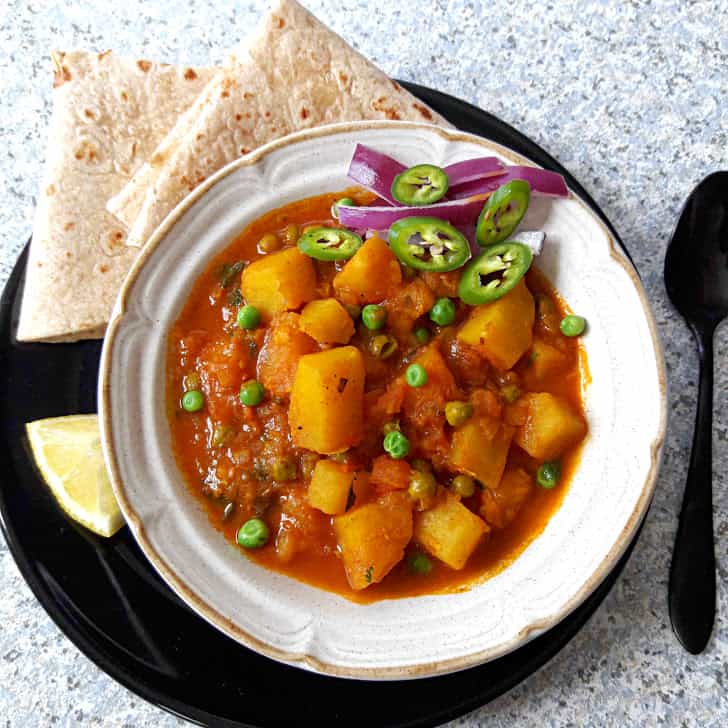 Can I Use Aloo Matar As A Weekly Meal Prep ?
You absolutely can !! You can double or triple this recipe and use the leftovers for multiple lunches. You will find this curry very similar to Aloo Matar you get in Indian restaurants or even better. Home made Aloo Matar is lip smacking delicious. This recipe is very budget friendly ( less than $10 to feed family of 4 , multiple times) Here's how I pack Aloo Matar with Cilantro Lime Quinoa for weekday lunch.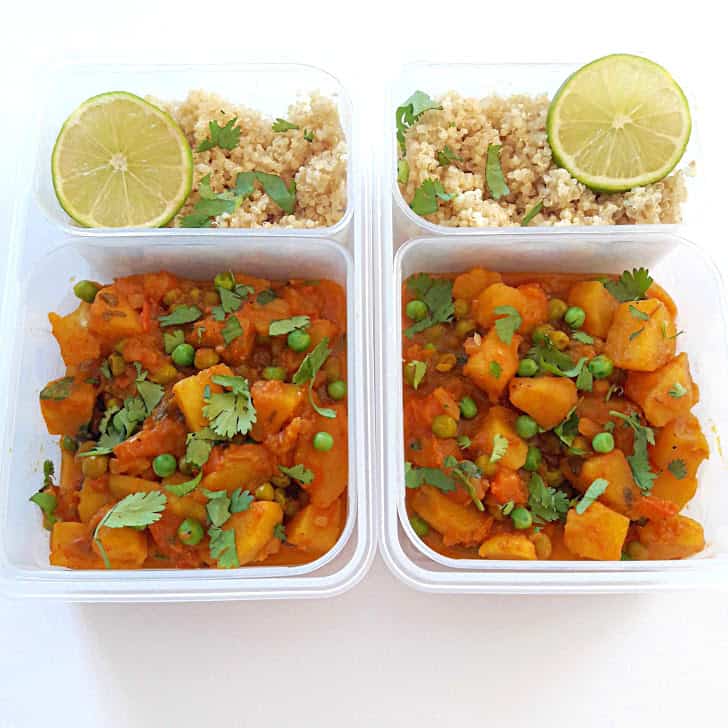 How to make Pot In Pot Aloo Matar in InstantPot?
I often like to make multiple dishes at once using pot in pot method. The trick is make the dishes that have same cook time. For this recipe, since the actual cook time is just 2 minutes, quinoa will cook along perfectly. You cook the curry in the main insert. Put the tall trivet in the main pot and add a container with quinoa and water on the top. A complete meal will be ready under 20 minutes without much babysitting.
Dump and Push Start InstantPot Aloo Matar Recipe
For all practical purposes, you can make this super delicious dish effortlessly in InstantPot. Traditional recipe is done by sauting the onions, tomatoes and spices in oil to bring out the wonderful flavors. However, you can just dump all the ingredients in InstantPot and set it to cook. Pressure cooking helps to seal and infuse the flavors quickly. So if you wish, go for it !!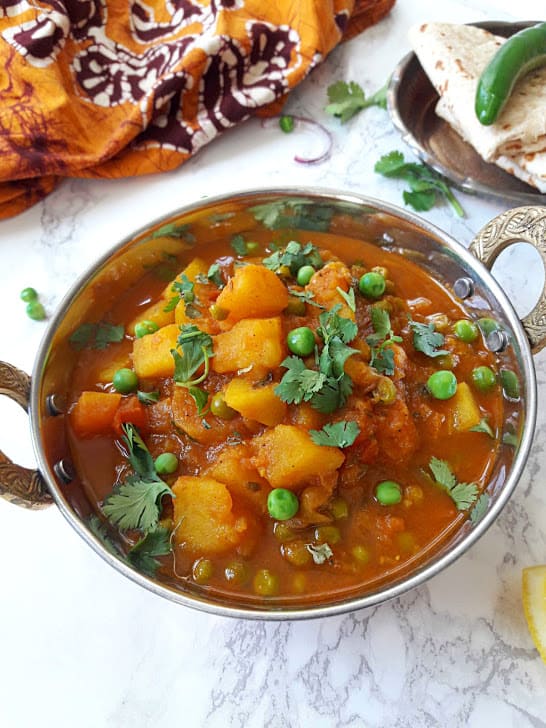 What Are The Ingredients Of Aloo Matar Curry
As the name suggests, potato and peas are the star ingredients of this recipe. You cut the potatoes in bite size pieces. You can use either fresh or frozen peas. They get cooked in onion and tomato gravy enriched with staple Indian Spices like Turmeric, garam Masala and ginger garlic paste. For enhancing the flavor further, traditional recipes use dried fenugreek leaves ( Kasuri Methi). Please see notes in the recipe card about the Garam Masala and Dried Fenugreek Leaves. Adding Amazon link below to my favorite Garam Masala and Kasuri Methi in case you want to buy it.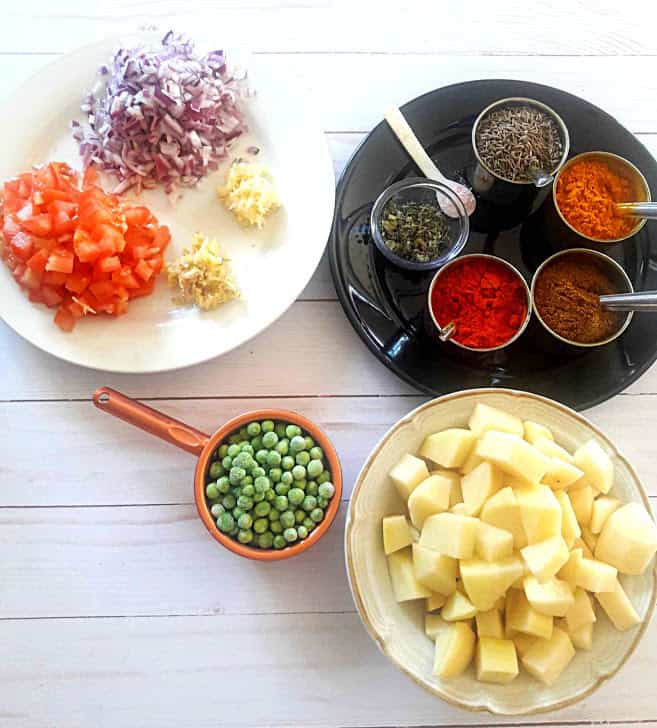 Do you like Indian Food? We have compiled some delicious and easy to prepare Indian InstantPot Recipes on our website. Do check it out. Some more easy Indian meal ideas you might want to try
★ If you make this Healthy Aloo Matar recipe, do let us know how you like it by ★ star rating it and leaving a comment below. We would love to hear your feedback !! Use the PIN button to pin the recipe.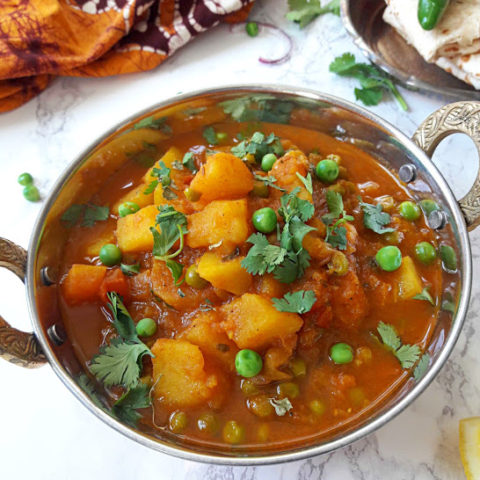 Aloo Matar-Potato & Peas Curry-InstantPot
Aloo Matar is potato and peas curry is Indian Homestyle Recipe made in the Instant Pot or stovetop. This quick and easy recipe is vegan and gluten free.
Ingredients
1 tbsp Oil
2 Potatoes medium, cut into 1 inch cubes
1 cup Green peas ( fresh or frozen)
1 tsp Cumin seeds
1 medium Onion diced
1 tsp Ginger grated
1 tsp Garlic minced
1 cup Tomato finely chopped or 1 cup tomato sauce
1 cup Water
1 tsp lemon juice
Lemon wedges and Cilantro to garnish
Herbs and Spices :
1/2 tsp Ground Turmeric
1 tsp Garam Masala - adjust to taste
1/2 tsp red chili powder- adjust per spice tolerance and taste
Salt - adjust to taste
1 tbsp. Dried fenugreek leaves
Instructions
INSTANTPOT INSTRUCTIONS
Start the pressure cooker in SAUTE mode. Once it feels warm, add oil and cumin seeds. Saute for 30 seconds.
When the cumin seeds change color, add onions, ginger and garlic. Sauté for couple minutes until the onions become golden brown. Stirring frequently.
Add tomato and spices. Stir and let them cook for 2 minutes until the tomatoes are softened. You should sense the aroma of the spices too. Add potatoes, peas and water. Stir well and scrape off anything stuck to the bottom of the pot. ( deglazing the pot)
Press Cancel. Close lid with vent in sealing position. Press MANUAL or PRESSURE COOK mode. Choose high pressure and select 2 mins.
InstantPot will come to presure and do the cooking. After the instant pot beeps when it's done , let the pressure release naturally for 5 minutes, then quick release the leftover pressure manually. Open the pot. Stir in lemon juice and gently mix with the curry.
Garnish with cilantro. Serve warm with roti, naan or rice.
To Make Pot In Pot Quinoa
In a stackable container, combine 1 cup of quinoa and 2 cups of water. Make the curry mixture in main insert. When it's ready, put a tall trivet in the mixture and put the quinoa container over the trivet. Close the lid. Follow all the setting as above.
STOVE TOP INSTRUCTIONS
On a medium heat, heat the oil in the sauce pan. Follow the same steps as above except the InstantPot references. Once you combine everything, cover with a lid and cook for about 10-15 minutes on low heat, while stirring frequently. Potato & Peas Curry is ready when potato are cooked fork tender. Turn off the heat. Stir in lemon juice. Garnish with cilantro. Serve warm with roti, naan or rice.
If you are using Stove Top Presure cooker - follow the same instructions except InstantPot reference. Cook for 2 whistles on medium heat.
Notes
OIL FREE WFPB COOKING- You can easily make this recipe oil free. Skip sautéing in oil part. Instead use water to sauté the onions.
*Dried fenugreek leaves or Kasoori Methi adds authentic Indian flavor to this scrumptious curry. If you don't have it readily available, simply skip it. Adding Amazon link to buy it in case you want to buy it.
*Garam Masala- Garam Masala is blend of several herbs and spices. An integral staple in Indian cooking, it helps bring amazing flavors and unique taste to simplest of the dishes.
Nutrition Information:
Yield:

4
Serving Size:

1
Amount Per Serving:
Calories:

206
Total Fat:

5g
Saturated Fat:

0g
Trans Fat:

0g
Unsaturated Fat:

4g
Cholesterol:

0mg
Sodium:

467mg
Carbohydrates:

38g
Fiber:

8g
Sugar:

8g
Protein:

7g