Split Pea Soup is power-packed wholesome vegetarian dinner to feed a hungry crowd in about 30 minutes! Each tasty bowl is plant-based protein rich and can easily be made dairy free + vegan. InstantPot and Stove Top Instructions included.
And if you ever thought beans and lentils are boring, this delicious and cozy soup will blow your mind. I guarantee it! If split peas and it's color is turning you off, give them a good long stair once again !! These tiny little peas, a few vegetables and some tangy aromatics will produce amazingly healthy, soul-warming meal without much of efforts.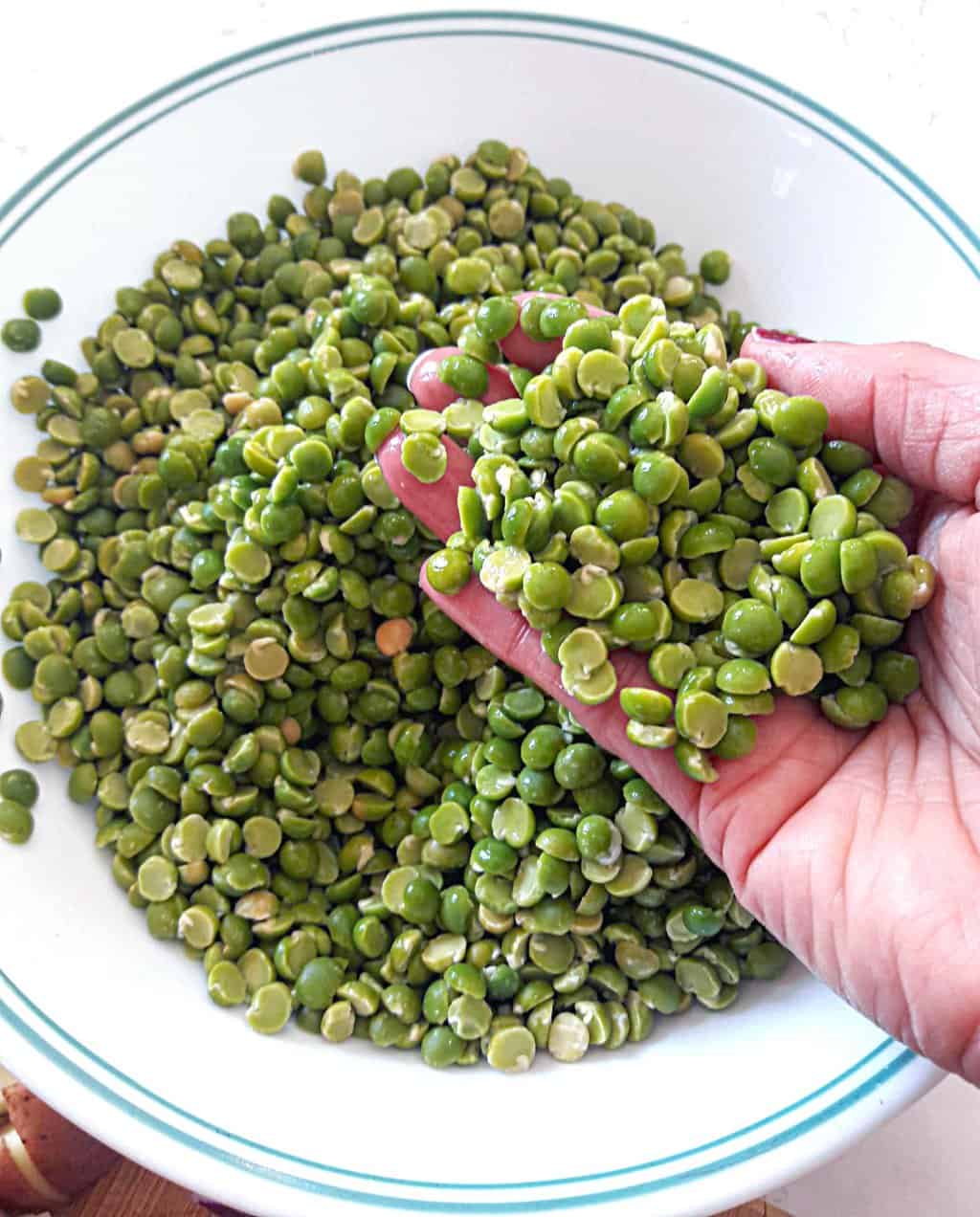 My kids call these split peas the HULK peas !! The color reminds them of the HULK. If you notice the nutritional profile of them, they actually are nothing short of it !! So between the "Popeye the Sailor Man" and the "Hulk Spilt Pea Soup" we have healthy dinners sorted out !!
THE RECIPE CARD IS LOCATED RIGHT AT THE END. Amazon affiliate link disclosure is below as well. If you are looking to spice things up around your dinner time, don't forget to follow us on Pinterest and like our FACEBOOK page. We love creating delicious , plant based recipes from around the world. DO JOIN US !!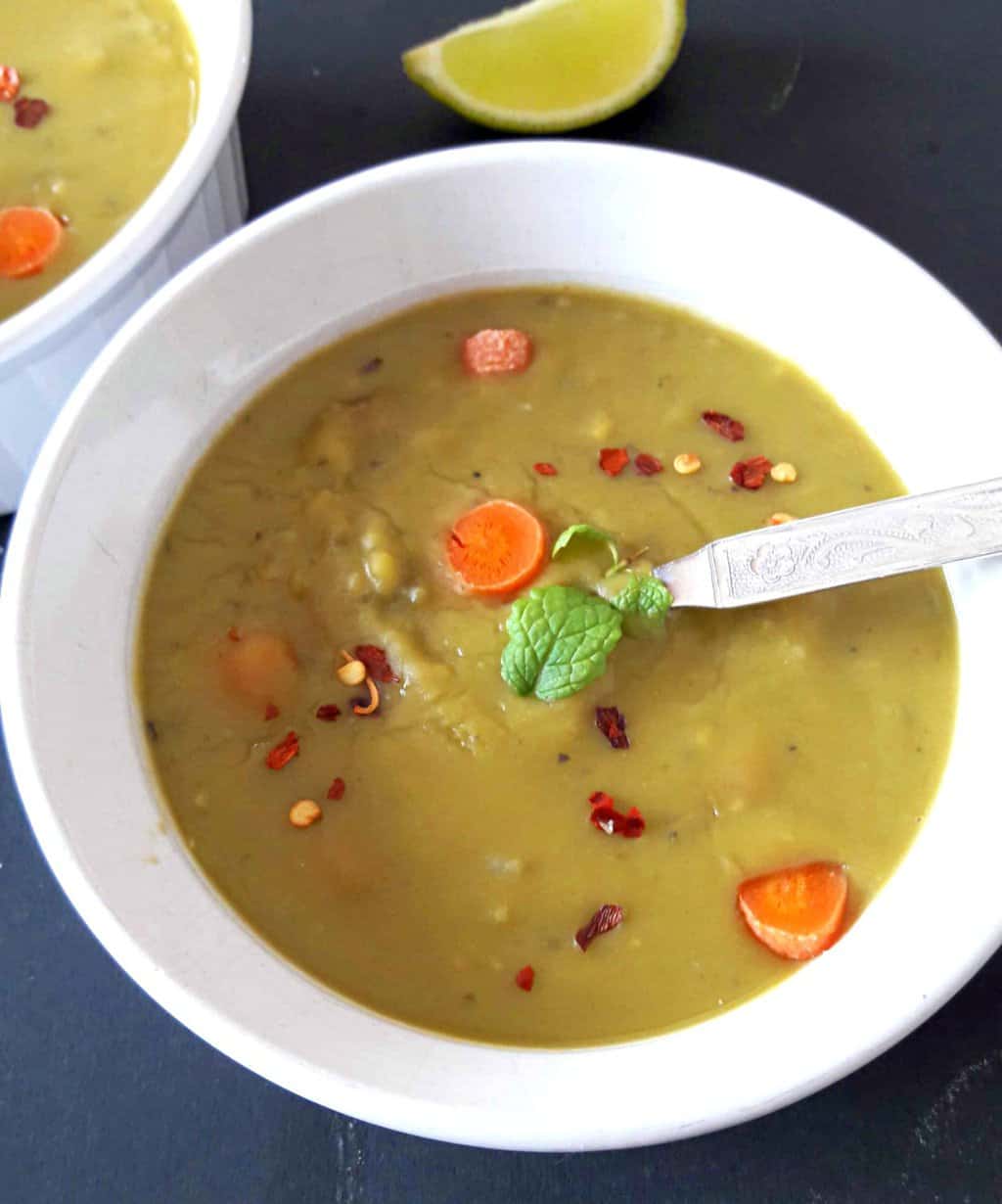 LET'S TALK ABOUT GLOWING HEALTH BENEFITS OF EATING THIS SIMPLE UNASSUMING SPLIT PEA SOUP
You can find green or yellow split peas in the store. For this soup we're using green split peas.
This split pea soup packs a ton of plant-based protein; soluable fiber; B vitamins; and complex carbohydrates. The soluable fiber helps with better nutrient absorption. No wonder it keeps you full and satiated for extended periods of time.
To make this split pea soup even more hearty and satisfying, I added diced red potatoes and carrots. To brighten things up, we stir in a tablespoon of Worcestershire sauce. (Choose soy free vegan version)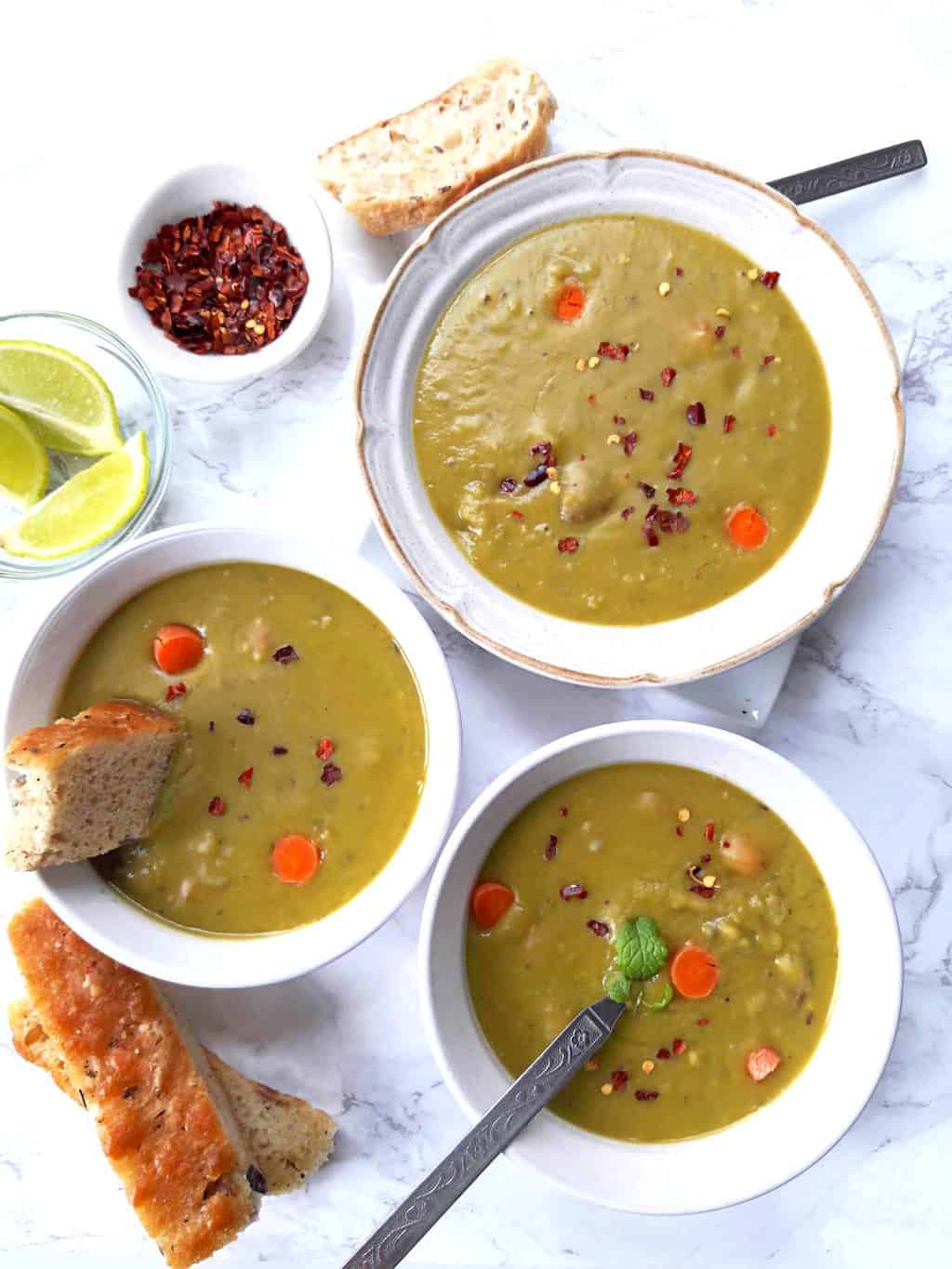 DO WE NEED TO SOAK SPLIT PEAS BEFORE COOKING?
Generally the split peas cook much quicker than beans. So you don't need to pre soak them overnight. They cook smoothly in Instant Pot in just about 10 minutes. Just rinse them though under cold water before cooking.
But from nutritional perspective, by soaking the beans and lentils, you're optimizing their nutritional content. It helps increasing absorption and preventing potential negative side effects like gas and bloating.
TIPS FOR MAKE-AHEAD MEAL PREP AND STORING SPLIT PEA SOUP
You can easily double the recipe and use it for 2-3 meals. This soup is freezer friendly. To freeze leftover soup, simply store in freezer-safe glass containers. Thaw out in the refrigerator overnight, heat up and use promptly. Refrigerate for up to 2 days.
Split pea soup thickens substantially over time. So add water or broth to make it slurpy thin when reheating.
WHAT GOES IN MAKING DELICIOUS SPILT PEA SOUP?

See the exact measurements in the recipe card below. But here are the main characters in the show
Medley of onions, red potatoes and carrots

Worcestershire sauce ( vegan ), garlic and thyme for flavors. You can substitute liquid coconut amino to make it gluten free

Garlic, Bay Leaf and Thyme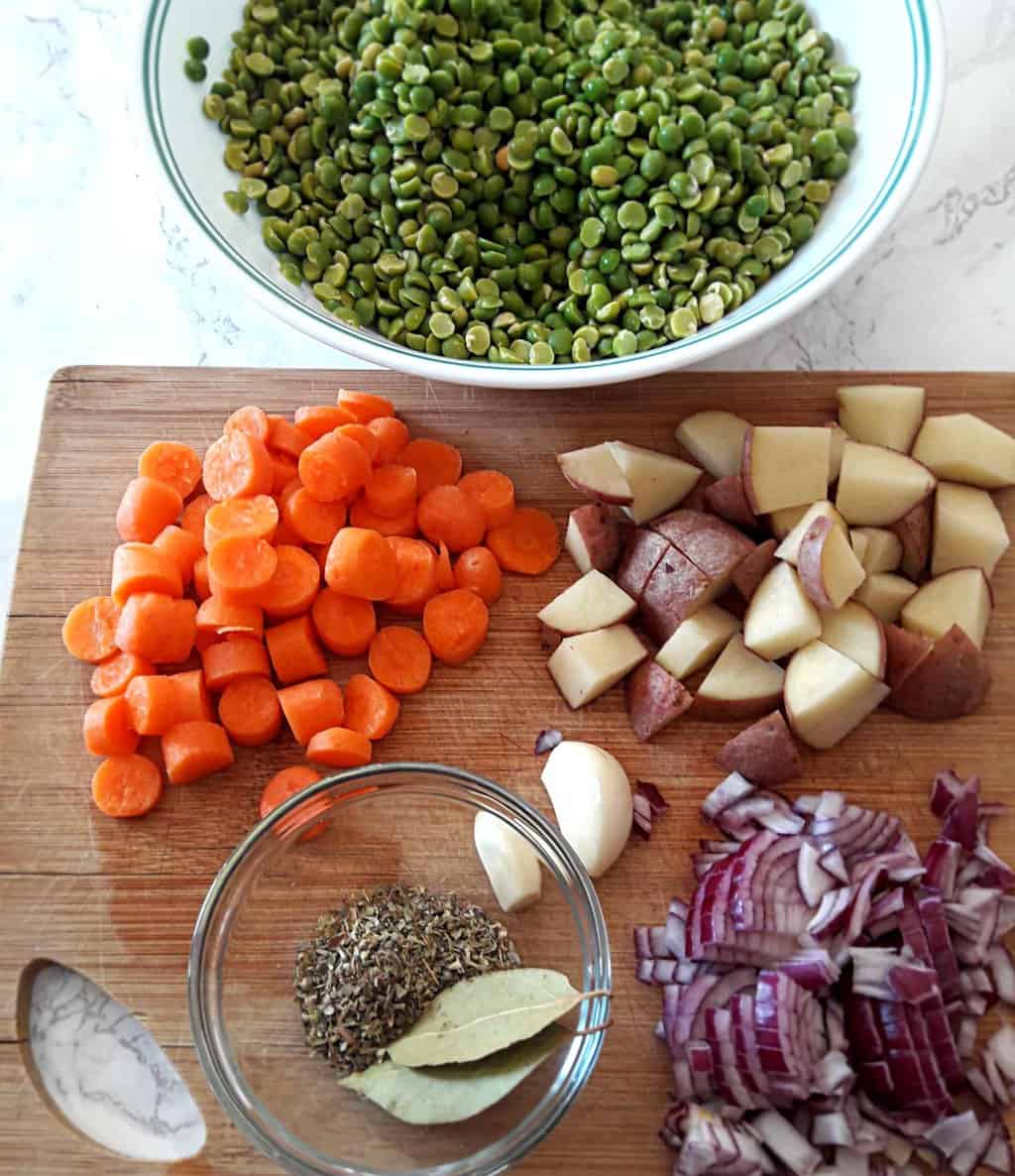 WHAT ARE BENEFITS OF USING ELCTRIC PRESURE COOKER LIKE INSTANTPOT ?
So we turn simple pantry ingredients and even super simple instructions, into a SUPERSTAR soup ! Thanks to the magic of pressure cooking!! It helps you get to the smooth texture and ability to infuse flavors in a very short amount of time. We are talking about 30 minutes from start to finish ! And the end results tastes just as delicious if you had spent hours and hours simmering and cooking it.
We love using InstantPot our 'electric smart pressure cooker' to make this delicious soup. No plan ahead meal preps or no baby sitting watching on the stovetop. I must say, it's one of my favorite things to make in the Instant Pot.
The Step By Step instructions for making this Vegan Split Pea Soup are included in the Recipe Card Below. The main instructions include briefly sautéing the ingredients . Adding water and pressure cooking it into velvety smooth soup.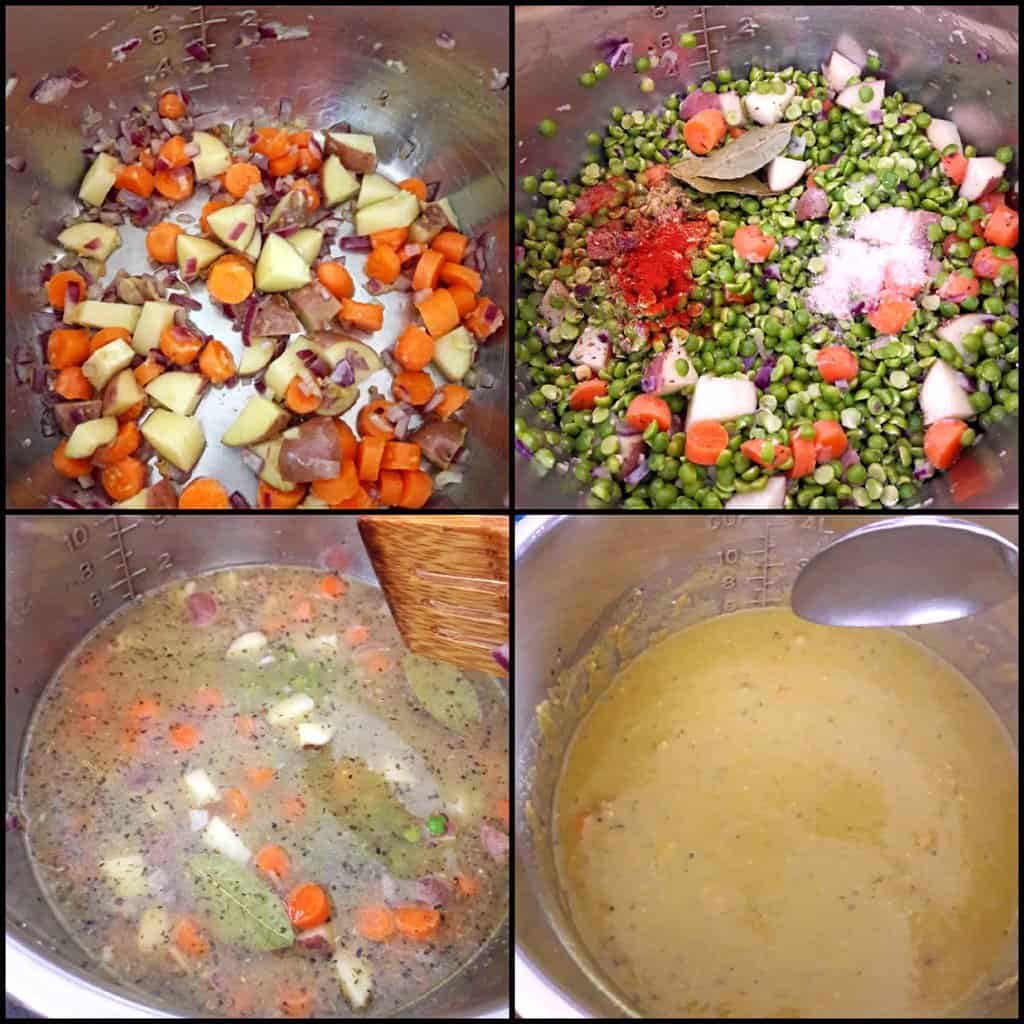 Try some of our Reader's Favorites Soup creations from the Profusion Curry for the delicious and healthy dinner options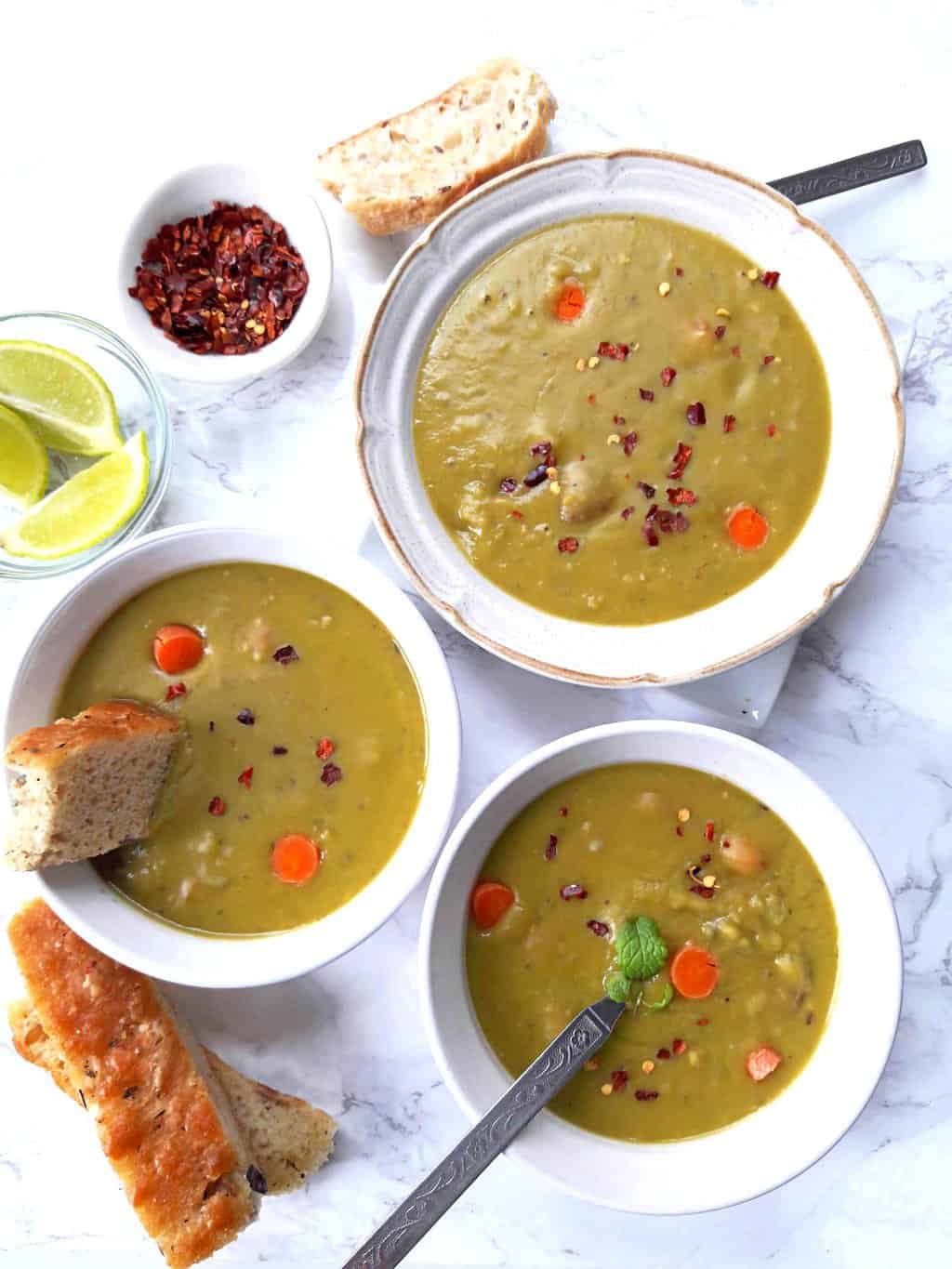 If you make this Split Pea Soup , do let us know how you like it by ★ star rating it and leaving a comment below. We would love to hear your feedback !! Use the PIN button to pin the recipe.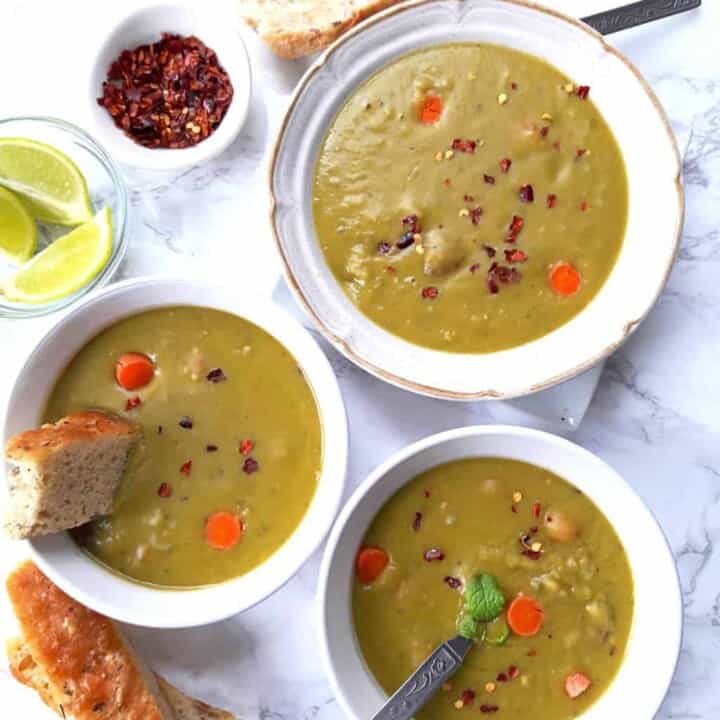 Vegan Split Pea Soup InstantPot
Additional Time:
10 minutes
Delicious Split Pea Soup Recipe made in InstantPot . Easy to make, WFPB and Vegan.
Ingredients
1 lb. green split peas rinsed well under cold water
1 tablespoon olive oil
1 medium size onion diced
1 cup red potatoes diced
1 cup carrots diced
1 Tbsp. garlic minced
6 cups low sodium vegetable broth or water
For Seasoning:
1 teaspoon dry thyme or 6 fresh thyme sprigs
1 bay leaf
1 Tbsp. Worcestershire sauce
Sea salt and pepper to taste
Instructions
InstantPot Directions:
Turn on the Sauté button on your Instant Pot and add the oil. When heated, add the onions and sauté for 2-3 minutes until slightly translucent. Add garlic and continue to sauté for a minute. Add rest of veggies and seasoning and give a good mix.
Add the green split peas. Stir well so everything is coated and mixed well. Stir in vegetables broth or water. Check the taste of the seasoning.
Press Cancel. Close the InstantPot lid with vent in sealing position. Select MANUAL setting. InstantPot will come to pressure and do the cooking. For slightly al dente peas, cook for 7 minutes at high pressure. Otherwise, cook for 10 minutes instead.
Once InstantPot beeps when it's done cooking, quick-release pressure (QPR) by turning the valve to venting. Carefully open the lid. Remove bay leaf and stir the mixture well. Sprinkle some fresh cracked black pepper on the top. Serve warm with crusty bread or fresh green salad on the side.
Slow Cooker Instructions:
To cook this soup in a slow cooker, sauté all the aromatics first, then add all the rest of the ingredients to the slow cooker. Add water and/or broth. Mix well. Then cook for 4-6 hours until tender.
Stove Top Instructions
Just follow the instructions as above, but use a large stockpot or Dutch oven and simmer on medium low until the peas are soft and tender.
Notes
For Oil Free Cooking
Skip the sautéing in oil part and use water instead. However, don't skip sautéing onion since it adds extra flavors and raw onions taste bitter.
Cooking Time Chart:
For slightly al dente peas cook for 7 minutes at high pressure.
For softer, mushier peas, cook for 10 minutes on high pressure.
For well soaked peas use 5-7 minutes at high pressure.
Recommended Products
As an Amazon Associate and member of other affiliate programs, I earn from qualifying purchases.
Nutrition Information:
Yield:

4
Serving Size:

1 cup
Amount Per Serving:
Calories:

270
Total Fat:

4g
Saturated Fat:

1g
Trans Fat:

0g
Unsaturated Fat:

3g
Cholesterol:

0mg
Sodium:

376mg
Carbohydrates:

48g
Fiber:

13g
Sugar:

9g
Protein:

12g