Paneer Jalfrezi is a popular north-Indian curry made by stir frying paneer in a flavorful onion tomato masala sauce. This restaurant style Paneer curry recipe makes quick 20 minutes dinner. You can make it on stove top as well as electric pressure cooker like Instant Pot.
Indian Spiced Paneer Stir-fry is bold and beautiful, fast and flavorful. It's a medley of colors, texture and tastes. This popular paneer recipe is suitable for weekday meals, weekend specials as well as for parties and events. Similar to Palak Paneer and Paneer Tacos, it is our family favorite recipe.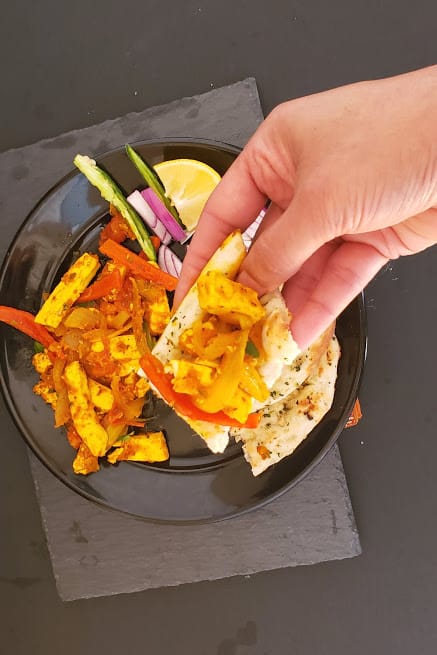 What is Paneer Jalfrezi?
Paneer means non aged, soft Indian cottage cheese and Jalfrezi means a stir-fry of vegetables in sweet and tangy masala gravy.
Paneer Jalfrezi is colorful and seasoned stir fry of paneer, onions, tomatoes, and bell peppers. The paneer along with the vegetables are cooked in the thick and spicy gravy. Typical Indian spices like Garam Masala, Turmeric and dry fenugreek leaves add phenomenal taste to this scrumptious dry curry.
Since paneer absorbs the tangy, spicy flavors so wonderfully, this recipe is always a hit. It's well-liked in many countries and is a popular dinner entrée at Indian restaurants.
The word Jalfrezi has Indian-British origin. It is believed that local eateries of West Bengal, India coined this term during British Raj
What is Paneer ?
Paneer is cottage cheese used in Indian cooking. People often make it at home using cow or buffalo milk. It is a non-aged, non-melting soft cheese. Warm boiled milk is curdling using lemon juice or vinegar. Then you press it for couple hours letting the whey like liquid drain. The result is melt in your mouth soft paneer.
Paneer is a staple in many Indian households. A lot of people in India make homemade paneer and yogurt very routinely. For convenience and ease, you can also use store brought paneer.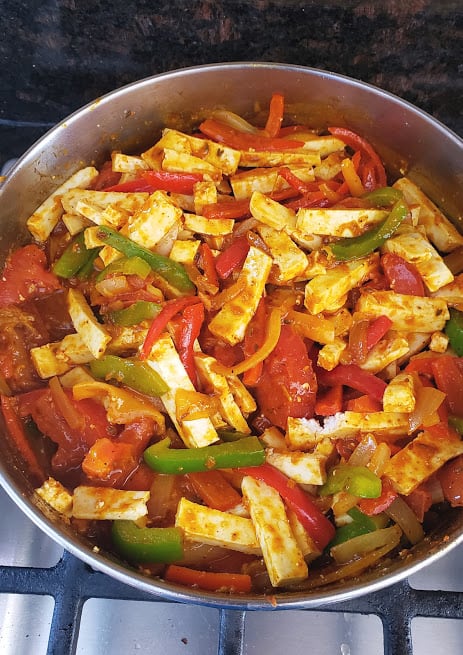 FAMOUS INDIAN CURRY
Vegetarian Jalfrezi is similar to other iconic Punjabi Recipes like Chole / Chana Masala and Aloo Matar. You will often find it in Indian Lunch buffets as well as at wedding and party menus.
On roadside food stalls called Punjabi Dhaba , you often see people enjoying these scrumptious meals. They devour it usually by breaking the bread ( naan) and scooping up Paneer Jalfrezi along…yumm
Tofu Jalfrezi
You can make this recipe Vegan by swapping out the paneer with Extra-Firm pressed Tofu. Follow the recipe exactly, just switch out the paneer with tofu pieces.
Kids Friendly Paneer Recipe
Kids also enjoy this recipe since it's milder curry with sweet, tangy taste. It's a great way to get full serving of veggies and protein for those picky eaters! Isn't is better to make a meal that whole family will enjoy ?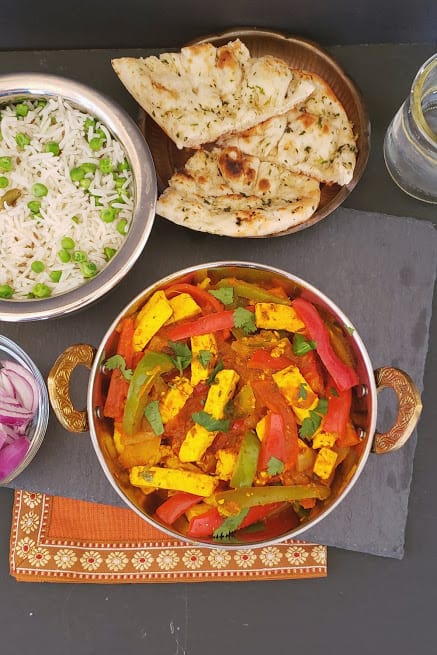 Is Paneer Jalfrezi Keto ?
Paneer is excellent source of vegetarian protein. It also is gluten free, low carb and keto friendly recipe.
This recipe generously serves around 6 people. Each serving of Paneer Jalfrezi has roughly 10 grams of carbs with 5 grams of fiber, which means only 5 grams of net carbs per serving. SO if you are following Vegetarian Keto Diet, this recipe works well.
Pro Tips to make BEST Paneer Curry
Soak the paneer in warm water for at least 10 minutes before cooking. It helps making soft paneer thereby avoiding tough chewy paneer.
So I start off by cutting the paneer and letting it soak in warm water. Then I cut veggies. By the time, I start cooking veggies, paneer is well soaked.
Make sure to discard the water and dry the paneer before adding it in cooking. This avoids extra watery curry.
Frying the paneer is optional. I did not fry paneer to make this stir fry.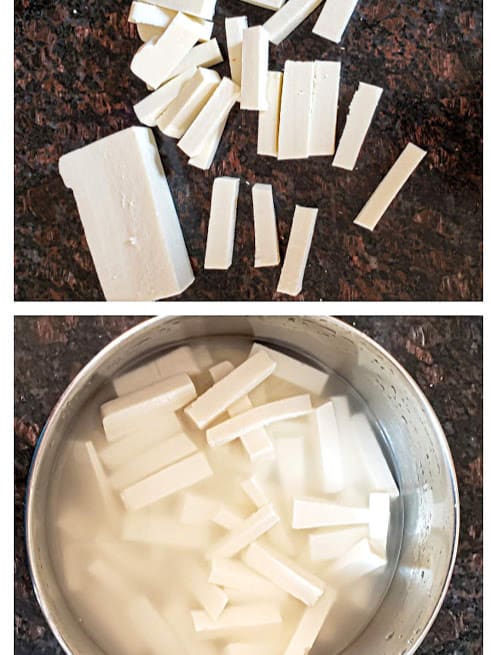 INGREDIENTS
Exact measurement of the ingredients are listed in the recipe card below. Here is the list with explanation
Paneer : Home made or store brought paneer is the star ingredient of this recipe. Paneer is Indian Cottage Cheese. You can also substitute extra firm tofu to make it plant based and dairy free.
Assorted Veggies : I am using assorted color bell peppers, onions and tomatoes. You can use any firm vegetables ideal for stir frying.
Spices and seasonings : A good quality Garam Masala is a must for the success of this recipe. We also use turmeric powder, red chili powder, minced ginger and garlic to boost the flavors. For that authentic restaurant taste, we also add dried fenugreek leaves ( also called kasuri methi)
Oil Tempering : The warm oil tempered with cumin seeds and fennel seeds helps bring out the flavors. It also helps bloom all other spices making the curry intensely flavorful.
Tomato Ketchup : Using tomato ketchup is slightly unusual for typical Indian Cooking. However, since it's a unique stir fry, adding tomato ketchup adds a wonderful depth of sweet and tangy taste. Do NOT skip it.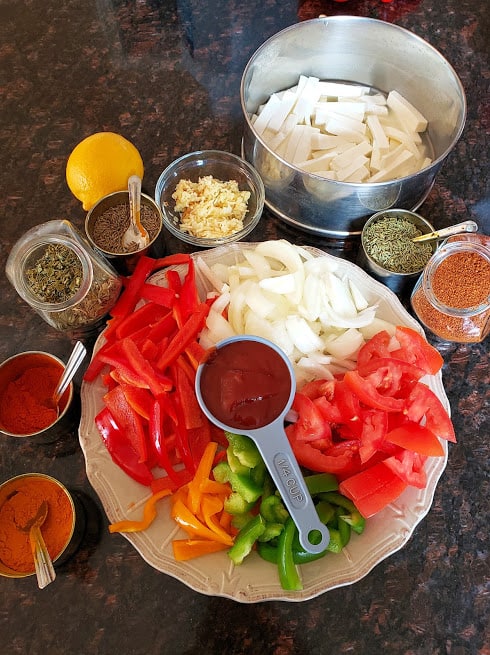 How to make Restaurant-style Paneer Jalfrezi
Start off by prepping the veggies and paneer. Have it all chopped and ready so you can cook it on high heat quickly.
Heat oil and do the tempering by adding fennel and cumin seeds till they crackle. Sauté the onions along with ginger garlic paste first. Then add veggies and species.
Mix in tomatoes and ketchup to make the coating
Finally add paneer. let it cook for few minute. Add the fenugreek leaves and garnishes. Serve warm.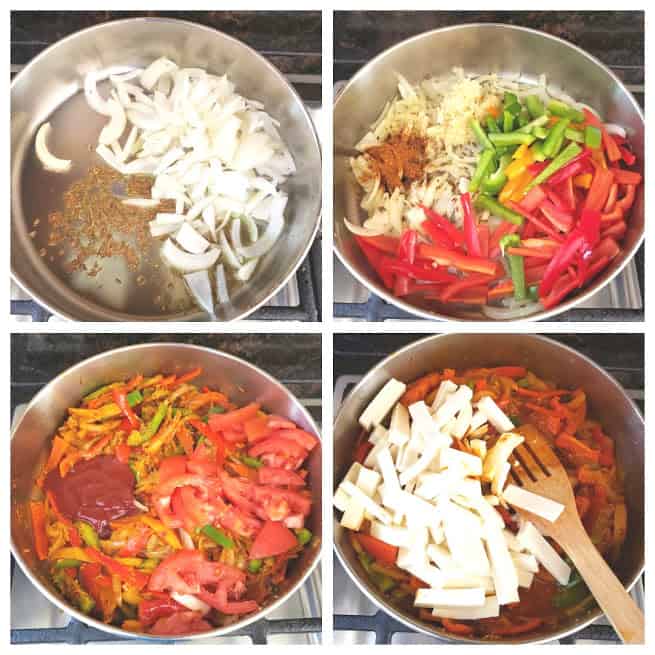 Ideas for Easy Weeknight Indian Vegetarian Meal
This Paneer Vegetable dinner recipe pairs well with simple Basmati Rice or quinoa. You can also serve it with Garlic Naan ( I often stock up on Trader Joe's), roti or pita bread.
For more elaborate Indian feast, try these recipes. Together they make delicious thali ( platter ) which is typically served in restaurants.
Appetizer : Potato Poppers or Kacchi Dabeli
Chutney : Tomato Chutney
Raita : Creamy Potato Salad
Dry Curry : Turmeric Cabbage and Peas or Masala Potatoes
Dal : Dal Makhani or Spinach Dal
Rice : Tawa Pulao or Turmeric Lemon Rice
Desserts : Coconut Rice Kheer or Gajar Halwa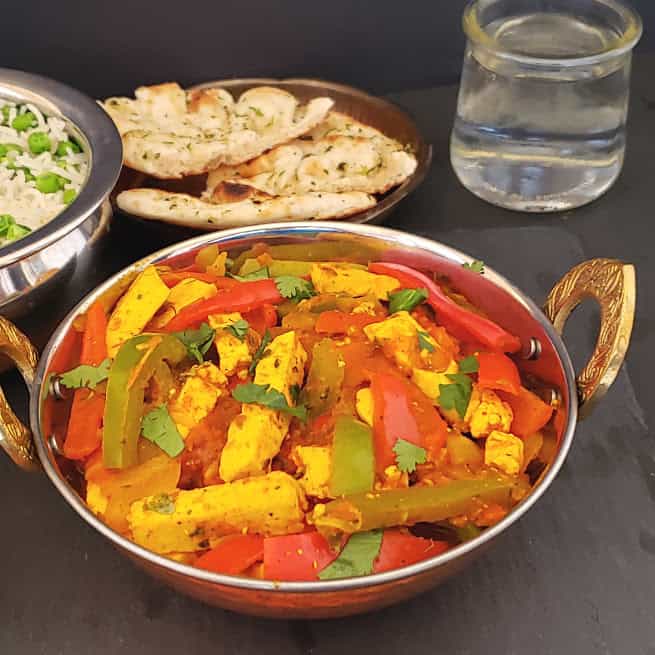 Don't forget to take pictures when you make our delicious recipes. Tag us with #profusioncurry on Instagram ! We would love to feature your creation.
Join us on PINTEREST and FACEBOOK . You will love all our delicious, wholesome, plant based recipes from around the world.
★ If you make this Paneer Jalfrezi Recipe , do let us know how you like it by ★ star rating it and leaving a comment below.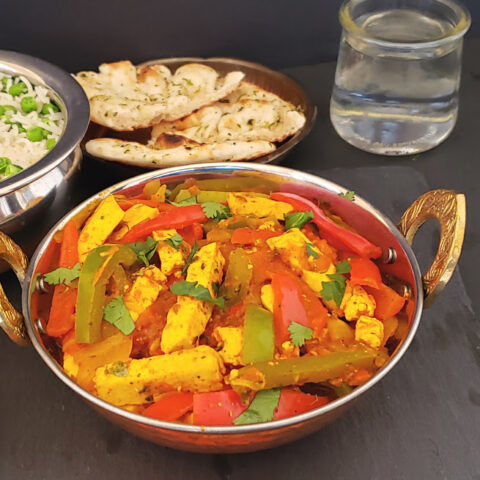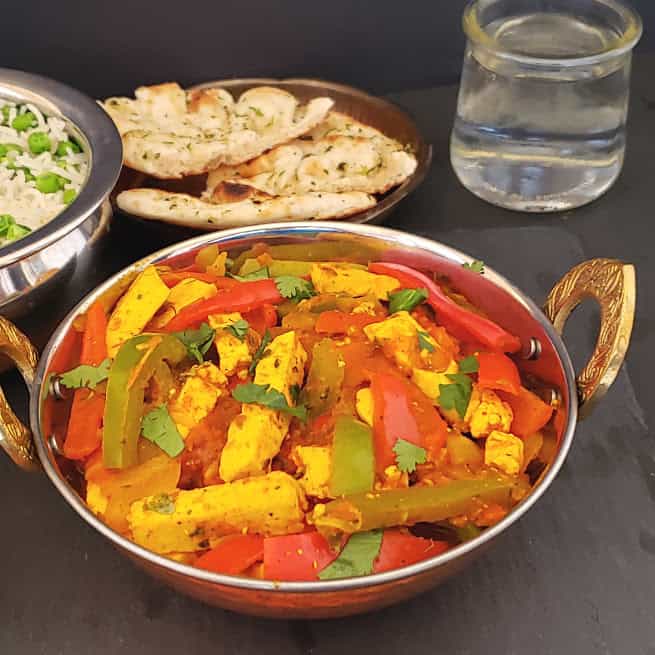 Best Paneer Jalfrezi Recipe - Instant Pot Option
Paneer Jalfrezi is a popular north-Indian curry made by paneer stir fried in a flavorful onion tomato masala sauce. This vegetarian, restaurant favorite curry makes quick 20 minutes dinner.
Ingredients
1 tsp. Fennel seeds
1 Onion medium, thinly sliced
1 Green Bell Pepper, thinly lengthwise sliced
1 Red Bell Pepper, thinly lengthwise sliced
1 medium Red Tomato chopped ( 1/2 cup)
2 cups Paneer- cut into long stripe (1/4")
Cilantro leaves to garnish
Salt - adjust per taste
Spices :
Instructions
INSTANT POT INSTRUCTIONS :
Press the SAUTE button on the Instant Pot. Once it displays hot, add the oil and then add the cumin and fennel seeds. Let the cumin seeds sizzle for few seconds.
Add the onions. Sprinkle some salt over the onions. Stir and cook for 2 minutes until onions are soft.
Add the ginger-garlic paste and cook for 1 minute.Then add the sliced bell peppers and all the spices. Stir well. Add water and de-glaze the pot. Scrape the bottom with a spatula and remove all browned bits of onions and spices that are stuck at the bottom of the pot.
Add the paneer stripes. Add tomatoes and ketchup on top and do NOT stir.
Close the pot with its lid. Press the MANUAL or PRESSURE COOK button and cook on high pressure for 2 minutes. Let the pressure release naturally for 5 minutes and then do a quick pressure release by moving the valve from SEALING to VENTING.
Once the silver pin drops, open the lid. Crush the fenugreek leaves on your palms and sprinkle over the curry. Add the lemon juice. Mix everything well by gently stirring.
If the curry looks too liquidy, press the saute button. Cover the pot with a glass lid and let it simmer for 3 to 4 minutes. Cancel SAUTE. Add in fresh cilantro and serve.
STOVETOP INSTRUCTIONS :
Heat oil in a heavy bottom sauce pan on medium heat. Add cumin and fennel seeds and let them sizzle for 30 seconds.
Add sliced onions, garlic and ginger. Sprinkle some salt. Fry them for about 2-3 minutes.
Add all the spices and the bell peppers. and stir them with the onions for few minutes. Add a couple of tablespoons water if the spices stick to the pan.
Add the chopped tomato and tomato ketchup and cook for about 2 minutes until the tomatoes mix well and start to soften. Add the paneer stripes and stir well. Cook for 2-3 minutes until the paneer softens.
Crush the fenugreek leaves on your palms and sprinkle over the curry. Add the lemon juice. Mix everything well by gently stirring. Turn off the heat. Garnish with cilantro and serve warm.
Notes
Frying the paneer : I did not fry the paneer before adding in this recipe. If you like, you can fry it.
Shape of the paneer and veggies : Since this is a stir fry dish, all the ingredients are cut into long stripes lengthwise , instead of cubes. Make about 1" stripes for even cooking.
Vegetables: I used green, orange and red bell peppers. I used mini sweet pepper package since I often have that in my refrigerator. Any color peppers will work in this recipe. You can also use firm veggies like green onions, carrots, broccoli or snow peas.
Spice Level : I prefer to make this curry medium to low spicy. If you want it it bold, hot spicy, increase the red chili powder or add green chilies.
Make it Vegan: If you want to make this curry vegan, use firm pressed tofu instead of paneer.
Nutrition Information:
Yield:

6
Serving Size:

1 cup
Amount Per Serving:
Calories:

186
Total Fat:

12g
Saturated Fat:

5g
Trans Fat:

0g
Unsaturated Fat:

5g
Carbohydrates:

10g
Fiber:

5g
Sugar:

6g
Protein:

9g
Nutritional values are provided as a courtesy and the values are approximate. The values will change depending on the exact ingredients, measurements and brands used. As always, for specific health issues and dietary requirements please consult medical professional.