Sweet, spicy and tangy tomato chutney is full of flavor explosion in every bite. This perfectly spiced chutney recipe uses simple ingredients yet tastes Amazing.
This Cherry Tomato Chutney is crazy easy to make. And it is so full of flavor you'll want to put it on EVERYTHING!
As with most of my recipes, I am including Stove top and electric pressure cooker (Instantpot) instructions to make this chutney.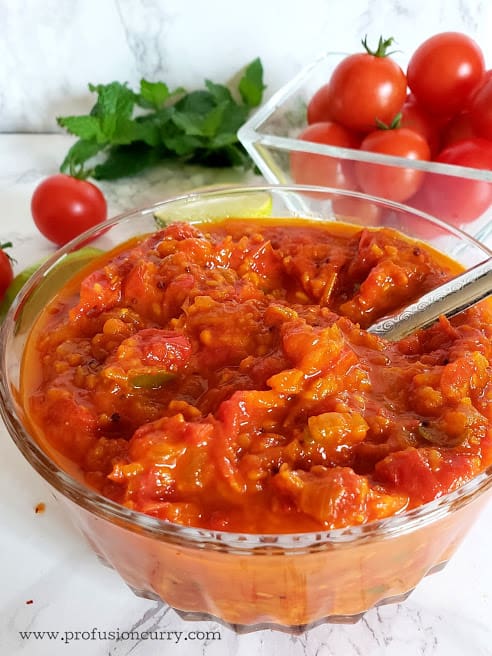 Every year we plant cherry tomatoes in the garden. They grow pretty easily and produce bushels of cheery tomatoes throughout the summer.
Besides eating them like candy and adding them to the salads I often make homemade marinara sauce with it. And we also make a big batch of this Oh So Delicious Chutney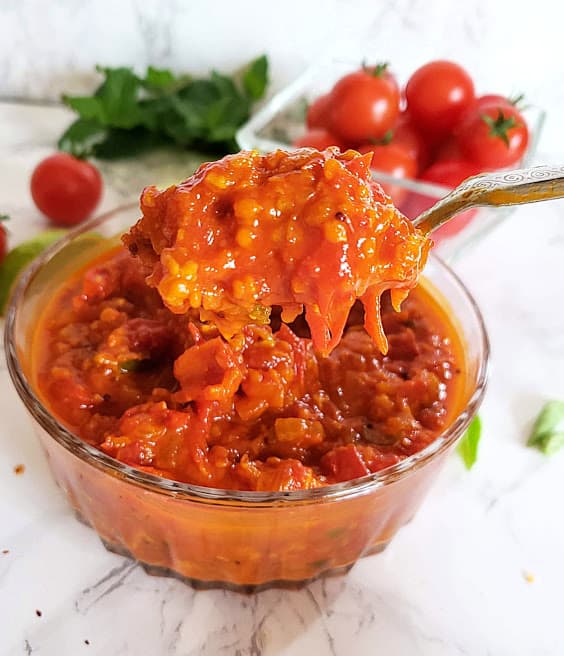 USING CHERRY TOMATOES TO MAKE SWEET AND SPICY TOMATO CHUTNEY
Cherry tomatoes tend to be sweeter than regular big tomatoes. They cook quickly and add a wonderful sweet tang to variety of dishes.
The skin on these tiny tomatoes is very thin so I do not remove the skin after cooked. This also is a great way to use up all of the end of the summer garden produce and make a big batch of chutney. It preserves very well if kept in airtight mason jars.
You can serve this InstantPot Tomato Chutney as an appetizer, as a condiment, or as a scrumptious side dish. It goes very well with charcuterie boards too. It adds a little flavor perk me up to any meal.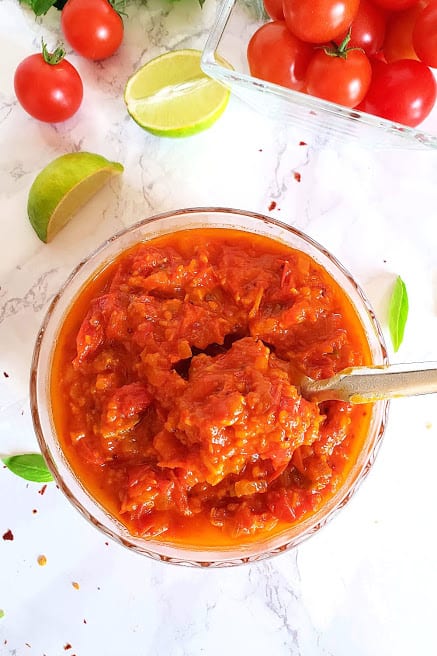 SERVING SUGGESTIONS FOR EASY TOMATO CHUTNEY RECIPE
on crusty bread to make the ultimate bruschetta.
As a topping to go along the flatbread, roti, naan, toast, pancakes or simple rice and quinoa.
As a salad dressing along with fresh herbs and spices
a tasty topping for avocado toast
Beautiful side dish for all your summer BBQ grilling and picnics
You can pack it in cute mason jars ( add a bow ribbon to make it look cuter) and give it as a hostess gift.
and so. much. more.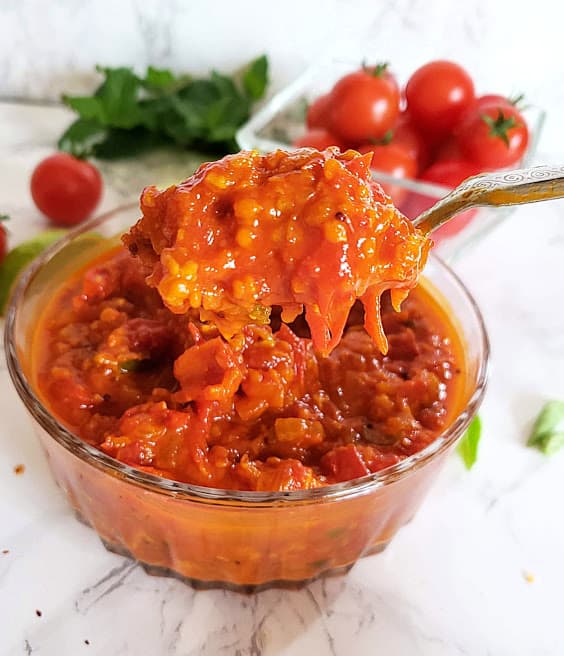 This Easy Tomato Chutney Recipe is
vegan and easy to make
uses simple and basic ingredients
perfect accompaniment to perk up any lackluster meals.
mildly spiced and keeps well in refrigerator for a week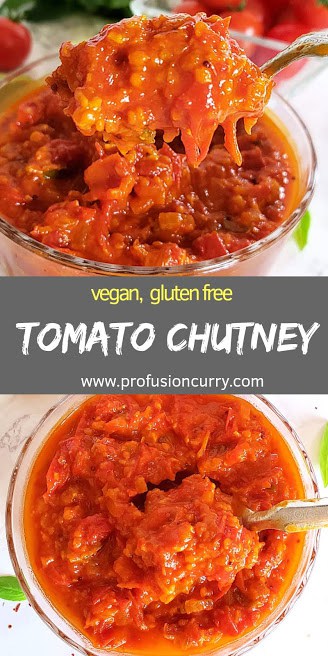 WHAT ARE THE INGREDIENTS OF DELICIOUS TOMATO CHUTNEY RECIPE
1 tablespoon cooking oil
1/4 teaspoon cumin seeds
1/4 teaspoon black mustard seeds
1/2 teaspoon turmeric powder
1/8 teaspoon Kashmiri red chili powder, optional
3-4 large garlic cloves minced
1 inch ginger minced
1 small onion, chopped
1-2 green chilies chopped, adjust per spice tolerance
4 cups red cherry tomatoes or 2-3 medium red tomatoes chopped
1 Tablespoon raw sugar (adjust per taste)
1/2 teaspoon salt, or to taste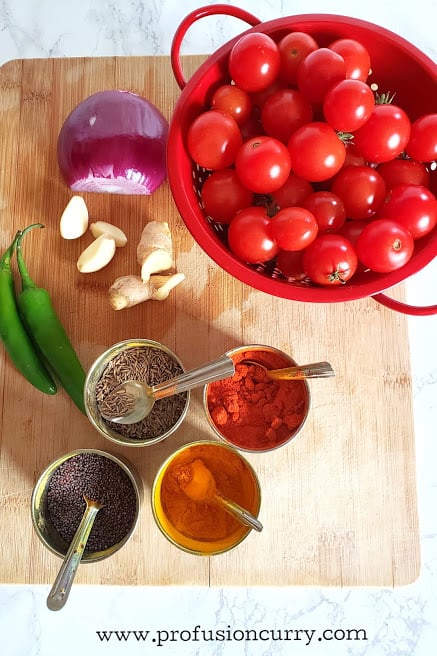 HOW TO MAKE INDIAN SPICED TOMATO CHUTNEY
The process to make this Super Delicious Tomato Chutney is super simple- cook the ingredients a little until the raw smell goes away. If you prefer smooth texture, then grind to a paste and that's about it! Since I like the bits and pieces of texture, I leave it as is.
If you like traditional Indian Chutney's , then you may want to add additional oil tempering over the chutney. This extra flavored oil kicks up the flavors to another notch.
For the optional tadka / oil tempering, heat the oil on medium. Add black mustard seeds and let them crackle. Add couple of dry red chilis to amp up the spicy level. If it's easily available, add fresh curry leaves and Hing (asafetida) to the tadka ( oil tempering ) . It adds unique flavors.
Pour the oil mixture over the chutney. Let it cool down and then enjoy spoonful. Detailed instructions are included in the recipe card below.
This Chutney should be served at room temperature or cold. Make sure it doesn't get extra moisture or water if you plan to store it for longer time. So use a dry spoon for scooping. You can also garnish it with chopped cilantro while serving.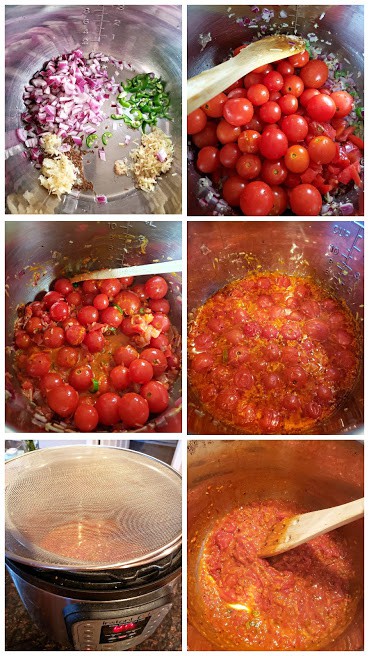 CHECK OUT SOME OF OUR OTHER DELCIOUS CHUTNEY AND DIP RECIPES.
WALNUT & ROASTED RED PEPPER CHUTNEY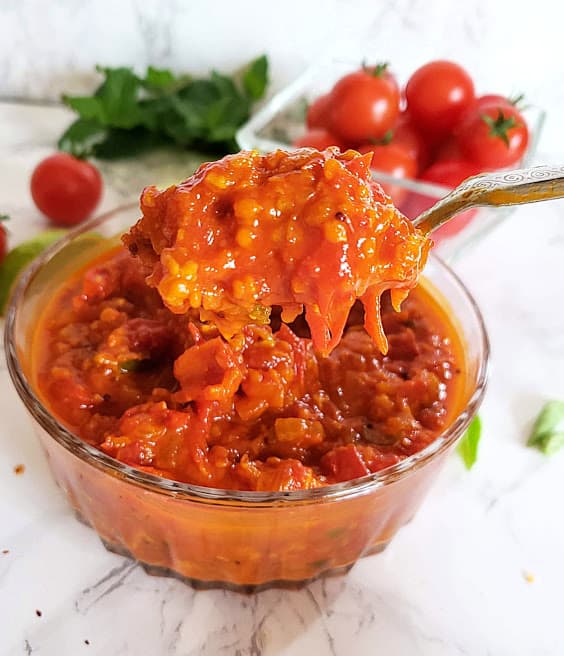 Don't forget to take pictures when you make our delicious recipes. Tag us with #profusioncurry on Instagram ! We would love to feature your creation.
Join us on Pinterest and FACEBOOK . You will love all our delicious, wholesome, plant based recipes from around the world.
★ If you make this Instantpot Tomato Chutney Recipe , do let us know how you like it by ★ star rating it and leaving a comment below.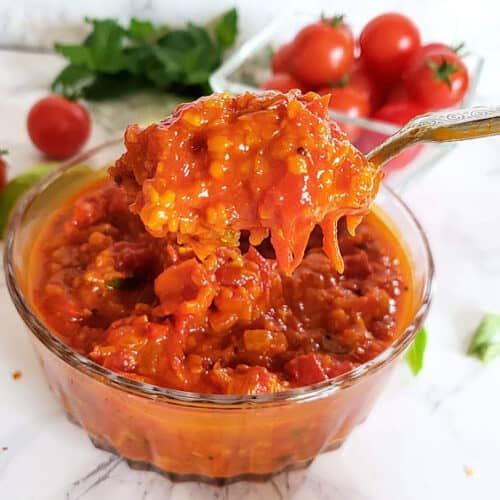 Tomato Chutney Recipe
Sweet, spicy and tangy tomato chutney is full of flavor explosion in every bite. This perfectly spiced chutney recipe is vegan and gluten free. Instantpot and stove top instructions are included
Instructions
Instantpot Instructions :
Turn Instant Pot to SAUTE mode and heat oil. Add mustard and cumin seeds and allow them to crackle. Add onions and sprinkle some salt over it. Sauté well.

Add minced ginger and garlic and green chilies, turmeric and red chili powder. Stir well. Add You should sense the aroma. Add 1/2 cup of water and scrap everything on the bottom. ( deglaze)

Add tomatoes, salt and sugar. Cancel SAUTE. Give a quick stir. Close Instant Pot with pressure valve set to sealing.

Press Manual and choose Low for 5 minutes followed by quick release or natural pressure release.

Open the lid. Press Sauté mode back. Mash the tomatoes using back of the spatula or a masher. Cook for 2 minutes stirring frequently. Cancel Sauté.

This Chutney should be served at room temperature or cold. Let it cool down completely. Mix well and enjoy!
Stove top Instructions :
Heat oil in a pan on medium heat. Once the oil is hot, add cumin and black mustard seeds. Let them crackle for a minutes. Add onions and sprinkle some salt over it. Sauté well.

Add minced ginger and garlic and green chilies, turmeric and red chili powder. Stir well. Add You should sense the aroma. Add 1/2 cup of water and scrap everything on the bottom. ( deglaze)

Add tomatoes, salt and sugar. Cover the pot and let it cook for 10 minutes on medium low heat. Check and stir intermittently. Open the lid and check to see if the tomatoes are tender and soft. Mash the tomatoes using back of the spatula or a masher. Cook for 2 minutes stirring frequently. Turn off the heat.

Serve at room temparature
Notes
Ingredients to add add optional oil Tempering/Tadka 1 teaspoon oil
1/4 teaspoon mustard seeds
1/4 teaspoon asafoetida ( hing )
6-7 curry leaves
2-3 dry red chilies
Nutrition
Serving:
1
tablespoon
Calories:
56
kcal
Carbohydrates:
9
g
Protein:
2
g
Fat:
2
g
Polyunsaturated Fat:
2
g
Sodium:
143
mg
Fiber:
2
g
Sugar:
6
g