Vegan Thai Massaman Curry is an authentic rich curry with complex flavors. A one-pot meal perfect for make-ahead lunches or easy weeknight dinner.
You will need under 20 minutes to make this bright and hearty Vegetarian Thai Curry. This luxuriously elegant curry is better-than-restaurant curry. I am including stove top and Instant Pot instructions to make this savory recipe.
Calling all curry fans! If you love Thai curry, you'll find yourself loving this wholesome and mild Vegan Massaman Tofu Curry. This savory healthy curry is also gluten free.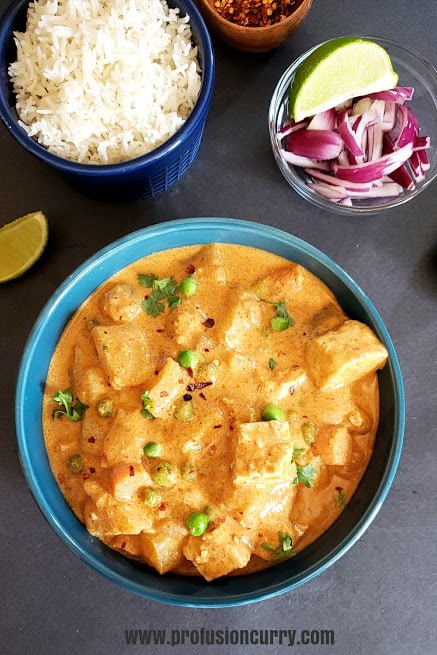 Skip the takeout. This semi-homemade recipe tastes simply AWESOME ! Plus it is filling, cheap and budget friendly one pot wonder meal.
The creaminess of the curry and it's rich aromatics are so addictive. Plus, it packs enough rich flavor to even win over the hearts of carnivores.
Coconut milk makes it rich and creamy. I am using store brought curry paste which is full of sultry flavorful ingredients.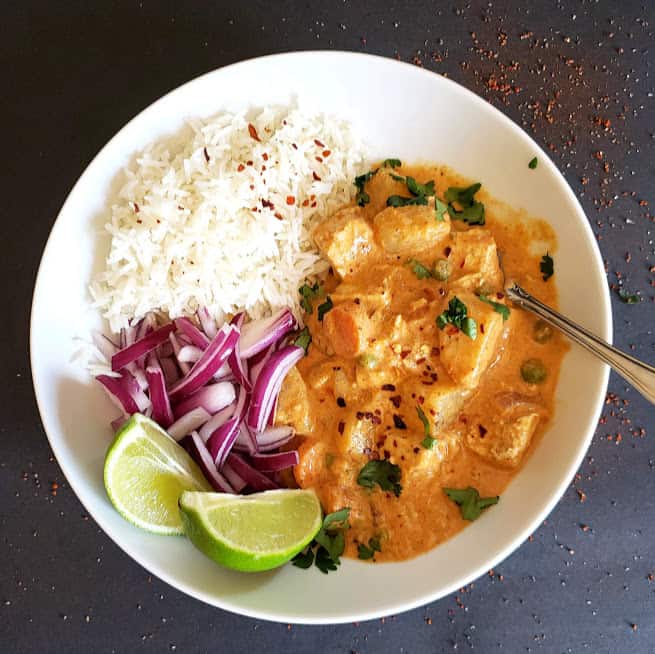 And the curry itself is bit sweeter than normal Red Thai Curry or green curry. As we love curry dinners, we also do have Thai Red Curry and Thai Green Curry recipes on the blog.
Typically, Massaman Curry is made with chunky meat and fish sauce. In this vegan version, I am bulking it with potatoes and tofu.
You can make all sorts of substitutions in this curry depending on what you have on hand.
Serve over noodles, brown rice or white rice.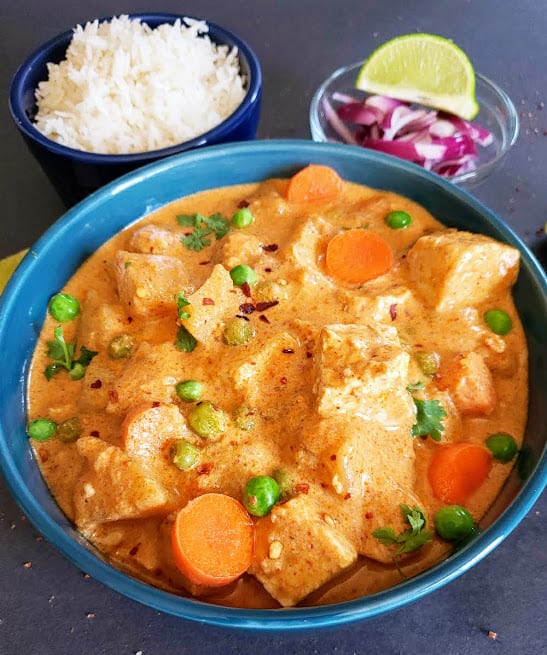 My Recommendation for Quality Curry Paste
For an authentic Asian flavor, a good quality curry paste is a must. I love the Maesri Massaman Curry Paste. It has perfect balance of coriander, cumin, cinnamon, cardamom, lemongrass and galangal for the true Thai taste that you crave in ordering in restaurants.
I highly recommend to stock up on these variety pack of curry pastes and coconut milk for last minute dinner ideas. Use whatever veggies, lentils or protein you have in hand and whip up gourmet dinners in no time.
They have long shelf life and are available in many US grocery stores in addition to Amazon.
SUBSTITUTIONS
Use different vegetables, such as sweet potatoes, broccoli, cauliflower, peppers or squash.
Add some tempeh instead of tofu. For non vegetarian meal, use chicken or shrimps.
I have made this curry with plain almond milk and it works too.
For WFPB cooking, skip oil and use water to sauté the veggies.
To make it truly dump and go recipe, you can skip the sautéing part and just cook all ingredients at once. I personally however, like to sauté the curry paste first which brightens the flavors.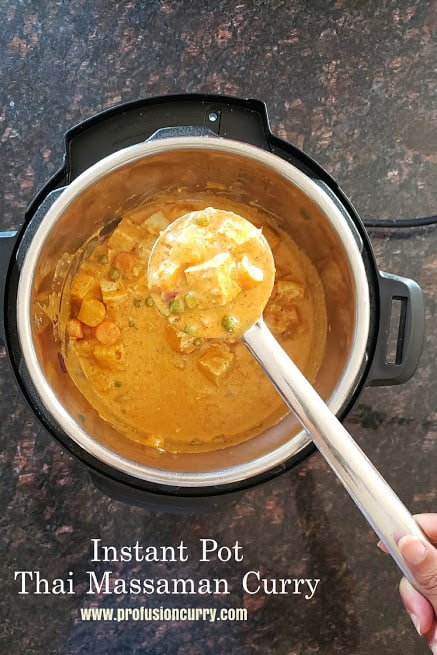 INGREDIENTS
Vegetables – small onion, 2 medium potatoes and peas and carrots. ( I used frozen )
Hard pressed firm Tofu – remove as much excess water as possible.
Aromatics – ginger, garlic, thai massaman curry paste
Coconut Milk
Lime or lemon juice
Salt, pepper and red pepper flakes
Thai basil, cilantro, green onions for garnish – optional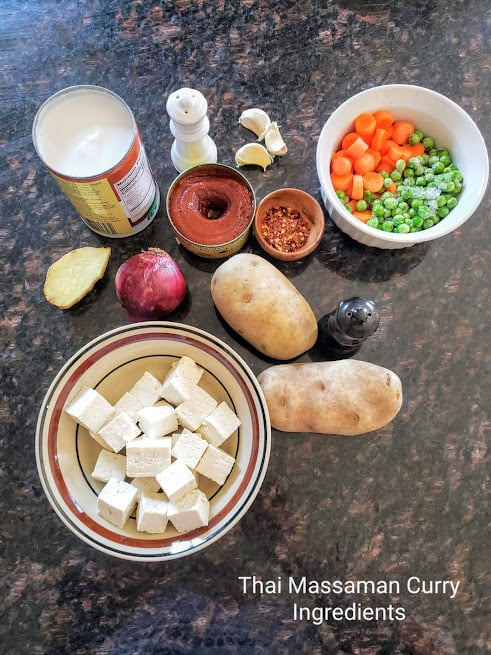 HOW TO MAKE VEGAN THAI MASSAMAN CURRY
Start off by sautéing onions in warm oil. Once they get translucent, add minced garlic and ginger and curry paste.
Sauté well for couple minutes till you sense the aroma.
Add diced potatoes, vegetables, coconut milk, tofu, salt and pepper. Add water.
Let it come to boil. Reduce the heat, cover and it cook till potatoes get fork tender.
Open the lid. Simmer for few minutes. Turn off the heat. Adjust the seasoning if needed. Your delicious curry is ready.
Garnish it with fresh herbs. Serve warm over rice. Enjoy!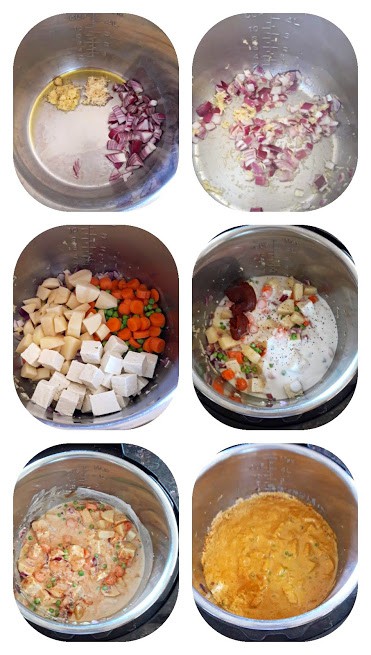 We have got a big spot for hearty curries from around the world. Check out our amazing curry collections for scrumptious recipes for easy family dinners. Here are some to name a few:
Join us on Pinterest and FACEBOOK . You will love all our delicious, wholesome, plant based recipes from around the world.
★ If you make this VEGAN THAI MASSAMAN CURRY RECIPE do let us know how you like it by ★ star rating it and leaving a comment below.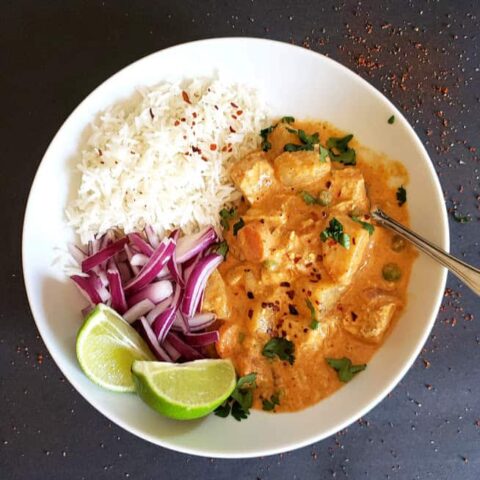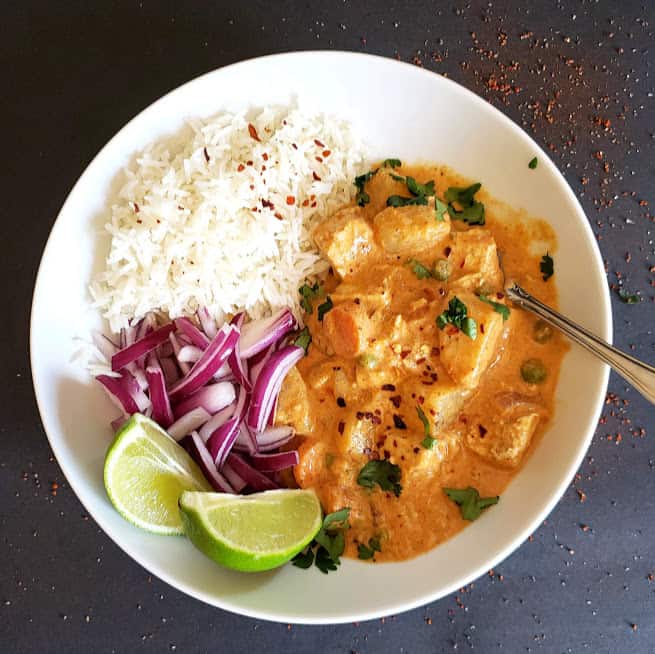 Thai Massaman Curry with Vegetables
Easy, Budget friendly and gourmet delicious! This Thai Massaman Curry will be your family favorite dinner curry for quick dinner or lunch
Ingredients
1 medium onion chopped
2 medium potatoes - cubed
1 cup firm tofu - cubed
1/2 cup carrots -chopped
1/2 cup green peas
1 teaspoon ginger minced
1 teaspoon garlic minced
1 teaspoon raw or brown sugar
1 cup water
1 tablespoon lime or lemon juice
Salt and pepper per taste
Optional Garnishes
5-6 stalks green onions chopped
1 tablespoon cilantro leaves chopped
1 tablespoon thai basil leaves chopped
Red Pepper Flakes and ground black pepper
Instructions
INSTANTPOT INSTRUCTIONS :
Turn Instantpot on and press SAUTE button.
After it displays HOT, add oil, chopped onions, curry paste and minced ginger and garlic. Stir well till onions get translucent and you sense the aroma. ( about 3 minutes)
Add all the veggies to the pot. Saute them for a minute. Add water and stir everything together making sure to DEGLAZE by scraping the base with spatula.
Add coconut milk, sugar, salt and pepper. Give the mixture a good stir.
Cancel SAUTE. Close the lid with valve at SEALING. Press MANUAL or PRESSURE COOK and select 4 minute.
After InstantPot done cooking, wait on keep warm timer for 5 minutes and then do QPR - quick pressure release by turning the valve to venting.
After the silver pin drops, carefully open the lid. Add tofu cubes. Mix well. Your steaming hot curry is ready.
If necessary, add more water to thin the curry. Alternatively, if you feel it's too thick, simmer it back on SAUTE for couple minutes.
Add in the thai basil leaves, cilantro leaves and chopped green onions and mix. Add lime / lemon juice just before serving.
Serve this vegan Thai Massaman Curry with jasmine rice or steamed white rice, brown rice, quinoa or noodles. Enjoy!
Stove Top Instructions
Heat 1 tablespoon oil in a Dutch Oven or soup pan on medium high heat.
Once oil is hot, add chopped onions, curry paste, and minced ginger and garlic. Stir well till onions get translucent and you sense the aroma.
Add all the veggies to the pan. Toss veggies for around 2 minutes on medium high heat.
Add tofu cubes. Mix well. Add water and stir everything together making sure to scrape the base.
Add coconut milk, sugar and salt. Give the mixture a good stir.
Cover the pot and let the curry cook on medium heat for 10-12 minutes. It will come to a light simmer and become thick and creamy.
Adjust the consistency of the curry at this point. You can add water to thin it out if you so desire.
Add in the thai basil leaves, lime/ lemon juice, cilantro leaves and chopped green onions and mix. Remove pan from heat.
Serve this vegan Thai Massaman Curry with jasmine rice or steamed white rice, brown rice, quinoa or noodles. Enjoy!
Notes
For Instant Pot Cooking : Since potatoes need to cook longer than rest of the veggies, cut them into small bite size pieces. That will ensure even cooking. Also, I am addding tofu after it's pressure cooked to avoid it from overcooking and get crumbly under pressure.
HOW TO MAKE MASSAMAN CURRY PASTE AT HOME
2 shallots sliced
5 garlic cloves minced
2 thai red chilies
1 tbsp. galangal or ginger minced
1 stalk lemongrass minced,
1/4 cup dry roasted peanuts
1 tsp. ground coriander
1/2 tbsp. ground cumin
1/4 tsp. ground cardamon
1/2 tsp. ground cinnamon
1/8 tsp. ground nutmeg
1/8 tsp. ground cloves
1 tsp. palm sugar (or brown sugar)
Roast the ingredients on medium high heat with some oil. Once they cool down, add couple tablespoons of water and grind it to smooth paste.

Recommended Products
As an Amazon Associate and member of other affiliate programs, I earn from qualifying purchases.
Nutrition Information:
Yield:

4
Serving Size:

1.5 cup
Amount Per Serving:
Calories:

216
Total Fat:

7g
Saturated Fat:

2g
Trans Fat:

0g
Unsaturated Fat:

4g
Cholesterol:

3mg
Sodium:

137mg
Carbohydrates:

31g
Fiber:

6g
Sugar:

6g
Protein:

11g
Nutritional values are provided as a courtesy and the values are approximate. The values will change depending on the exact ingredients, measurements and brands used. As always, for specific health issues and dietary requirements please consult medical professional.