Prepare restaurant style Creamed Spinach right at home using this quick and easy recipe. Added bonus, this recipe makes creamy spinach that is low in calorie, velvety smooth and superbly delicious! It also is vegan, gluten free and dairy free recipe to make BEST classic Creamed Spinach.
Creamed Spinach is a must have side dish on our Thanksgiving and Holiday dinner menu. We are all about scrumptious sides for these winter dinner celebrations. Homemade Cornbread, Sweet Potato Casserole, Roasted Brussels Sprouts, Cranberry Sauce and this Creamed Spinach are our crowd pleaser dinner sides.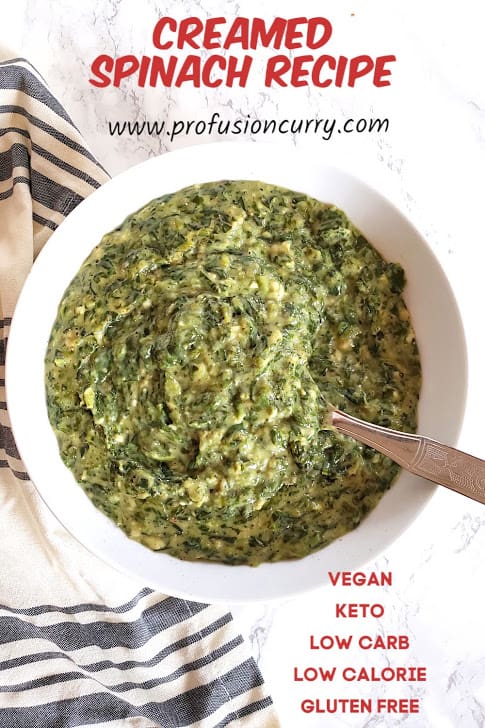 Homestyle Creamed Spinach
This comfort food recipe makes the perfect side dish for weeknight dinners. We often also serve it for Holiday dinners including Thanksgiving and Christmas.
As always, I am adding my delicious twist to this classic creamed spinach typically found in fancy steakhouses and gourmet dinner parties. So it is easy to adapt to your dietary preferences.
And it's a perfect decadent way to eat veggies. Even the carnivores will devour it since it's so rich and creamy. This creamy spinach is made without cream. So it is lighter than other varieties.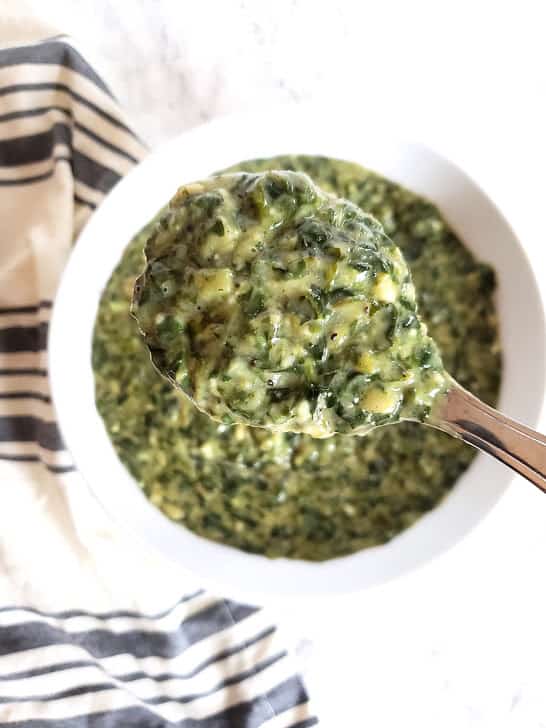 Recipe Inspiration
In my French cooking class, I learnt a wonderfully easy way to make roux. ( pronounced as roo) Roux is a white sauce or thickening agent. It helps bulk up sauces and soups.
So, I decided to make a creamy spinach using the roux as a base and eliminating the cream and cheese. The calorie counter came down in leaps and bounds all without sacrificing the taste and creamy texture.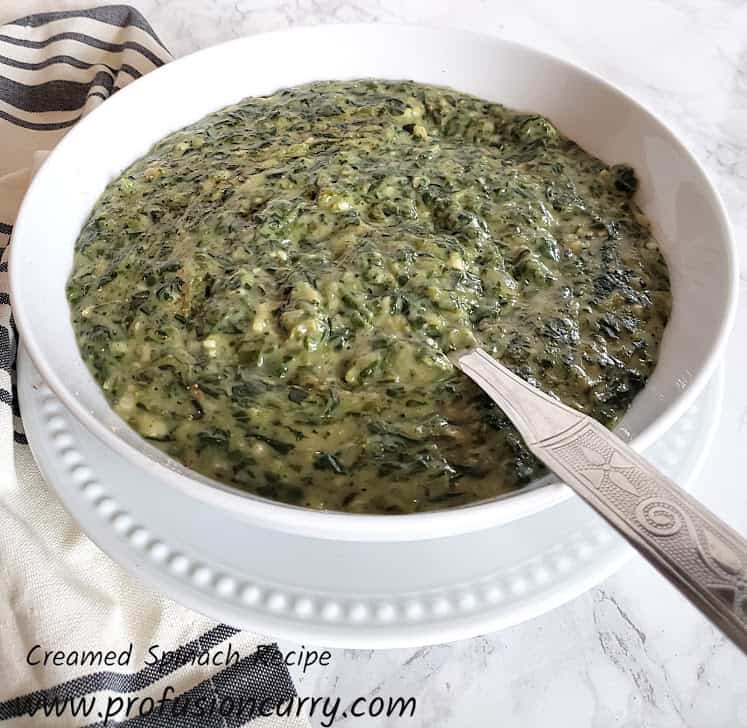 You will love this delicious creamed spinach recipe because
It's keto, low carb and low calorie
It's velvety smooth and creamy and tasty.
It's vegan, dairy free and gluten free
It offers guilt free soul food eating
This quick and easy recipe can be made on stovetop or in electric pressure cooker like Instant Pot
Reheating and Storage Instructions
As with any thick creamy recipes, I do NOT recommend freezing the Creamy Spinach. You should serve it warm soon after you make it.
I store my leftover Creamed Spinach in a glass container for up to 3 days. When I'm ready to enjoy the dish, I simply pop it in the microwave for 1 minute.
MAKING CREAMY SPINACH ARTICHOKE DIP
I often use the same recipe and add canned artichokes and chopped jalapeno to make Jalapeno Spinach Artichoke Dip !! It's super duper delicious snacking dip.
FOODS THAT PAIR WELL WITH DELICIOUS CREAMED SPINACH
This creamy spinach is ideal side dish that compliments most dinner menu. I like to pair it with Whole Roasted Cauliflower for delicious plant based meal. It also works well with Grilled Portobello Mushroom Steak
You can also serve it as a hearty side dish for comforting soups like Loaded Potato Soup , Vegetable Barley Soup or Lentil Quinoa Soup.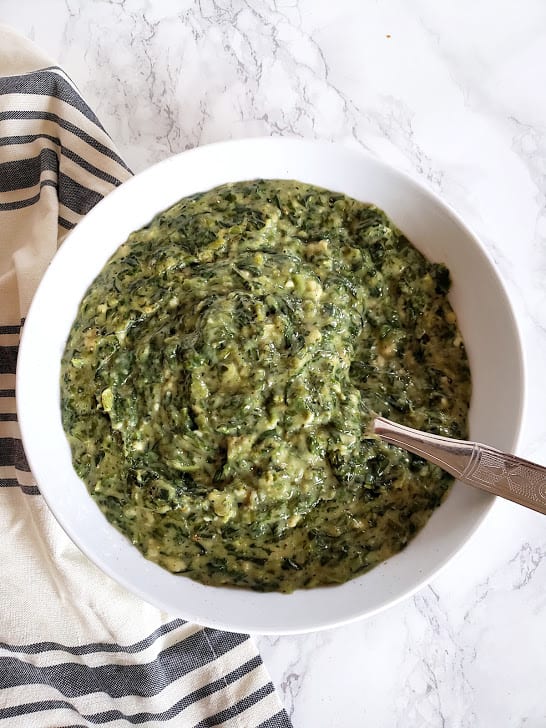 INGREDIENTS FOR VEGAN CREAMED SPINACH
Exact measurements of the ingredients are listed in the recipe card below. Here's a brief overview of what I am using. Basic pantry ingredients is all you need to make this recipe.
Spinach – You can use either frozen or fresh spinach. If you use fresh spinach, use baby spinach and chop it finely before using.
For creamy texture and to make the roux, use olive oil, flour ( or cornstarch ) and milk – I am using almond milk and almond flour to make it low carb and keto.
For the savory rich flavor, use nutmeg powder and salt and pepper. For added flavor, I like to include small onion and couple of minced garlic cloves. Nutmeg adds very intriguing and distinctive flavor to the creamed spinach. Do not skip using it.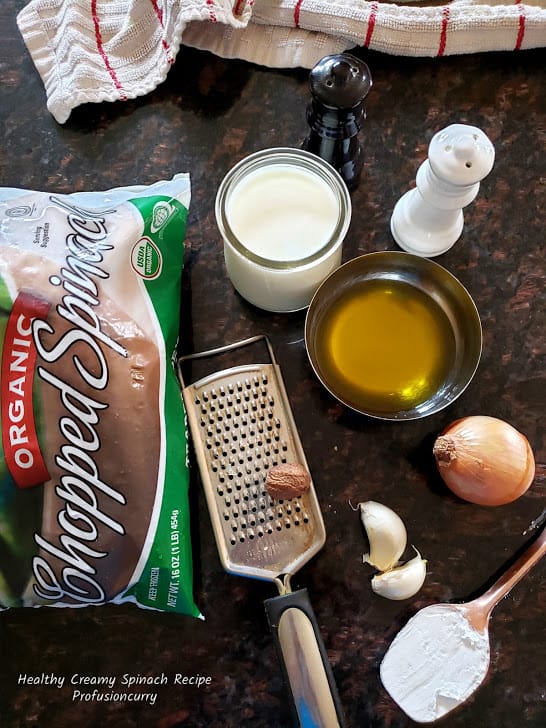 Creamed Spinach Using Frozen or Fresh Spinach
In this recipe I am using frozen, chopped spinach from the bag. The bagged frozen spinach is crumbly compared to boxed frozen spinach. If you use frozen spinach from the box, defrost it first to avoid excessive water. You can also use an equal amount of fresh spinach if you wish. The cook time will remain the same.
HOW DO YOU MAKE THE BEST CREAMED SPINACH FROM SCRATCH?
We start of by making the roux. Mix in the flour with warm oil and stir continuously till it turns into light yellow / brown colored paste called a roux.
Add in the milk and whisk well so it becomes nice smooth paste. Heat the roux for couple more minute or so that the taste of raw flour goes away.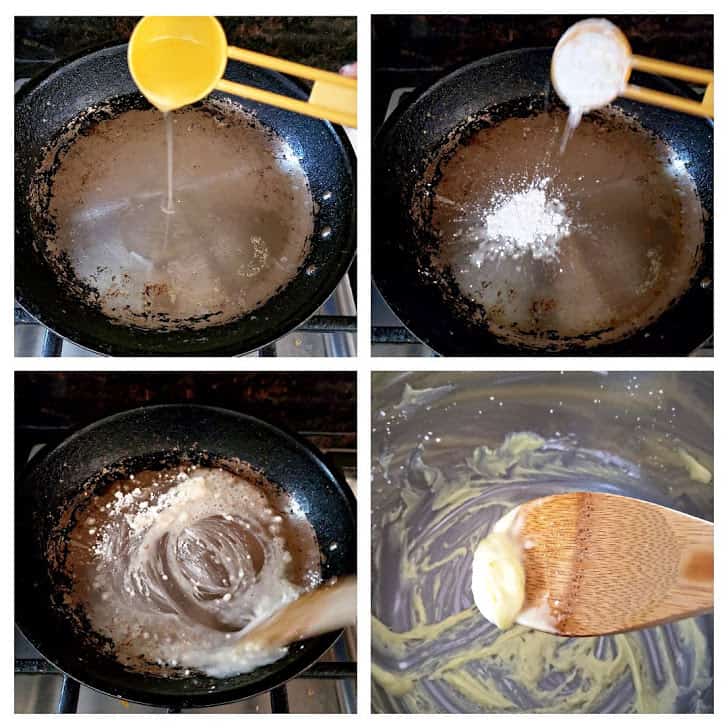 Separately, sauté onions and minced garlic in oil until fragrant and translucent.
Add frozen or fresh spinach and milk. Add salt, pepper and ground nutmeg. Stir well to combine. Let the mixture cook together.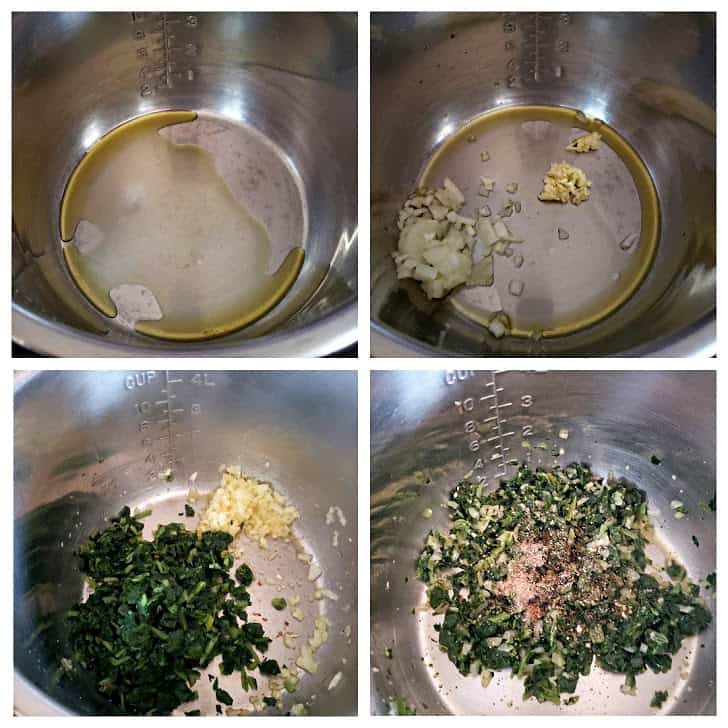 Add the roux to cooked spinach mix. Whisk well so that everything is well incorporated. Make sure there are no doughy lumps. Cook the mixture together for couple more minutes and voila!
The creamed spinach is ready to serve.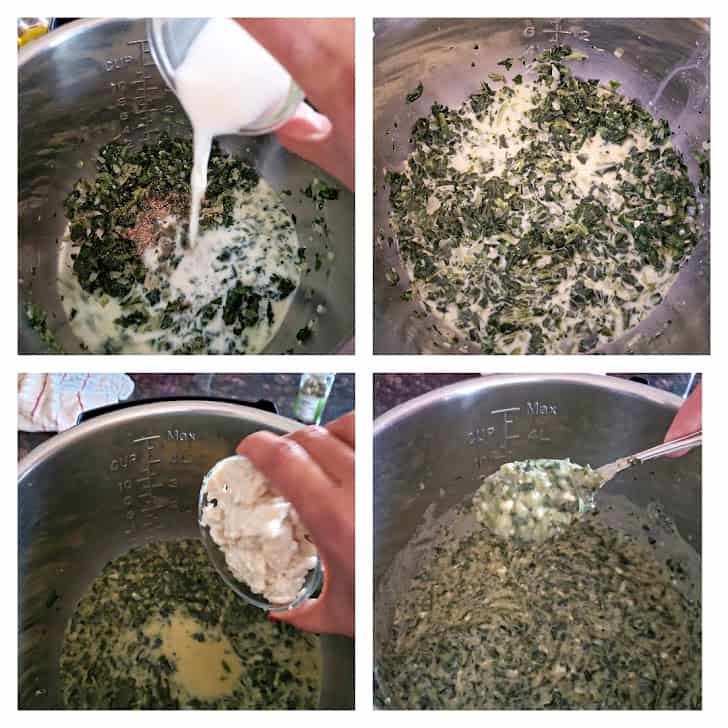 The cooked creamy spinach mixture thickens further as it cools down. If you notice it too watery, sauté on low for couple minutes uncovered.
To avoid Burn messages on Instant Pot, I prefer to cook the roux separately on the stove top. It cooks quickly and is ready before the spinach is cooked.
HOW DO YOU MAKE CREAMED SPINACH WITHOUT CREAM?
This recipe does not use any cream. Instead it uses roux or white sauce made out of oil and flour to thicken and get creamy texture to the creamed spinach. To make it vegan and plant based , dairy-free milk is used for cooking.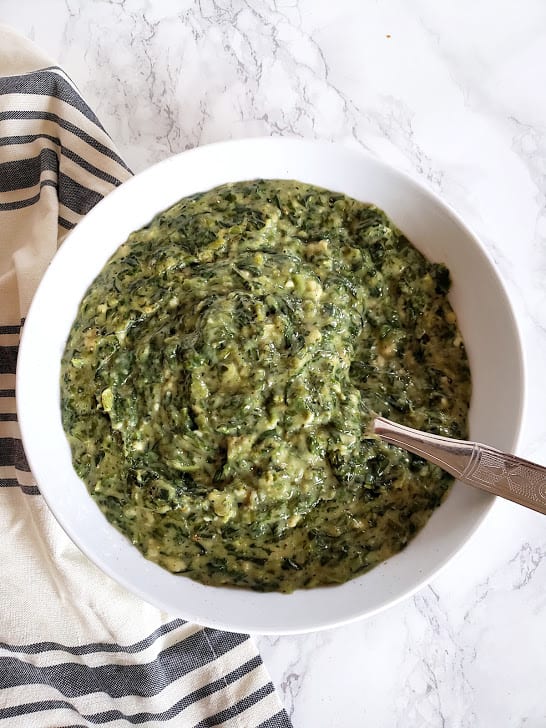 ♥ Follow us on PINTEREST and like our FACEBOOK page. We love creating delicious, plant based recipes from around the world. DO JOIN US ♥
We would love to hear your feedback!! Use the PIN button in the recipe card or image below to pin this recipe !
★ If you make this Vegan Creamed Spinach Recipe , do let us know how you like it by ★ star rating it and leaving a comment below.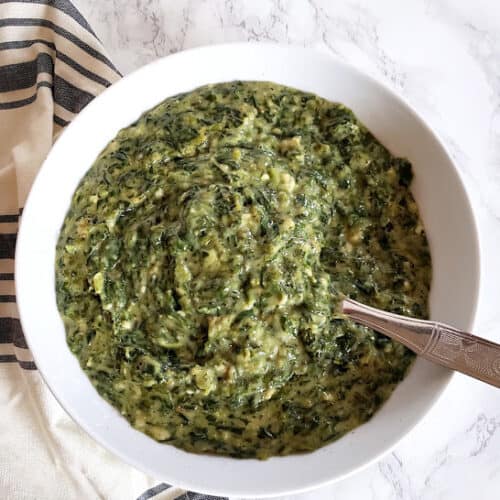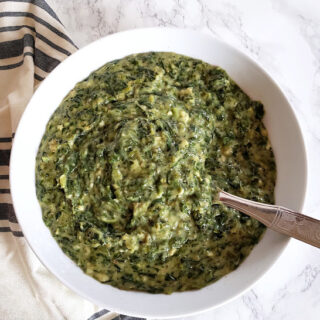 Instant Pot Creamed Spinach Recipe (Vegan)
Vegan, Keto, Low-Carb Instant Pot Creamed Spinach recipe tastes just like steakhouse style creamed spinach. This quick recipe makes the perfect side dish for holiday dinners like Thanksgiving and Christmas!
Ingredients
2

tablespoon

olive oil divied

1

tablespoon

almond flour

1

small onion finely chopped

2-3

garlic cloves

minced

1

16 oz

frozen chopped spinach

2

cup

Almond milk - divided - use 1/2 cup for roux and 1.5 cup for cooking

1/8

teaspoon

nutmeg

salt and pepper to taste
Instructions
To Prepare the Roux
We prepare the roux on the stovetop. In a heavy bottom skillet, on a medium heat, warm the oil. With a wooden spoon, stir the flour into the warm oil a little bit at a time, until it is fully incorporated , giving you a pale-yellow-colored paste called a roux.

Heat the roux for another minute or so to cook off the taste of raw flour. Slowly add the1/2 cup warm milk to the roux, using a wire whisk, whisk it well to make sure it's free of lumps. Cook for 2 minutes stirring constantly so it forms a nice smooth paste. Roux is ready.
Instant Pot Instructions
Place the Instant Pot on the sauté mode. Add the olive oil, garlic, and onions to the pot. Cook for 2-3 minutes until the onions become fragrant and translucent. Add the frozen chopped spinach and 1.5 cup milk to the pot. Season with nutmeg, salt, and pepper to taste. Cook for 5 minutes on MANUAL High-Pressure Cooking.

When the pot indicates it has finished, wait on keep warm timer for 5 minutes and then release the leftover pressure by turning the knob to venting. Open the lid and add the roux. Whisk well. Put the Instantpot back on Sauté and let the mixture bubble for couple minutes. Cancel SAUTE. When everything is well combined, creamy spinach is ready !! Serve warm.
Stove top Directions
Put the heavy bottom pan on medium high heat. Add oil and let it warm up. Add garlic and onions to the pan. Cook for 2-3 minutes until the onions become fragrant and translucent.

Add the frozen chopped spinach and milk to the mixture. Season with nutmeg, salt, and pepper to taste. Cover the pan and cook it covered on low heat for 10 minutes until the mixture bubbles and spinach wilts and cooks. Remove the cover.

Add the roux and whisk well so everything combines well. Then cook for another 5 minutes without the cover so the milk thickens. Turn off the heat.

Your creamy spinach is ready to serve.
Nutrition
Serving:
1
cup
Calories:
90
kcal
Carbohydrates:
7
g
Protein:
3
g
Fat:
6
g
Saturated Fat:
1
g
Polyunsaturated Fat:
5
g
Sodium:
106
mg
Fiber:
2
g
Sugar:
3
g