Cornbread is a delicious sweet and savory bread. This Classic Southern Style buttermilk cornbread is quintessential and much loved side dish. This recipe makes moist, rich and flavorful cornbread that has perfect melt in your mouth texture.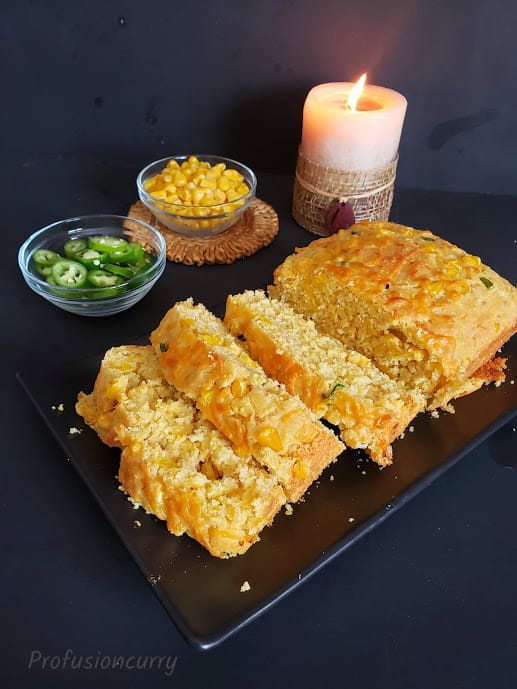 Cornbread is a classic soul food. It is our family favorite recipe. The recipe includes instructions to make this recipe in electric pressure cooker like Instant Pot or in the oven.
Enjoy this old fashioned corn bread made from scratch from simple ingredients that you already have in your pantry. This sweet or savory cornbread makes the routine appearance in our Thanksgiving menu planning and other holiday dinners.
Jump to:
Recipe Inspiration
My mother in law has been making this delicious Classic Cornbread for as long as we can remember. Soft, melt-in-the mouth textures and the amazing flavors are the highlight of her corn bread.
It is always a big hit with all our guests including the kids during the holiday and game night family dinners.
My kids always request her to make this bread especially when we sorting out who makes what for Thanksgiving dinner. They call it Grandma's Special Cornbread.
So this Grandma Special Cornbread will wow your guests too. Delicious bread with pretty appearance, slight crumbly and moist texture and homely feel. Perfect recipe!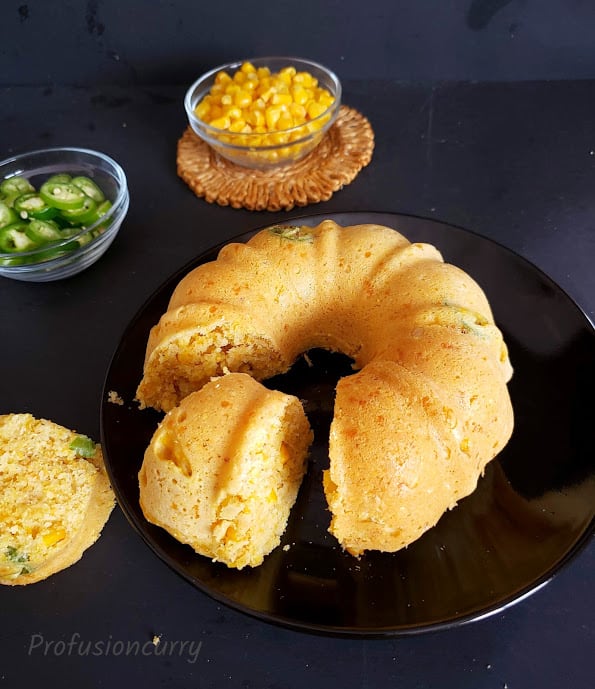 This tried and tested recipe also can be made in regular oven using bread pan or in Cast Iron Skillet. Beautiful crust and moist inside texture is something to swoon over.
Instant Pot Corn Bread
Last few years, we made this recipe using our electric pressure cooker Instant Pot. Especially I like to use my cake pan to make this bread InstantPot Cornbread
Texture wise, Instant Pot makes the beautiful cornbread pillowy cake like fudgy and moist. And not as crumbly.
So let's check out two different cooking methods to make this Classic Cornbread. Choose your favorite and let's get cooking.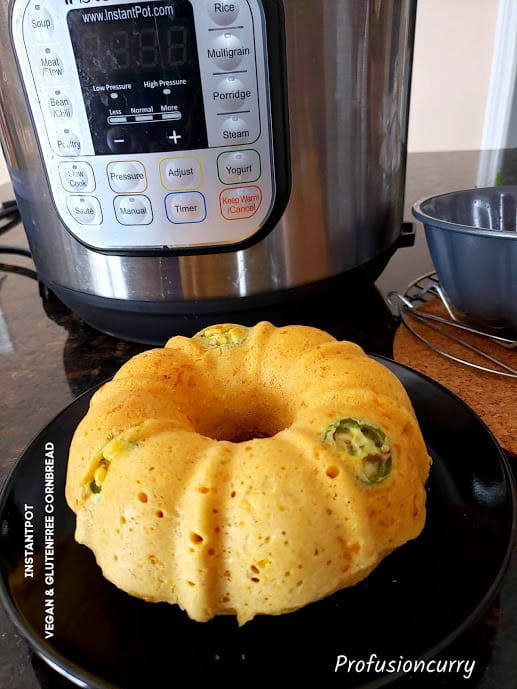 Why is cornbread crumbly?
Cornbread is meant to crumble. The grainy texture of corn meal makes it sort of crumbly fluffy texture. I love it exactly that way. It does however holds it's shape decently when you slice it.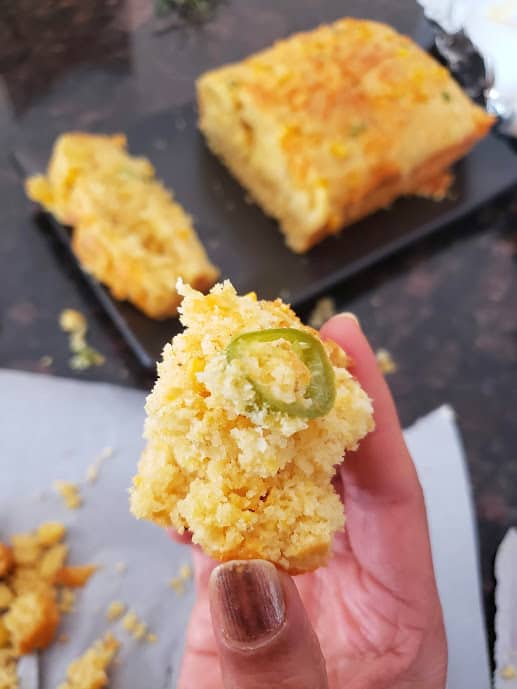 Ingredients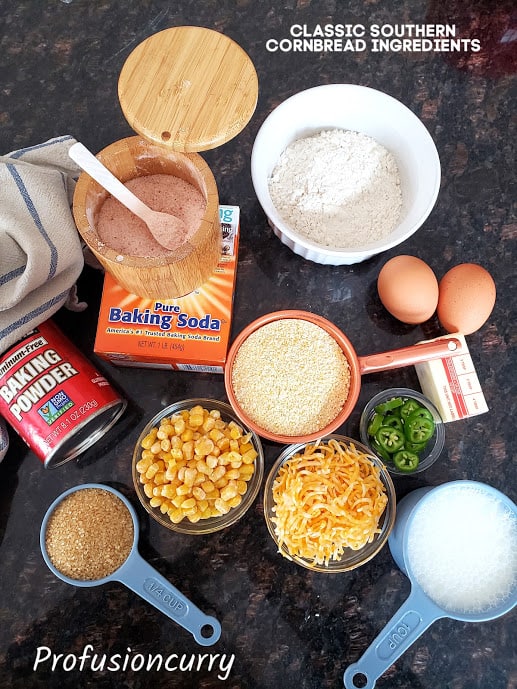 Instead of using Jiffy or other box of cornbread mix, use this recipe to make moist cornbread from scratch. The ingredients are very simple and pantry staple.
Cornmeal : I prefer to use medium grind cornmeal. Mix it in with all purpose baking flour. To make it wholesome, you can use wholegrain flour as well.
Baking Supplies, Baking powder and baking soda is needed to get a good rise to the batter. It gives nice and fluffy texture.
Add ins – I love to add jalapeño peppers and fresh corn kernels to the batter . The sweet and spicy taste is simply the best. Sharp cheddar cheese or Colby jack cheese adds wonderful flavor and cheesy texture. For sweetener, I use raw sugar but regular sugar can be used as well.
Wet Ingredients : Buttermilk adds creamy texture and sour taste. Butter is integral to baking this recipe. Eggs act as a binding agent and make the cornbread fluffy.
Helpful Hints : If you notice the list of ingredients, we like to add corn kernels and bits of chopped jalapeno pepper in the cake mix. That's what makes this bread nice and sweet with a touch of spicy.
If spicy isn't your thing, simply omit the jalapeno. But trust me, you will love a bite or two of mild spice kick while enjoying this delicious sweet bread.
Make sure to use room temperature butter, buttermilk and eggs. Plan ahead and take these items out of the refrigerator few hours in advance.
🍳How to Make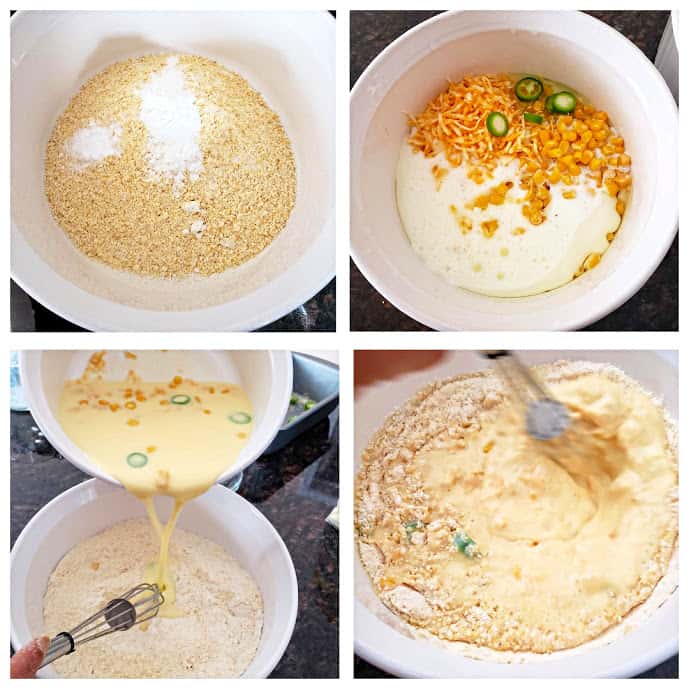 Similar to any baking recipes, you want to combine all the dry ingredients together first in a mixing bowl. Sift the flour to make it airy.
Whisk together all the wet ingredients in a separate bowl. Mix well so the wet ingredients form a smooth slurry.
Gently pour the wet ingredient mixture over the dry ingredient mixture. Using the spoon, gently combine everything so there are no dry lumps. Do not over mix , otherwise cornbread will get too crumbly.
Pour the prepared bread batter in pre seasoned pan.
If you are using the oven to bake the cornbread, use pre-heated 375 degree Fahrenheit setting and bake for 25-30 minutes. Insert a toothpick in the middle and if it comes out clean, cornbread is ready.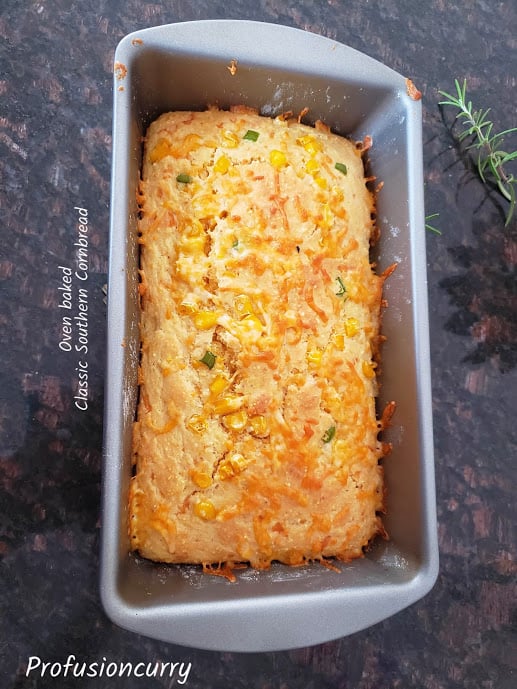 Pro Tips : Wait for the cornbread to cool down a bit before slicing it. Let it sit and rest for few minutes after it's made. This will help you get nice cut slices.
Also, be sure NOT to over mix the batter when you combine the dry and wet ingredients. Mix it in just enough so that everything is well combined. Over-mixing will lead to large cracks in the crust and lot more crumbles.
If you are using Instant pot to make the cornbread, cover the cake pan with paper towel and wrap aluminum foil all around so no moisture can get inside. With a cup of water in main insert, put the cake pan on the trivet and put the trivet inside the main insert.
Close the lid and Manual Pressure Cook for 30 minutes vent sealed. After it's done cooking do a natural pressure release. Remove the aluminum foil and paper towel from the cake pan. Your cornbread is ready.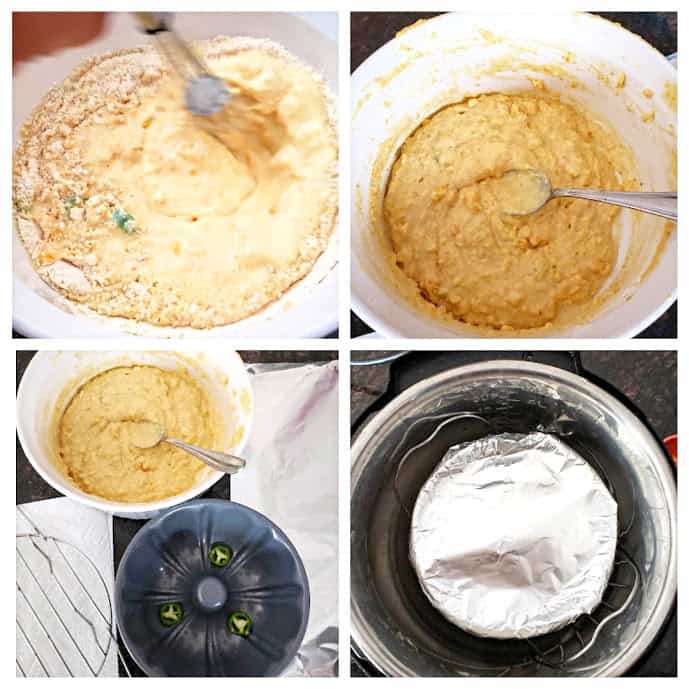 Other Delicious Side Dishes
If you make this Homemade Easy Cornbread Recipe, do let us know how you like it by ★ star rating it and leaving a comment below. We would love to hear your feedback.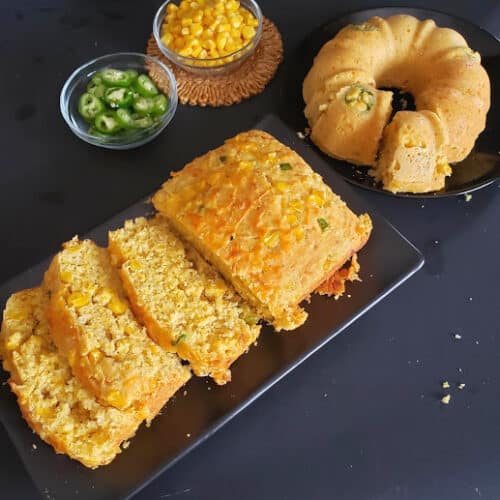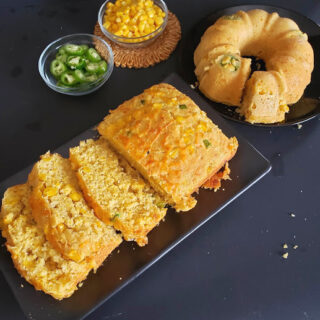 Easy Homemade Cornbread ( Instant Pot, Oven Options )
Make Delicious Cornbread from scratch with basic pantry ingredients. It tastes way better than boxed cornbread. Delicious cornbread can be made in the oven as well as instant Pot.
Ingredients
Dry Ingredients:
1

cup

yellow cornmeal

¾

cup

all-purpose baking flour

I used gluten free version

1

teaspoon

baking powder

1

teaspoon

baking soda1 teaspoon sea salt
Wet Ingredients
2

large eggs

1

cup

buttermilk

¼

cup

butter melted
Rest of the add-ins
1

cup

sharp cheddar cheese grated

divided ( use half in batter and the rest sprinkle on top)

1

large jalapeño peppers seeded and finely chopped

divided

1

cup

fresh or frozen corn

¼

cup

raw sugar or any other sweetener
Instructions
Instant Pot Instructions
Add 1 cup of water to the Instant Pot. Grease and lightly coat the cake pan insert with oil spray and 1 to 2 teaspoons of corn meal and set aside.

In a large mixing bowl, combine all the dry ingredients. Mix well. In a separate bowl, whisk together all the wet ingredients.

Pour over mixed dry ingredients and stir gently with a spoon until everything is just combined. Do not over mix. Pour the batter into the prepared cake pan insert and garnish with the remaining jalapeño slices and cheese.

Place a paper towel over the cake pan. Then cover the pan with aluminum foil and secure the aluminum foil around the cake pan. Make sure it's completely wrapped around so no moisture can go in. Place the cake pan on the trivet and gently put the trivet in the Instant Pot insert.

Cook on MANUAL or Pressure Cook for 30 minutes with Natural Pressure Release. Open the lid, lift the trivet carefully. Dab the excess moisture on the top with the paper towel. Then unwrap the aluminum foil and remove the paper towel. Your Instant pot Cornbread is ready.

Let it cool down some before slicing the cornbread. Enjoy !
How to Make Cornbread in the oven
Preheat the oven to 375 degrees F. Lightly grease a cake pan.

In a large mixing bowl, combine all the dry ingredients. Mix well.In a separate bowl, whisk together all the wet ingredients. Pour over mixed dry ingredients and stir gently with a spoon until everything is just combined. Do not over mix.

Pour the batter into the prepared pan. Sprinkle remaining cheese on top. Bake at 375 F degrees for 25-30 minutes, or until a toothpick inserted in the center of the cornbread comes out clean.

Remove the cake pan from the oven. Let it cool down some before slicing the cornbread. Enjoy !
Notes
Cornbread is best served warm fresh, with some butter smeared on top. If you are using previously made and stored defrosted bread, make sure to warm it up in oven before serving.

I store leftover cornbread in the refrigerator for up to a week. You can wrap it in aluminum foil or in plastic wrap and freeze it for 2-3 months.
Nutrition
Serving:
1
piece
Calories:
399
kcal
Carbohydrates:
56
g
Protein:
11
g
Fat:
15
g
Saturated Fat:
6
g
Polyunsaturated Fat:
8
g
Cholesterol:
58
mg
Fiber:
3
g
Sugar:
10
g
♥ Follow us on Pinterest and like our Facebook page. We love creating delicious, family favorite recipes from around the world. Come Join Us ! ♥