Veg Manchurian is popular Indo-Chinese starter recipe. Another one of our favorite Indian street food recipe that is party perfect crowd pleaser too.
Crispy veggie dumplings are tossed in alluring Manchurian sauce to create unbelievably delicious and addictive dish. It's sweet and sour, tangy and spicy, crispy and creamy all at once. Serve it with Vegetable Fried Rice, Lo-mein Noodles or Chili Garlic Noodles for scrumptious Chinese food at home.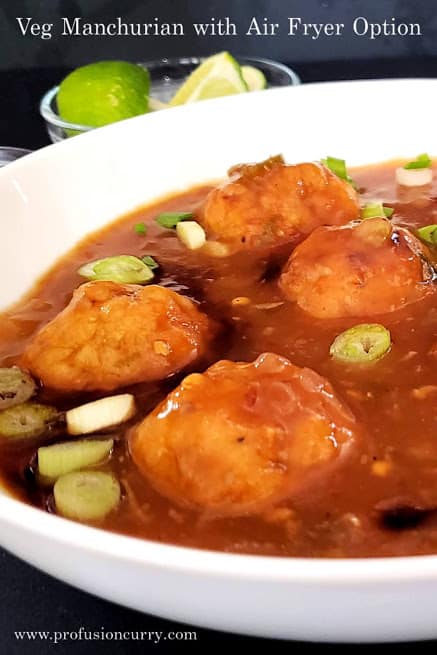 Dry Manchurian or Gravy Manchurian
You can make the recipe into Dry Manchurian or Gravy Manchurian depending upon the amount of sauce used in serving. The preparation of crispy veg Manchurian without corn flour or white flour like maida makes it gluten free as well.
THE RECIPE CARD IS LOCATED TOWARDS THE END. Amazon affiliate link disclosure is below as well. Before scrolling to the recipe card, do check the HELPFUL RECIPE TIPS in the post
Join us on Pinterest and FACEBOOK . You will love all our delicious, wholesome, plant based recipes from around the world.
This Homemade Veggie Manchurian Recipe
is gluten free, vegan and guilt free eating
a slimmer and figure friendly version compared to deep fried Manchurian
Tastes just like restaurant but with better quality ingredients and lower calories.
WHAT IS MANCHURIAN SAUCE
Manchurian dishes are ever so popular amongst the kids and adults alike. This delectable sauce concoction believed to have originated in street food stalls of India.
Manchurian sauce is typically a combination of ginger, garlic, green onions tossed in soy sauce, tomato sauce and spicy hot sauce. I typically use some red bell pepper and stalk of celery for light crunch and added flavor.
Since there is soy sauce involved, it got labeled as Indo – Chinese. A lip smacking yummy fusion, you will find varieties of manchurian dishes served and devoured across the food stalls.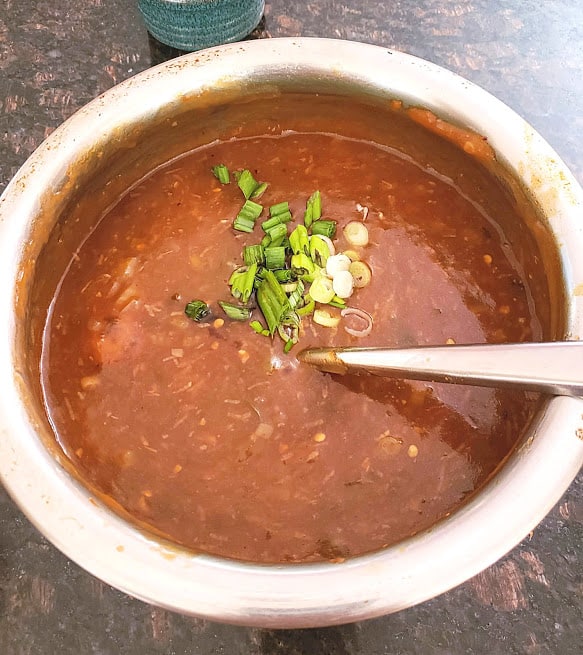 HOW TO MAKE VEGGIE MANCHURIAN
The vegetable Manchurian recipe involves two step process. Making veggie balls ( dumplings) and making Manchurian sauce. The dumplings then get dunked into the sauce and makes tantalizing Manchurian.
Finely chop or use food processor to pulse and finely grate all the vegetables. Mix the veggies with poha or ( bread crumbs) and rice flour along with all the seasoning. Create a dough like mixture. Make smooth rounded small balls. I use cookie dough scoop so it measures evenly.
Using either the appe-pan or air-fryer cook the veggie balls to golden brown. Set them aside.
Make the Manchurian Gravy by sautéing all the veggies and aromatics in oil. Add the rice flour slurry to the mix so the gravy thickens.
Add the prepared veggie balls in the gravy. Adjust the seasoning. Garnish with green onions and serve hot.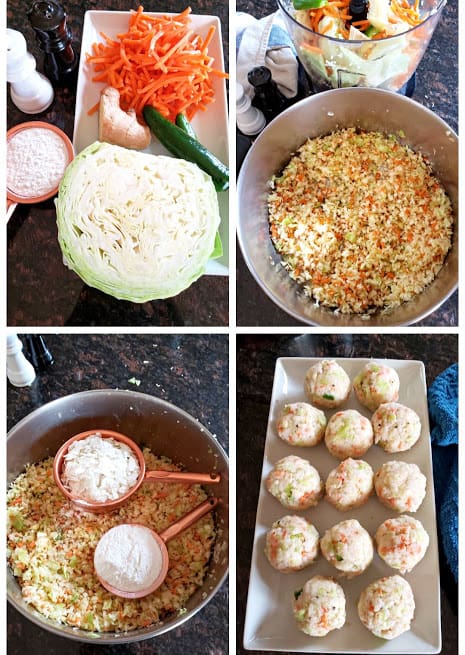 Easy Short Cuts
Initially, the recipe feels daunting but don't be afraid. You can plan and make this recipe in jiffy.
You can plan ahead and make a big batch of these balls at once and freeze them for later use.
Same goes for Manchurian sauce. You can make it ahead of time and warm it up just before serving.
To make it semi- homemade, I sometimes use store brought veggie balls.

Trader Joe's

and

Aldi's

have nice tasting meatless veggie balls so does

Ikea

. You can certainly use those to save time and efforts.
USING AIRFRYER OR APPE PAN TO MAKE VEG MANCHURIAN
I prefer to make these veggie dumplings in the appe pan with a crispy texture on the outside and with just a couple of drops of oil! Guilt free snacking.
Lately, I have been making them in air fryer as well. So many options depending upon how big a batch you are making. After you make the dumplings, simply toss them in the air fryer basket. Spray some cooing oil. Use 350 °F setting for 15 minutes. Check midway and flip them so they get golden brown evenly.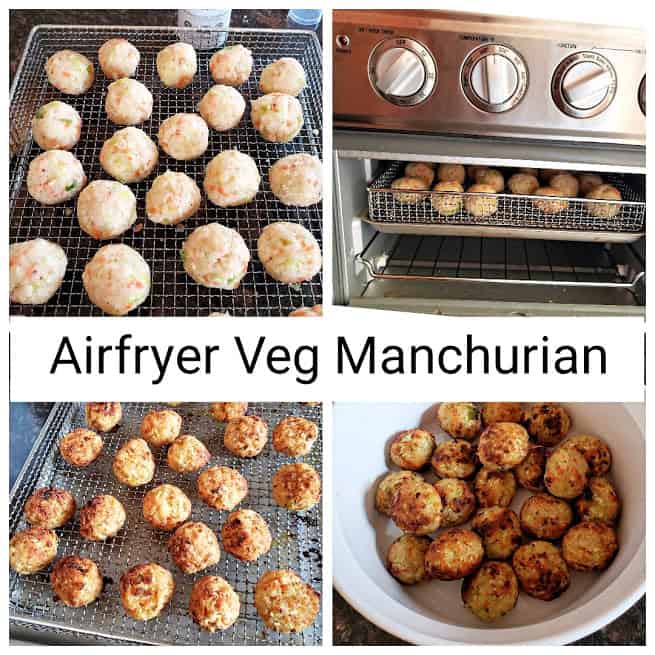 Also, the street vendors, make these dumplings deep fried which you can avoid if you make them at home. So let's get cooking these skinny non fried veggie manchurian!
Useful kitchen tools to make this Veggie Manchurian Recipe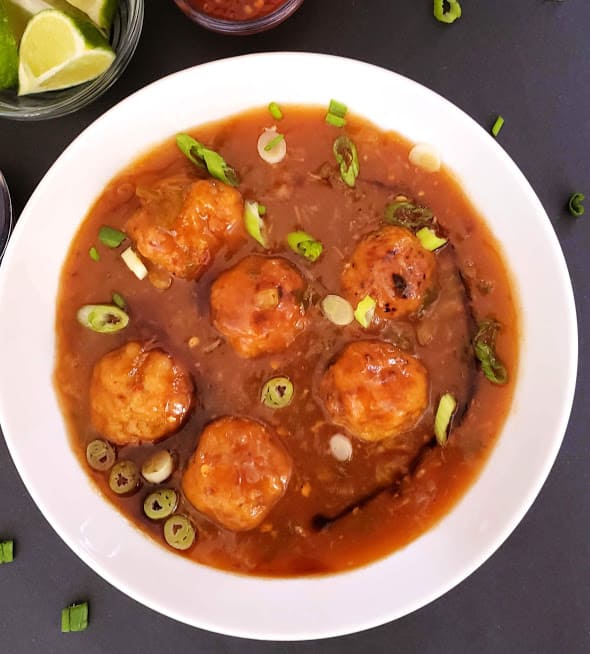 INGREDIENTS OF VEG MANCHURIAN
For Veg dumplings : We use finely chopped or grated veggies. Typically cabbage and carrots are used along with green onions, green chili and red bell pepper. You can also use cauliflower. Some grated ginger, salt and pepper to season the dumplings. I do not over spice the dumpling since Manchurian sauce is intensely flavorful. To make the mixture, I use

thin poha

which helps it get crispy and spongy. Alternatively, you can also use Panko style bread crumbs which are airy and crispy. Some rice flour helps bind the mixture together.
For Manchurian Sauce / Gravy : I use toasted sesame oil to make the Manchurian sauce. Dark Soy sauce ( or liquid coconut amino), rice vinegar, chili sauce, tomato ketchup, minced ginger and garlic are all aromatics. Thinly sliced red onion, stalk of celery, red bell pepper and green onions add nice flavors and bits of crunch. A rice flour helps thicken the sauce. Brown sugar adds slight sweet notes. Black pepper adds the extra spice kick.
Please check the taste before adding the salt to the preparation. The sauces often have ample amount of sodium in them so adjust according to your taste.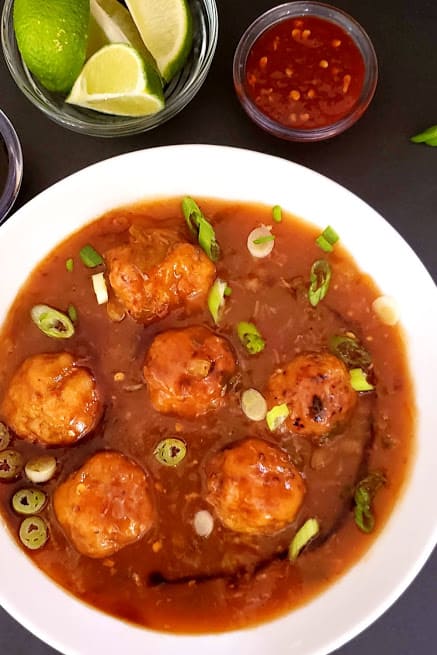 APPETIZER PARTY IDEAS AND PARING SUGGESTIONS
Vegetable Manchurian is one of my favorite dish to serve along with Kachi Dabeli , Paneer Tacos and Cheesy Potato Poppers for heavy appetizer platter during parties.
It's one of the popular and most requested item for potlucks too.
You can pair it with Chili Garlic Noodles and Curry Fried Rice for a off- beat Rockstar Indo-Chinese party menu.
Our popular Asian Recipes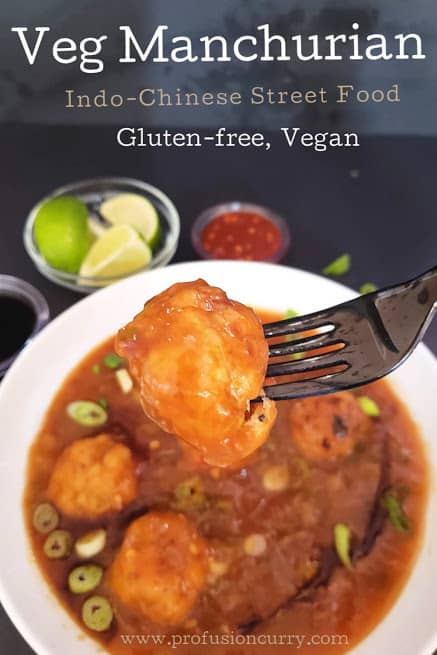 Don't forget to take pictures when you make our delicious recipes. Tag us with #profusioncurry on Instagram ! We would love to feature your creation.
★ If you make this Veg Manchurian Recipe , do let us know how you like it by ★ star rating it and leaving a comment below.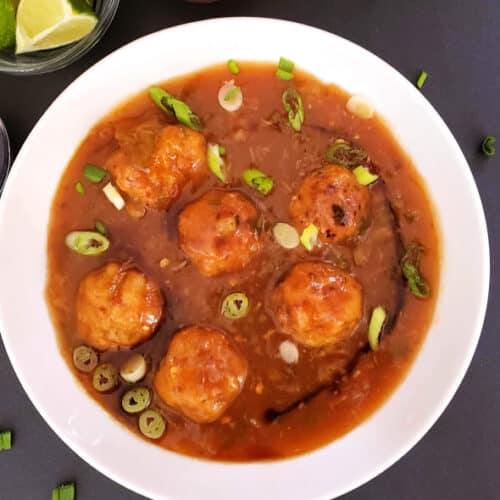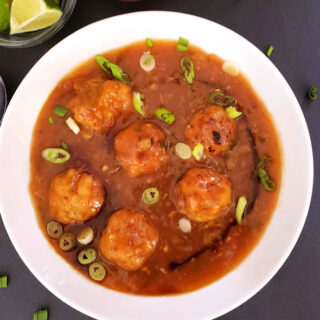 Veg Manchurian Recipe
Veg Manchurian is popular Indo-Chinese starter. This Indian street food is popular party appetizer. Airfryer option is low calorie, figure friendly, vegan and easy.
Ingredients
For Veg Manchurian Dumplings :
Instructions
Make the dumplings
Dice and pulse the vegetables for dumplings in a food processor. Alternatively, you can chop or grate it finely .

In a mixing bowl, combine the vegetables, poha or bread crumbs , rice flour and all the seasoning ingredients. Add some water and create a smooth dough. Measure the dough and make even sized small balls. lime size is perfect.
If using Appe / Paniyaram pan to cook :
Heat up the paniyaram / appe pan. When warm ,brush each cavity lightly with oil. Place the prepared balls in the pan and let it cook on low to medium heat for 5 -6 minutes rotating mid way until golden brown . Take them out of the pan and keep aside .
If using Air-fryer :
Arrange the veggie balls in single layer on the Fryer basket. Lightly spray some cooking oil over the balls. Choose 350 F and 15 minutes. Halfway through, check and flip the balls so they get golden brown evenly.
Making the Manchurian Gravy:
Heat oil in a heavy bottom pan on medium heat. Once warm, add in the onions , celery and bell peppers. Sautee for couple minutes. Add in ginger and garlic and keep sautéing till you sense the aroma.

Add all the sauces. Mix well and cook for a minute. Now add in 1 cup of water and let the gravy come to a simmer .

In the meantime, whisk the rice flour with ½ cup of water in a separate bowl. Once the gravy starts simmering , add in the prepared rice flour slurry slowly by one hand and whisking the gravy with a spoon by another hand. Keep stirring continuously to avoid lumps.

The gravy will start to thicken within a minute. Turn off the heat.

Toss the veggie balls in the gravy. Gently mix everything well. Adjust the seasoning if needed. Garnish with diced green onions. Serve hot.
Nutrition
Serving:
1
g
Calories:
142
kcal
Carbohydrates:
23
g
Protein:
4
g
Fat:
5
g
Saturated Fat:
1
g
Polyunsaturated Fat:
4
g
Sodium:
743
mg
Fiber:
3
g
Sugar:
7
g