Ginger Garlic Bok Choy Stir Fry is an easy way to add dark leafy greens to your diet. You will love the refreshing zesty flavors of this quick 10 minutes -7 ingredients recipe. This succulent Stir Fry is Vegan, Gluten and Soy free, Paleo, Whole30, Keto and low carb!
I must say, we are simply obsessed with this beautiful Ginger Garlic Bok Choy Stir Fry. Healthy and quick recipe that is nutrition dense, bold, savory and flavorful. Every so often, when there is Unami cravings, we whip out this beautiful dish.
THE RECIPE CARD IS LOCATED RIGHT AT THE END. DO CHECK THE DETAIL NOTES ABOUT THIS RECIPE. THIS IS AN EASY, QUICK RECIPE AND I HAVE FEW SUGGESTIONS TO MAKE IT DROOLWROTHY WITH YOUR EVERYDAY INGREDIENTS. Amazon affiliate link disclosure is below as well.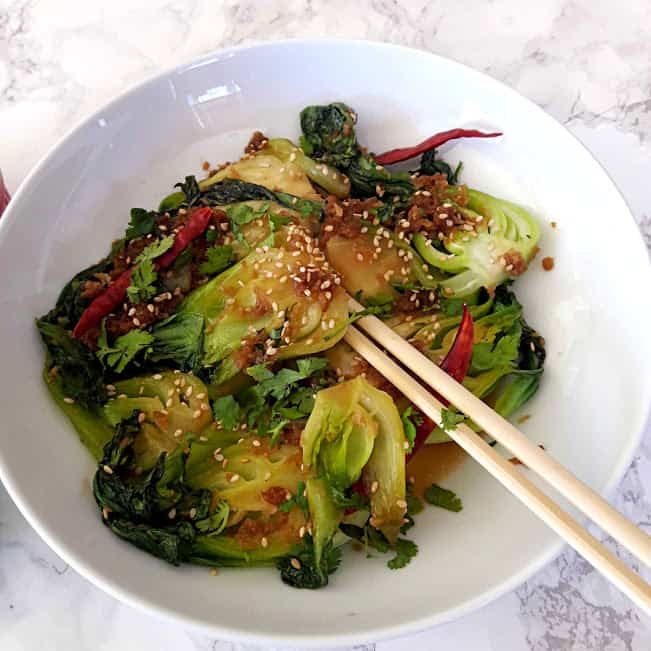 Bok Choy is part of cabbage family of cruciferous vegetables. It's a popular vegetable widely available in Chinese / Asian grocery stores and even in the super markets. A nutritional powerhouse and very low calorie, it does have excellent source of vitamin C, A, and K. It is also provides minerals like calcium, magnesium, potassium, manganese, and iron. Add it in the stir fry and you are feeding your body something healthy and super delicious.. a win win !!
If you are regular readers of our blog, you probably know how we like to create beautiful healthy global cuisine. We love to travel around the world. And then at home, we love to devour on these different cuisines to make things interesting at dinner table.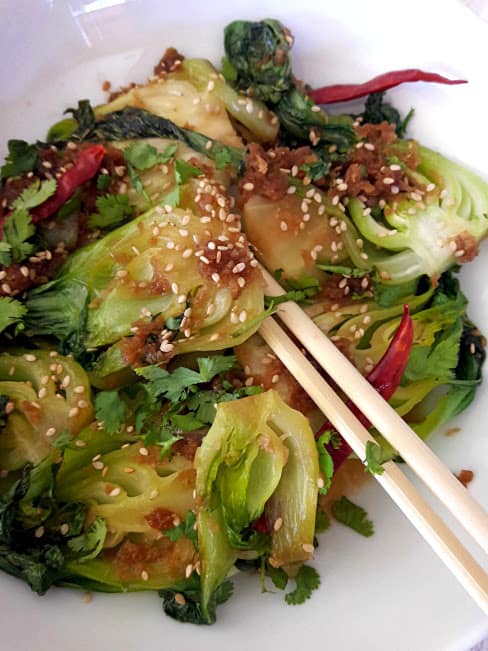 So next time you are craving Chinese take-out, try this mouthwatering healthy homemade meal instead. This dish pairs well with simple jasmine rice. Check out some of our other delicious 'better than take out' Chinese Recipes.
Rainbow Veggies and Rice Noodles Stir Fry

Wok Fried Glutenfree Vegetarian Noodles

What Ingredients Do I Need to Make Ginger Garlic Bok Choy Stir-fry?

This recipe requires only a handful of ingredients. See the exact measurements in the recipe card below. To make this super delicious stir fry you will need

Baby Bok Choy

Ginger and Garlic

Coconut Amino Liquid ( I prefer to use it instead of Soy Sauce)

Red Chili Peppers : Adjust it based on your HOT spice tolerance. Also, if you don't have red chili peppers handy, use red chili pepper flakes

Toasted sesame seeds for garnish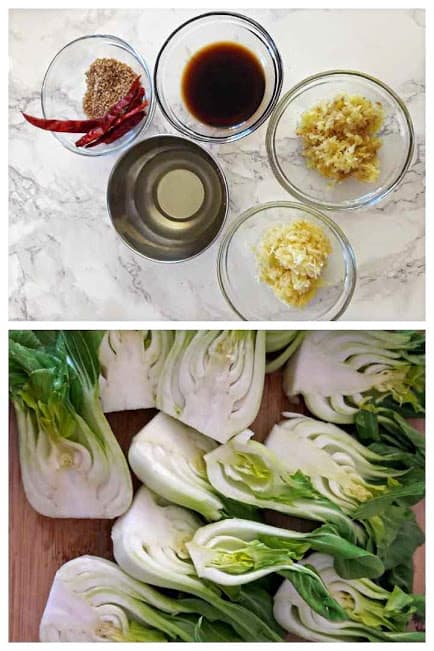 Quick Guide and Preparation Instructions
I prefer slicing the baby Bok Choy in half. If the base looks too tough, cut it off. Rinse it under cold water, and pat dry before sautéing. I often notice some sand stuck at the base so please wash thoroughly.
We are using baby

Bok Choy

for this stir fry. They are smaller in size and tend to be more sweet than regular (big)

Bok Choy

. If you get big or regular

Bok Choy,

cut them into small pieces so they are easy to sauté.
Let's talk about the ginger garlic sauce ! Only 4 simple ingredients but this unassuming sauce will make your taste buds dance ! It's a flavor bomb without being HOT. It's zesty, tart, hint of sweet, pungent, salty – all at once awakening all the senses. And it fills the house with the wonderful aroma.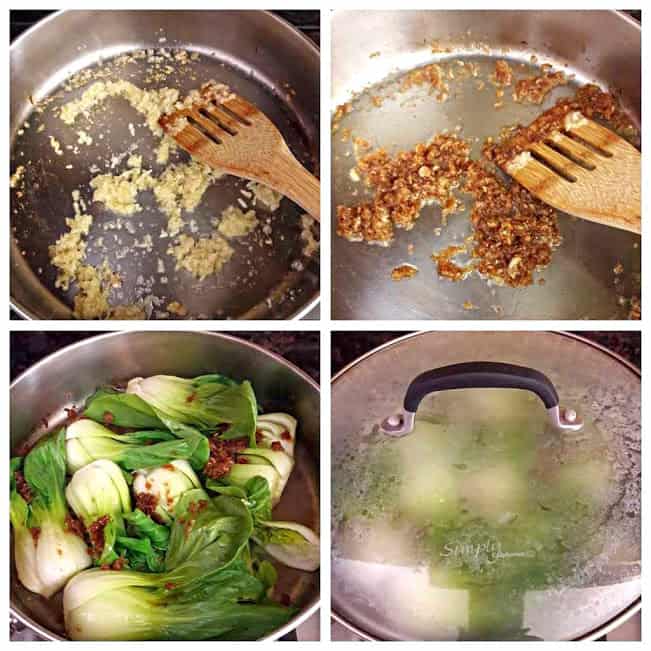 I like to shred the ginger and garlic to make this sauce. It cooks within seconds so you have to be very watchful once you start cooking. There is hardly any preparation to make this quick side dish. So have things ready to go before you heat the skillet. Everything happens superfast !!
Also, I am NOT including salt in the list of ingredient. I have never required to add salt in this recipe. The liquid coconut amino has a salty flavor note to it which is enough to enhance the overall taste without added salt. If you prefer saltier taste, feel free to add it. If the liquid coconut amino feels too strong and tart, sprinkle bit of brown sugar to neutralize the taste.
If you prefer to make things oil free, simply skip using the oil and sauté in the water instead. You can swap Bok choy for any vegetable stir-fry you like, using the same recipe! You can also combine the vegetables like snow peas, mushrooms and green onions to make a mixed vegetables stir fry.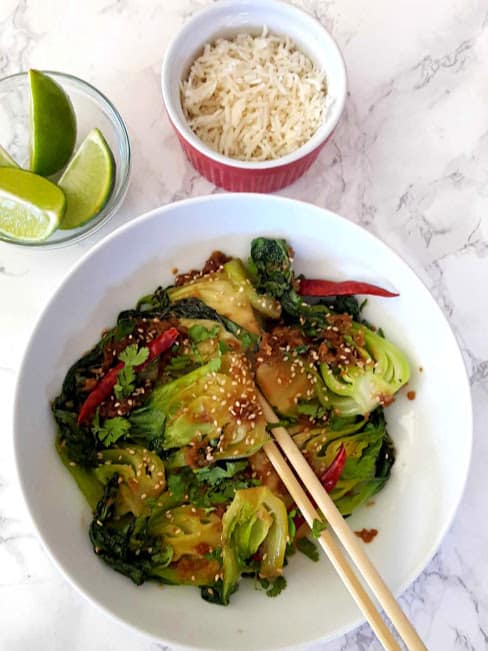 Looking to spice things up around your dinner time, don't forget to follow us on Pinterest and like our FACEBOOK page. We love creating delicious , plant based recipes from around the world. DO JOIN US !!
If you make this Ginger Garlic Bok Choy Stir Fry, do let us know how you like it by

★

star rating it and leaving a comment below. We would love to hear your feedback !! Use the PIN button to pin the recipe.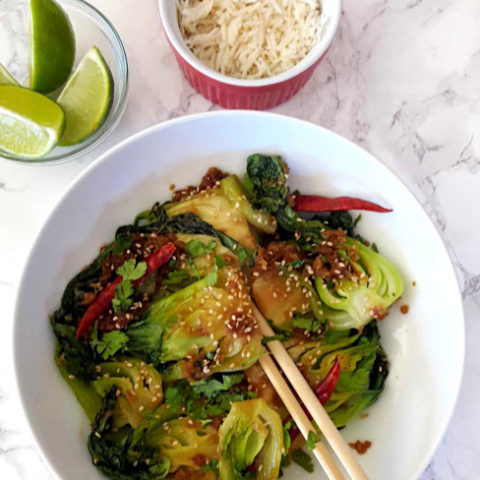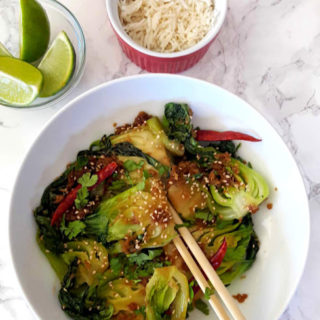 Ginger Garlic Bok Choy Stir Fry
An easy and quick Chinese stir fry recipe with ginger garlic bok choy. Vegan, Glutenfree, Soyfree, WFPB
Ingredients
6

Baby Bok choy

1

inch

ginger

6

garlic cloves

1

Tablespoon

oil

1

Tablespoon

coconut amino

2-3

dry Red Chili Peppers

1

teaspoon

toasted sesame seeds
Instructions
Cut each baby Bok Choy in half. Rinse under cold water and pat dry. Using a grater, grate the ginger and garlic. You can also finely chop them.

Heat a skillet over medium-high heat with 1 ½ tbsp. oil. When hot, add garlic and ginger, dry chilies and stir-fry for 20-25 seconds or until fragrant.

Add coconut amino in the skillet. Carefully scrap the bottom of the skillet in case any ginger garlic is stuck at bottom. ( it's called de-glazing the pan) You should sense the insane aroma of these aromatics.

Add Bok Choy face down. Let it coat the sizzling mixture. Cover and let it cook for 1-2 minutes. Flip them over. Again let it coat remaining spice mixture. Cook for another 1-2 minutes. Bok choy should look darker green. Turn off the heat.

Transfer the Bok choy to serving bowl. Make sure to scrap off every last drip of that ginger garlic sauce. ( it's that finger licking good !!!) Season with toasted sesame seeds. Serve hot. Enjoy !
Nutrition
Serving:
1
g
Calories:
89
kcal
Carbohydrates:
10
g
Protein:
5
g
Fat:
4
g
Polyunsaturated Fat:
4
g
Sodium:
158
mg
Fiber:
3
g
Sugar:
5
g