The aromas of roasted and smoked eggplant, with crackling sound !! Sounds drool worthy? Gash !! Doesn't it instantly imprint rustic scene in your mind? Imagine a warm summer evening of pleasant breeze blowing on your face, open air kitchen with fire pit and aromas of roasted veggies!! Didn't you get transported to some rural bohemian scene where simple pleasure of life rule? Well. We all would like to be there forever, reality is however something else.
We wait for our beautiful summer to host outdoor parties and picnics and make the most of what season has to offer. Making food that is reminiscent of outdoor Mediterranean dining is a different story though. You can make nostalgic, charming food anytime and savor it whenever your mood craves it.
Now, if you make few adjustments and make that food preparation easy, even better, right? Traditionally, this dish I am featuring today can be very time consuming or labor intensive to make. After all, you have to roast the whole eggplants on open fire or stove top. Let it cool, peel the charred skin and then stir-fry the pulpy eggplant with herbs and onion/tomatoes for the most delicious smoky flavors. You can call it BBQ eggplant dip-unique, fancy and intensely flavorful.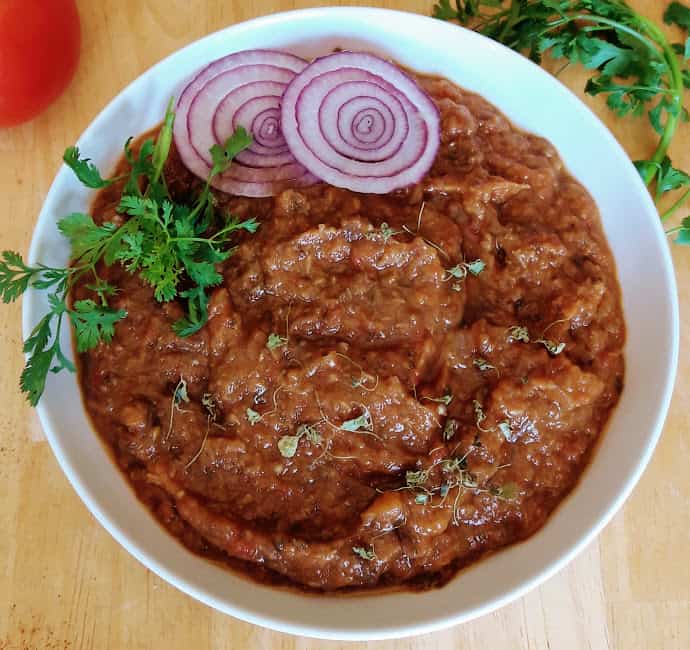 Amazon affiliate link disclosure is listed below. If you are looking to spice things up around your dinner time, don't forget to follow us on Pinterest and like our FACEBOOK page. We love creating delicious , plant based recipes from around the world. DO JOIN US !!
A lot of planning and preparation goes in making one dish. In our busy lives, we don't have time for such intensive preparations. You can always do the traditional way if you have the luxury of time and patience but if you are like me, I don't. Between managing career, social and charity activities and healthy lifestyle, I like to recreate meals that bring back same delicious flavors but much less efforts. When ever, you can tweak things around and make them as easy as possible, then you are gold. No need to sacrifice the cravings or quality time in cleaning and prepping the dishes.
If you like something so delicious and smoking hot 😉 you should try Baingan Bharta ! It is very popular Indian curry / dip which is part of Northern Indian Cuisine. Baingan bharta bears a close resemblance to Baba Ghanoush; one of my favorite Middle Eastern / Mediterranean dip. However, it's not as creamy as traditional Baba Ghanoush.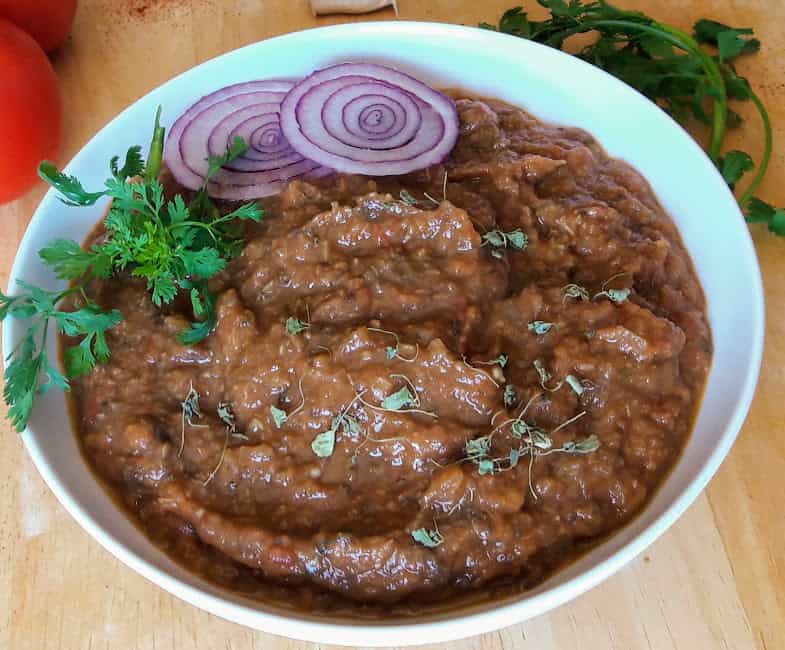 It is a vegan dish that is prepared by mincing eggplant that is grilled over charcoal or direct fire. This infuses the dish with a smoky flavor. The smoked and mashed eggplant is then mixed with cooked chopped tomato, browned onion, ginger, garlic, fresh cilantro and chili pepper. Traditionally, the dish is often eaten with an Indian flatbread roti or with rice or yogurt salad called raita.
In my attempt to make meals easier and interesting, here's how I decided to change things around. I skipped the roasting on the fire part altogether, instead decided to cook it in Instant Pot . Key to this preparation is to use the spices to get the intense smoky flavor. Trust me, you won't notice or taste he difference. The time and energy you save could be used for some more amazing things like reading a book or playing with your kids. And food will be ready when you are!
Traditionally, the dish is often eaten with rice, roti or yogurt salad. However, I like to treat it as a dip and serve as an appetizer along with crudités, chips and pita bread. It's an instant hit with my friends and often requested popular item to bring for pot lucks. We also love it as a spread to slather on the toast or even pancakes. Let your imagination rule when you decide to use it.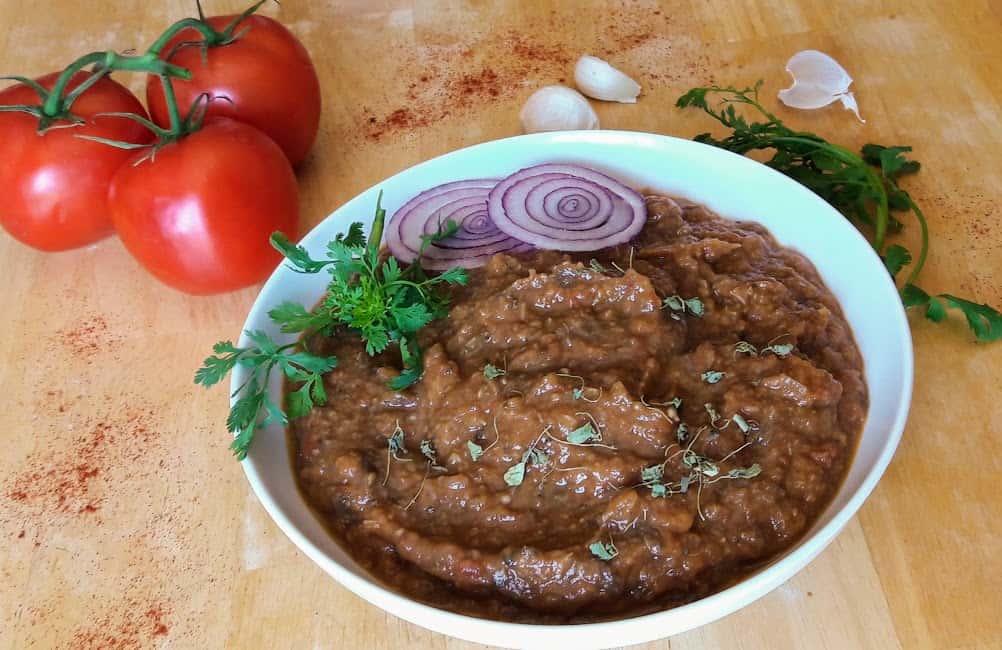 Talking about eggplants, I love to cook them as part of my regular meal as they are very versatile and mingle well with other veggies. The wonderful health benefits of eggplants are primarily derived from their vitamin, mineral, and nutrient content. Eggplants are a rich source of Vitamins like C, K, B6, thiamine, niacin ; Minerals like magnesium, phosphorus, copper, dietary fiber, folic acid, potassium, and manganese.
Brinjal or aubergine or eggplant – whatever you call it in your part of the world, eggplants provide some incredible option for curry based entrees. You can simply pair it with potatoes for a quick stir fry. Eggplant absorb the spices well. So you can change the spice mix and you have one new cuisine every time.
Baingan Bharata or Smokey dip is definitely one of my favorite ways to eat it. This dip is spicy, tangy, and flavorful and have beautiful aroma of smoky spices. Let's see how to make it using electrical pressure cooker like InstantPot –my untraditional take on Baingan Bharata!
Ingredients
6 Eggplants (I used Chinese Long Eggplants. They cook easily and don't have as many tough seeds in them compare to other eggplants. Helps get the smooth texture for the dip)
1 Large Red Onion finely chopped
3 Medium Red tomatoes finely chopped
6 Garlic Cloves, minced
1 inch Ginger root, minced
Juice of ½ Lemon
Chopped Cilantro for garnish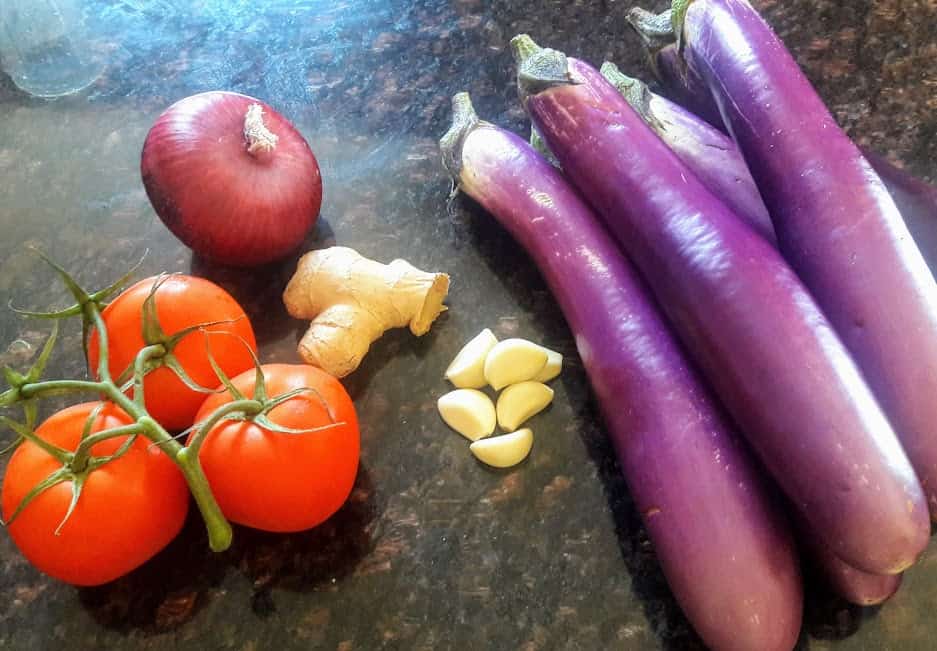 For Seasoning
1 Tablespoon cooking oil preferably Extra Virgin Olive Oil
2 Teaspoon Smoked Paprika ( I use Trader's Joe's ) This is most crucial spice of this dish that gives it smoky flavor. It's not as hot as chili powder but gives nice rustic color too.
2 Teaspoons Kabob Masala (I use Shan Kabob Masala) Helps get the smoky , open fire flavors without actually using the charcoal grill.
2 Teaspoons dried Fenugreek leaves ( Kasuri Methi)
Salt Per Taste.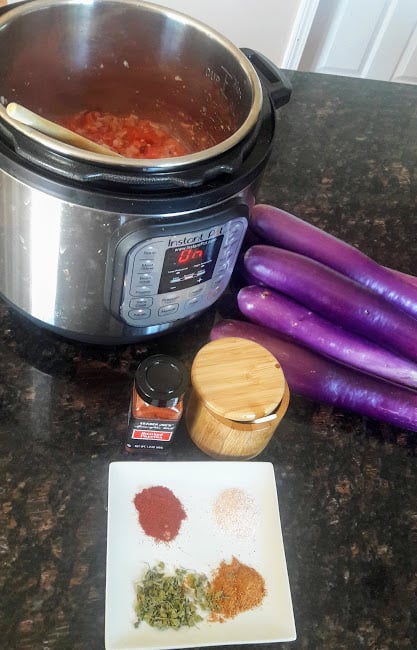 Instant Pot Instructions:
Put the Instant Pot in Sauté Mode. Once heated, add the oil in the main pot. Once oil is warm, add minced garlic and ginger and stir well for quick minute. Add diced red onion and stir well for few minutes. Add the smoked paprika, and kabob masala and sauté well.
Add diced tomatoes and stir well. Once the tomatoes start to release the juice, add cubed eggplants. Stir well to make sure the onion /tomato spice mix coats well on the eggplants.
Cancel Sauté mode. Close the lid and put the valve in sealing position. Choose Manual Pressure 3 Mins. After it done cooking, let it NPR ( Natural Pressure Release)
Once the pin is down, open the lid. Add the dried fenugreek leaves and lemon juice. Mix well. Using the masher, carefully mash the cooked veggies well. You can use hand blender or food processor (once the mixture has cooled down) to make it like a paste. I have noticed that Chinese long eggplants cook well and mash easily.
If you notice mixture /dip is bit watery. Put it back on Sauté for few minutes. Make sure to stir continuously so that it doesn't stick to the bottom of main pot.
Garnish with chopped cilantro and serve warm. Your smoky, flavorful dip is ready!!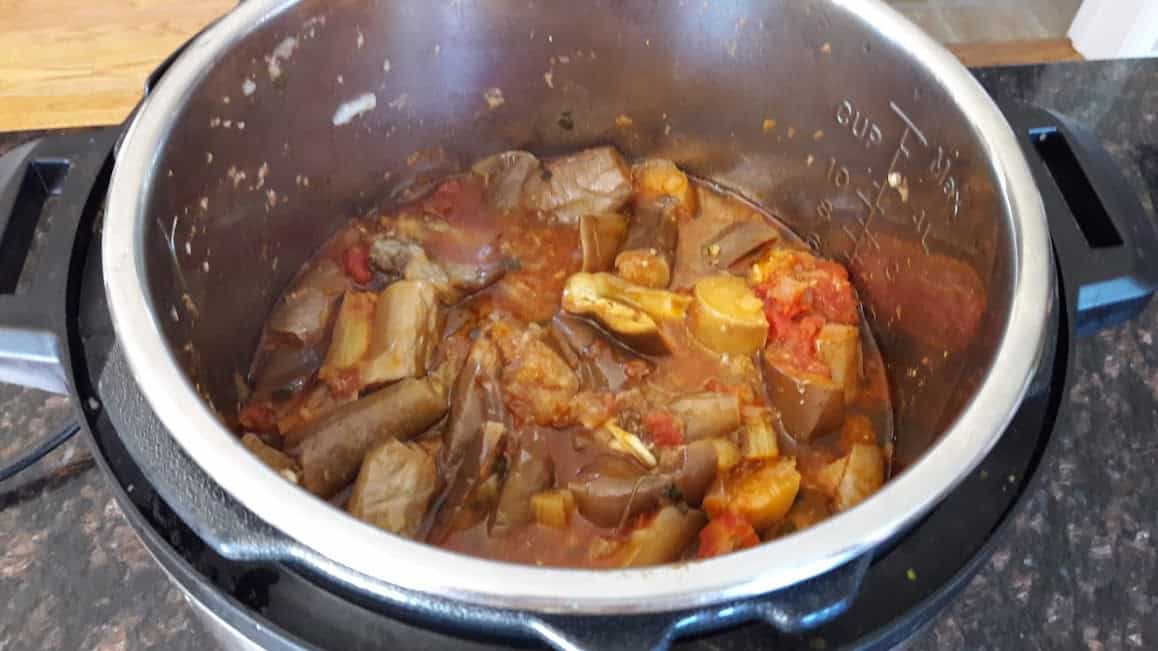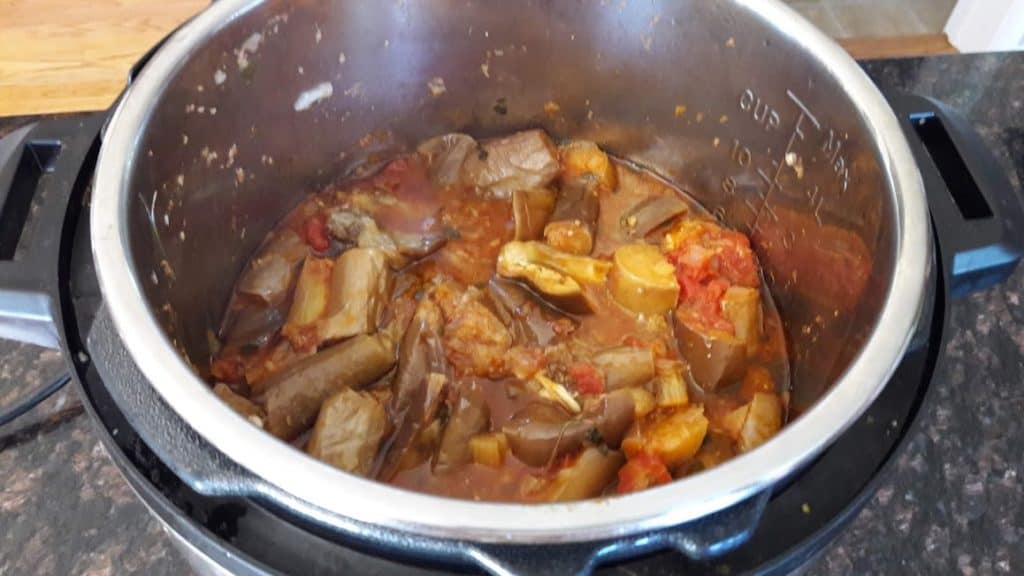 If you prefer the traditional method of making Baigan Bharta, please see below. If you plan to char them on stove top or grill, you should use big, firm eggplants instead of Chinese long eggplants. Skip the smoked paprika and use the plain red chili powder instead.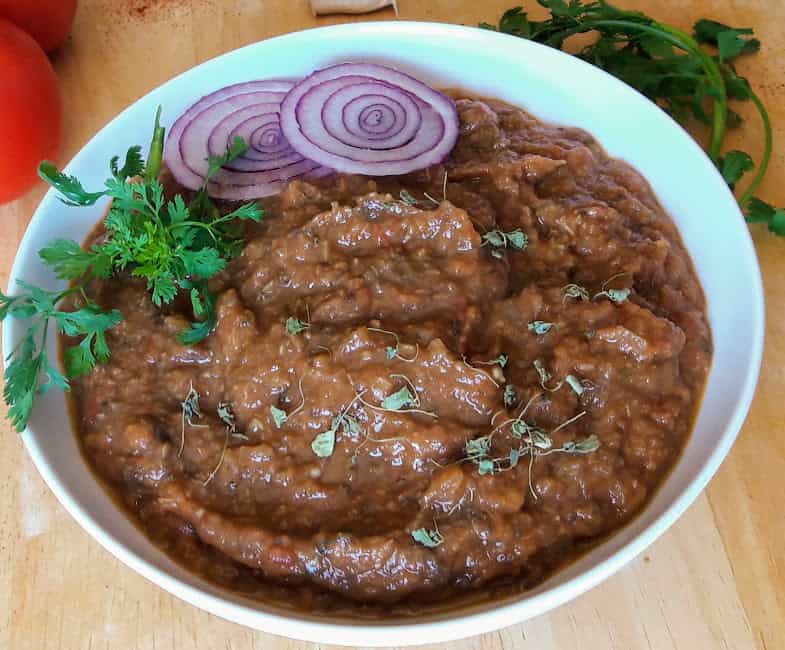 Grilled Instructions
Grease the eggplants with oil and roast it over an open flame till it is soft and fully cooked. Let it cool completely. Carefully peel and discard the skin. Mash the pulp thoroughly and keep aside.
Heat the oil in a pan and add the onions and sauté till they turn golden brown. Add the ginger, garlic and sauté for a few more seconds.
Add the tomatoes, Kabob Masala and chili powder and cook till the mixture leaves oil. Add the mashed eggplants, fenugreek leaves and salt, mix well and cook for 3-4 minutes.
Serve hot garnished with chopped cilantro leaves.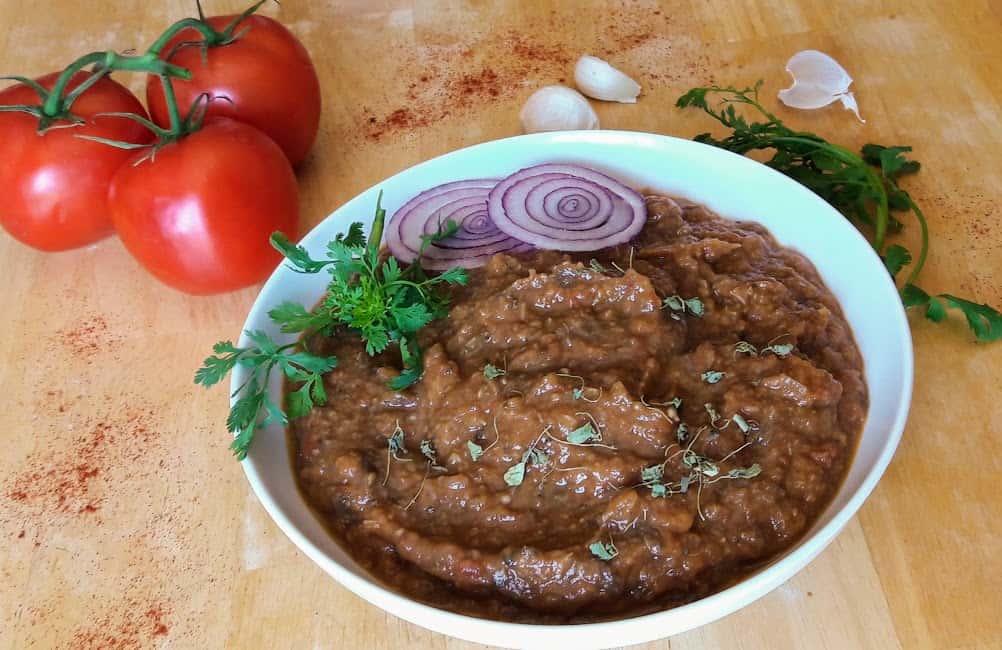 ■Let us know how you like this recipe by leaving a comment and rating it so other readers know it too. And while you're at it, take a picture and tag it #profusioncurry on Instagram! We love seeing what you come up with. Cheers, friends
*SOME OF THE LINKS IN THIS POST ARE AFFILIATE LINKS AND WE WILL RECEIVE A SMALL COMMISSION ( at no extra cost to you) IF YOU MAKE A PURCHASE AFTER CLICKING ON OUR LINK. THANK YOU FOR SUPPORTING OUR WORK HERE AT PROFUSIONCURRY !