One of our favorite beautiful salads is this Greek Fresh Pasta Salad with rainbow veggies and chickpeas. Drizzled with awesome homemade vinaigrette. Delicious and easy recipe!
While you can certainly make this Easy Greek Salad all year long, it gets heavily used in summer season. Fresh produce based meals feel perfect this time of year. Breeze in the air is light and crisp and so is this salad.
THE RECIPE CARD IS LOCATED TOWARDS THE END. Amazon affiliate link disclosure is below as well. Before scrolling to the recipe card, do check the HELPFUL RECIPE TIPS in the post!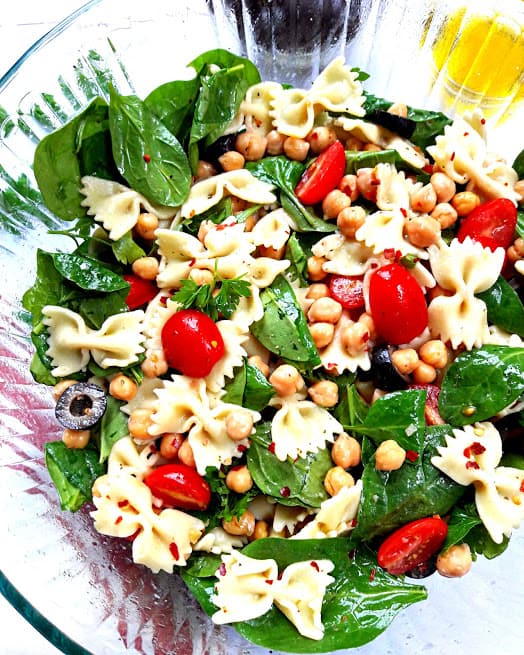 If you are looking for maintaining a healthy lifestyle by mindful eating, this salad ticks all of those boxes and then some. It's full of plant protein, complex carbs, fiber, healthy fat and minerals. And it's JUST SO GOOD !!
Use it as an ideal dish for summer potlucks or BBQs. It's one of the best summer salads to rock and roll outdoor gathering ! And don't be surprised if you get lots of recipe share requests from your guests. We sure do !!
Easy Greek Pasta Salad has the perfect blend of flavors and textures to make it as a meal by itself. You can also serve it alongside a more traditional grilled menu items. It's a popular school lunch box option and looks very pretty on picnic menu table too.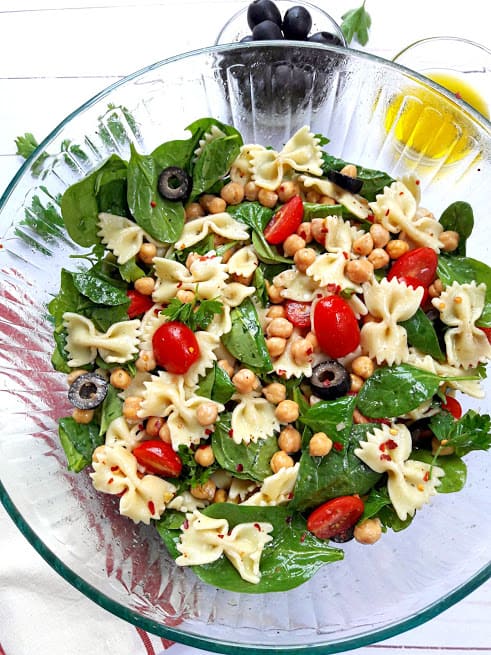 This Summer Salad gets a Mediterranean flair with fresh baby spinach, cherry tomatoes and parsley. For authentic Greek feel, we add can of olives and artichokes. Chickpeas give it a superb meaty texture. All of the ingredients are tossed with a simple vinaigrette. Nom nom!!
This refreshing and lightened up Mediterranean Pasta Salad tastes best after sitting for a bit. So all the ingredients have a chance to absorb the flavors of the marinade in the fridge. It can be prepared several hours in advance.
Leftovers taste Amazing!! Make a big batch so you can enjoy it for several lunches over few days.
On beautiful summer days, you don't want to spend too much time cooking indoors . You also want nourishing, wholesome meals that come together quickly. This easy recipe is a perfect to make everyone happy.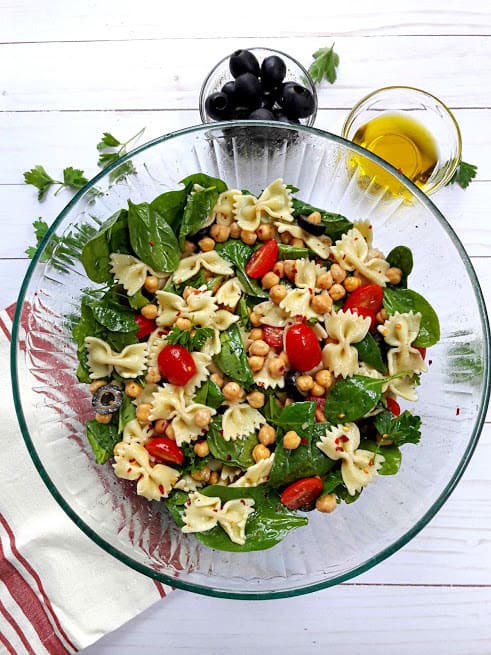 This salad is super quick and easy to make. While pasta is cooking, drain and rinse the chickpeas. Chop the cherry tomatoes. Bite-sized pieces work better so if the baby spinach leaves are too big for mouthful, roughly chop them or you can tear the leaves too.
Once pasta is cooked, drain the pasta, run in under the cold water. Toss everything together. Generously pour the salad dressing / vinaigrette over. Toss everything well. Ideally, let it sit for some time ( preferably few hours) so the well marinated delicious salad is ready to devour !!
This salad is superbly flavorful, with the perfect mixture of sweet and savory and spicy ingredients. Everything blends together just perfectly. Fresh herbs and lemon juice elevates simple oil vinaigrette to next level.
How to Make Greek Fresh Pasta Salad?
Cook your pasta per package directions and rinse under cold water in colander. Make sure water is drained properly

While the pasta is cooking, prepare the dressing and veggies

Combine everything in a large bowl and mix the dressing. Let it chill before serving!
How to make Greek Salad Dressing or Vinaigrette ?
1/4

cup

red wine vinegar

1/2

cup

olive oil

2 cloves of garlic minced

1 teaspoon Dijon Mustard

1

teaspoon Greek

oregano

salt & pepper to taste

Juice of half of fresh lemon
Can I change the Ingredients ?
Yes you easily can. We can call it clean your refrigerator salad too. It's incredibly customizable, so feel free to substitute in any of your favorite ingredients that you have on hand.
A special note about using Cheese in this Recipe
I often make this salad for large gatherings and potlucks. We have too many folks especially small children around us with severe dairy allergies. So I do not include any cheese in my salad. I want everyone to enjoy the dish. However, feel free to add in your favorite cheese especially crumbled feta cheese if you like.
I can't wait to tell you that this Simple Summer Salad will steal the show for your next BBQ or potluck. One of our most popular recipe for summer gatherings, this beautiful salad is worthy of all accolades.

How to make pasta in InstantPot or Electrical Presure cooker?
Making pasta in InstantPot or electrical pressure cooker is super simple. Pour pasta in the main insert. Pour water to cover the pasta. DO NOT SUBMERGE. Add oil and salt to the pot. Close the lid. Place the valve in SEALING position.
Read the cooking time on the pasta package. You want to choose 1/2 that time minus 1 minute. So for example, if pasta box suggests you to boil pasta for 12 minutes , for InstantPot you will do 1/2 -1 so 5 minutes. ( 12-6-1=5).
Choose MANUAL 5 minutes high presure. After InstantPot does cooking and beeps, wait 5 minutes on KEEP WARM timer and release the pressure. (quick presure release by turning the knob from sealing to venting)
Carefully open the lid. Dump the pasta in a colander and run cold water over it for few minutes. Your Al Dante pasta is ready !!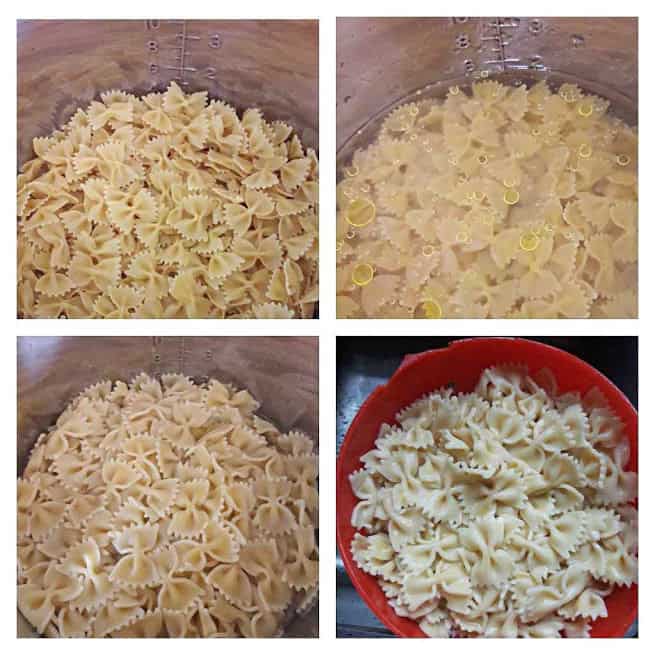 This Fresh Summer Salad could not be more beautiful. So many colors of the healthy veggies in this salad! And the taste definitely matches the bright palette.
Healthy food that feels and tastes indulgent. Simple but seasonal salads like the one featured here can keep our focus intact. Cheers to healthy eating vibes year round.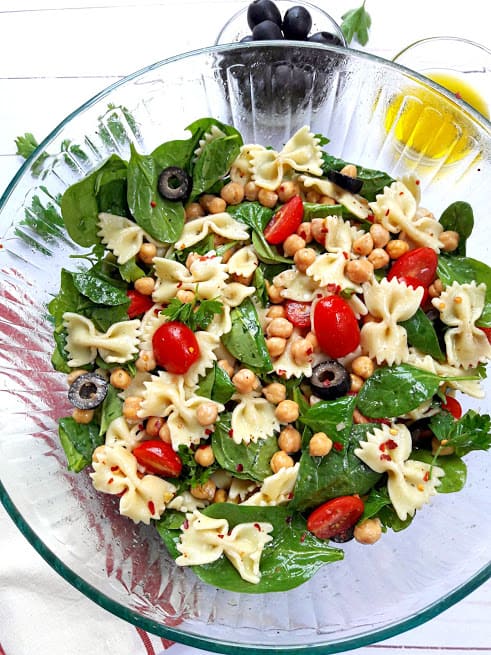 Don't forget to follow us on Pinterest and like our FACEBOOK page. We love creating delicious , plant based recipes from around the world. DO JOIN US !!
Here are few more beautiful Salad options to try from our website. We would love to hear how you like them.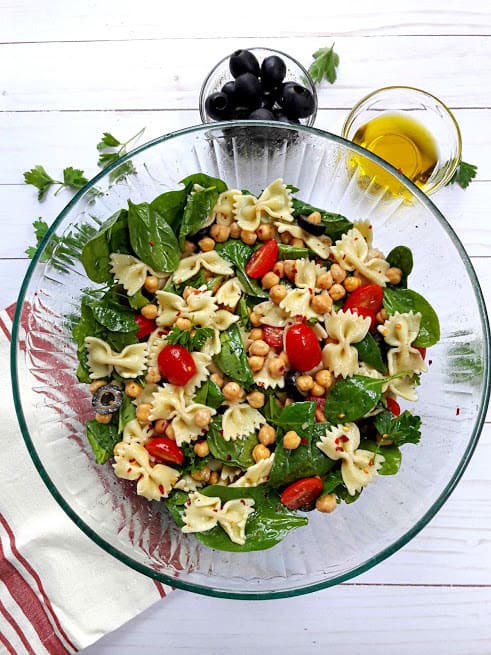 ★ If you make this Greek Fresh Pasta Salad recipe, do let us know how you like it by

★

star rating it and leaving a comment below.
We would love to hear your feedback !! Use the

PIN

button to pin the recipe.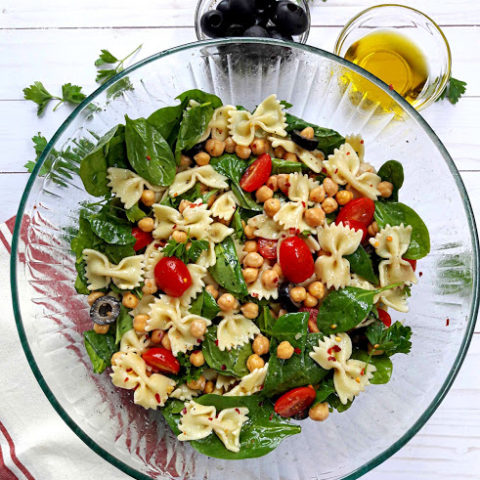 Greek Fresh Pasta Salad
Additional Time:
30 minutes
Fresh Greek pasta salad recipe is the perfect summer salad for picnics, BBQs, or potlucks. It's flavorful and healthy! Dairy Free, Vegan easy recipe
Ingredients
Pasta Ingredients
12 oz Bow Tie Pasta
1/2 tsp salt
1 Teaspoon Oil
water for boiling
Salad Ingredients :
2 cups (5 oz) grape tomatoes halved
4 cups of packed baby spinach
1 cup Calamata Olives - pitted and sliced
1 cup artichoke hearts ( if using can, rinse and drain the liquid)
1 can of Chickpeas ( Garbanzo Beans)- rinse and drain the liquid
1 cup favorite Greek Salad dressing
3-4 sprig of fresh parsley leaves roughly chopped for garnish
Fresh ground black pepper and red chili flakes (optional )
Instructions
Boil the bow tie pasta with the salt and oil in the water according to the package until al dente.
While the pasta is happening, rinse and drain all canned ingredients. Chop the vegetables.
After the pasta is finished, rinse it under cold tap water. Drain well.
In a large bowl, toss together the pasta, all the veggies and chickpeas. Pour dressing over. Mix well.
Set aside for 30 minutes to allow the flavors to blend. Serve at room temperature. Garnish with fresh parsley leaves and fresh cracked black pepper and red chili flakes . Bon appetite!!
Notes
Using Cheese in This Recipe
I often make this salad for large gatherings and potlucks. We have too many folks especially small children around us with severe dairy allergies. So I do not include any cheese in my salad. I want everyone to enjoy the dish. However, feel free to add in your favorite cheese especially crumbled feta cheese if you like.
Recommended Products
As an Amazon Associate and member of other affiliate programs, I earn from qualifying purchases.
Nutrition Information:
Yield:

8
Serving Size:

1
Amount Per Serving:
Calories:

309
Total Fat:

15g
Saturated Fat:

2g
Trans Fat:

0g
Unsaturated Fat:

12g
Cholesterol:

0mg
Sodium:

487mg
Carbohydrates:

37g
Fiber:

7g
Sugar:

4g
Protein:

9g