Boiled Peanuts ! The name brings instant smile on many faces. Simple pleasures of life packed in tiny little shells stuffed with yummy goodness. Learn how easy it is to make them in electric pressure cooker like Instant Pot.
Raw pink peanuts used to be one of my most favorite childhood snack and I am so glad now my kids like it as well. This protein rich vegetarian snack is our go to family favorite. It is super affordable and budget friendly too.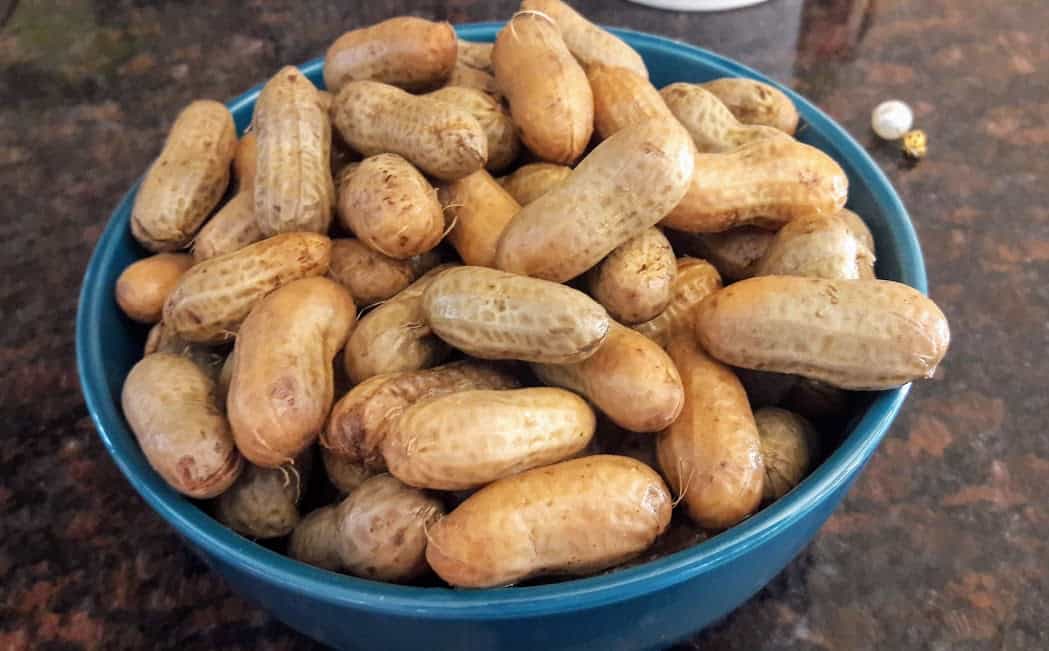 Serving Suggestions
I love munching on a bowlful of boiled raw peanuts while reading a book. These peanuts are a perfect snack for game day gatherings at home or tailgating outdoors.
Don't forget to serve them during backyard BBQ parties or casual get togethers. You won't believe how nostalgic folks get while crack opening them with childhood memories.
FAMOUS GLOBAL SNACK
And it looks like, boiled peanuts is a great snack enjoyed all over the world. When I was researching the ideas for this recipe, I was amazed to see it has it's showing and liking across different cultures and regions.
Saw several recipes on African blogs. There were quiet a few on Latin American blogs. And then there were plenty of American blogs especially with Southern state of Georgia references. Food brings us closer across the culture most heartily, isn't it?
INDIAN STREET FOOD
Boiled peanut sprinkled with warm spices and salt is one of the sought after street foods all over India. Street foods make me nostalgic. These salty treats are available only few months when farmer's harvest them after monsoon season in India. It's used to be after school snack when we were young. Street side vendors and hawkers sell them in paper cones and the it's treat to eat them.
How do Boiled Peanuts Taste?
If you've never had boiled peanuts, they're a little different than what you might expect. The outside shell is wrinkly, somewhat soft and salty. You crack it open by holding it between your thumb and first finger. The peanuts inside are soft, rather than crunchy. Texture wise, they feel like firm, cooked bean.
Traditional method of making boiled peanuts requires cooking the peanuts in a brine solution for several hours to get the softness. Now with Instant Pot, it's easy and quick to make them. Another perfect pressure cooker recipe!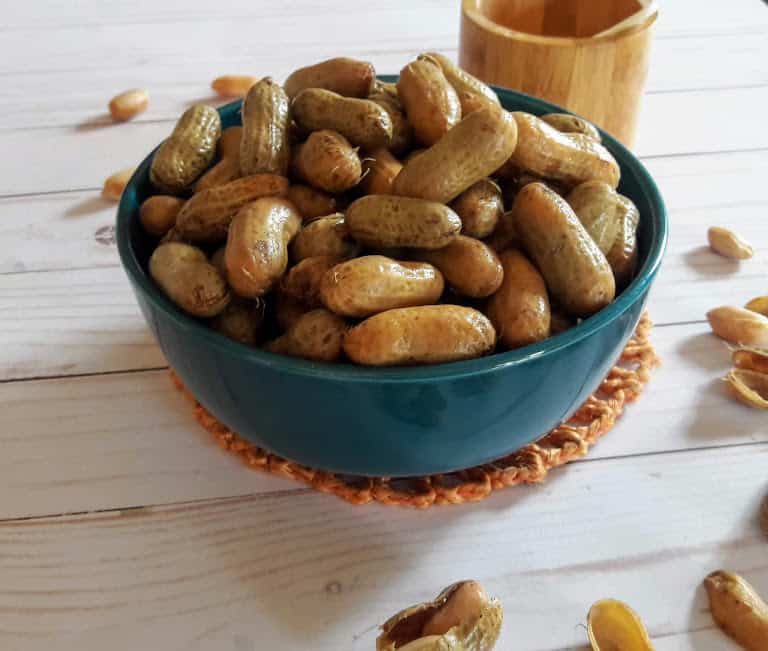 WHAT SEASONING TO USE
I like to season mine only with sea salt and lemon. You can also spice them up with your liking. Cayenne pepper, curry powder seasoning or Cajun Seasoning will work superbly.
I have had peanuts boiled with pickles or pickled jalapenos as well. If you love the spicy kick, add a cup of either one while cooking.
WHICH PEANUTS SHOULD BE USED FOR BOILING?
You can use "green" or raw peanuts or dry shelled peanuts. Cooking time will very significantly depending upon which type of peanuts you use. Do not use roasted variety. Green peanuts are freshly picked and normally available between May and November.
I often purchase mine at my local farmer's market. Lately, I see them often sold in Asian and Indian Grocery stores across Midwest. Bags of dry shell peanuts are available in any grocery store through out the year.
The cooking process is quite easy. You rinse and sort through the peanuts, then add them to the steel insert pot of your Instant Pot, along with coarse sea salt. You close the lid and let it make it magic. An easy dump and go recipe.
Let's make this protein packed guilt free snack in InstantPot. You can adjust the amount of salt if you are watching your sodium intake.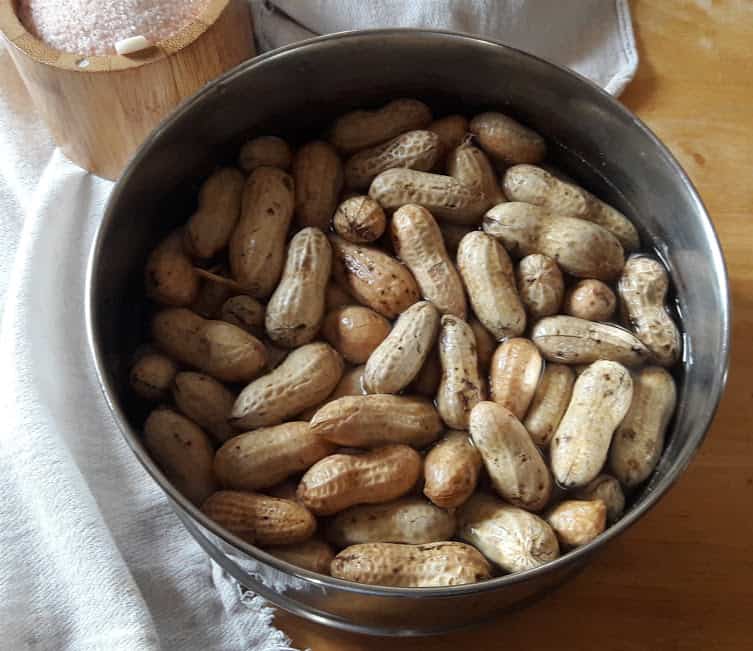 INGREDIENTS :
1 lb peanuts in the shell (not roasted)
1/2 cup coarse sea salt
1 lemon juiced
Water : enough to cover the peanuts completely.
STEP BY STEP INSTRUCTIONS:
Sort through the peanuts to clean the soil and debris. Rinse peanuts well and place into the Instant Pot.
Add salt and lemon juice to the insert pot. Add enough water to cover the peanuts and stir.
Lock the lid in place and vent sealed. Using the manual setting, cook on high pressure for 40 minutes.
When IP is done cooking , allow the pressure to completely release naturally.
Open the lid and stir well. Let them cool off some. Drizzle some extra lemon juice and enjoy your yummy creation.
Pot In Pot Cooking in InstantPot:
If you are making them Pot in Pot with other food, make sure cooking time is at least 40 minutes. I often make them while making rice, beans or potatoes. Important thing in PIP cooking is to cover them with lid so steam helps them cook quicker.

If you were to make this recipe on Stovetop :
Sort through the peanuts to clean the soil and debris. Rinse peanuts well and place into the heavy bottom dutch oven. Put it on the stove on medium high heat.
Add salt and lemon juice to the pot. Add enough water to cover the peanuts and stir. Put a heavy stainless steel plate or some weight over the peanuts so they don't float on top.
Let the water come to boil. Cover the pot and let it cook for at least 3 hours on medium low heat. Check often to make sure there is enough water in the pot. Add water when necessary.
Remove from the heat when they are tender to your preference. Let them rest covered for 30 minutes. Drain the water in colander. Serve and enjoy.
Want more healthy snacks ? Looking for more ideas to feed those kids running home hungry after school ? We have some great collection of snacks that are nutritious and healthy.
Join us on Pinterest and FACEBOOK . You will love all our delicious, wholesome, plant based recipes from around the world.

★ If you make this INSTANT POT BOILED PEANUTS RECIPE do let us know how you like it by ★ star rating it and leaving a comment below.

Classic Boiled Peanuts - Instant Pot or Stovetop

For game day, tv watching, get-togethers or snacking, boiled peanuts make a great addition to your snack spread. Instant Pot saves time and energy making them.

Ingredients

1

lb

raw green peanuts in the shell

not roasted

1/2

cup

coarse sea salt

Water enough to cover the peanuts completely.

1

Lemon juiced

Useful Kitchen Tools

Instructions

INSTANT POT METHOD :

Sort through the peanuts to clean the soil and debris. Place them in colander and rinse and drain well.

Place into the Instant Pot. Add salt. Add enough water to cover the peanuts and stir. Peanuts will float at the top, so you will need to place a weight on top of them to keep them submerged. I use a steamer basket or trivet.

Lock the lid in place and vent sealed. Use MANUAL or PRESSURE COOK . Choose 40 minutes high pressure.

When IP is done cooking , allow the pressure to completely release naturally.

Open the lid and stir well. Let them cool off some. Pour the peanuts and water into a colander in your kitchen sink and let the water drain.

Shell the peanuts and enjoy your yummy creation.

If you are making them Pot in Pot with other food, make sure cooking time is about 40 minutes. I often make them while making rice, beans or potatoes. Important thing in PIP cooking is to cover them with lid so steam helps them cook quicker.

STOVETOP METHOD :

Sort through the peanuts to clean the soil and debris. Rinse peanuts well and place into the heavy bottom dutch oven. Put it on the stove on medium high heat.

Add salt and lemon juice to the pot. Add enough water to cover the peanuts and stir. Put a heavy stainless steel plate or some weight over the peanuts so they don't float on top.

Let the water come to boil. Cover the pot and let it cook for at least 3 hours on medium low heat. Check often to make sure there is enough water in the pot. Add water when necessary.

Remove from the heat when they are tender to your preference. Let them rest covered for 30 minutes. Drain the water in colander. Serve and enjoy.

Notes

INSTANTPOT COOKING TIME :

Raw / Green Peanuts : 40 Minutes high pressure.
Dry ( Non Roasted ) shell peanuts : 60-80 minutes , high pressure cooked with weight down so they don't float while cooking.
For really soft peanuts : 80 minutes

Nutrition

Serving:

1

cup

Calories:

356

kcal

Carbohydrates:

17

g

Protein:

15

g

Fat:

28

g

Saturated Fat:

4

g

Polyunsaturated Fat:

20

g

Fiber:

5

g

Sugar:

3

g