Samosa Chaat is my favorite Indian street food snack. Learn how to make restaurant style Samosa Chole Chat at home using easy tricks and tips in this post.
You do not need to pick a perfect time to indulge into chat eating session. From breakfast to dinner and snacks in between, any time is chat time for Indian foodies.
This mind-blowing culinary delight is one of the most loved North Indian dhaba food. Crispy Samosa is layered with chickpea chole curry, couple of chutneys, sev, yogurt and dusted with chat masala.. it is ultimate food nirvana!
For a lot of people, making Samosa Chat at home might translate into long hours spent in the kitchen. Let me show you few tricks and tips to make this irresistible recipe without sweating hours in kitchen.
Chat lovers need their chaat when they crave it. So we all need an easy chaat recipe in our life. This one right here is everything that a good snack should be – easy, delicious and quick and filling.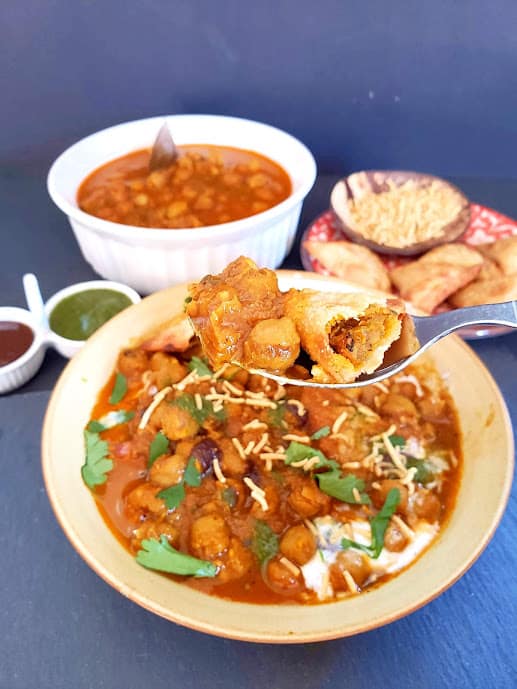 PRO TIPS TO MAKE INSTANT SAMOSA CHAT
Use store brought, frozen samosas. Have a packet ready so when your cravings kick in, all you need to do is toss them in oven and you are good to go.
Use canned chickpeas to make instant chole curry. Sure, you can use traditional route and plan ahead by soaking them overnight etc etc… but hey, we can't always plan ahead ..especially when you are talking delish food cravings.. trust me canned chickpeas work just as well if not better.
Use store brought chutneys.. another one of those things I always stock up in my pantry. I am listing how to make these chutneys at home, in case you want to try it.. but if in hurry, semi homemade is absolutely OK too.
And last but not least, this recipe can be easily doubled and tripled. So, make a big batch at once and freeze it in portions. That way, you can heat it up as and when needed.
SERVING SUGGESTIONS:
This Samosa Chat is often served during breakfast or brunch and evening snack along with hot masala chai.
I love to serve it as heavy appetizer during parties. It's my go to item in party menu planning especially during Diwali and Holi celebrations.
Frankly, this dish is so wholesome and hearty, I love it even for lunch or dinner. Pair it with some easy dessert and you will be all set.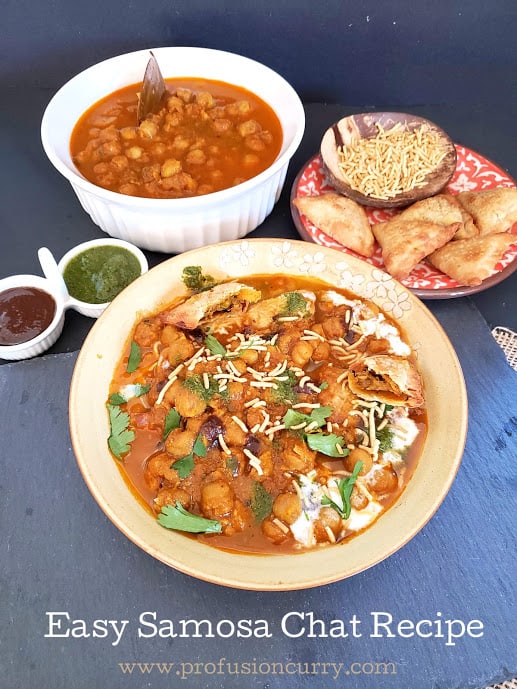 WHAT IS CHAT (CHAAT)?
Chat or Chaat is a generic term for all the different combinations of food created by street food vendors of India. It is a culinary delightful experience. An array of savory food is served with different curries, chutneys and sauces.
It often is layering of several different flavors and textures. It is bold and spicy, sweet and tangy. It's easy to mix and match and customize to your taste.
In Hindi, the word CHATPATA means seductive, playful and alluring.. the chat food truly invokes all those feelings.
THIS SAMOSA CHAAT
is a flavor explosion. There is elements of spicy, sweet, sour, tangy and savory in every bite.
is a dish with layers of samosa, chickpeas curry, two different chutney's, and some yogurt and spices.
is loaded with lots of textures too. There is crispy, creamy, soft, dry, wet and crunchy texture in every bite.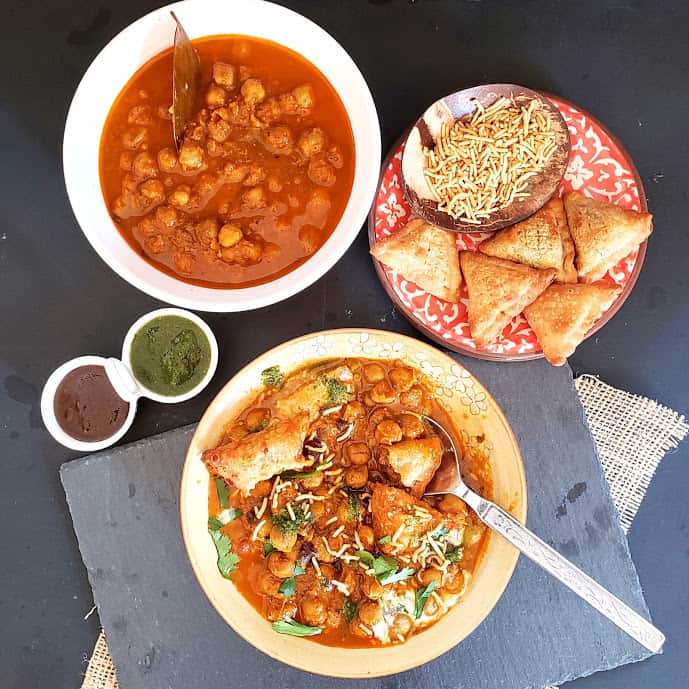 MAIN COMPONENTS OF MAKING SAMOSA CHAAT
Samosa – A samosa is a fried or baked pastry filled with spiced potatoes, onions and pea. It's flaky, crispy, spicy and delicious.
For this recipe, I using Store brought samosa. I love Deep and Swad brands. You can use cocktail samosa, medium or jumbo size samosa.
I prefer to spray some oil and bake them in air-fryer or oven. It saves tons of empty fried calories and makes this chat eating experience RELATIVELY guilt-free.
Chole or Chana Masala – Using canned chickpeas, make delicious curry to drench the samosas. This instant quick curry is full of flavors and easy. You can make this curry in InstantPot or on stovetop.
If you are planning to make Chole Recipe from scratch instead, try our Punjabi Chole Recipe. This popular Indian curry recipe is vegan and gluten free.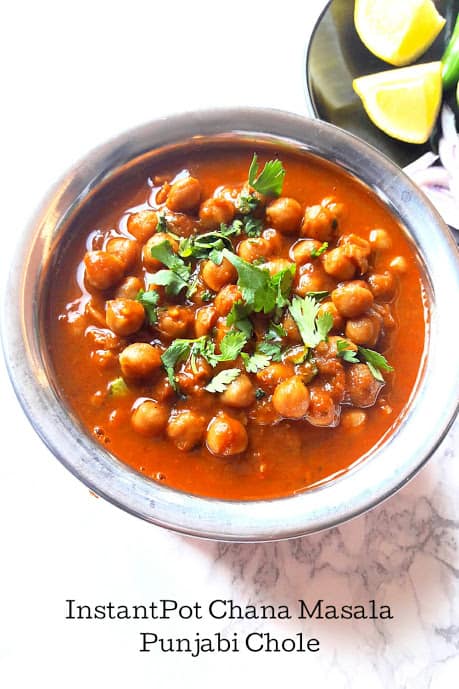 Chutney's – The layering of the flavors involves using two different chutneys. Mint Cilantro Chutney is bold and spicy while Date Tamarind Chutney is sweet and tangy. You can use store brought chutneys or make them at home in advance.
Yogurt – Whisk the yogurt to smooth texture. You can use plain. Add salt if you like and sugar if it's too sour. If you want to make this recipe vegan, skip using yogurt.
Sev or Farsan – This fried gram flour snack item adds depth of taste and texture . You can use Nylon Sev, ratlami sev or even farsan.
Spice Powders – A Chaat recipe is incomplete without chaat masala. This tangy masala powder brings all the flavors together. Add a dusting of red chili powder for that extra spice kick.
Garnish – since this dish is all about layering, extra garnishes are a must. We use finely chopped cilantro leaves and onions.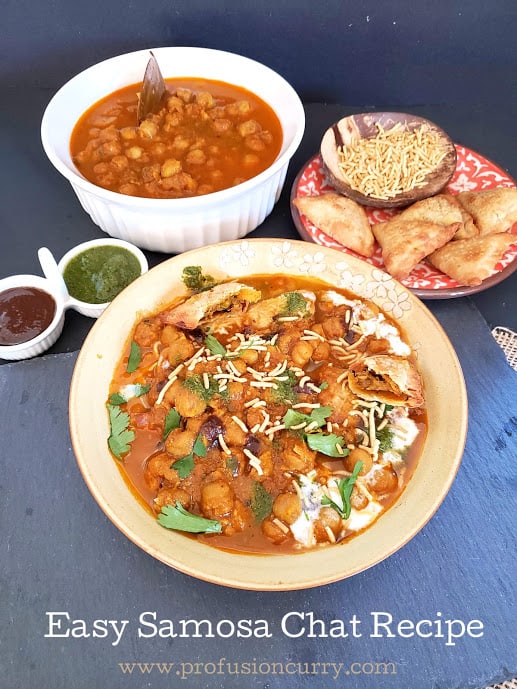 CHECK OUT SOME OF OUR POPULAR INDIAN CHAT RECIPES. WE MAKE IT EASY TO ENJOY THESE DELICACIES AT HOME WITH QUICK AND EASY RECIPES.
Don't forget to take pictures when you make our delicious recipes. Tag us with #profusioncurry on Instagram ! We would love to feature your creation.
Join us on Pinterest and FACEBOOK . You will love all our delicious, wholesome, plant based recipes from around the world.
★ If you make this Easy Samosa Chaat Recipe do let us know how you like it by ★ star rating it and leaving a comment below.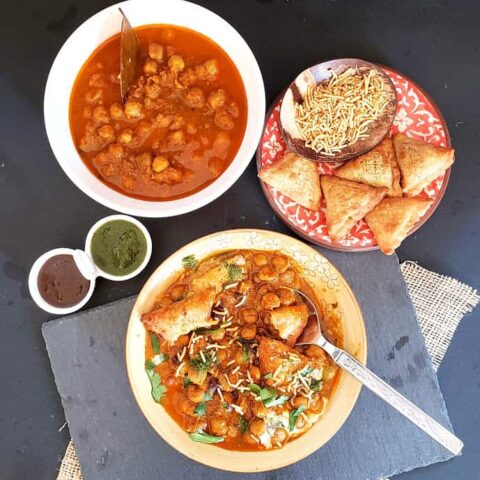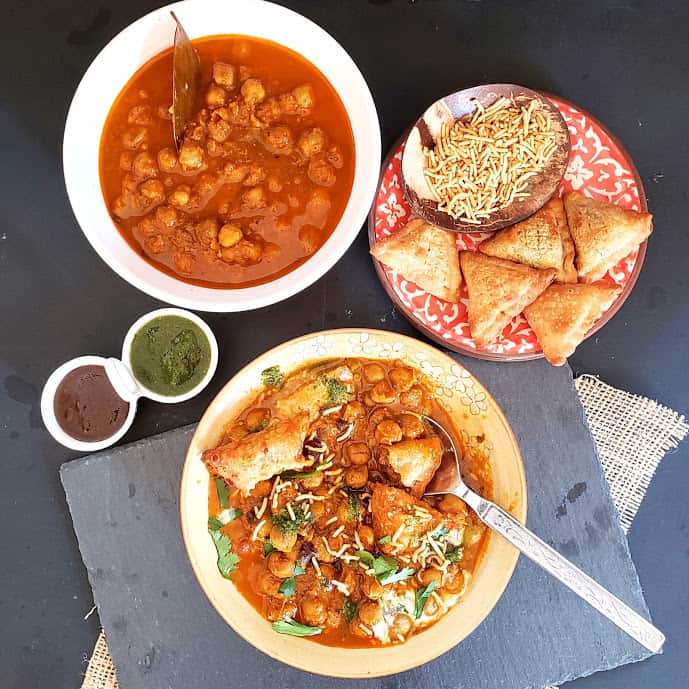 Delhi Style Easy Samosa Chat Recipe
Learn how to make restaurant style Samosa Chat at home. This recipe is quick and easy with suggested semi homemade ideas.
Ingredients
For Samosa Chole Chaat
8 medium sized Samosas
6 cup Chole curry
2 Cups of stirred Yogurt
1/2 tbsp. Chili Powder
1 cup Nylon Sev or Farsan
1 Finely chopped onion
1/2 cup cilantro leaves for garnish
To make Instant Chole Curry
2 Can (16 oz each) Cooked Chickpeas
1 medium sized onion finely chopped
2 cup tomato puree
1 inch cinnamon stick
2 cups water - adjust per desired consistency
Instructions
To make Instant Chana masala - Chole Masala
On a medium heat, in a pan heat oil. Add bay leaf and cumin seeds. Once they splutter, add onions, ginger garlic, a pinch of salt and sauté until translucent.
Add cinnamon stick, tomato puree, turmeric powder, red chili powder and chole masala. Stir well. Keep stirring frequently til the mixture thickens.

Add the canned chickpeas, a tea bag and water. Cover and cook for 5 minutes.

Open the lid. Remove and discard the cinnamon stick, bayleaf and the teabag. Using back of the spatula or a masher, press and mash some of the chickpeas. This helps thicken the curry. Turn off the flame. Your Instant Chole Curry is ready.

How to layer Samosa Chole Chaat
Place 2 medium sized warm samosa on the plate. Gently pull them apart so they deconstruct.
Ladle one or two scoops of chole curry over the open samosa. The curry mixture should drench the samosa.

Drizzle some beaten yogurt over the curry and samosa mixture.

Drizzle 1 Tbsp of Mint Cilantro Chutney and 1 Tbsp of Date Tamarind Chutney on top. ( adjust per your preference)

Sprinkle a pinch of chaat masala and chili powder ( adjust per spice
tolerance)

Sprinkle some finely chopped onions and cilantro. Finish off layering by adding generous serving of nylon sev or farsan on top.

Serve Samosa Chaat immediately. It starts to get soggy quickly. Best served
hot.
Notes
HOW TO MAKE INSTANT CHOLE CURRY IN INSTANTPOT
Start the InstantPot. Press SAUTE. Add oil. After a minute add bay leaf and cumin seeds and give them a quick stir so they brown some. Add onions, ginger garlic, a pinch of salt and sauté until translucent.
Add cinnamon stick, tomato puree, turmeric powder, red chili powder and chole masala. Stir well. Keep stirring frequently til the mixture thickens. Cancel SAUTE.

Add the canned chickpeas, tea bag and water. Close the lid. Vent in SEALING
position.
Press MANUAL or PRESSURE COOK. Select 3 minutes. InstantPot will come to pressure and do the cooking. After it's done and goes to KEEP WARM timer, wait for 5 minutes and release the pressure by moving the valve from SEALING to VENTING. After the silver pin drops, open the lid.
Remove and discard the cinnamon stick, bay leaf and the tea bag. Give the curry a good stir. Using back of the spatula or a masher, press and mash some of the chickpeas. This helps thicken the curry. Your Instant Chole Curry is now ready.
** How to make Mint Cilantro Chutney
1 cup packed cilantro leaves
1 cup mint leaves
3-4 garlic cloves
1 inch ginger root
2-3 green chilies
1 tablespoon lemon juice
Salt per taste
Blend all the ingredients with enough water to make the smooth puree.
** How to make Date Tamarind Chutney
1 cup pitted Dates
1/4 cup Tamarind pulp
1/2 cup jaggery
1 teaspoon red chili powder
1 tablespoon coriander cumin powder
1 teaspoon dry ginger powder
1 cup water
Salt per taste
Cook the tamarind pulp, dates and jaggery in water for about 8 to 10 minutes on a low flame till they soften, and the mixture thicken a bit.
Add red chili powder, coriander - cumin powder and dry ginger powder. Stir well. Simmer for extra 1-2 minutes. Turn off the heat. Let the chutney mixture cool down. Blend it to smooth puree.
** The nutritional calculations for this specific recipe are very hard to quote. They largely will depend upon the size of the samosa, how much serving of chole and chutney goes into one plate which is very hard to estimate.
Recommended Products
As an Amazon Associate and member of other affiliate programs, I earn from qualifying purchases.
Nutrition Information:
Yield:

8
Serving Size:

1 cup
Amount Per Serving:
Calories:

350
Saturated Fat:

11g
Trans Fat:

1g
Unsaturated Fat:

28g
Cholesterol:

44mg
Carbohydrates:

50g
Fiber:

15g
Sugar:

19g
Protein:

23g
Nutritional values are provided as a courtesy and the values are approximate. The values will change depending on the exact ingredients, measurements and brands used. As always, for specific health issues and dietary requirements please consult medical professional.