Sambar is lentil and vegetable stew with sultry Indian spices. This Spicy Indian Lentil Stew recipe is a must have accompaniment for popular South Indian breakfast, lunch and dinner menus like Idli, Dosa, Vada and Steamed Rice.
This lentil stew is quick and easy to make in electric pressure cooker like Instant Pot or on the stove top. Sambar (also spelled sambhar or sambaar ) is classic comfort food enjoyed across all of India. Similar to Dal Makhani and Spinach Lentil Curry-Dal Palak this is my favorite protein rich soul food.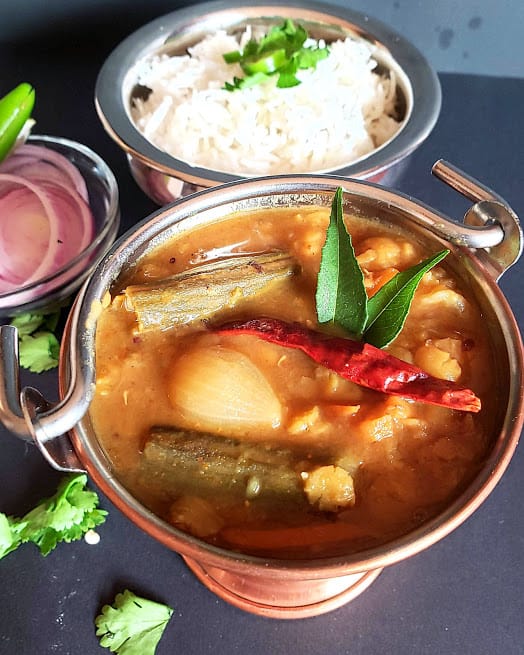 This Vegetable Sambar Recipe
Can be eaten as is like a soup / stew
Ideal for weeknight dinner menu
Makes easy meal prep
Rich in plant based protein, complex carbs and fiber
Easy, one pot wonder meal
Gluten Free
Vegan
Dairy and Soy Free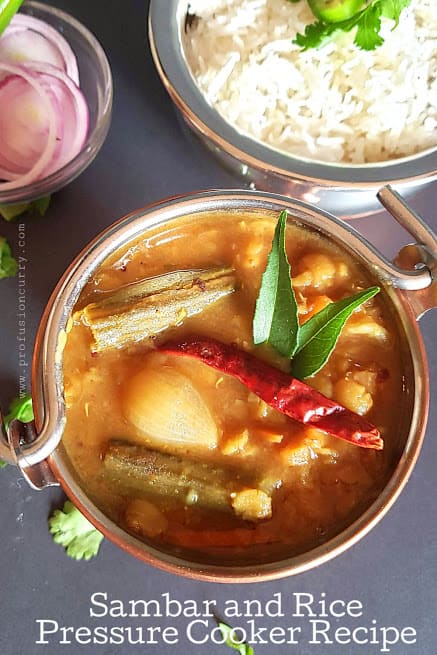 Different names of Indian Sambar
Popularly called as Kuzhambu in Tamilnadu , Sambaru or Huli in Karnataka, and Sambhar in North India. Every region has its own peculiarity in making the sambar. However, the basic idea remains the same.
Recipe Inspiration
I share my recipe which my mom taught me. We often used have south Indian style Tiffin breakfast on the weekends and my mom used to make delicious sambar to along with it. heirloom recipes often have cherishing memories attached to it and this sambar recipe is no exception.
What is Sambar?
To make sambar, Split pigeon peas ( tur dal ) or lentils are cooked with unique spice blend called sambar powder. Tamarind extract adds a unique tangy flavors to this chowder like preparation.
HOW TO MAKE HOMEMADE SAMBAR POWDER
Sambar powder is easily available on Amazon or any Indian grocery store. Adding my Amazon Affiliate Link for my favorite Sambhar Powder in case you want to order it from the amazon. If you want to make it at home, here's the recipe.
Dry roast the following spices in a pan on medium-low heat until fragrant, around 3 to 4 minutes. Let it cool completely, then grind to a powder. Store in an airtight container and use as needed.
2 tablespoon channa dal (skinned split bengal gram)
1 tablespoon urad dal (skinned split black gram)
4-5 dried red chilies (or more to taste)
1 tablespoon coriander seeds (dhaniya)
1/2 teaspoon cumin(jeera) seeds
1/2 teaspoon fenugreek seeds (methi)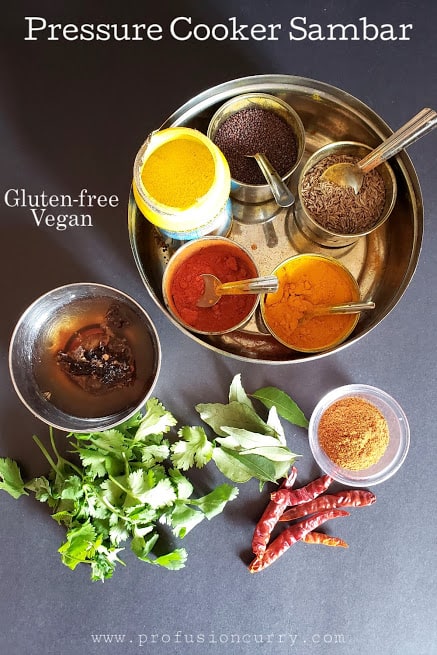 WHAT ARE THE INGREDIENTS OF VEGETABLE SAMBAR ?
Exact measurement of each ingredients is listed in the recipe card. Main ingredients and suggestions for alternatives are listed below.
Dal / lentils : I am using Toor dal ( also called tur dal ) . It is available as Split pigeon peas. You rinse and wash the dal well in running water before using it.
Vegetable Mix : I am using drumsticks ( Moringa plant beans) , baby egg plants, carrots , tomatoes and pearl onions. Cilantro leaves are used as a garnish and flavor enhancers.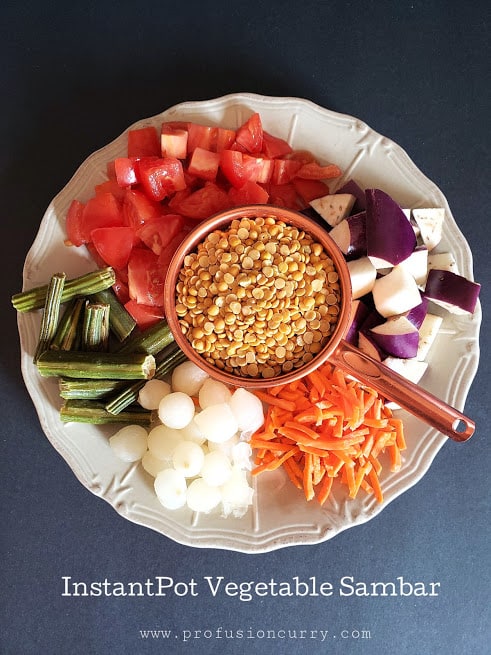 Oil Tampering / Flavoring : Typically coconut oil is used to make sambhar. Black mustard seeds and cumin seeds , turmeric powder and red chili powder are typically used as a flavor base. Pinch of asafoetida adds the perfect traditional flavor and so does fresh curry leaves.
Spices and flavors – Traditional recipes including making sambar with Sambar Masala and tamarind extract. If tamarind is not easily available, use lemon juice instead. A tsp of jaggery or raw sugar makes it perfect sweet and sour combination.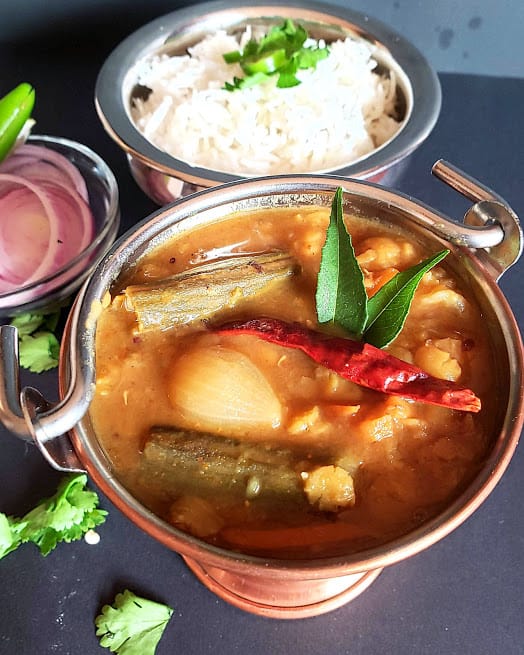 Variations and Substitutes for Vegetable Sambar
Suffice to say, every Indian household has it's own version of making sambar. Some make it watery and spicy while others like it thick and mild. In this recipe , I am including my version which is more like stew than soup and mildly spicy.
Traditionally in South Indian household toor dal (split pigeon pea) is used to make sambar. You can also use a mix of toor dal or moong dal (split yellow mung lentil).
If you are new to Indian dal recipes and want to try it out, even green or brown lentils are ok to use to make the sambar.
You can use vegetables of your choice like green beans, carrots, zucchini, pumpkin or squash. I have also used okra in making sambar and it tastes amazing.
If tamarind is not available, you can replace with juice of 1/2 lime or lemon or 1 tsp of amchur powder. Asafeitida and curry leaves can be skipped if they are not easily available.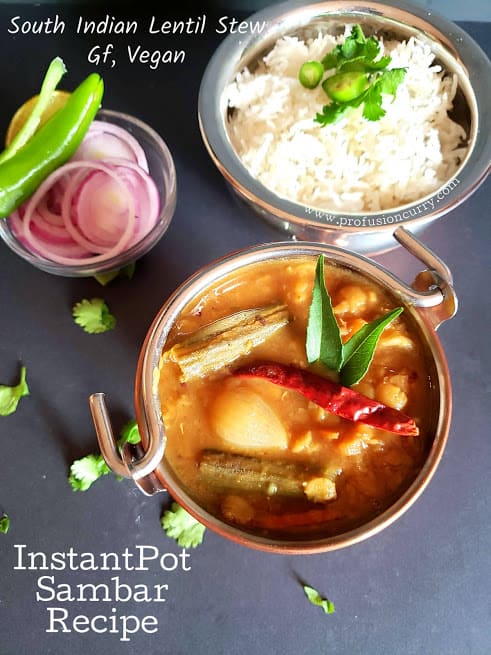 What To Serve With Vegan Sambhar ?
Sambar can be served as a side dish or curry with just plain basmati rice. I often have a jar of Carrot Ginger Pickle or Green Chili Pickle in the refrigerator. Sambar, pickle and rice is a soul-food that makes your heart sing with happy belly.
For additional flavors, instead of plain basmati rice, use Instant Pot Cilantro Lime Brown rice. You can add simple potato raita or dry stir fry like Turmeric Cabbage and Peas or Paneer Jalfrezi for easy yet scrumptious weeknight dinner.
The popular and perfect use of sambar, of course, is with a side dish of Idly, dosa, vada or uttapam alog with slew of lip smacking delcious chutneys. Flaxseed Garlic Chutney is a must try for this pairing.
How To Make Pot In Pot Sambar and Rice in Instant Pot?
While making the sambar, you can cook 1 cup of rice along. The one pot sambar rice is wonderful wholesome meal.
After you prepare the oil tempering ready to make sambar, use a tall trivet and put the stackable container with rice and water over the trivet. Close the lid and follow along the rest if the directions.
This way, Sambar and rice both cook in 8 minutes using pot in pot method.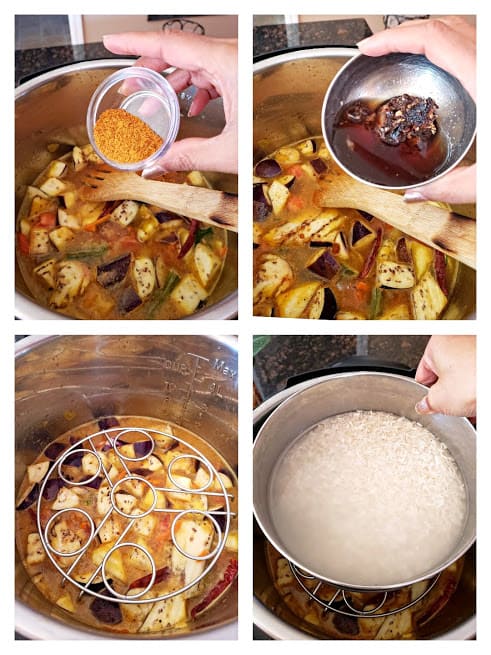 Our Popular Indian Curry Recipes:
♥ Follow us on PINTEREST and like our FACEBOOK page. We love creating delicious, plant based recipes from around the world. DO JOIN US ♥
We would love to hear your feedback!! Use the PIN button in the recipe card or image below to pin this recipe !
★ If you make this Instant Pot Vegetable Sambar Recipe , do let us know how you like it by ★ star rating it and leaving a comment below.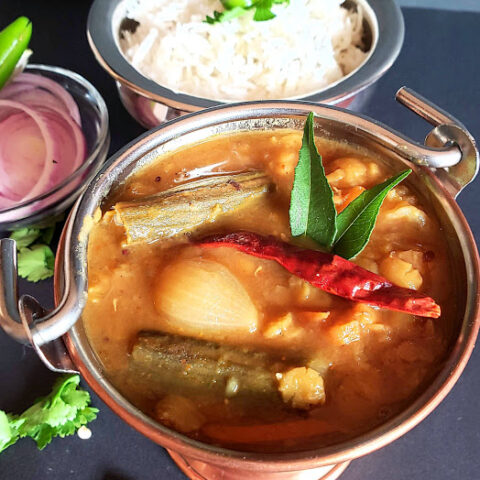 Instant Pot Vegetable Sambar Recipe
Pressure cooker Sambar is lentil and vegetable stew with sultry Indian spices. This spicy Indian lentil stew is ideal for wholesome weeknight dinner.
Ingredients
4 cups water
1 cup eggplant (about 1/2 eggplant) cubed into 3/4 inch pieces
1 cup tomatoes chopped
1 cup pearl onions or small onion chopped
1 cup moringa beans (drumsticks )
1/2 cup carrots diced
2 Tbsp cilantro leaves chopped, to garnish
Salt - adjust per taste
For Oil Tempering / Tadka
2-3 whole red chilies ( optional )
10-12 fresh curry leaves ( or 1 bay leaf)
Instructions
Instantpot Instructions:
Start the instant pot in sauté mode and heat oil in it. Add all the tempering ingredients.
When the mustard seeds and curry leaves start to sizzle, add the pearl onions and sauté for 2 minutes.
Add the chopped tomatoes, sambar powder and salt. Sauté for another 2 minutes.
Add all the vegetables, jagery, toor dal and water to the instant pot. Stir well and deglaze to make sure that nothing is stuck at the base.
Cancel SAUTE. Close the lid and select MANUAL or PRESSURE COOK mode for 8 minutes at high pressure with vent in sealing position.
When the instant pot beeps, let the pressure release naturally. Stir in the tamarind paste. Stir the sambar so it is mixed well.
Garnish with cilantro and sambar is ready to be served.
For additional flavors, you can add more tadka with whole red chilies on top while serving.
STOVE TOP INSTRUCTIONS
Wash the dal and add it in a pressure cooker along with 2 cups of water, salt and turmeric powder. Cook the dal until it is softened.
Remove the pressure cooker from heat and let the pressure release naturally.
Remove the lid of the cooker. Add tamarind paste in the dal and whisk until smooth and keep aside.
Heat oil in a pan. Once the oil is hot, add mustard seeds, dry red chillies and curry leaves and let them crackle for a few seconds.
Add all the veggies. Stir well. Cover the pan and cook until the vegetables are softened.
Add sambar powder and cook for another 3-4 minutes. Add some water if the tempering is too dry.
Add the cooked dal to the veggies in the pan and mix everything well. Simmer the sambar for 10-12 minutes on medium low heat. Turn off the heat.
Garnish with cilantro and sambar is ready to be served.
Notes
Depending upon your preference, add more water to adjust the consistency of sambar.
Additional tempering if desired :
Heat oil in a pan. Once the oil is hot, add mustard seeds, dry whole red chillies and curry leaves and let them crackle for a few seconds. Pour the tempering over the sambar and serve hot.
Nutrition Information:
Yield:

6
Serving Size:

1/2 cup
Amount Per Serving:
Calories:

130
Total Fat:

5g
Saturated Fat:

2g
Trans Fat:

0g
Unsaturated Fat:

3g
Cholesterol:

0mg
Sodium:

173mg
Carbohydrates:

20g
Fiber:

4g
Sugar:

9g
Protein:

4g
Nutritional values are provided as a courtesy and the values are approximate. The values will change depending on the exact ingredients, measurements and brands used. As always, for specific health issues and dietary requirements please consult medical professional.