From classic Indian dishes like rice and Dal to gourmet restaurant style meals like Paneer Makhani, a variety of Indian Vegetarian recipes can be made using electric pressure cooker like Instant Pot. You can prepare them all in less than 30 minutes.
This collection of amazingly tasty Indian Instant Pot Recipes is perfect for making each and every day of the week. These easy and quick recipes are suitable for busy weeknights as well as for parties and gatherings.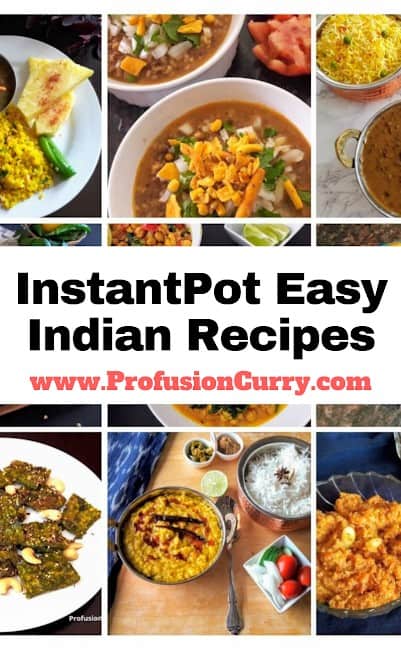 We are sure they will delight and wow the people you care about trying something new and delicious. Hearty, spicy, delicious Indian food is always welcome at our dinner table.
Instant Pot Easy Indian Recipe collection will ease the learning curve in using Instant Pot. If you are new to making delicious Indian food, you will like these easy to follow recipes.
All these are easy, healthy and scrumptious meal ideas that taste simply amazing.
New to Electric Pressure Cooker?
Did you purchase an InstantPot recently? If so, you must be intrigued by this most talked about appliance and ready to jump in and make all those tempting yummy recipes.
Don't let the those buttons on the front panel intimidate you. I have seen it on several Facebook groups that many folks are hesitant to get going with it.
Trust us, once you get hang of few tips, it will become your go-to kitchen appliance in no time.
Gluten Free And Vegan Indian Food
To simplify how to use your Instant Pot to make Indian recipe, we have complied a great list of Vegan and Gluten-free food ideas to make in your InstantPot. These recipes are easy to prepare, practically dump and go recipes.
They will help you get the most out if this wonderful appliance from the very beginning. Our recipes are tried and tasted so we have taken the guesswork out of the equation.
Easy Indian Instant Pot Recipes
Here is the BEST collection Easy Indian Recipes . You can find a variety of rice, curries, lentils and bean recipes with Indian spices.
Most of these recipes are vegetarian, whole food plant based, vegan and gluten free or easy to change to dietary requirements. The ingredients used are easily available on Amazon.
This collection includes restaurant style korma, palak paneer, dal makhani, chana masala and rajma chaval. It also includes homestyle meals like aloo matar ( potato and peas curry) spinach dal, lemon rice, biryanis and more.
You will also love easy desserts like carrot almond pudding ( gajar halwa) and kheer that can be made effortlessly in Instant Pot.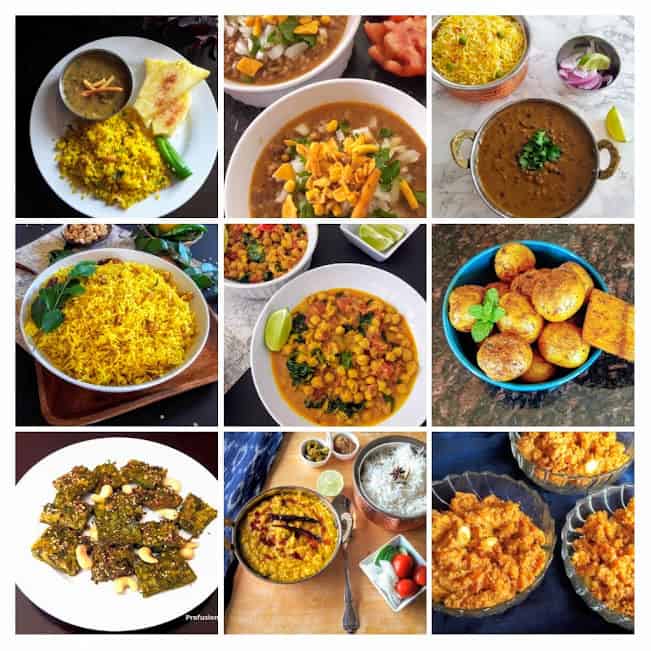 Helpful Accessories and Kitchen Tools
Commonly Used Ingredients
Indian food especially curries are full of different spices and dry herbs. We generously use ginger and garlic, turmeric, cardamom, garam masala, cumin seeds, black mustard seeds and curry leaves.
Cilantro ( coriander ) is preferred garnish and so is kasuri methi. Paneer (Indian Cottage cheese) and yogurt is also routinely used in making hearty and rich curries.
Other staple ingredients include vegetables like cauliflower, potatoes, peas, onions as well as tomato sauce, basmati rice, lentils and beans including kidney beans and chickpeas, cashews and coconut milk.
Suitable for Beginners
Even the novice cook can whip up these staple as well as fancy looking entrees. Many of our readers asked for the best vegetarian and vegan one-pot meal recipes that they could use for meal planning.
So we are sharing this delicious roundup of Instant Pot Easy Indian Recipes. The best part about using the electric pressure cooker like the Instant Pot is that it keeps the kitchen cool and tidy.
Most of the recipes are done in one pot cooking as well. So you do the tadka / sautéing – tampering ( which is staple in cooking Indian food ) in the same pot before you pressure cook it. It therefore reduces the cleaning multiple pots.
Indian cuisine is delicious, flavorful and healthful. It requires very little oil and can be prepared quickly. This makes it well-suited to an Instant Pot.
In this roundup are a variety of Indian Instant Pot recipes for even the most persnickety palates. We hope you enjoy making these InstantPot Easy Indian Recipes.
Most of the recipes also include instructions to make them on stovetops. Let us know which dish you're most excited to make, and do share this roundup with your friends!
If you love Indian cuisine, this post is for you! Here are more than 21 of my best Indian Instant Pot recipes, perfect for weeknight meals. Each recipe takes 30 minutes or less to make. They are full of flavor too.
Instant Pot Easy Indian Recipes
Here are some of our favorite Instant Pot Easy Indian Recipes. From curries to rice dishes and easy kid friendly meals, enjoy these delicious Indian dishes from the comfort of your home.

♥We would love to hear your feedback . Do let us know how you like this post by leaving a comment and rating it so other readers know it too. And while you're at it, take a picture and tag it #profusioncurry on Instagram! We love seeing what you come up with. Cheers, friends !!