InstantPot Easy Indian Recipes collection will ease the learning curve in using InstantPot. If you are new to making delicious Indian food, you will like these easy to follow recipes. All these are easy, healthy and scrumptious meal ideas.
Were you able to buy an InstantPot this holiday season? If so, you must be intrigued by this most talked about appliance and ready to jump in and make all those tempting yummy recipes. Don't let the those buttons on the front panel intimidate you. I have seen it on several Facebook groups that many folks are hesitant to get going with it. Trust us, once you get hang of few tips, it will become your go-to kitchen appliance in no time.
To simplify how to use your new InstantPot, we have complied a great list of Vegan , Glutenfree Indian recipes to make in your InstantPot. These recipes are easy to prepare, practically dump and go recipes. They will help you get the most out if this wonderful appliance from the very begining. Our recipes are tried and tasted so we have taken the guesswork out of the equation.
Here is the BEST collection of 10 InstantPot Easy Indian Recipes . You can find a variety of rice, curries, lentils and bean recipes with Indian spices. Most of these recipes are vegetarian, whole food plant based, vegan and gluten free or easy to change to dietary requirements. The ingredients used are easily available on Amazon.
Few accessories you should buy to enhance the InstantPot usage include- ( See the affiliate link disclosure below)
Tall Trivet – To cook multiple items at once, we highly recommend tall trivet. Using pot in pot method , you can make rice/ lentils, veggie/ quinoa , beans/ brown rice all at once.
Stackable Containers– To cook multiple items at once, these containers come in handy. You can use stainless steel or even pyrex glass containers for this purpose.
Steamer Basket – It helps you steam veggies without touching the cooking water- thereby avoiding mushy, pulpy veggies.
Oven Mitt/ Grip– Extremely useful to handle steaming hot food.
Immersion Blender – Though it's not a direct accessory for InstantPot, immersion blender is very useful appliance while making soups or purees in InstantPot. It helps you cook and blend food in just one pot.
Even the novice cook can whip up these staple as well as fancy looking entrees. Many of our readers asked for the best vegetarian and vegan recipes that they could use for meal planning. So we are sharing this roundup of 10 InstantPot Easy Indian Recipes.
The best part about the Instant Pot is that it keeps the kitchen cool and tidy. Most of the recipes are done in one pot cooking as well. So you do the tadka / sauting – tampering ( which is staple in cooking Indian food ) in the same pot before you pressure cook it. It thus reduces the cleaning multiple pots. Such a breather really !!
We hope you enjoy making these InstantPot Easy Indian Recipes. Let us know which dish you're most excited to make, and do share this roundup with your friends!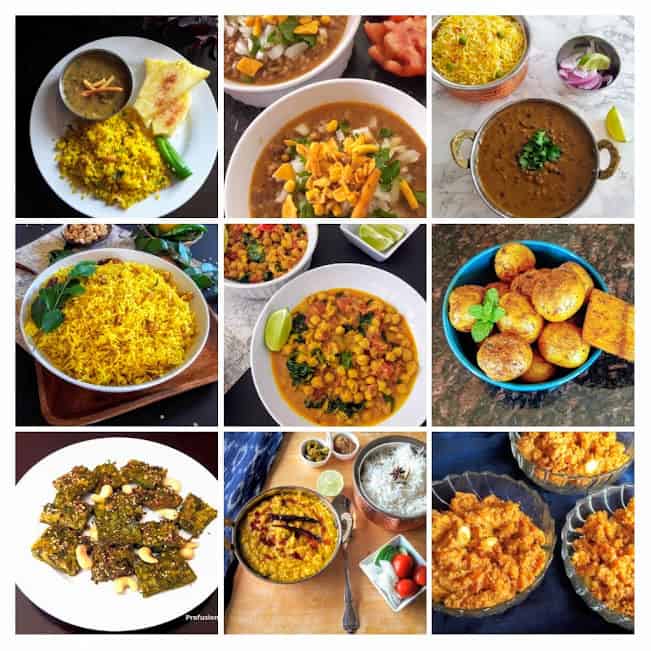 InstantPot Pohe (Flattened Rice with savory taste) – Very unassuming yet superbly tasty combination, Pohe or flattened rice with turmeric and peanuts make a superb filling breakfast, evening snack or even meals in between.
Misal-Sprouted Spicy Lentil Curry – Yet another lip smacking favorite breakfast item so easy to prepare in InstantPot
Kothimbir Vadi- (Cilantro-Chickpea Fritters)– You will fall in love with this nutritious , loaded with plant protein savory snack or appetizer.
Dal Tadka -( Spicy Indian Lentils) – Very comforting , popular dinner entrée across India. Simple yet nutritious staple , this is a favorite weeknight hearty dinner recipe to make and very budget friendly.
Turmeric Lemon Rice– Golden hued beautiful rice is tangy with hint of earthy spices.
Restaurant Style Dal Makhani – Our star favorite recipe to make in InstantPot , Dal Makhani is smooth, velvety, creamy lentils curry. Comfort food at it's best, we are sure you will love making t often in InstantPot.
Easy Baingan Bharta – (Smoky Eggplant Dip)– Yet another dish made easily in InstantPot, Baingan Bharta is delectable smoky , flavorful eggplant dip.
Masala Baby Potatoes – Easy to whip up roasted baby potatoes, these are addictive in taste.
Chickpea Coconut Curry– Our fusion version of traditional chickpeas, this delicious curry is light yet creamy .
Gajar Halva (Carrot Almond Pudding)– A popular dessert cherished through generations, this vegan, Glutenfree version is practically a dump and go recipe of InstantPot.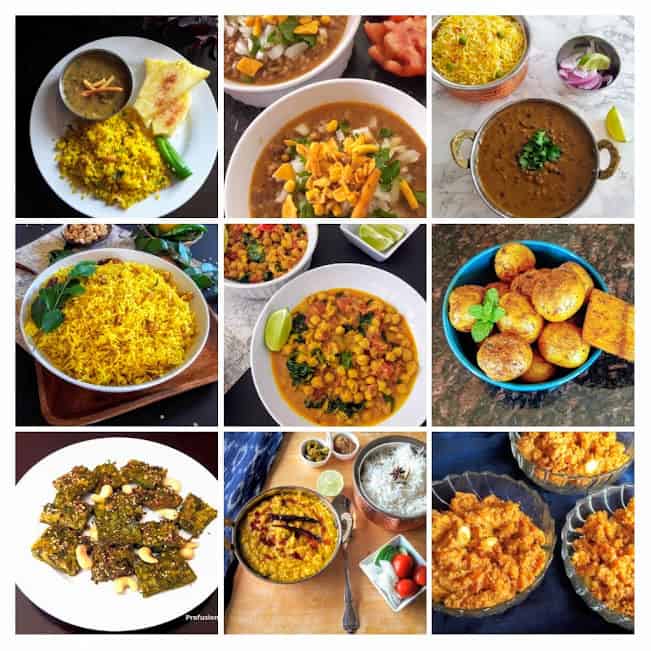 InstantPot has made cooking at home a lot easier and convenient. I see lot of husband and young kids eager to to try using this appliance as well. A lot of our readers who grew up in Indian subcontinent are used to pressure cooking recipes. Counting the whistles of pressure cooker and shutting off the gas heat was a routine dinner-time scene as food was getting prepared. Using Instant Pot, cooking Indian food at home is not a complex task anymore. With little learning, you will get used to using those buttons effectively and efficiently in no time. And no more counting the whistles either.
Hope you enjoy making this delicious roundup of InstantPot Easy Indian Recipes.
♥We would love to hear your feedback . Do let us know how you like this post by leaving a comment and rating it so other readers know it too. And while you're at it, take a picture and tag it #profusioncurry on Instagram! We love seeing what you come up with. Cheers, friends !!
Want to save it for later? Check our Pinterest Board for more recipe ideas and creations. Pin this recipe for later use.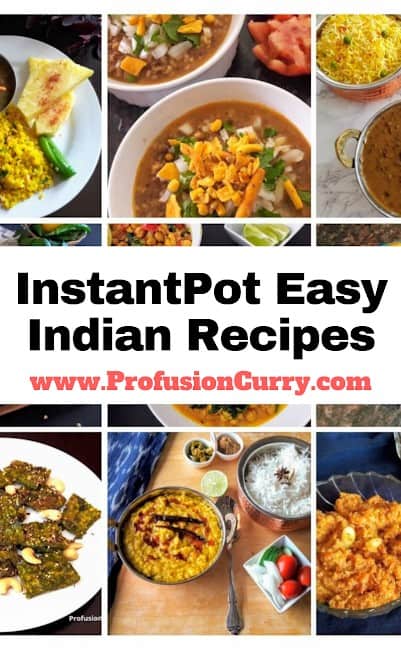 *SOME OF THE LINKS IN THIS POST ARE AFFILIATE LINKS AND WE WILL RECEIVE A SMALL COMMISSION ( at no extra cost to you) IF YOU MAKE A PURCHASE AFTER CLICKING ON OUR LINK. THANK YOU FOR SUPPORTING OUR WORK HERE AT PROFUSIONCURRY !