Indian Sweets – Dessert Recipe Collection ! Who doesn't love dessert?! Whether you're treating yourself to something sweet or you're feeding a whole crowd, you'll find some of the best Indian sweet dessert recipes here.
You don't need to wait for festivals like Diwali, Ganesh Chaturthi or Holi to whip up these delicacies – here are simple and easy recipes to try.
Easy Indian Sweets
Desserts are also called sweets in India. These authentic dessert recipes are part and parcel of Indian Culinary scene. A number of traditional Indian dishes have been adapted and modified to suit the modern culinary tastes.
This is one of the most popular recipes of them all. Have your ice cream and eat it too with these mouth-watering Indian Dessert Recipes.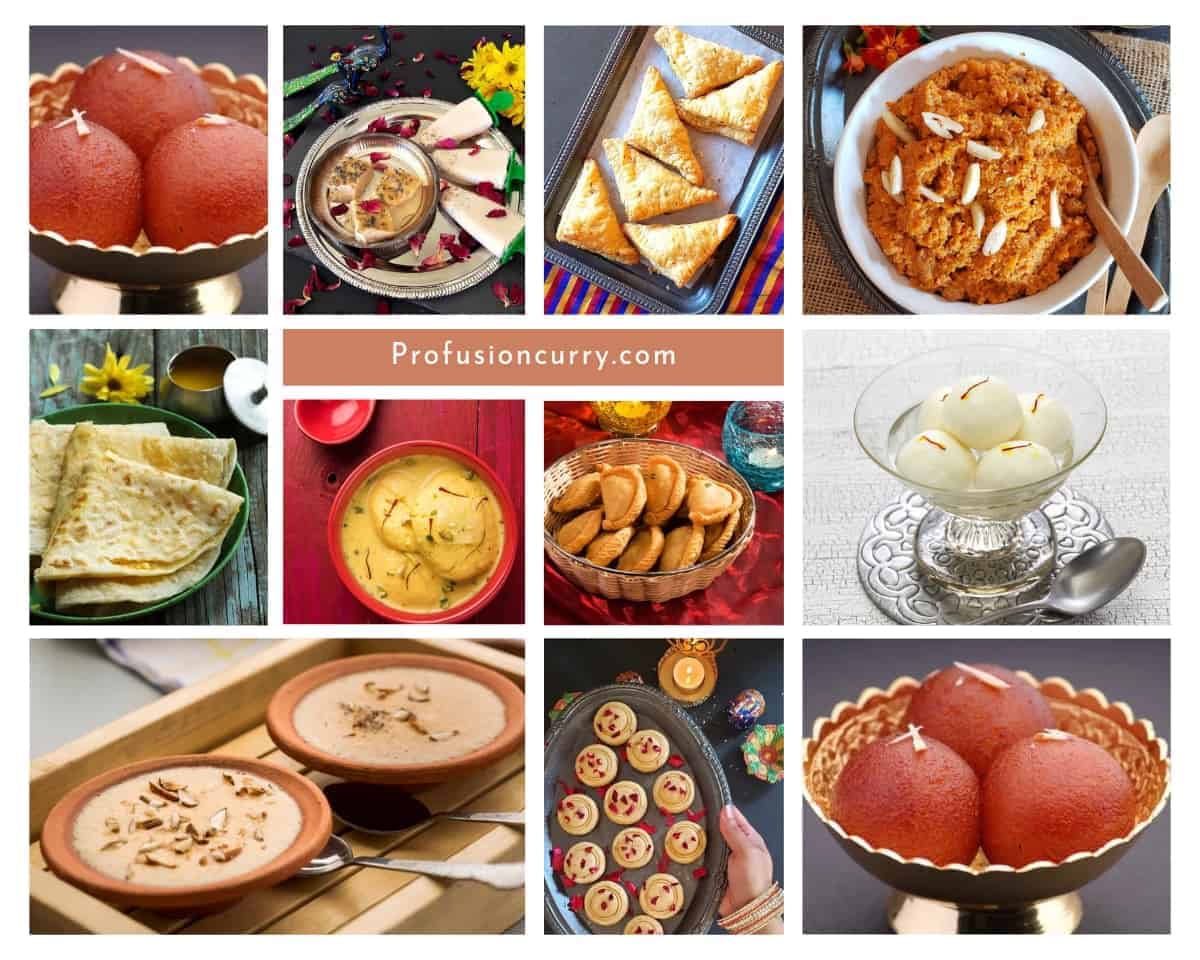 Variety of Indian Desserts
These Indian desserts are a delicious way to savor the last sweet taste of your meal. Here are some simple dessert recipes that you can try on your friends. Enjoy!
Indian dessert recipes vary from state to state. From North Indian Desserts like Gujiya, Soan Papdi and Shahi Tukra to South Indian desserts like payasum ( kheer) and mysore pak there is a great selection to entice your sweet tooth.
Western states like Maharashtra have some lip smacking delicious sweet dishes like ukadiche modak, puran poli, kaju barfi and shrikhand. Another popular dessert comes from West Bengal where rasagulla, ras malai and similar milk based sweets are popular.
Easy Homemade Sweet Dishes
It is easy to find Indian desserts in many restaurants and even ready-made at retail stores. But some people are interested in how to make the desserts by themselves.
These Indian desserts are super easy to make and can be made in advance and frozen. Try simple Indian desserts like kulfi, peda and pudding.
India has a plethora of sweets to offer in their cuisine. Here are very few Indian desserts that are tried and tested and are loved by many.
The Indian subcontinent has several unique desserts including Gulab Jamun, Sheer Khurma, Milk Fudge, Falooda and Ras Malai. These dessert recipes are great and are also simple to prepare.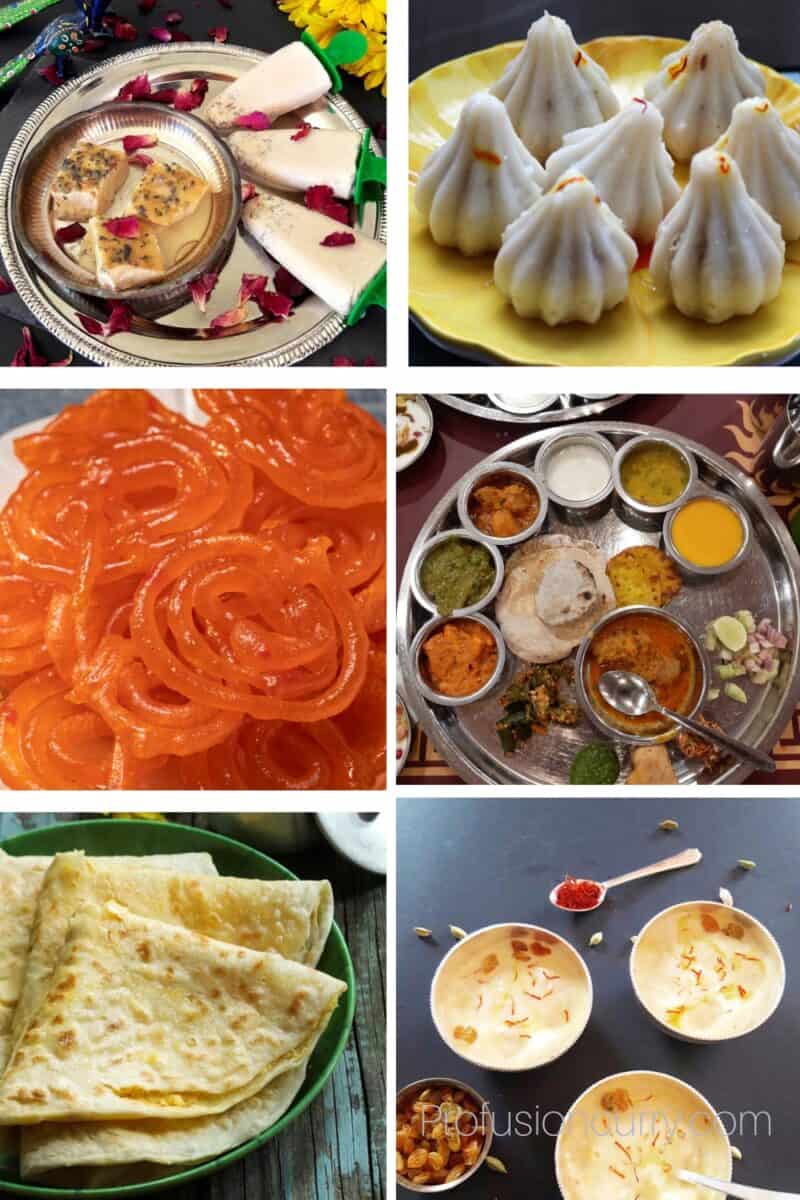 Instant Pot Indian Desserts
A lot of these desserts are prepared using electric pressure cooker like Instant Pot or Ninja Foodie. Using these gadgets help save on active monitoring, efforts and time. Do check out Gajar ka Halwa, Rice Kheer and other recipes that are made easy using Instant Pot.
Air Fryer Indian Desserts
Another cool tool in the kitchen is air fryer. Instead of deep frying the dessert, you can make use circulating hot air of the air fryer to make scrumptious desserts. Jilebi, gujiya and other such deep fried desserts are suitable for makeover in the air fryer.
Useful Ingredients
Indian desserts have their peculiar traits when it comes to ingredients used. Cardamom, saffron, nutmeg and cinnamon are widely used spices to flavor these desserts. Rose petals are used to adorns and adds beautiful display.
A lot of these recipes use milk, milk powder, milk solids, paneer, khoya as well as besan ( gram flour) which is garbanzo or chickpea flour. Jaggery and sugar tends to be the choice of sweetener. Almonds, pistachios and other nuts and coconut based recipes are popular.
I am including Amazon Associate links ( see disclosure in the footer) in case you want to buy some of these exotic spices.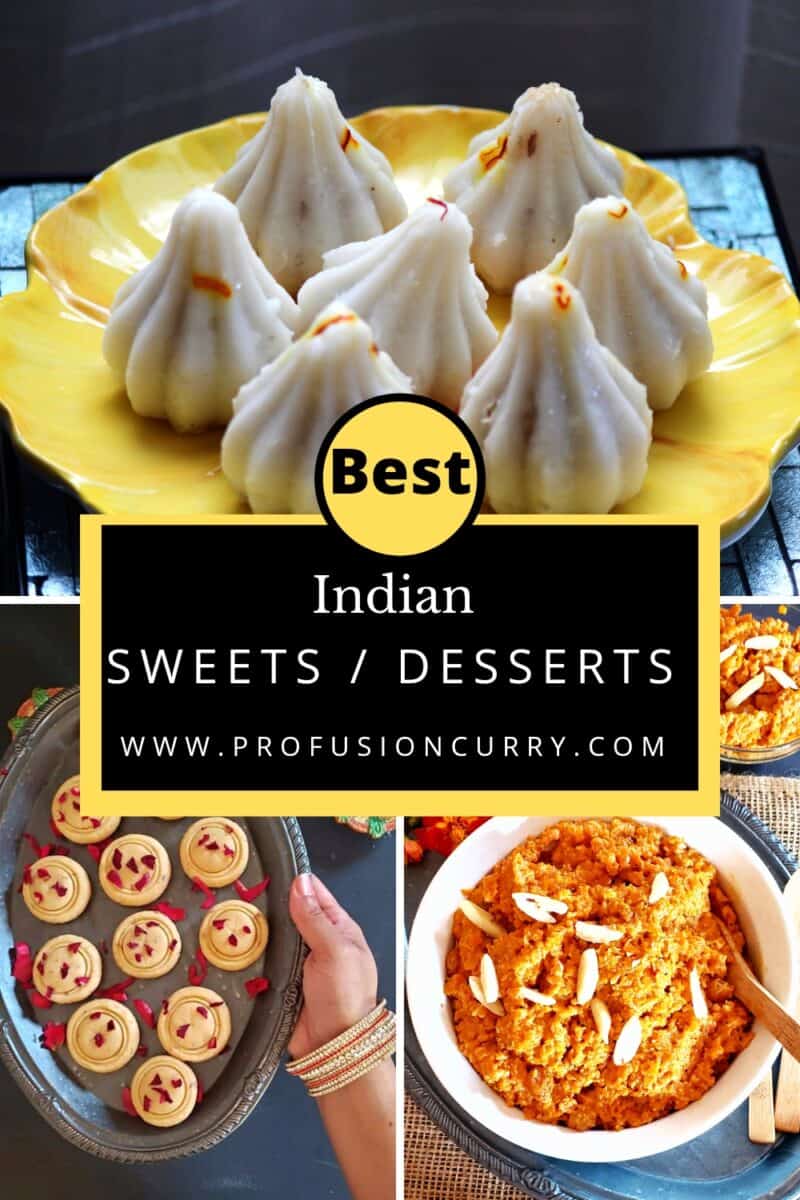 Indian Sweets
India has a plethora of sweets to offer in their cuisine. Here is delightful Indian dessert recipe collection. These recipes are tried and tested and are loved by many.

♥We would love to hear your feedback . Do let us know how you like this collection and which one is your favorite dessert recipe in the comments below. ♥
If you make any of these recipes, take a picture and tag it #profusioncurry on Instagram! We love seeing what you come up with. Cheers, friends !!
♥ Follow us on PINTEREST and like our FACEBOOK page. We love creating delicious and easy family friendly recipes from around the world. DO JOIN US ♥