Instant Pot Vegan Tapioca Pudding is fabulously creamy custard like dessert with the perfect texture and sweetness. With just 6 ingredients and easy instructions you will want to make this old time favorite dessert over and over!
Tapioca pearls are starch rich so they soak up great amount of liquid. This eggless custard recipe makes velvety creamy pudding without heavy calories. So enjoy the guilt free dessert.
This recipe uses very minimal ingredients, minimal supervision yet you get satisfying and delicious dessert! So it's a win win!! You will also love the convenience of making this Instant Pot Tapioca Pudding using electric pressure cooker and making it effortlessly.
THE RECIPE CARD IS LOCATED TOWARDS THE END. Amazon affiliate link disclosure is below as well. Before scrolling to the recipe card, do check the HELPFUL RECIPE TIPS in the post.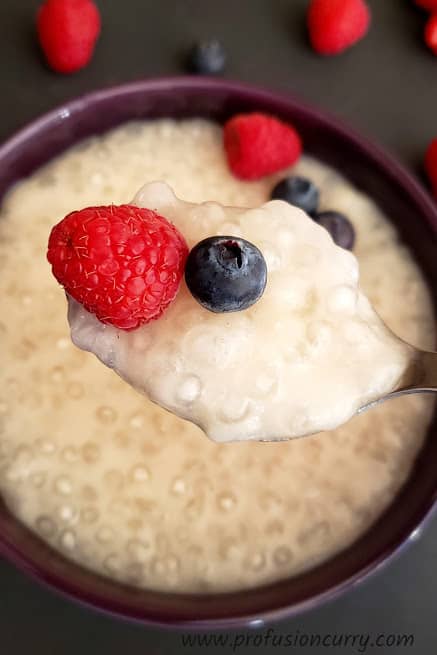 You will love this Dairy Free Tapioca Pudding because :
It's vegan and gluten free
It is easy to make.
Only natural ingredients are used.
You can make a large batch and use multiple times.
Better tasting than store brought and cost friendly too.
We love Kozy Shack's Tapioca Pudding that's sold in supermarkets and grocery stores. Every now and then, I would buy it for occasions and late night snacking.
However, added preservatives and extra filler ingredients were always a turn off. So I was looking to make a clean dessert recipe.
And few trials later, perfectly consistent quality Vegan Tapioca Pudding Recipe was born in our kitchen. Indulgent, creamy yet low calorie.
MANGO TAPIOCA PUDDING
There is a small Thai joint near our house and they make some unbelievable Mango Tapioca Pudding. That unbelievable taste is still lingering in my mind as I write this recipe.
It is easy to make it using the same recipe. Stir in ½ cup mango puree after the pudding is cooked and you have delicious Vegan Mango Tapioca Pudding to devour.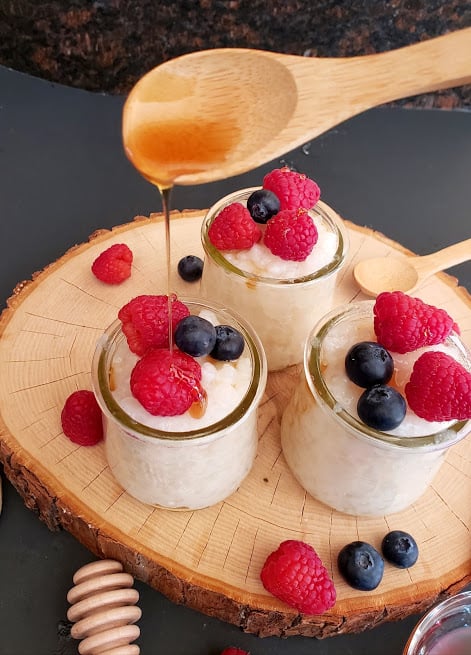 INSTANT POT VEGAN TAPIOCA PUDDING
This also is an Instant Pot Dump and Start recipe if you want to make it in electric pressure cooker, which I highly recommend.
To make Instant Pot Tapioca Pudding, you toss all of the ingredients into the pot and start it up. After it's done cooking, simply stir it. Let it cool down and then enjoy !!
The stove top method needs bit more active monitoring and constant stirring. Rest assured, whichever method you choose, it produces heavenly delicious pudding. Instructions for both the methods are included in the recipe card below.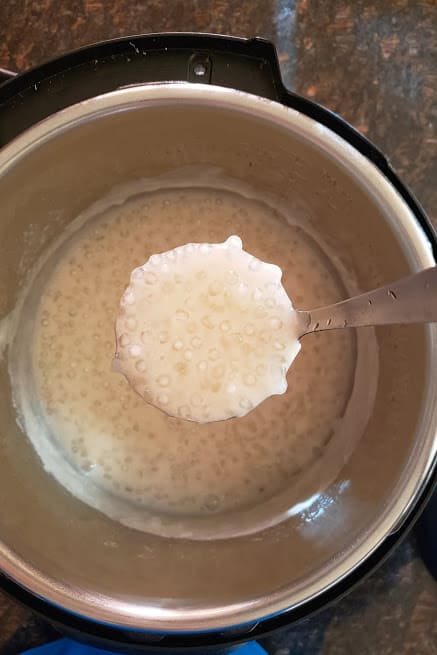 INGREDIENTS OF VEAGN TAPIOCA PUDDING
Tapioca pearls : I love using medium sized pearls. You can get tapioca pearls in most grocery stores, Asian or Indian grocery stores or on Amazon.
Milk and Thickner : I am using plant based Almond milk. You can use regular milk, any other nut milk or coconut milk. We also add ½ cup heavy cream ( plant based ) for the creamy thickness.
Sweetener: Just ¼ cup of sugar adds perfect sweet taste to this pudding. You can use sweetener of your choice like maple syrup or date syrup or agave nectar. Stevia also works.
Salt : A pinch of salt balances the flavors. I add it after the pudding is cooked so the milk doesn't curdle.
Vanilla Extract : I add a good quality vanilla extract for flavoring. Makes it perfectly flavorful and further enhances the custard feel.
Additional optional toppings: We prefer to top it off with fresh fruit like raspberries, strawberries or blueberries. Drizzle some maple syrup on top for extra charm. Chopped nuts, mango puree, lemon curd , coconut flakes or chocolate shavings are all good options.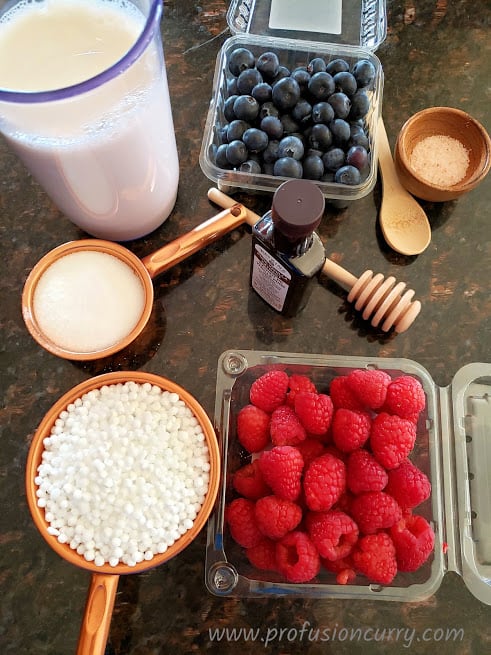 SERVING SUGGESTIONS :
Tapioca pudding will thicken up substantially more as it cools, so stir in a little more milk just before serving to loosen it up some. Garnish it with your favorite toppings and enjoy this unforgettable dessert.
I personally like to serve it as cold dessert. However you can serve it at room temperature as well. Top it off with fresh cut fruit, nuts or granola.
Enjoy some of our other easy, delicious and guilt free dessert recipes.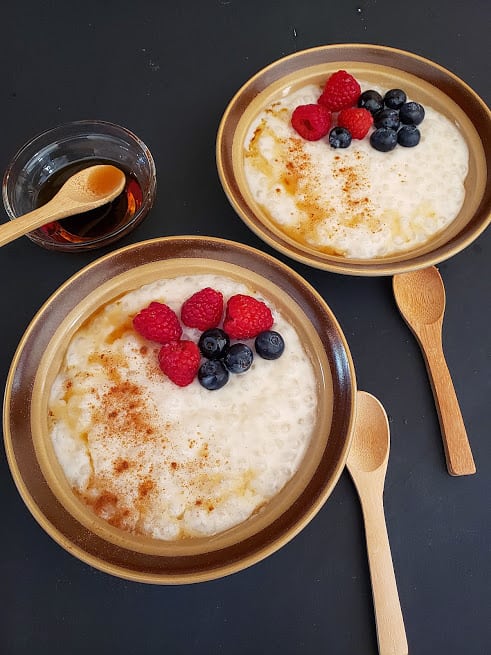 If you make any of our delicious recipes , take pictures and tag it #profusioncurry on INSTAGRAM. We would love to feature your creation.
Join us on Pinterest and FACEBOOK . You will love all our delicious, wholesome, plant based recipes from around the world.
If you make this Instant Pot Vegan Tapioca Pudding Recipe, do let us know how you like it by ★ star rating it and leaving a comment below. We would love to hear your feedback.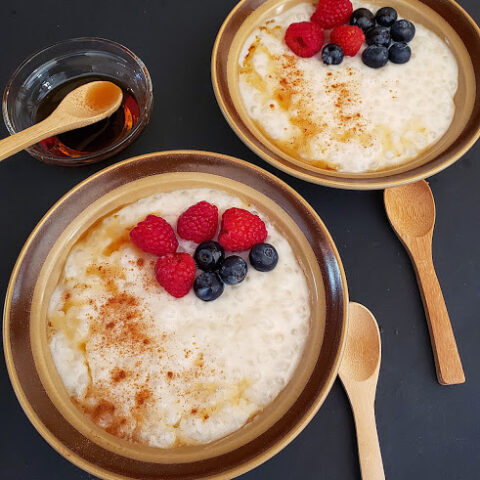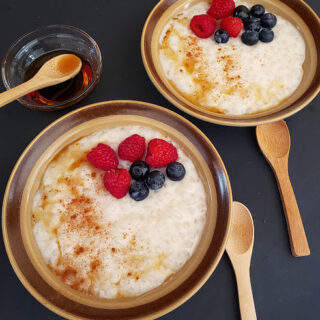 Instant Pot Vegan Tapioca Pudding
It is easy to make delicious and eggless Tapioca Pudding at home. Instant pot and stove top instructions to make 6 ingredients classic low calorie dessert.
Ingredients
1

cup

water

½

cup

heavy cream or half and half - use plant based
Instructions
INSTANT POT INSTRUCTIONS:
Lightly spray the oil spray at the base of steel inner pot. Add Tapioca pearls, milk, water and sugar in the inner pot. Give it a quick stir.

Close the lid of the Instantpot and move the valve to SEALING. Choose MANUAL or PRESSURE COOK on Hi for 5 minutes.

When Instantpot beeps after it's done cooking, Cancel the keep warm setting. Let the pressure release naturally. NPR. Once the silver pin drops, open the lid.

Add heavy cream, vanilla and salt and give the pudding mixture a good stir. Your delicious Tapioca Pudding is ready. Garnish it with your favorite toppings and serve at room temperature or chilled.
STOVE TOP DIRECTIONS:
Heat a heavy bottom sauce pan over medium heat. Lightly spray the base with cooking oil. ( optional but highly recommended ) Add water and milk to the pan and let it come to boil.

Add Tapioca pearls and sugar to the mix and give it a good stir. Let it simmer for 10-15 minutes on medium heat stirring occasionally. Milk will start reducing and tapioca pearls will be doubled in size and start looking translucent.

Keep stirring intermittently so that the pudding doesn't burn at the bottom. Once it reaches yogurt like consistency, remove it off the heat.

Stir in heavy cream, salt and vanilla extract and mix well. Let the pudding chill till it reaches room temperature. Garnish with your favorite toppings and serve chilled or at room temperature.
Notes
Tapioca pearls soak a whole lot of milk and water while and after cooking while releasing the glue like starch. If you notice there is more liquid after cooking, let it stay for couple hours and it will be get to desired thick consistency. You might have to add more milk or water to loosen the pudding when serving.
Tapioca pearls double in size in can be easily mashed if pressed between the fingers when they are fully cooked. They become translucent too.
Do not use quick minute cook tapioca pearls for this recipe.
To avoid milk scorching and burn messages, I spray the base with cooking oil. I highly recommend you do this step.
Nutrition
Serving:
1
/2 cup
Calories:
226
kcal
Carbohydrates:
21
g
Protein:
4
g
Fat:
15
g
Saturated Fat:
4
g
Polyunsaturated Fat:
10
g
Cholesterol:
17
mg
Sodium:
92
mg
Fiber:
2
g
Sugar:
2
g