Pumpkin Spice Muffins are brimming with sweet, warm and earthy flavors. They combine all the elements of classic muffins rolled into a whole-grain, nutritious treat. This recipe makes soft and moist Vegan and Gluten Free Pumpkin Muffins.
These Starbucks inspired Pumpkin Spice Muffins are our absolute favorite. These baked goodies are perfect fall and autumn treat. These 1 bowl vegan pumpkin muffins are easy to make at home.
This plant-powered, vegan breakfast / dessert is sweet, velvety, loaded with omega-3 ALA fatty acids, antioxidant-rich pumpkins, and whole-grain goodness from oats. And unlike other bakery goods, it actually uses pumpkin puree in it !! Ta da.
THE RECIPE CARD IS LOCATED TOWARDS THE END. Amazon affiliate link disclosure is below as well. Before scrolling to the recipe card, do check the HELPFUL RECIPE NOTES in the post.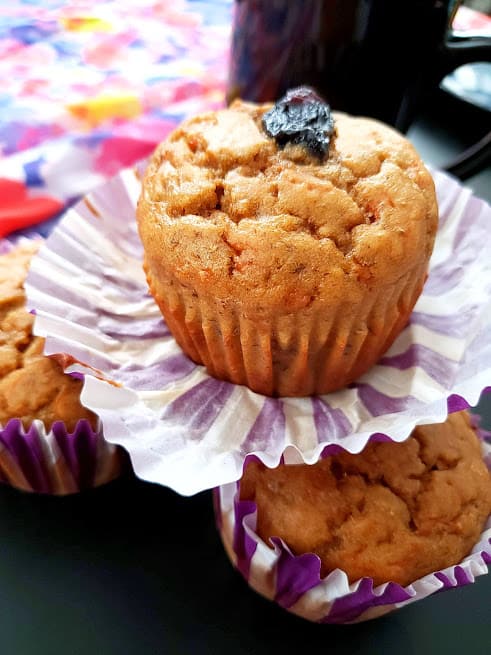 When Starbucks rolls out their Pumpkin Spice Latte in late August, everyone starts feeling the fall / autumn vibes. We start to see pumpkins everywhere and then there are all the baked products with wafting warm aromas.
Fall is my favorite time of the year. I love celebrating this season by incorporating recipes that resonate the changing season and seasonal produce.
These pumpkin spice muffins are my absolute favorite for serving at a brunch. I often take them to office to surprise my colleagues.
And we love to pair them with steaming cup of coffee for a quick weekday morning breakfast. They double as a evening quick snack, after school snack or even after dinner dessert.
For best results, serve them warm. I like to smear a bit of nut butter for extra moisture and decadence.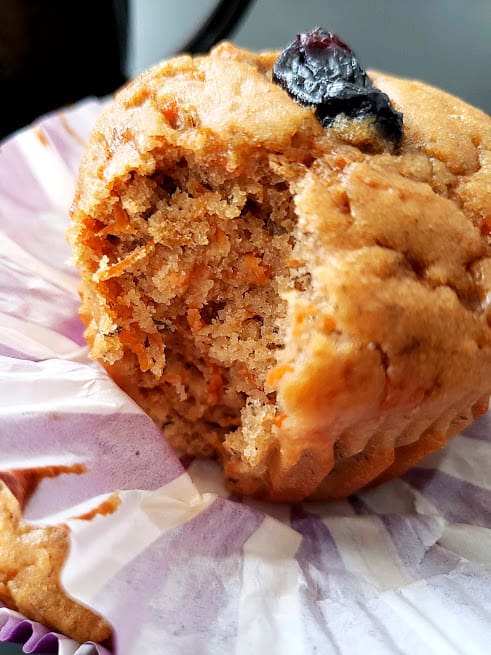 WHAT IS PUMPKIN SPICE ?
Pumpkin Spice is ground blend of cinnamon, ginger, nutmeg, allspice, and cloves. Easy to make it at home.
Adding Amazon affiliate link in case you want to buy my favorite brand.
A must have spice to warm up the fall season. It tastes amazing while making pies, breads, cookies, and cakes. We love to spice up yogurt, lattes, oatmeal, or roasted veggies too.
This recipe is easy and I bet you have most, if not everything, you need to make it at home right now. Added bonus, preparation time is just 10 minutes!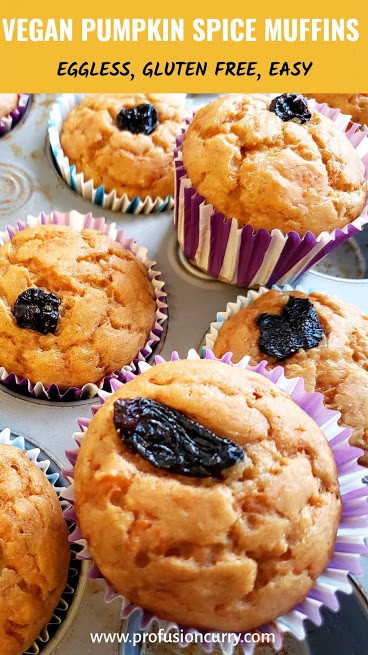 HOW TO MAKE PUMPKIN SPICE MUFFINS VEGAN ?
These muffins are naturally dairy-free. I use apple sauce instead of oil and milk to make the muffins and cupcakes . It brings rich creaminess to the recipe.
The other key component to making these muffins plant-based is using a flax egg. To make a flax egg, simply whisk 1 Tbsp. ground flaxseed with 2 Tbsp. water and let it sit until gelatinized, about 5 minutes. A flax egg acts as a binder (similarly to an egg) in this recipe.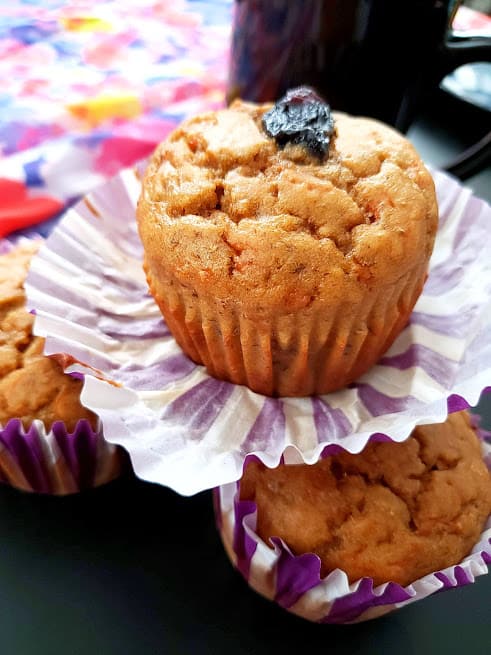 WHAT ARE THE INGREDIENTS OF VEGAN PUMPKIN SPICE MUFFINS?
As with any baking recipe, the ingredients includes dry ingredients and wet ingredients. For dry ingredients and base of these muffins, I am using gluten free oats flour. You can also use almond flour to make this recipe flourless.
As a sweetener, I am using coconut sugar. You can use any sweetener of your choice, including regular sugar, brown sugar or even maple syrup. Also , this recipe uses pumpkin puree, ripe banana and apple sauce all of which are sweet naturally. You can adjust the sweetener accordingly.
For making these muffins fluffier, we use ground flax seed, baking soda and baking powder.
The pumpkin spice muffins won't be their name sake without the pumpkin spice. So that is a must ingredient. A pinch of salt ties all the flavors together.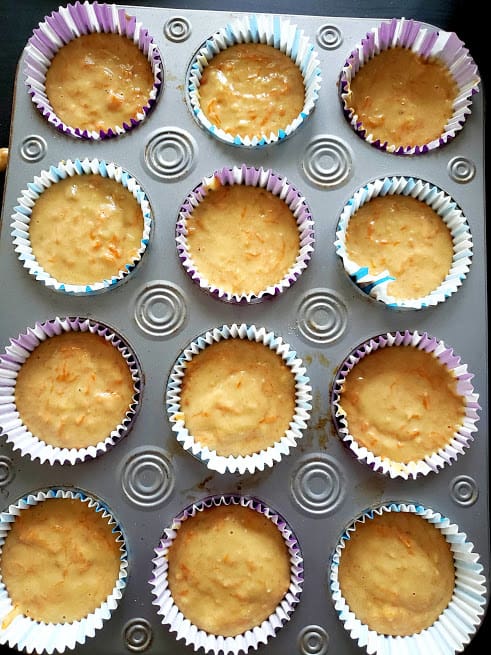 Here are some of our popular vegan recipes. You will love making these easy , delicious and wholesome recipes.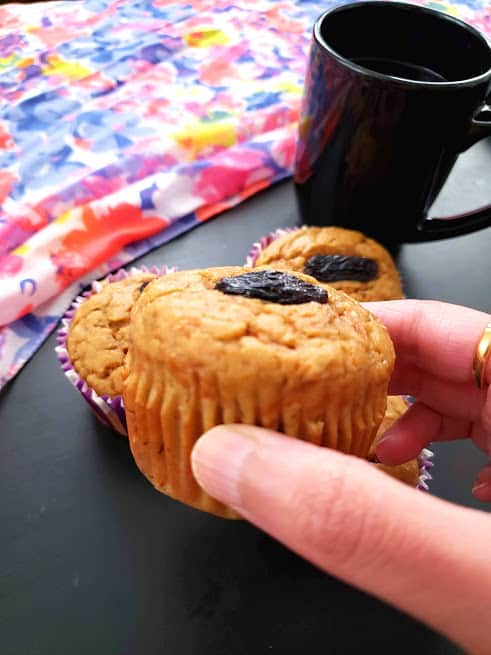 ★ If you make these Vegan Pumpkin Spice Muffins Recipe, do let us know how you like it by ★ star rating it and leaving a comment below. We would love to hear your feedback. Use the PIN button in the recipe card or image below to pin this recipe !
And don't forget to follow us on Pinterest and like our FACEBOOK page. We love creating delicious , plant based recipes from around the world. DO JOIN US !!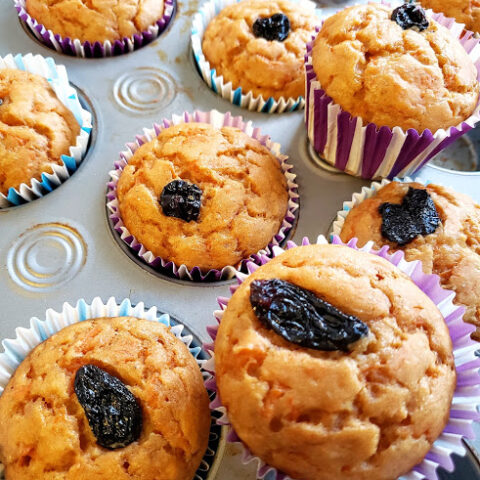 Vegan Pumpkin Spice Muffins
Vegan and Gluten free Pumpkin Spice Muffins are perfect for Fall dessert, breakfast or snack. They are moist , fluffy and perfectly spiced. Best home made pumkin muffins in under 30 minutes.
Ingredients
1 ripe banana
1 cup pumpkin purée
1/3 cup apple sauce
2 tablespoons ground flax seed
4 tablespoon water
1/2 cup coconut sugar
1 tsp baking soda
1 tsp baking powder
1 teaspoon pumpkin spice
Pinch of salt
1.5 cups whole grain oats flour
1 tablespoon raisins - optional garnish.
Instructions
Heat oven to 325 degrees F. Line 12 regular size muffin cups with paper or cupcake liners.
In a small bowl, whisk together the flaxseed with water and let it sit for 5 minutes.
Sift the flour, baking powder, baking soda, salt and pumpkin spice mix into a medium bowl. Whisk until blended.
Peel the banana and using a fork, mash it well.
Combine pumpkin puree, mashed banana and apple sauce. Whisk it few times so everything is well combined.
Combine the dry ingredients, wet ingredients and flaxseed water mix together. Make sure it's a smooth paste without lumps.
Fill each muffin cup 3/4 full – the batter should be just enough for 12 cupcakes. Sprinkle some raisins on the top.
Bake cupcakes at 350 F in the middle rack of the oven until a toothpick or cake tester comes out clean when inserted into the middle of a cupcake, 20 to 25 minutes.
Cool the muffins on the rack for some time. Then enjoy your beautiful creation !
Recommended Products
As an Amazon Associate and member of other affiliate programs, I earn from qualifying purchases.
Nutrition Information:
Yield:

12
Serving Size:

1
Amount Per Serving:
Calories:

137
Total Fat:

1g
Saturated Fat:

0g
Trans Fat:

0g
Unsaturated Fat:

1g
Cholesterol:

0mg
Carbohydrates:

29g
Fiber:

3g
Sugar:

11g
Protein:

3g