Apple Pie Oatmeal is a gourmet breakfast recipe. It feels indulgent when you are eating dessert for the breakfast or brunch. This vegan, dairy and refined-sugar free Instant Pot recipe is truly a breakfast of champions.
On cold, wintry breezy mornings, when it is really hard to push yourself out of the bed. You need something yummy and enticing to get yourself rolling. You need something warm and comforting. Bonus if it is creamy, delicious and effortless….this is where the Apple Pie Oatmeal enters the scene to brighten your day!!
And it is quick and easy to make. Wholesome and filling recipes are always welcome in my house. Especially if they require as little as 15 minutes to make and taste heavenly. Electric pressure cookers like Instant Pot helps in making it happen.
THE RECIPE CARD IS LOCATED TOWARDS THE END. Amazon affiliate link disclosure is below as well. Before scrolling to the recipe card, do check the HELPFUL RECIPE TIPS in the post.
HOW TO MAKE APPLE CINNAMON OATS AT HOME?
This perfect Autumn breakfast recipe is made from scratch with very few pantry ingredients. And it tastes WAY better than oatmeal package with dehydrated apples. Enjoy lots of Fall flavors in this delicious breakfast!
Dump everything in the Instant Pot, set it, and forget it .. ok don't forget it since you will start smelling the incredible aroma of cinnamon and nutmeg.. so get yourself ready for a cozy bowl of rich and creamy apple cinnamon oats.
Cinnamon with apples is my favorite fall / autumn food pairing. The warm and earthy spices and sweet and succulent apples make wonderful dishes.
Besides this Instantpot Apple Pie Oatmeal, you will like some more fall favorite recipes like APPLE BUTTER SAUCE or savory Apple Ginger Chutney.
Do check out some of our other easy breakfast recipes like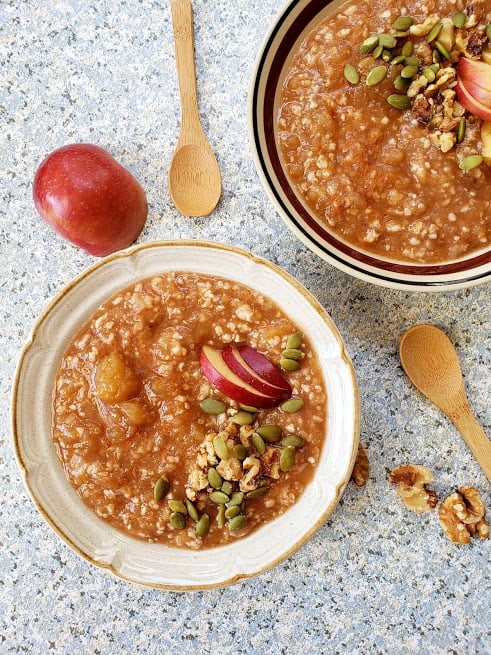 What are the Ingredients of Apple Cinnamon Oatmeal Recipe?
Simple pantry ingredients is all you need. We are using Bob Red Mills Gluten free steel cut oats. Also there are peeled and diced apples. For flavoring, we use ground cinnamon, nutmeg, pure vanilla extract and pinch of salt. I am using maple syrup for hint of sweetness. For garnish, I love chopped walnuts and pumpkin seeds.
Adding Amazon affiliate links for my go to items to make this recipe.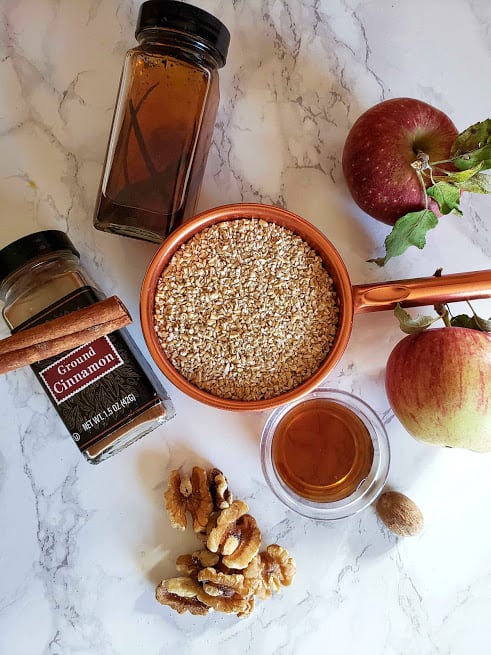 Some additional topping ideas to make this Instantpot Apple Pie Oatmeal recipe unique and to your likings.
Top it off with Greek yogurt, chia seeds, granola, chopped pecans, toasted coconut flakes or almonds. Cut fruits like strawberries, raspberries or blueberries also taste amazing.
To switch things up, you can add pumpkin puree to the mix along with or instead of apples. Pumpkin Spiced Oatmeal is another fall favorite recipe.
Instant Pot Apple Pie Steel Cut Oats is a vegan, dairy-free, refined-sugar free, healthy pressure cooker recipe. It is easy to adjust to your preferences and dietary choices including sweeteners. You can easily replace maple syrup with stevia
ARE STEEL CUT OATS BETTER THAN ROLLED OATS?
I am using steel cut oats and not regular oats for this recipe. For pressure cooking recipes, I use steel cut oats. For baking muffins, cookies and granola bars, I prefer Rolled Oats.
If you compare the nutritional value of rolled oats vs steel cut oats, you will find they are very comparable. They are both heart healthy, complex carbohydrates and their per serving of calories and fat are pretty much the same.
So, the main difference is the texture and the amount of processing and how they are processed.
Steel cut oats are cut into thin slices by steel blades. This process retains fiber and protein. Steel cut oats help you feel fuller after eating them. These oats are denser and have more fiber, so they use and absorb more water while they cook.
On the other hand , Rolled oats are rolled out and flattened. They have fluffier texture. They get gulpy if over cooked. So they are often used in the recipes requiring less cooking time.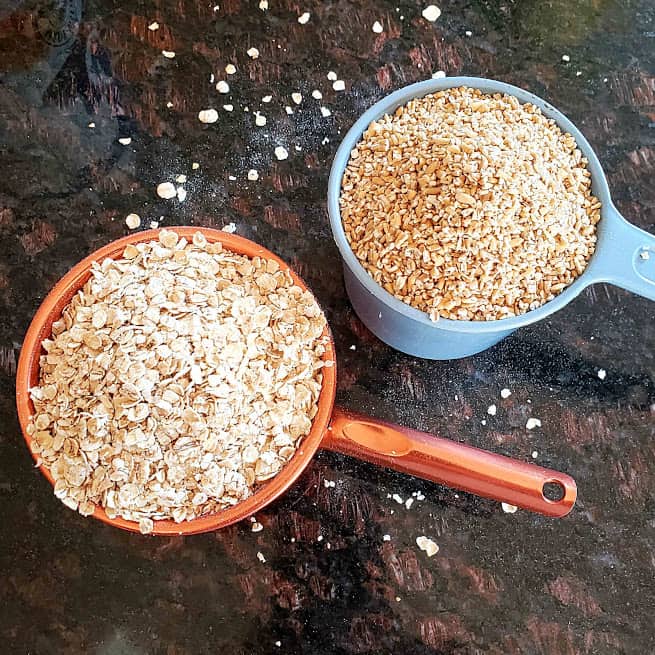 HOW TO COOK STEEL CUT OATS ?
Whole grain steel cut oats take up to 20 minutes to cook on the stove. You use 3/4 cup of liquid to 1/4 cup of oats. Also, you need to monitor the cooking by frequent stirring to avoid burns.
With the Instant Pot, you can do them in half that time. Also, no need to watch them cook or stir. More freedom, less work for easy breezy morning!!
For holiday gatherings and brunch, this recipe works beautifully as you can do make-ahead breakfast or meal prep.
You can also put all of your items in the Instant Pot overnight. Let it sit in the fridge and then just do the pressure cooking in the morning.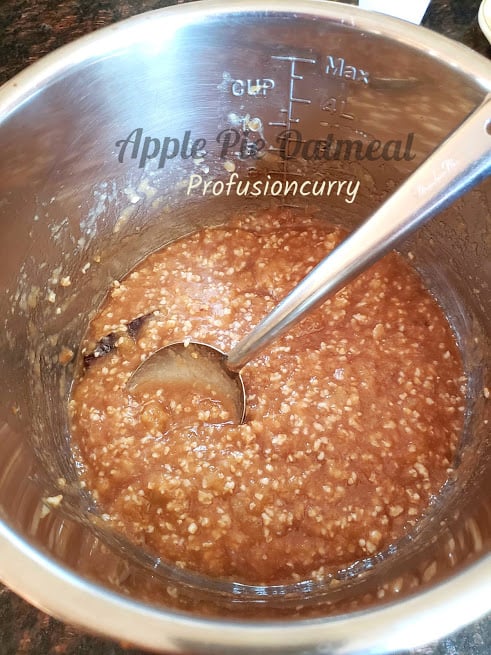 CAN YOU REHEAT INSTANTPOT APPLE CINNAMON OATS?
Yes. I like to meal prep the oats and store them in individual serving glass containers. I use the microwave to reheat.
You can even pack it in a thermos for healthy breakfast on the go.
HOW LONG DO HOME – MADE APPLE CINNAMON OATS LAST?
You can store Apple Pie Oats in an airtight container in the fridge for 3-4 days. I recommend to warm them up before you want to eat the oatmeal. If you feel they are too thick , add some water or milk to make them creamy again.
We would love to hear how you like this delicious recipe. Use the PIN button in the recipe card or image below to pin this recipe !
Follow us on Pinterest and like our FACEBOOK page. We love creating delicious , plant based recipes from around the world. DO JOIN US !!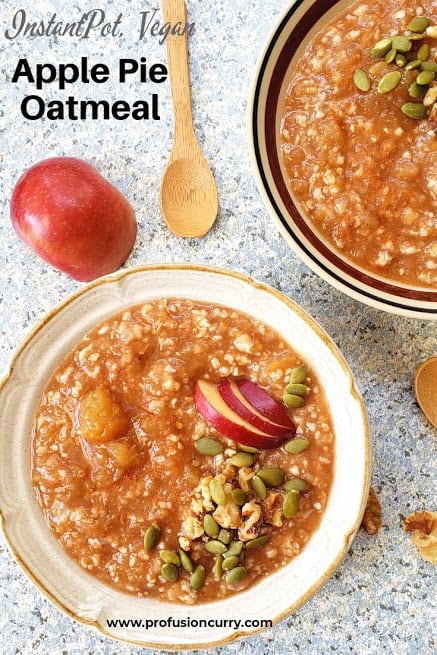 ★ If you make this Instant Pot Apple Pie Oatmeal Recipe, do let us know how you like it by ★star rating it and leaving a comment below.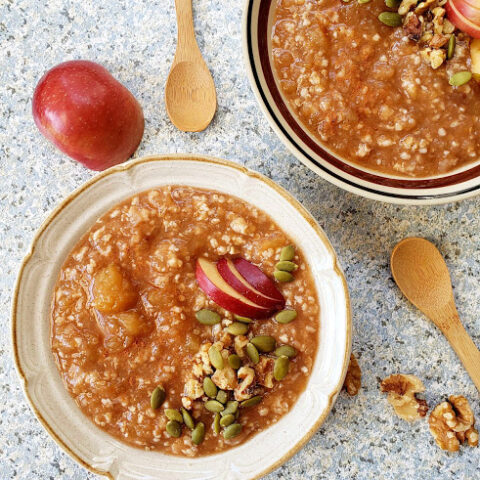 Instant Pot Apple Pie Oatmeal
Apple Pie Steel Cut Oatmeal made in Instant Pot is a vegan, dairy-free, refined-sugar free breakfast or brunch recipe . This dump and go easy recipe is healthy and wholesome.
Ingredients
1 cup steel cut oats
1 tbsp of oil or cooking oil spray to grease the InstantPot
2 apples cored and diced
1/4 cup maple syrup or any other sweetener of your choice
1 cup almond milk or any other plant milk
2 cups water
1 tsp ground cinnamon
1 tbsp vanilla extract
1/4 tsp ground nutmeg
Pinch of salt
2 tbsp chopped walnuts for topping
1 tbsp pumpkin seeds for topping
Instructions
Grease the sides and bottom of the Instant Pot with cooking oil spray. You can rub the tablespoon of oil all around too. This step ensures that the oats don't stick to the pot and cause burn message.
Add all of the ingredients to the pot (with the exception of the toppings)
Close the lid and place the valve to SEALING. Choose Manual High-Pressure Cooking for 10 minutes.
After Instant Pot finishes cooking and goes to keep warm timer, press cancel so the cooking stops and the pressure cooker is off.
Allow the steam release naturally for 10 minutes. Then move the valve to VENTING so leftover pressure will be released before opening the pot.
Stir the oatmeal gently so all the flavors mix well.
Serve the oatmeal in bowls topped with chopped walnuts and pumpkin seeds. Bon Appetit!!
Notes
Do not perform a Quick Pressure Release when making this recipe. Oats foam up while cooking so they will splatter around if you do immediate quick pressure release.
Do not let the Instant Pot go to KEEP WARM setting after it beeps when finished cooking. You should just turn it off. Keep warm setting may turn into oats getting burned at the base since they keep cooking further.
To avoid BURN message, do not stir the ingredients. Also, if you use regular milk, cook with water only and then add warm milk after it's finished cooking.
Nutrition Information:
Yield:

6
Serving Size:

1
Amount Per Serving:
Calories:

252
Total Fat:

10g
Saturated Fat:

1g
Trans Fat:

0g
Unsaturated Fat:

8g
Cholesterol:

3mg
Sodium:

51mg
Carbohydrates:

36g
Fiber:

5g
Sugar:

12g
Protein:

6g