This Homemade Apple Butter Recipe is made with simple ingredients, without added sugar and gets ready in just over 30 minutes. Pressure cooker apple butter is a must have recipe for fall.
Homemade apple sauce with beautiful caramel color, rich and earthy flavors and hint of tart and sweet taste is one of the best recipes of fall. It reminds you of divine apple pie filling. Comforting and wholesome!!
THE RECIPE CARD IS LOCATED TOWARDS THE END. Amazon affiliate link disclosure is below as well. Before scrolling to the recipe card, do check the HELPFUL RECIPE TIPS in the post!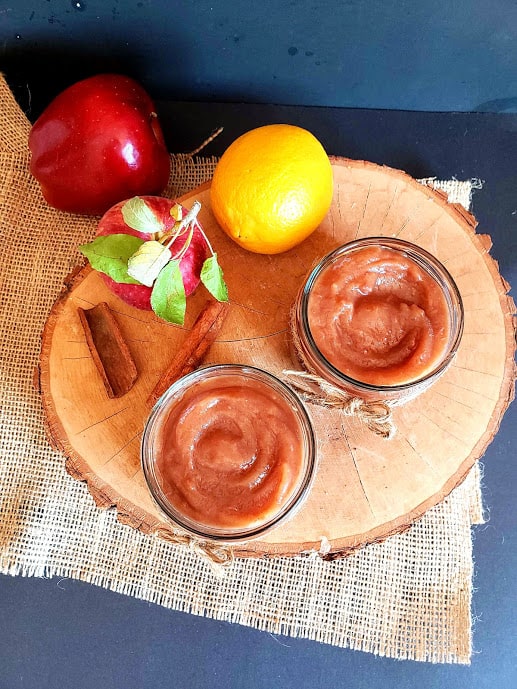 Apple picking is one of our favorite family activities once the school gets underway. Making a trip to apple orchids and picking up bushels of apples is such a relaxing and refreshing way to get close to nature and family bonding.
So with all those apple hauls, we have to make best use of the delicious fruit. I love snacking on it's own , with nut butter and adding it in salads. For something ultra comforting, I love making this Delicious Apple Butter.
You will love this InstantPot Apple Butter recipe since I have taken all the hard work out of making creamy velvety smooth apple sauce.
No – peeling the apple skin
No – added sweetener or sugar
No – additional pectin or preservatives
Yes – rich color, delicious flavors and smooth texture.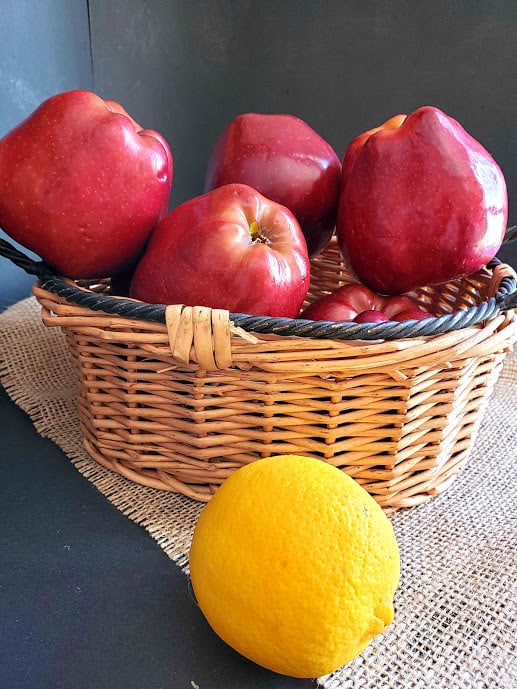 WHAT IS THE DIFFERENCE BETWEEN APPLE BUTTER AND APPLE SAUCE?
Mainly it's the cooking time and thickness that differentiates apple sauce from apple butter. While making apple butter, apples are cooked down to a buttery texture so it's thicker. Apple sauce on the other hand, is mushy with more watery and pulpy texture. The flavors in apple butter are more intense since it's cooked longer.
I love to thicken my apple sauce just a tad longer so it nicely caramelizes and thickens. However you can still spread it like a jam or eat a spoonful. So I am using the term interchangeably. It's homemade apple creation so it may not fit exact definition anyways. And that's ok since taste and texture of this recipe is simply heavenly.
Delicious Apple Butter is one of easiest recipe to make in fall or autumn season. It tastes way better than store brought apple sauce.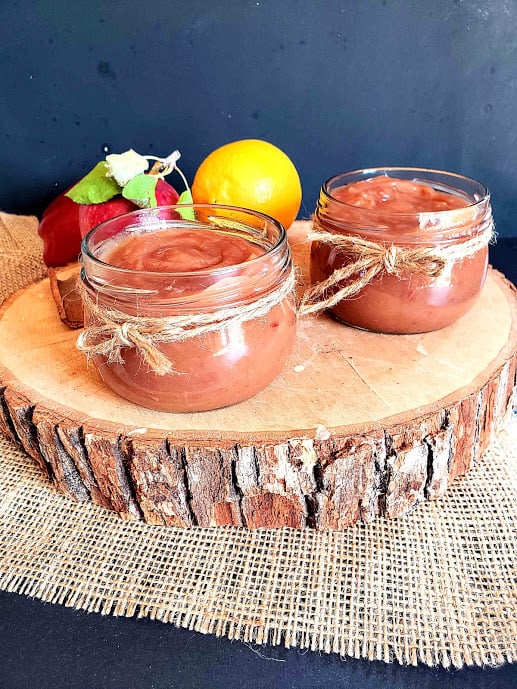 WHAT ARE THE USES OF APPLE BUTTER OR APPLE SAUCE?
This easy and delicious Homemade Apple butter is good as a simple snack, healthy dessert, or alongside more savory dishes such as this Whole Roasted Cauliflower or Grilled Portabella Mushrooms.
We love to jazz up every day breakfast or dessert using this apple butter. Whenever you crave a little sweet fall flavor, add a spoonful of homemade apple butter. Yummy!!
You might want to put this apple butter in cute fancy jars and give them out as party favors or a hostess gift during holiday season! I can't tell you how happy my friends and family are to receive such cute and lovely thoughtful gifts.
And it goes beautifully on the fall / autumn theme appetizer platter. You will want to make this platter over and over again for holiday dinner and Thanksgiving hosting.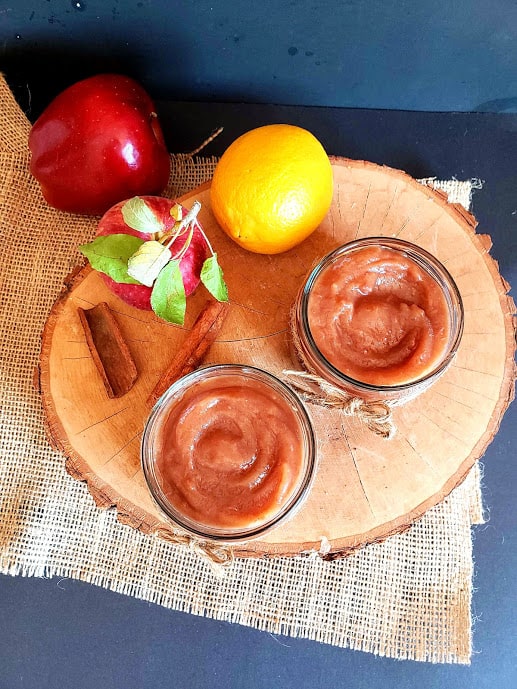 HOW TO MAKE HOMEMADE APPLE BUTTER ?
You won't believe how easy it is to make your own apple butter from scratch. Gather few basic ingredients, and toss it in electric pressure cooker like InstantPot or crockpot and voila !! Your hands off apple butter will be ready without much baby sitting.
If you go by stovetop route, you will have watch out couple times so it's not scorching at the base. Nothing too complicated though. And the delicious aroma that fills your home will be added bonus !!
WHICH APPLES DO YOU USE TO MAKE APPLE BUTTER SAUCE?
Different apples provide different flavors and textures and taste. So you can use whichever variety suits your taste.
Since I like to make Unsweetened Apple Butter, I prefer to use Gala Apples or Red Delicious Apples. Both these varieties also have nice meaty texture to them so you get smooth and creamy Apple butter.
Lobo, Jonathan , Honey Crisp , Fuji and Mackintosh apples are naturally sweet so you don't need to add extra sugar or sweetener. If you use Granny Smith or other tart varieties, your apple butter will be bit sour and tart.
Since apples are on dirty dozen list of pesticides , I prefer to use organic apples as much as possible. If you don't have organic varieties easily available make sure to scrub the apples well to remove waxy residue on outer layer.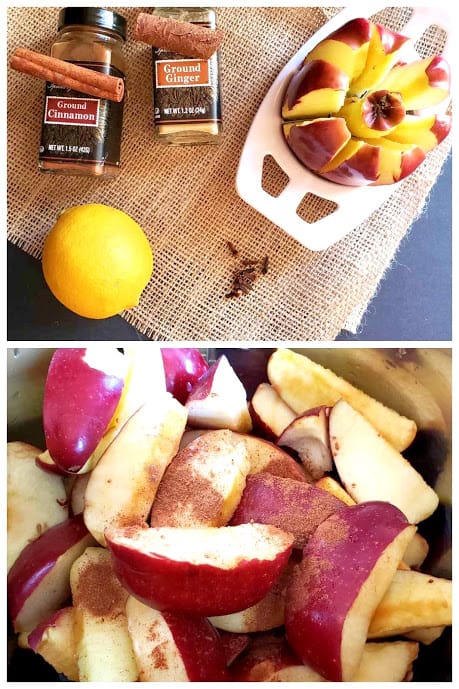 TOOLS USED IN MAKING EASY APPLE BUTTER
WHAT ARE THE STEPS IN MAKING HOME MADE APPLE BUTTER SAUCE?
Wash and cut the apples.

Put the apples and spices into the Instant Pot.

Let it cook while spreading heavenly aroma

Blend the cooked apples.

Let it cool down so you can devour !!
WHAT ARE THE SPICES USED IN UNSWEETNED APPLE BUTTER ?
The recipe includes nutmeg and cinnamon – the quintessential favorite pairing . We like our apple butter sauce flavored with pumpkin spice. So we often add ground ginger, cloves and all spice to this recipe. You can spice yours however you'd like.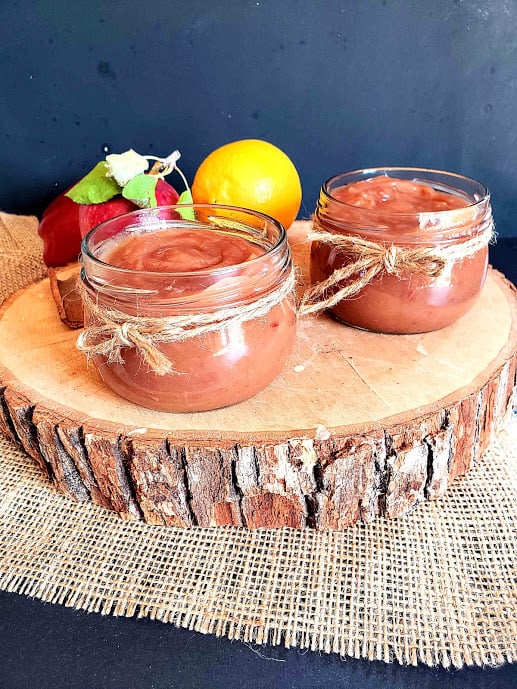 HERE ARE SOME OTHER FALL SEASON INSPIRED RECIPES WE LOVE TO CREATE IN OUR KITCHEN. DO CHECK THEM OUT.

Don't forget to follow us on Pinterest and like our FACEBOOK page. We love creating delicious , plant based recipes from around the world. DO JOIN US !!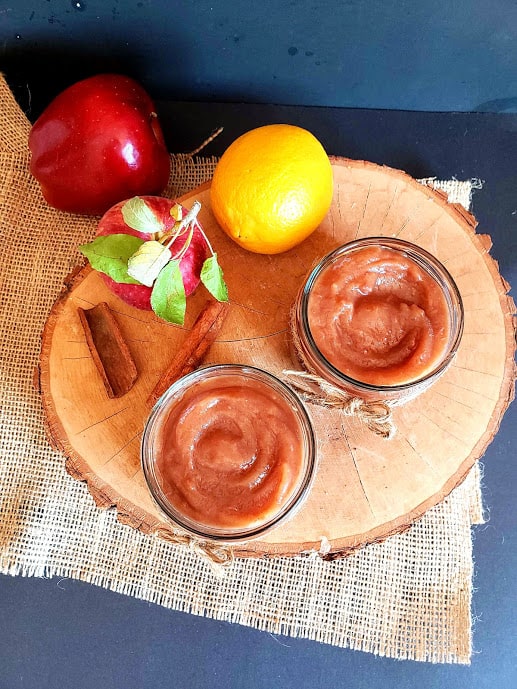 ★ If you make this HOMEMADE UNSWEETNED APPLE BUTTER SAUCE recipe, do let us know how you like it by ★ star rating it and leaving a comment below. We would love to hear your feedback !! Use the PIN button to pin the recipe.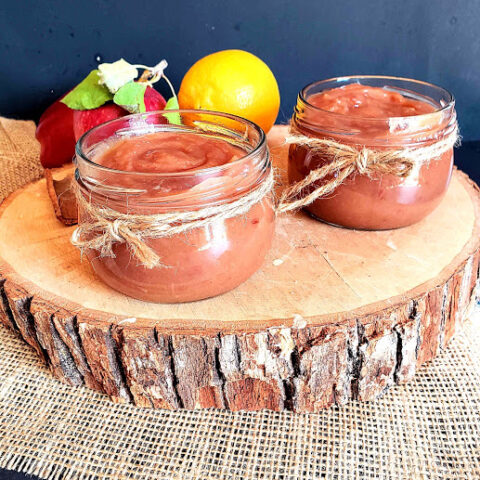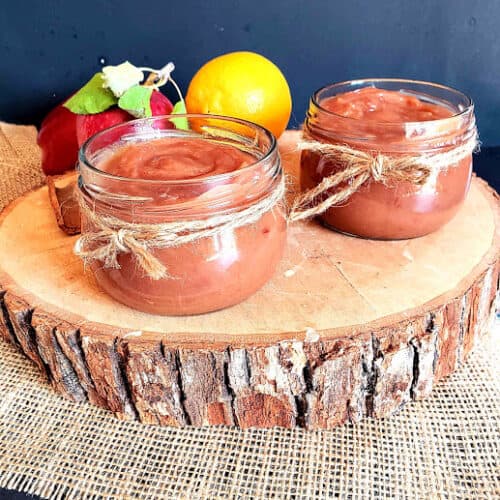 Apple Butter Sauce - Instantpot - No Sugar, No Peel
Instantpot Apple Butter Sauce is deliciously flavored and easy to prepare. Rich caramel color and silky smooth texture and heavenly flavors are all yours to enjoy
Ingredients
5 lbs Apples cored and chopped (about 10-12 apples)
1/2 tbsp Cinnamon
1/4 tsp Nutmeg
1 tbsp vanilla extract
2 Tbsp Fresh Lemon Juice
1/4 cup water
Pinch of salt
Optional Spices
1 tsp ground ginger
1/4 tsp ground cloves
1/4 tsp ground allspice
Instructions
Wash and dry the Apples. Using the apple slicer or pairing knife, slice the apples.

Add apple slices, spices, lemon juice and water to the main insert of your Instant Pot. Put the lid on the Instant Pot, set valve to SEALING. Choose MANUAL or PRESSURE COOK for 15 minutes on high.

When InstantPot beeps after it's done cooking, wait for 10 minutes on keep warm timer and then release the pressure by moving the valve to venting. Open the lid.

Using the immersion blender, carefully puree the cooked apples and spices together. Mixture will be hot so be extra careful.

Press the SAUTE button. Place the splatter proof screen or glass cover and in between keep stirring the apple butter frequently for 10-15 minutes.

Keep sauteing until the sauce reches your desired consistency. At this point, puree should have thickened substantially. Cancel the SAUTE mode.

Let the apple butter cool down completely. Transfer it into jars or glass containers. You can store in the fridge for a week, or you can also freeze it in freezer jars for longer time.
Notes
The spices listed under optional give this apple butter sauce wonderful pumpkin spice flavor. You can however, skip those if you prefer plain apple butter.
For CrockPot setting, Put all the ingredients in the slow cooker or crockpot and let it cook for 6 hours. once it's cooked, puree the mixture using the immersion blender. Saute it again until sauce reaches desired thickness.
Nutrition Information:
Yield:

8
Serving Size:

1
Amount Per Serving:
Calories:

158
Total Fat:

1g
Saturated Fat:

0g
Trans Fat:

0g
Unsaturated Fat:

0g
Cholesterol:

0mg
Sodium:

20mg
Carbohydrates:

41g
Fiber:

7g
Sugar:

30g
Protein:

1g