Ukadiche Modak are velvety soft Indian Rice Dumplings filled with aromatic and sweet mixture of coconut, jaggery, cardamom, nutmeg and saffron. A traditional delicacy that is a treasured recipe !!
Ganesh Chaturthi is a my most favorite Indian festival. I get quiet nostalgic when I think of all the wonderful vibes that resonate Ganesh Chaturthi. It is a 10 day festival celebration that is integral part of Maharashtra, India and around. When we were kids, my sisters and I used to wait for month of September because Ganesh Chaturthi was around. Ukadiche Modak are made during Ganesh Chaturthi and are integral part of celebration.
Lord Ganesh is a deity that is worshipped for all things beautiful. This festival is celebrated with lot of enthusiasm and zeal all over India. There is a lot of excitement in the air during the festival season. Beautiful Idols are worshipped along with cultural activities and yummy spread !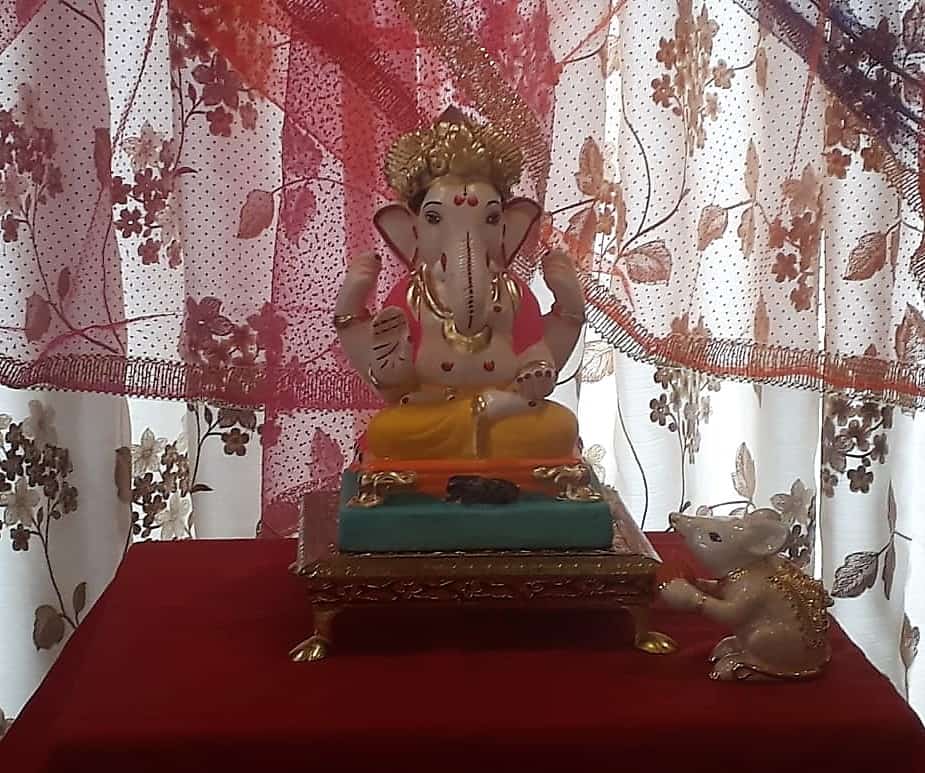 The yummy Ukadiche Modak need no introduction for lot of us Indians. It is offered as the special prasad especially on Ganesh Chaturthi! Ganapati festival is always incomplete without the traditional ukadiche modak recipe offered to lord Ganesh.
There are umpteen combinations of modak fillings. Soft , luscious steamed one's are the most treasured ones !
Here is the Traditional Ukadiche Modak recipe. Soft rice flour shells are filled with a succulent mixture of jaggery and coconut and flavored with cardamom, saffron and nutmeg. This mouth-watering delicacy is an inseparable part of Ganesh Chaturthi celebrations.
However, making modak the traditional way is a skillful task. It needs expert kneading techniques and the consistency of the dough has to perfect. Shaping the modak needs some practice. Making soft pliable dough is a work of art. It is important to have these dumpling crack free since they get steamed. The presentation and the taste has to be perfect.
These recipes are handed down to us from generations. My mom learnt it from her mom and grandma from her's. Do you get the idea? High nostalgic factor indeed !!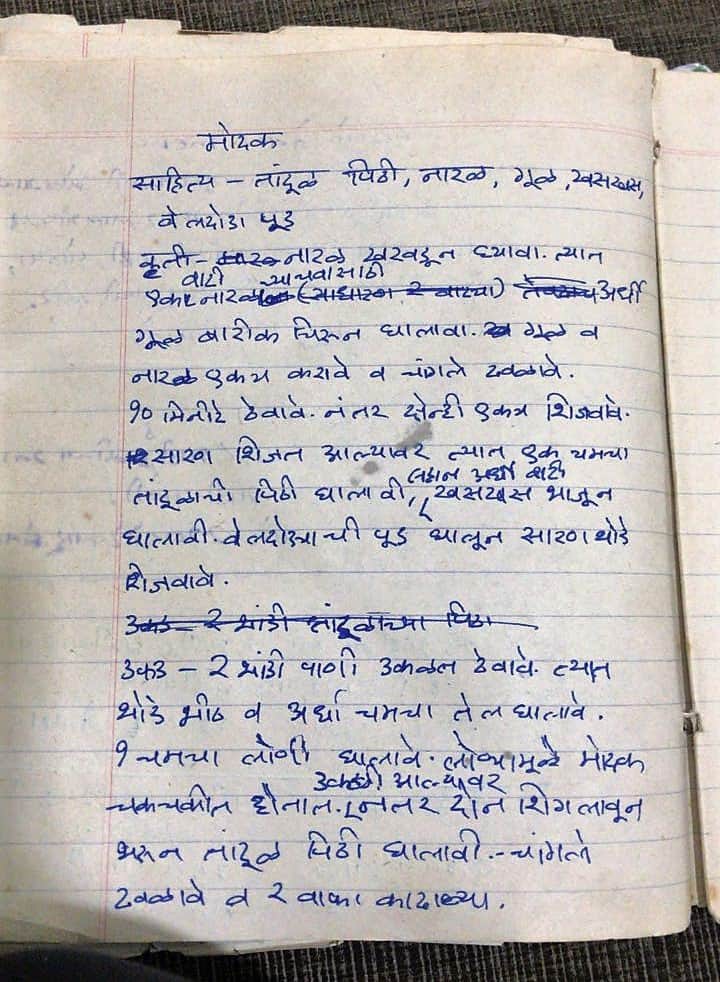 In recent years, the 'modak mould' are becoming very popular. If you are a beginner, these moulds are handy tools that can make your work easier.
However, I want to share our heirloom traditional recipe that my sister in law- Swati made recently. We always love the special celebration and yummy feast my brother Kedar and Swati arrange for all of us during Ganesh Chaturthi. Life is indeed beautiful with loving family and these nostalgic pleasures!
So here's the video and the recipe of Ukadiche Modak that Swati has honed! Hope you like it. We love to share the joy of festive season with all our blog readers !
Ingredients :
For The Outer layer Dough
2 cups fine rice flour
1 tsp of ghee or oil
For The Filling
1 cup grated jaggery
2 cups freshly grated coconut
1 tsp cardamom powder
Few strands of Saffron
2 pinches of nutmeg powder

Other Ingredients
1 tbsp ghee or oil for kneading and greasing
Directions :
For making the sweet filing :
Heat a deep non-stick pan, add the jaggery and cook on a slow flame for 1 to 2 minutes or till the jaggery melts, while stirring continuously.
Add the coconut, cardamom and nutmeg powder, mix well and cook on a slow flame for 4 to 5 minutes or till all the moisture evaporates and the mixture thickens. Keep aside to cool slightly. This stuffing can be made few days in advance and refrigerated until ready to be used.
For Making the Dough:
Boil 1¾ cups of water in a deep non-stick pan. Add 1 teaspoon of ghee in the water.Place the rice flour in a deep bowl and add in the boiled water gradually. Mix well using a spoon in the beginning and then knead into a soft and smooth dough. Make sure there are no lumps in the dough.
Knead the rice dough on your palm using 1 tsp of ghee and 1-2 tbsp of warm water for 10 mins until the dough is soft and moist.
Make about an inch sized balls with the dough. Cover with a lid and keep aside for 10 minutes.
Shaping the Modak :
Apply little oil on your palm. Gently flatten the rice ball on your palm to make a flat round. Pinch one part of the round and make a small pleat. Rotate the flattened ball and continue to make tiny pleats so the entire area is covered with pleats.
Carefully put about 1 tsp of stuffing inside. Bring all the pleats together and seal the top with the extra dough.
Steaming the Prepared Modak:
Heat up 1 cup of water in tall stockpot or cooker. Place Modaks in the steamer. Do not overcrowd the modaks in steamer. Put the steamer inside the boiling water. Cover and seam for 10 mins over medium heat. Open the lid and let it cool a little bit before taking them out.
Garnish with a dollop of ghee and few more saffron strands on top !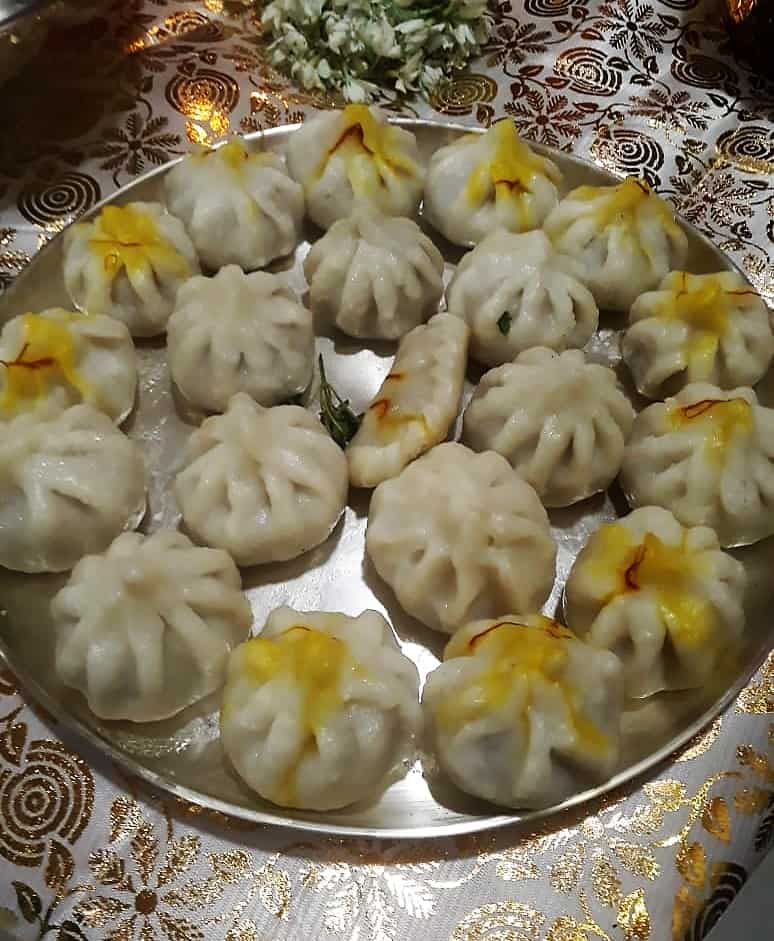 Hope you enjoy making these Ukadiche Modak and join us in spreading the love and joy of Indian festival Ganesh Chaturthi. If you love Indian cuisine and looking for some traditional or fusion recipes, we have a popular round up post on InstantPot Easy Indian Recipes. Do check it out since it's one of our most popular blog post. We would love to hear feedback on how you like the recipes . So be sure to drop a line in comments. Namaste !