Sweet potato wedges with spicy Cajun seasoning are full of crispy texture and super delicious flavors. They are a healthy alternative to deep fried French fries. These sweet potato wedges are naturally gluten-free, vegan, paleo and Whole30 compliant.
Similar to Crispy Fingerling Potatoes, Kale chips and Roasted Chickpeas, this is our family favorite air-fryer snack / side dish.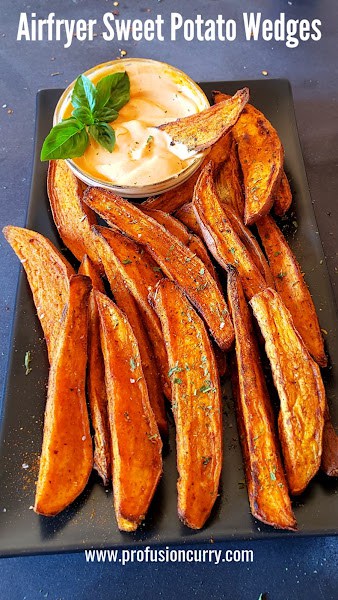 Air Fryer Sweet Potato Wedges
Homemade sweet potato wedges are crispy outside and tender on the inside with a nice chewy texture in every bite.
It is easy to season them with your favorite spices, herbs and flavors. You can make them sweet or savory. You can also change the dip that you serve with. Make a new recipe every time.
They are the perfect side, appetizer or snack. My kids love them as after school snacks. We also often make them for game day appetizer spreads and movie night snack boards.
Crispy Air Fryer Vegetables
Looking to add creative ideas to include good serving of vegetables in your meals ? Search no further. Toss them in an air fryer. Delicious crispy vegetables in minutes without much oil. It is a wonderful way to enjoy eating your requisite veggie servings a day ! Fewer calories, less guilt and more enjoyment !
Since we are only using a fraction of oil , instead of deep frying, you can enjoy these healthy wedges. Sweet potatoes have more vitamin A and C so they are good for you too.
In this recipe, these wedges are seasoned with irresistible blend of Cajun flavoring. The sweet taste of potatoes and contrasting taste of spicy, savory and smoky Cajun Seasoning is a flavor fiesta to your taste buds. It is full of different flavors with garlic powder and smoked paprika, onion powder, dried oregano, cayenne pepper and dried thyme.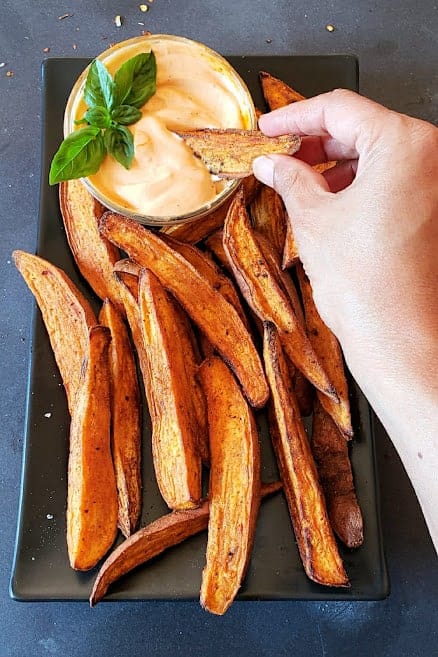 Better than oven baking
Air fryer sweet potato wedges do taste better than oven baked sweet potato wedges. The hot air blowing around the fries cooks them more quickly, which makes them crispier. However, I am including oven baking instructions in case you want to make them in oven.
Ingredients
Sweet Potatoes – I like to use small sized sweet potatoes. It ensures even sized wedges. Peeling the skin is not necessary but choose an organic variety if possible. ( since sweet potatoes are root vegetable and grow underground, they absorb lot more pesticides and chemicals so using organic makes better sense )
Olive Oil – to lightly coat the wedges so they become crisp instead of chewy.
Seasoning – Cajun seasoning brings zesty, spicy, savory flavors to sweet potato wedges. You can use store bought ready mix or use the recipe listed in notes to make your own. I also give some different seasoning ideas at the end of this post.
Garnishes – for garnish, use freshly chopped or dry herbs. Parsley, basil, chives or thyme are great options. ou can also drizzle some lemon juice to add sour taste.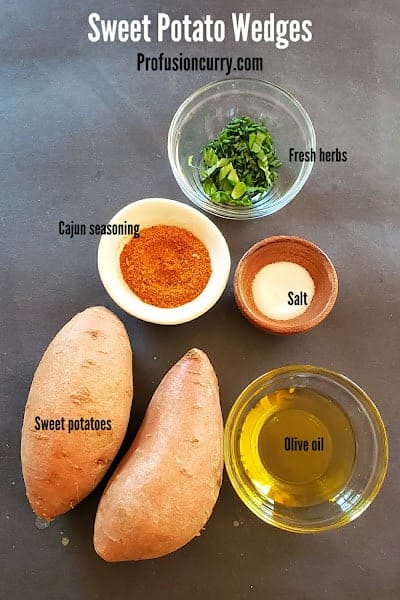 Instructions
Prepare the Sweet Potatoes : Wash and dry the sweet potatoes. Cut them in the middle and make 2 equal size halves. Then cut that half into two pieces. Then cut that piece into two pieces again. You get eight equal sized wedges in each potato. Try to make the pieces uniform so they all cook at about the same rate.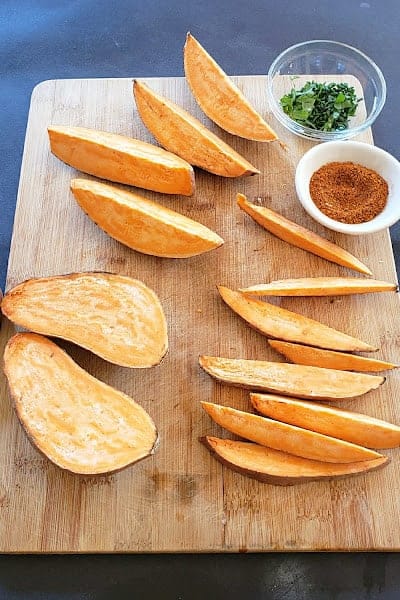 Season the Wedges : Preheat the air fryer to 380 degree Fahrenheit. Some air fryer recipes don't need to preheat, but I like the quick and consistent results if you preheat.
Put the sweet potato pieces in a mixing bowl and drizzle them with the olive oil. Then add the salt and Cajun seasoning. Toss everything together to coat the pieces evenly with the seasoning.
Sweet Potato Wedges Air Fryer : Spray the air fryer basket with a little bit of olive oil so the wedges won't stick to the bottom. Add the wedges to the basket. Spread them well so there is space for the air to circulate. ( do not overcrowd them ) Cook them at 380 degree Fahrenheit for 12 minutes. After 6 minutes, open the lid and shake the basket to redistribute the wedges or flip them over with tongs.
Serve : When they are done they will look a little wrinkled. You will also notice dark brown edges. Don't overcook them since they will get chewy quickly. Transfer them to a serving platter and sprinkle some salt and chopped herbs. Serve them with your desired dipping sauce. Serve warm and enjoy !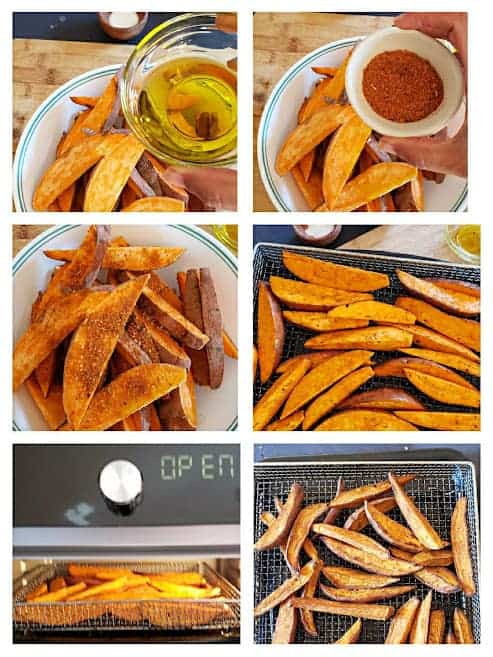 Pro Tips
Do not over crowd the air fryer basket with too many wedges at once. The air fryer works by blowing air, so if you cover all the holes in the basket with the wedges, they won't cook well and won't get crispy. Overcrowding the basket is the most common mistake when making crispy in the air fryer!
So cook these wedges in batches if you need to. Add just enough to the basket so they cover most of the bottom. Try not to stack or overlap them on each other.
The cooking time will vary based on your specific air fryer and how thick the wedges were cut. If they aren't done, put them back in the air fryer for another 1-5 minutes, until they are done.
If you are making a big batch, you can store these wedges in the warm oven until ready to serve.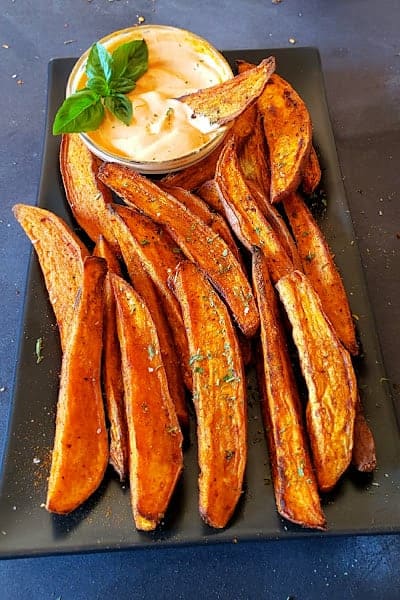 Different Seasoning Options :
Besides Cajun Seasoning, there are several other herbs and spices you can use to season these airfyer sweet potato wedges. They taste delicious with either sweet or savory / spicy flavors.
Garam Masala, Curry Powder or Roasted Cumin Powder – These earthy flavors enhance the rustic taste of the sweet wedges. Add a drizzle of lemon juice for pop of freshness.
Southwestern Taco Seasoning – Another great option to bring out the contrast flavors.
Sweet – Cinnamon, brown sugar or maple syrup and pinch of nutmeg is wonderful seasoning for sweet potatoes. However, add it after you are done cooking since burnt sweet flavors don't taste good.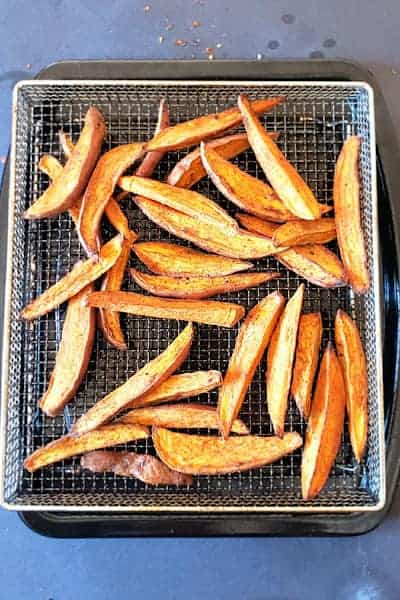 Serving Ideas
I like to serve the sweet potato wedges with variety of dips and spread. Creamy Chipotle Mayo or Mayonnaise mixed with chili garlic sauce is unbelievably delicious combination. Avocado Cilantro Dip is awesome to serve as well as Mint Cilantro Chutney or Greek Tzatziki Sauce. Ketchup, mustard or fry sauce also works well.
More Air Fryer Recipes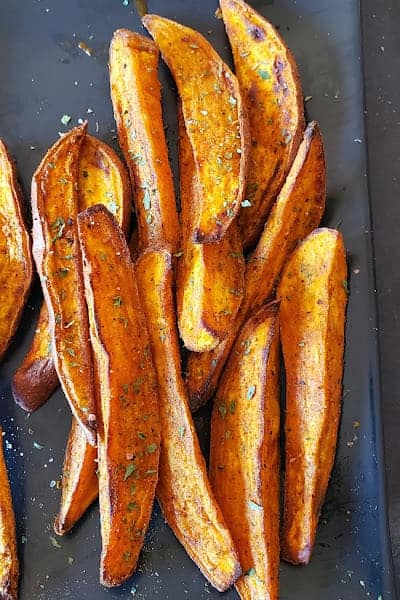 ♥ Follow us on PINTEREST and like our FACEBOOK page. We love creating delicious, plant based recipes from around the world. DO JOIN US ♥
We would love to hear your feedback!! Use the PIN button in the recipe card or image below to pin this recipe !
★ If you make this Sweet Potato Wedges Air Fryer Recipe , do let us know how you like it by ★ star rating it and leaving a comment below.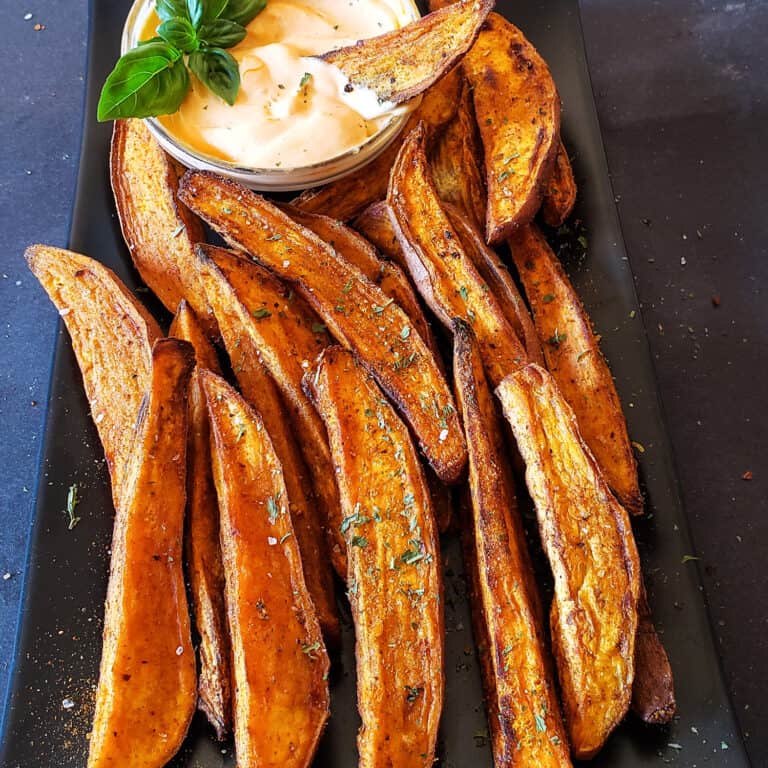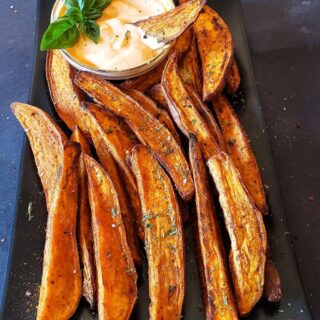 Sweet Potato Wedges Air Fryer
Air fryer Sweet Potato Wedges are super crispy, delicious and so easy to make. They are the perfect side, appetizer or snack and you can change it up easily with your favorite seasonings and serving dips. This recipe makes Gluten-free, paleo, vegan and Whole30 compliant sweet potato fries.
Ingredients
3-4

medium

Sweet Potatoes

1-2

Tablespoon

Olive Oil

1

Tablespoon

Cajun Seasoning

See note to make it at home

Salt per taste
Garnishes
Fresh or dried herbs like parsley

basil or chives

Lemon wedges
Instructions
Clean the sweet potatoes and pat them dry. Slice them into 8 piece wedges.

Preheat the air fryer to 380 degree Fahrenheit. Spray a little bit of olive oil on the air fryer basket to coat the bottom.

Put the sweet potato pieces in a mixing bowl. Drizzle them with the oil, then add the salt and Cajun seasoning. Toss everything so the fries are coated with the oil and seasonings.

Put the sweet potato fries in the air fryer basket, leaving room for the air to circulate. You might need to cook these in batches, depending on the size of your air fryer.

Cook at 380 F for 12 minutes. Halfway through take the basket out and shake it or flip the wedges over. After 12 minutes, check the fries. They are done when they look wrinkled with dark brown color on the edges.

If they need more time, put them back in for another 1-5 minutes. The cooking time will depend on how thick the fries are and your air fryer's wattage.

Transfer them to a serving platter and sprinkle some salt and chopped herbs. Serve them with your desired dipping sauce. Serve warm and enjoy !
Notes
To make homemade Cajun Seasoning : Mix 3 tablespoons smoked paprika + 1 tablespoon each garlic powder, onion powder, dried oregano, cayenne pepper and dried thyme.
To make this recipe in the oven - Preheat oven to 400F. Use same instructions to cut and season the wedges. Arrange the wedges on parchment lined baking sheet. Bake for 18-20 minutes, checking midway through. Wedges are done when they look wrinkled and dark brown. Take them out and serve with your favorite dipping sauce.
I used my Omni Plus Air fryer to make this recipe. You can use other air fryers including Instant Pot Air fryer lid.
Nutrition
Serving:
1
g
Calories:
115
kcal
Carbohydrates:
18
g
Protein:
2
g
Fat:
5
g
Saturated Fat:
1
g
Polyunsaturated Fat:
4
g
Fiber:
3
g
Sugar:
5
g