Pohe is one of my favorites go to item to make. It is very easy to rustle up for morning breakfast as well as for the evening snack or even in between. Growing up in India, my mom used to make excellent pohe every so often. Some great memories are associated with conversations over a dish of pohe and masala chai. "Chaha-Pohe " as its popularly referred to, is very unassuming yet superbly tasty combination.
'Poha', made from flattened rice, is an easy-to-cook, very low in fat , high in fiber and nutritious snack. This traditional Maharashtrian recipe is made of iron-rich poha. I prefer to use red poha whenever I can find it in grocery store.Probably what makes poha such a popular item is the multitude of flavors. It's spicy, tangy, sweet and crunchy all at once. Fresh herbs like curry leaves and cilantro add extra savory taste to it.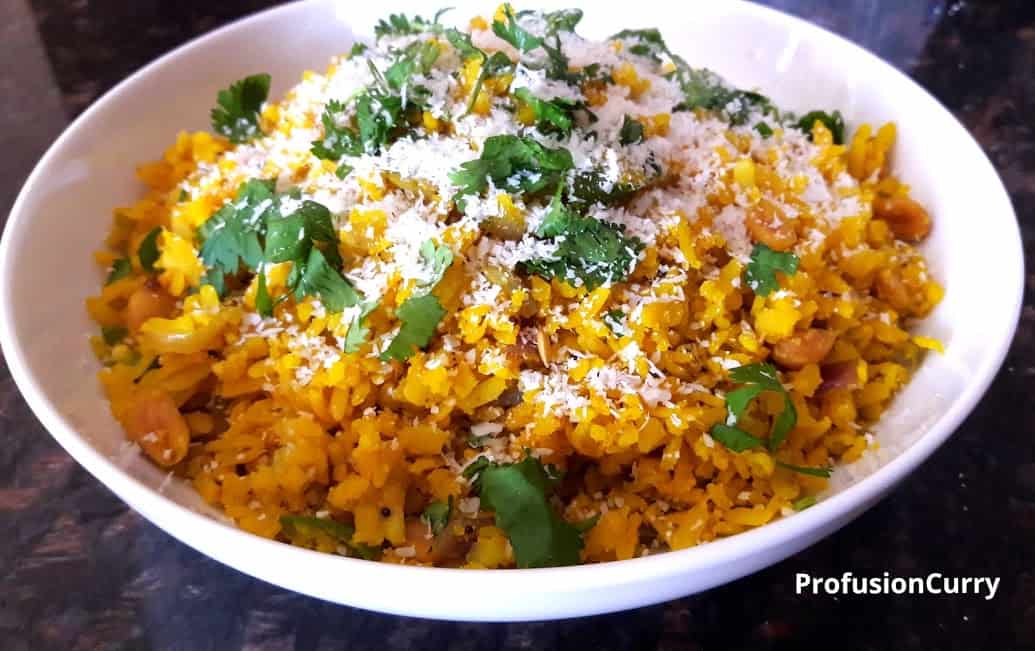 To kickstart your day strong, poha is probably going to be the first option to make. The wholesome dish is very popular across India. Every household has its own way of preparing it. Some use onions and tomatoes, some peas and peanuts and others use a whole bunch of vegetables along with a mix of spices and fresh herbs. You can choose it one or all. Be sure to tantalize your cravings with this easy yet strikingly yummy dish.
** Instructions on how to make Pohe in InstantPot are added to the bottom of this post. Traditionally, this dish used to be made on stovetop. Now that Instant Pot makes most everything easier , we tried making the Pohe in InstantPot. Needless to say, we are hooked. Now it has become our go to method to make Pohe. No baby sitting and stirring is required while making this dish in InstantPot. Check out the details below.
Ingredients :
2 cups poha – Flattened rice
2 tbsp Oil
1/2 teaspoon each mustard and cummin seeds
1/2 teaspoon red chilli powder
Pinch of Asafoetida
2 Green chillies, slit lengthwise
10-12 Curry leaves
1 Onion ,finely chopped
1 medium Potato, peeled, and cut into cubes
1/4 tsp Turmeric powder
Salt to taste
Sugar a pinch
1 tbsp lemon juice
Chopped cilantro, shredded coconut and lemon wedges for garnish.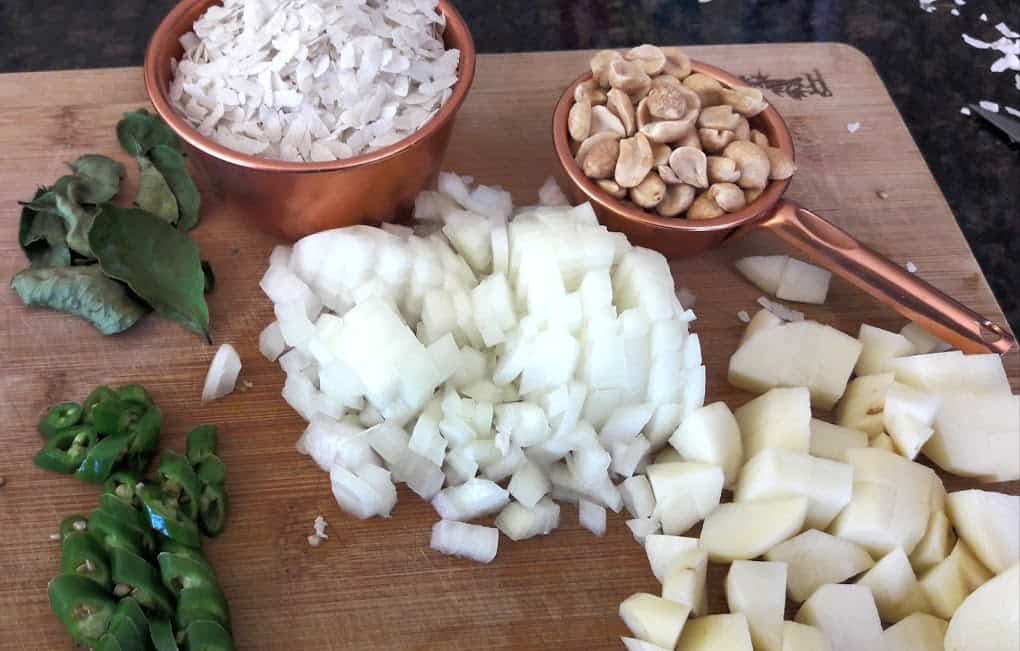 Directions :
Put dry pohe ( flattened rice) in colander and wash in cold running water. Let excess water drain. Allow to stand for ten to fifteen minutes.Meanwhile, heat oil in a pan, add mustard seeds and allow them to splutter, add cumin seeds, asafoetida, green chillies, curry leaves, onion and saute till the onion is golden brown. Add cubed potatoes . Sprinkle little water, cover and let potatoes cook til they are tender.
Add rinsed pohe, turmeric powder, chili powder, peanuts, salt and sugar and toss well. Cover and cook for another five to seven minutes stirring it couple times so they don't burn at the bottom. Add lemon juice. Toss well. Serve hot . Garnish with lemon wedges and cut cilantro and shredded coconut on top.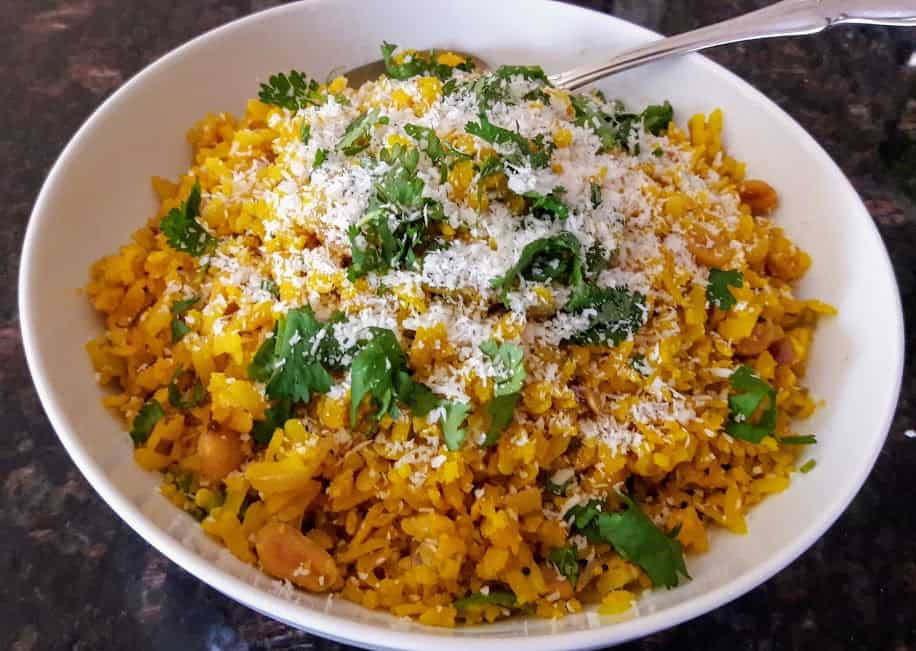 InstantPot Method:
Lately, I have started making pohe in InstantPot. The cooking time stays about the same but somehow I like the way pohe are cooked better in IP. They remain bit soft but not mushy. Also, cleaning the stovetop with oil splutters and poha particles is bit more tedious compare to one pot of IP. Give it a try I think you will get hooked too.
Another great advantage of making pohe in InstantPot is the use of PIP pot in pot . I often make Indian Masala Chai ( spiced Indian Tea) using the trivet. The pohe and tea simultaneously cook in 4 minutes pressure without you watching it . Pohe with Masala tea is a quintessential pairing and with InstantPot you have it done in jiffy !!
Put dry pohe ( flattened rice) in colander and wash in cold running water. Let excess water drain. Allow to stand for about 10 minutes.
Heat IP in Sauté mode and add oil. Once Oil is hot, add mustard seeds , cumin seeds, asafetida, green chilies, curry leaves and onion. Sauté till the onion is golden brown. Add cubed potatoes Sprinkle little water. Put a cover on the main pot. Let it cook for about 4-5 min until potatoes are tender.
**
This step is important since potatoes won't cook much further and will remain tough if you don't sauté/cook well now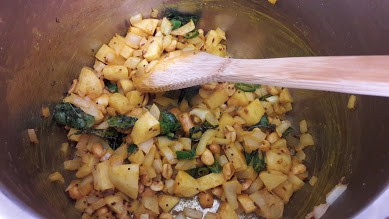 Remove lid, add washed Poha, roasted peanuts, turmeric powder, chili powder, salt and sugar. Add 3/4 cup water . Stir well everything. Cancel Sauté. Press manual 4 minutes. Vent sealed.
Release the pressure manually (QPR) 5 mins after the beep and IP changes to warm. Open the lid. Add lemon juice and mix well. Serve hot garnished with chopped cilantro, shredded coconut and lemon wedges. Serve it with spiced Indian tea and savor the best moments of life!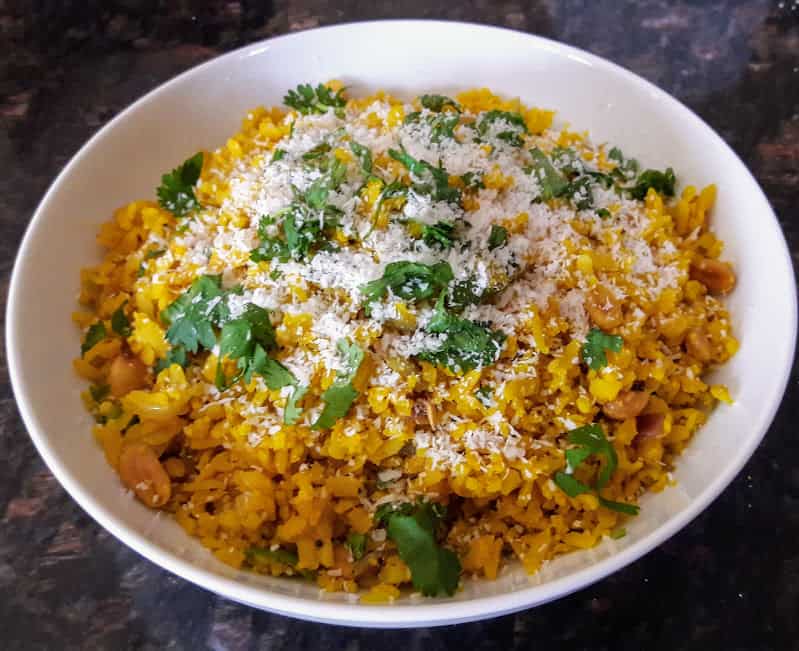 ——————————————————————-
♥We would love to hear your feedback on the recipes. Let us know how you like this receipe by leaving a comment and rating it so other readers know it too. And while you're at it, take a picture and tag it
#profusioncurry
on Instagram! We love seeing what you come up with. Cheers, friends■