Chocolate Chia Seeds Pudding makes a decadent and healthy breakfast, snack or dessert. This nourishing superfood breakfast/ dessert recipe is Keto – low carb, high fiber, vegan and gluten free.
What a better way to fuel your body with nutritional powerhouse superfood that tastes amazing! This easy 6 ingredients recipe does that the Best.
Chia seeds are my favorite for quick and easy breakfast recipes. I also love making Vegan Coconut Chia Pudding and Savory Chia Oats Bowl for a satisfying meal to get the day rolling.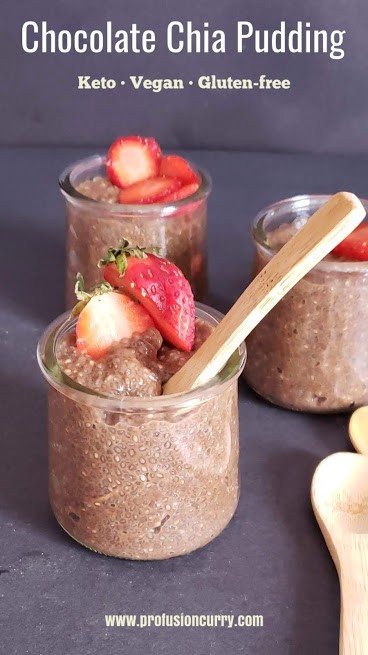 When To Serve ?
Kids make it their own with their choice of toppings for breakfast when we need something quick and on-the-go.
Is 3.00 pm afternoon and snacking your trying time ? It sure is mine. I prefer to avoid the urge to eat but it's hard. For trying times like that, you need a healthy, satisfying snack. This chia pudding makes me snack guilt-free and I can breeze into dinner time without feeling deprived.
Same goes for late night sweet tooth cravings. Sure cookies and ice cream desserts are enticing but chocolate rich chia pudding is much healthier and satiating along with Vegan Turmeric Latte.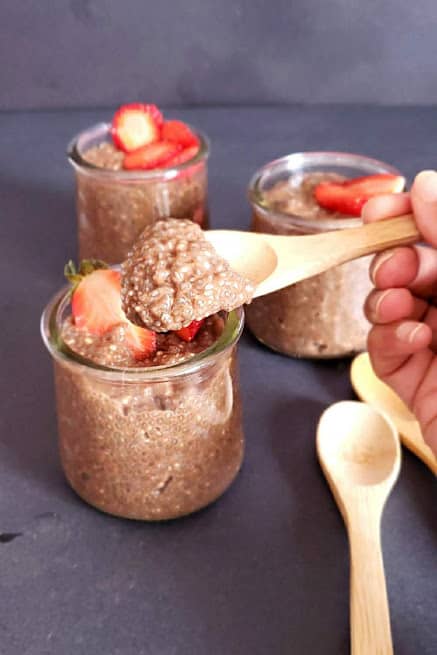 How To Customize
Best part about chia pudding ? There are a million different ways to jazz it up. Chia seeds do not have any flavor or taste of their own. They take on any flavor superbly. So use them as blank slate and paint your own masterpiece.
Chopped fresh or dried fruit, various nut butters, granola, dried coconut and chocolate chips are all good options to jazz up the toppings. Same goes for liquid. I am using almond milk but any other milk including coconut milk works.
I love to add homemade Apple Butter Sauce and Apple Ginger Chutney to add extra flavors especially during fall and winter months. Adding Superfood Immunity Boosting Powder also is great option.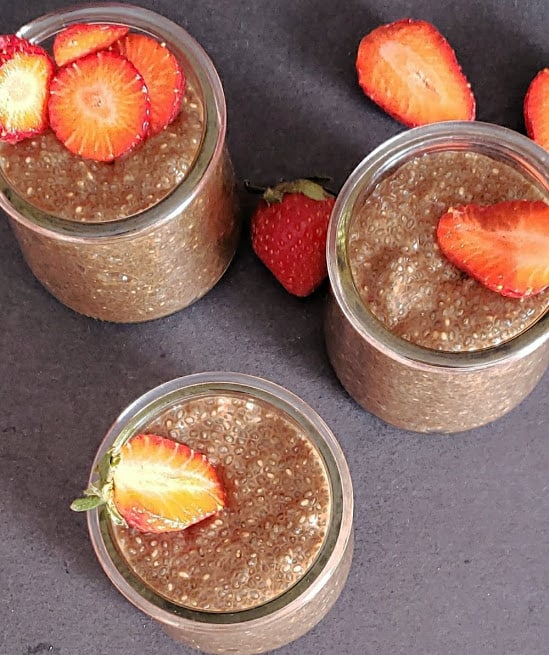 Is Chocolate Chia Pudding Good For You ?
It is vegan, gluten-free, paleo and dairy free. Since I am using Stevia as a sweetener , it also is low carb and keto. Make a large batch and enjoy a healthy sweet treat throughout the week.
And here's something even better : it is SUPER healthy dessert. It helps keep you full and satisfied all day long. It's also meal-prep friendly.
Are Chia Seeds Healthy ?
Chia seeds are truly a superfood. They are high in protein, full of omega-3s, packed with fiber, calcium, antioxidants, protein, and more. Read this Harvard University School of Public Health Article to know all about their raving nutrition and health benefits.
For vegetarians, chia seeds provide super nutrients plant based calcium and protein. They also help with gut health and fight inflammation.
Since so much of it is liquid, it is filling. It keeps your belly full for a good amount of time, thereby avoiding binge eating and cravings. ( which can also promote healthy weight loss )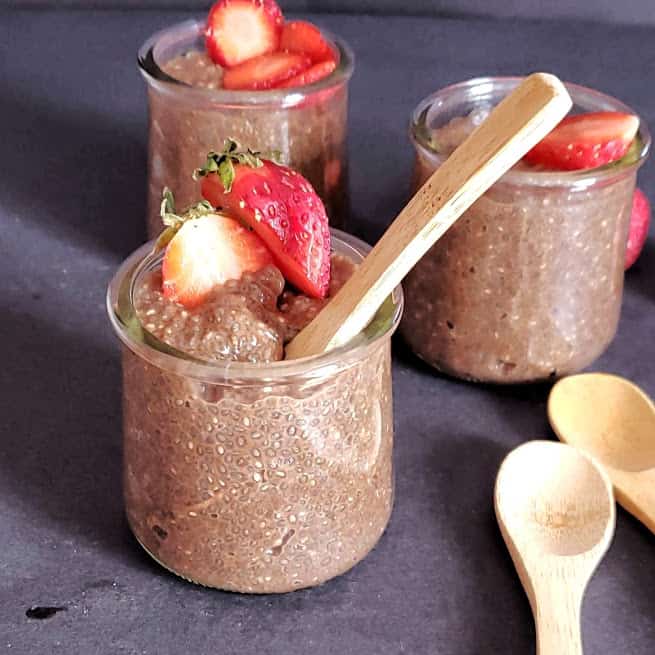 How long is chia pudding good for?
Once you have mixed all of the ingredients together, you need to leave it in the fridge for at least couple hours, preferably overnight. It stays well for four or five days. If you are adding fresh fruit, mix it just before serving. I love making a batch at the start of the week for easy to grab breakfast every morning.
How does Chia Pudding work?
Chia seeds absorb up to 12 times liquid to their own weight. Once you soak them, they swell and expand. It creates pulp / jelly like texture. If you combine it with milk, the creamy texture thus forms a pudding.
Top tips to make Best Chocolate Chia Pudding
After you mix everything together, let it rest for 5 minutes and whisk the pudding well again. Repeat it twice and then refrigerate it. It ensures well mixed gel without lumps.
Make it ahead and let it sit in the refrigerator for at least couple hours, preferably overnight. Flavors mend so well together.
Ingredients
Chia Seeds
Milk – I am using Almond Milk. Feel free to use per your dietary preference.
Sweetener – I am using liquid stevia. You can use any of your choice including maple syrup, sugar, agave necter.
Cocoa Powder – or Cacao powder. Either dark or semi sweet works
Flavors – Vanilla extract and ground cinnamon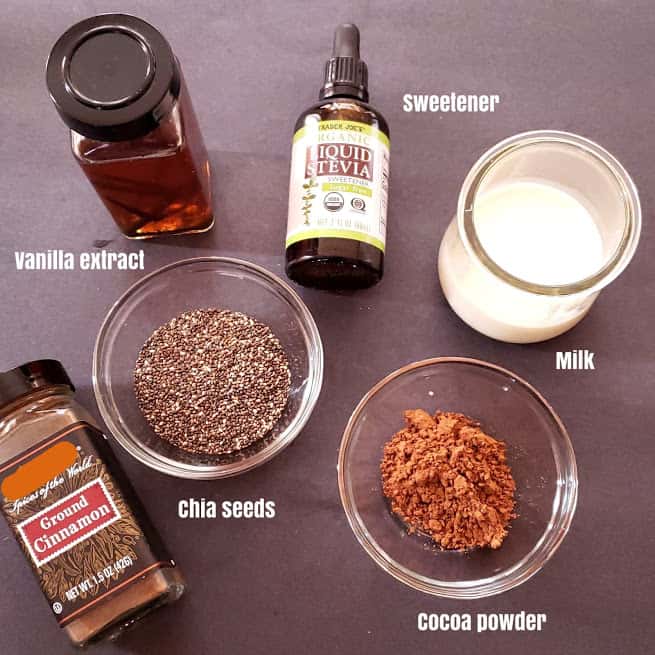 How to make Chocolate Chia Seeds Pudding
How simple is this recipe ? It is as simple as it gets. All you need is chia seeds and a liquid. Dairy or Non dairy milk or water works. Add sweetener of your choice and some warm spices. For toppings, choose fruit, nuts, seeds or chocolate. Done and dusted !
I often make a big batch of basic chia pudding and keep it ready in the refrigerator. It stays well for up to 5 days. So that you have something ready to serve when needed.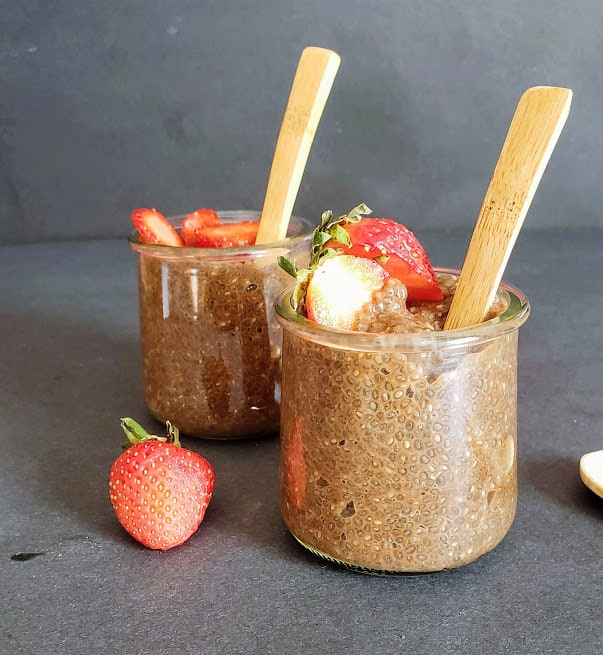 Our Popular Breakfast Recipes
Don't forget to follow us on PINTEREST and like our FACEBOOK page. We love creating delicious , plant based recipes from around the world. DO JOIN US !!
We would love to hear your feedback!! Use the PIN button in the recipe card or image below to pin this recipe !
★ If you make this Chocolate Chia Seeds Pudding Recipe , do let us know how you like it by ★ star rating it and leaving a comment below.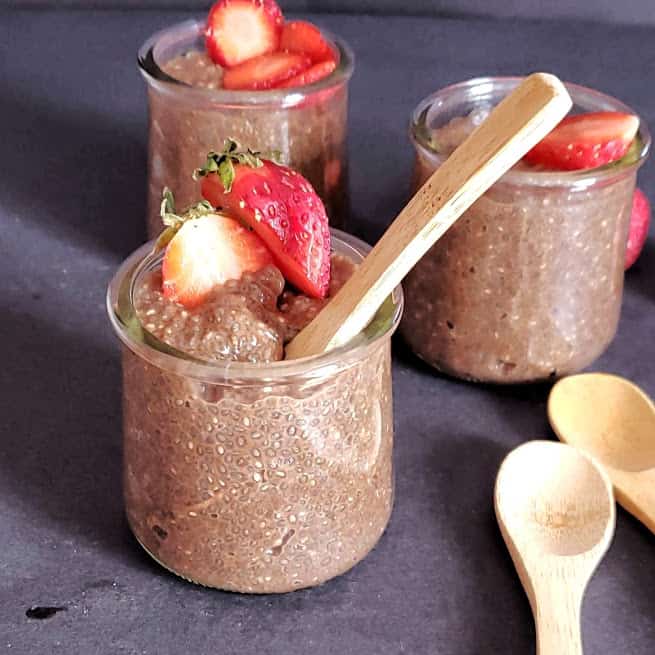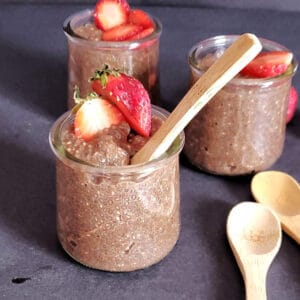 Chocolate Chia Seeds Pudding
Chocolate chia seed pudding is healthy breakfast, snack or dessert. This 5 ingredients easy recipe is vegan, gluten free and keto.
Ingredients
¼

cup

chia seeds

1

cup

Almond milk

1

tablespoon

cocoa powder

4

drops Liquid Stevia - Or use 1 Tablespoon Maple Syrup

⅛

teaspoon

ground cinnamon

1

teaspoon

vanilla extract
Instructions
Stir all the ingredients together until totally smooth. Let it sit on the counter for 5 minutes and stir well again. Repeat stirring again after 5 minutes.

Chill in the refrigerator for at least 2 hours or overnight. Serve with shaved chocolate and fresh strawberries. ( optional)
Notes
This recipe can be easily doubled or trippled.
Nutrition
Serving:
1
cup
Calories:
237
kcal
Carbohydrates:
24
g
Protein:
11
g
Fat:
12
g
Saturated Fat:
2
g
Polyunsaturated Fat:
15
g
Sodium:
26
mg
Fiber:
19
g