Kale Apple Green Superfood Smoothie requires only 5 ingredients and 5 minutes to prepare. Even the kids will love this delectable smoothie.
Every sip of this smoothie is sooo good for you. A yummy dose of antioxidants, anti Inflammatory, gently detoxifying and nourishing all at once !!
This raw vegan smoothie is vibrant and colorful. And it's the freshest, fastest way to eat your veggies.
As a nutritious conscious mom, I am always looking for wholesome and healthy meals that are perfect for our busy and "on the go" weekday schedule.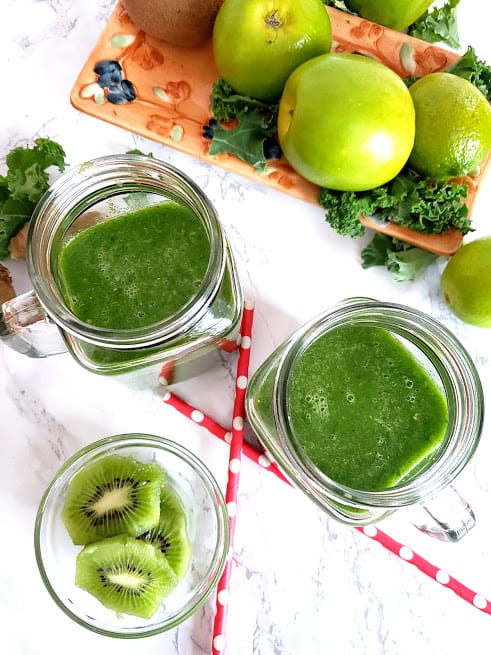 My kids leave the house before 7 am for school. They aren't interested in eating elaborate breakfast that early in the morning.
Besides the grab and go bliss balls and energy bars, I often make variety of smoothies. "Breakfast of the Champions", these are truly the morning saviors for us.
Stay tuned for variety of our favorite, nutritional dense smoothie recipes on the site.
This green superfoods smoothie combines some delicious fruits and lovely serving of veggie.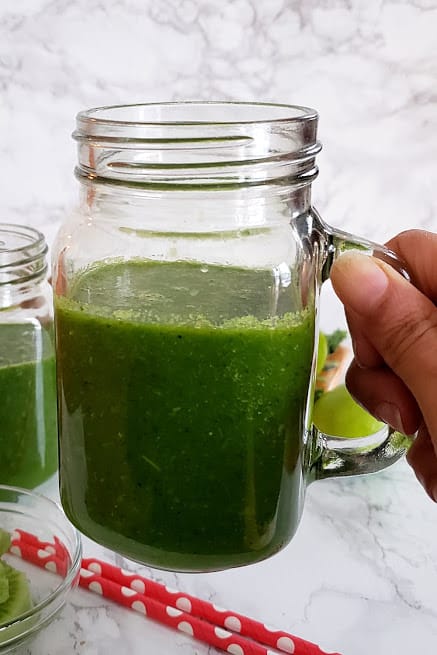 The kiwi and green apple are sweet and tart enough to mask the bitterness of the kale in this smoothie. Ginger and lime juice adds perfect zest and pop of freshness.
You will love this easy recipe even if you aren't a big fan of smoothies. I wasn't either until I experimented with few different permutations and combinations of what I like.
Let's face it….. no one is that keen on eating a cupful of raw kale in the morning. You know it's very good for you if you did; but chewing it can take forever and chances are you are not likely to do it.
That's when Raw Smoothies come into play. If eating any of the food raw feels daunting, try blending it in smoothies. With pop of flavors, you will love it.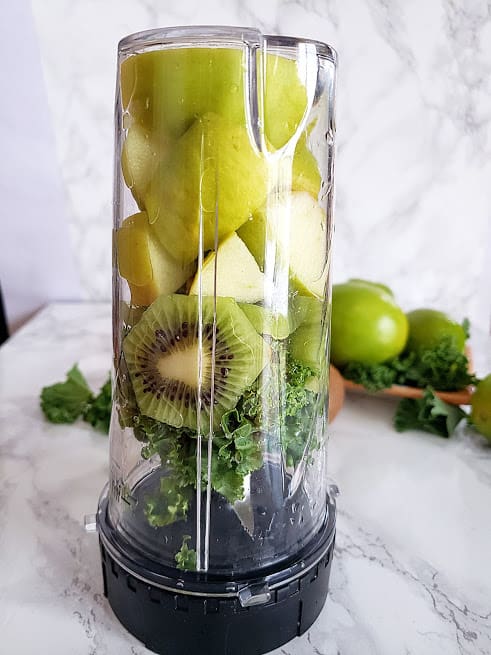 How to Make a Smoothie
Smoothies are super easy to make. You can use any or many of your favorite ingredients to make smoothies.
Fruits/ Vegetables and Liquids: You blend in your choice of fruits and or vegetables with some liquid to make the basic smoothie. You can use variety of liquids including flavored water, coconut water, milk ( dairy or non-dairy ) or fruit juice.
Nutrients: To amp up the nutrients, you could add protein powder, probiotics, wheatgrass etc.
Flavoring : I often mix and match ginger root, turmeric, fresh herbs like mint. Sometimes additional sweetener like dates and raisins work well.
Thickeners: If you like thicker texture, add in nut butters, chia seeds or yogurt.
As a good smoothie rule, add in few items that you don't particularly care for along with your favorites. A good combination is mix of fruits (for natural sweetener) and vegetables (fiber rich greens)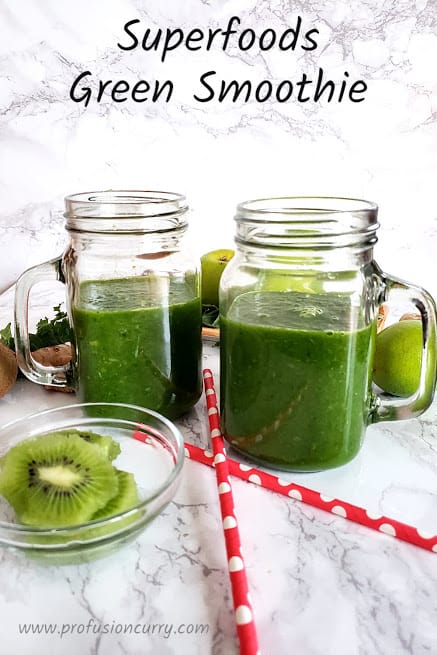 WHAT ARE THE INGREDIENTS OF KALE APPLE GREEN SUPERFOODS SMOOTHIE
Kale : Make sure you get rid of any tough stems before adding the kale to the smoothie. A whole serving of veggie to start off the day !! Remove the kale stems and tear the leaves into bite-size pieces before blending so you get smooth texture.
Green Apple: Brings out wonderful tart and sweet taste. It also adds velvety smooth texture when blended.
Lime juice – I really, really love the brightness the lime juice brings. Lime helps the body detoxify by breaking food down with the help of stomach acid.
Kiwi : Kiwis are loaded with Vitamin A and C – powerful anti-oxidants. It also has some calcium and It also controls the body's water and pH level. The sweet and sour tastes works wonderfully in the smoothie.
Ginger : King of medicinal spices, ginger helps with digestion, reduce nausea and help fight the flu and common cold, to name a few. For centuries, people have been using ginger for traditional/alternative medicine. It adds wonderful depth to the smoothie with it's zesty, peppery flavor.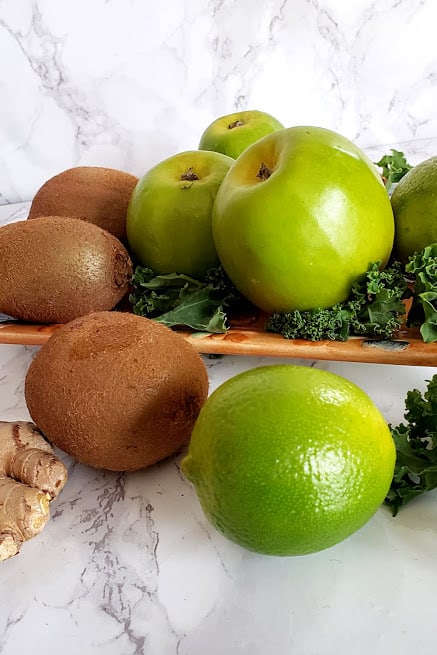 Tools to make GREEN SUPERFOODS SMOOTHIE
High speed food Processor / blender
Durable Drinking Glasses with handle
Plant Based Compostable Drinking Straws

It's fairly easy to prepare this green apple kale smoothie as long as you have a high speed blender at home…. So gather all the ingredients together, wash and rinse them. And let's get blending !!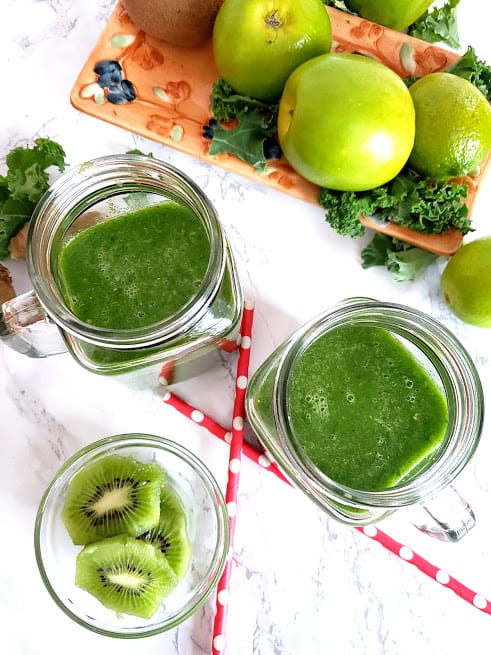 Don't forget to take pictures when you make our delicious recipes. Tag us with #profusioncurry on Instagram ! We would love to feature your creation.
Join us on Pinterest and FACEBOOK . You will love all our delicious, wholesome, plant based recipes from around the world.
★ If you make this Kale Apple Green Superfood Smoothie , do let us know how you like it by ★ star rating it and leaving a comment below.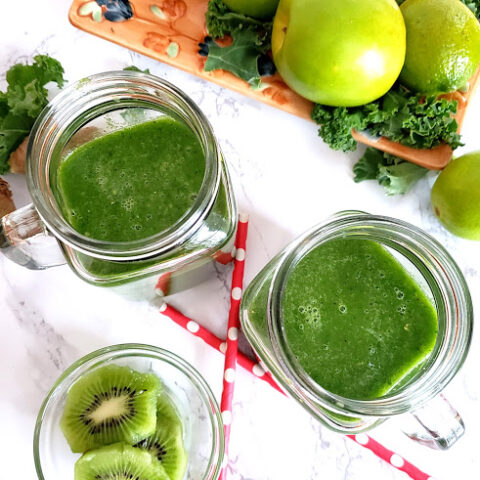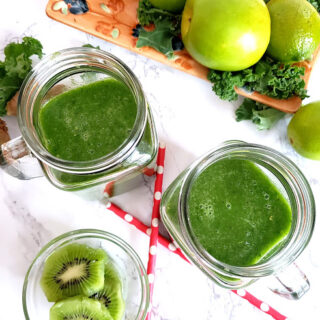 Kale Apple Green Superfood Smoothie
Kale Apple Green Superfood Smoothie is delicious and raw smoothie perfect for breakfast on the go. This vibrant green smoothie is full of antioxidants, anti Inflammatory, gently detoxifying and nourishing at once.
Ingredients
2

cups

kale

stems removed

1

medium green apple

core and seeds removed

1

kiwi

outer peel removed

Juice of ½ lime

1

inch

ginger root- wash and scrape the outer layer
Instructions
Blend the kale and 2 cups of water in a blender until smooth.

Add the remaining ingredients and blend again.

Transfer it to individual serving glasses. Consume immediately.
Nutrition
Serving:
1
cup
Calories:
175
kcal
Carbohydrates:
42
g
Protein:
3
g
Fat:
1
g
Sodium:
105
mg
Fiber:
6
g
Sugar:
29
g