Bang Bang Skinny Cauliflower Bites make an incredibly delicious appetizer. This recipe makes lightened up and vegetarian version of Bonefish Grill's popular Bang Bang Shrimps.
Tender cauliflower bites are crisp coated and air fried or baked , not fried and coated with delightfully creamy and spicy sauce! A perfect appetizer to please the family or crowd alike. And folks, you will happily eat those veggies!
Similar to Chili Garlic Edamame, Lo-mein Noodles and Kung Pao Tofu , this is our popular better than take out recipe ! You will love making it at home in 30 minutes with simple pantry ingredients.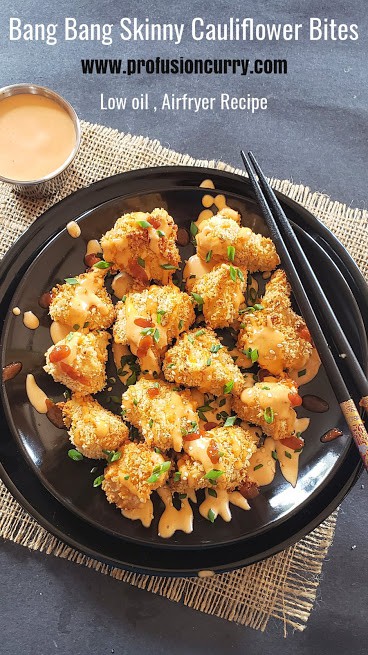 What is Bang Bang Cauliflower?
Cauliflower florets are breaded and then air fried or baked to make low calorie and healthy version of popular Bang Bang Shrimps recipe. You can call them cauliflower nuggets, cauliflower wings or cauliflower bites. We drizzle them with creamy, spicy and sweet chili sauce to make a delicious appetizer or snack. I must admit I've been obsessed with this terrific sauce. Together , they make the Best Appetizer !
Serving Suggestions
We often make these skinny bites at home when we have company for game watching during football season. It's such a crowd pleaser and the recipe gets asked more than often. I love serving heavy appetizers that fill you up well before the main meal.
If you are serving it as an appetizer or a snack, present it along with cut celery and carrots and more sauce to dip into. You can also serve it as a side dish along with Hibachi Fried Rice or Chili Garlic Noodles for unforgettable restaurant quality meal at home.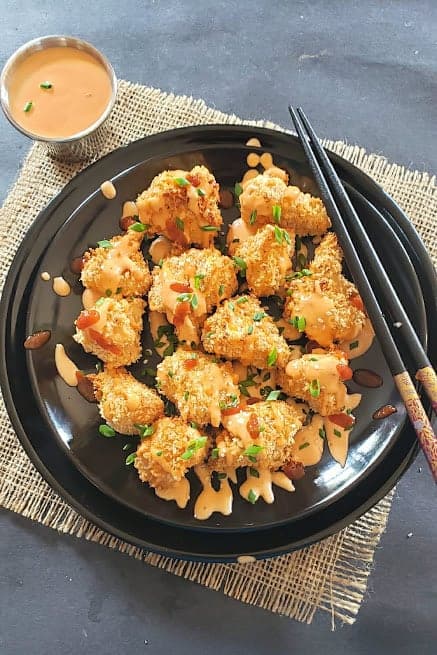 Healthy Cauliflower Recipe
Since last few years, we have become a cauliflower loving family. We love to create all kinds of cuisines with cauliflower, may it be pizza, rice, curries or variety of yummy appetizers. It is filling, low calorie and low carb -keto friendly meat replacement suitable for vegan and vegetarian diets.
What is Bang Bang Sauce?
Bang Bang Sauce is delicious creamy, spicy and sweet sauce. It is full of different flavors and super easy to make. I combine mayo with sriracha or sweet chili sauce to make this AMAZING sauce that can also be used as a sandwich spread or as a dip for fries. It works superbly with the sautéed and grilled veggies too.
Only few ingredients are required to make this super delicious sauce! Mayonnaise (I use vegan kind), minced garlic, maple syrup and an organic spicy chili sauce. The creamy sauce with exotic and spicy tinge. It surely creates this amazing flavor profile that you will want to eat more and more.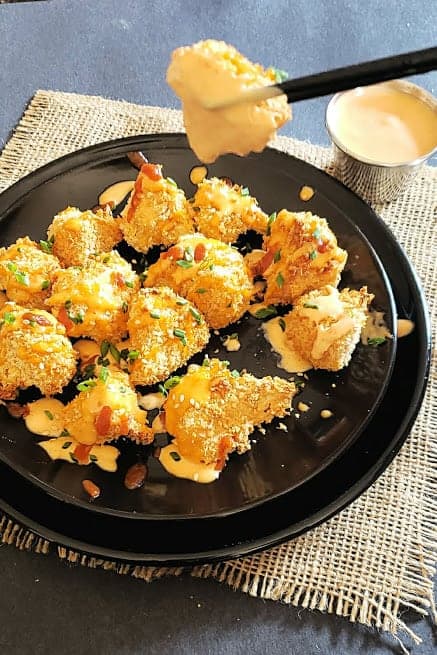 Healthy Air Fryer Recipe
I LOVE fried food but I know I need to make good choices for everyday food. So, I am extensively using air fryer to make healthy fried food alternatives without missing the crispy crunch and golden finish. So besides just warming up fries and wedges, there are whole bunch of amazing things you can make in Air fryer.
If you looking for a recommendation for my favorite Air fryers, I have a couple of recommendations. Attaching Amazon Affiliate Links below ( opens in separate tabs )
For a family of four, we extensively use Cuisinart Air Fryer / Toaster Oven Combo which has bigger steel air fryer basket. For small / individual servings Pranjali uses Ninja Foodie. We also love our Instant Pot Air Fryer Lid which gets multiple dishes in one go.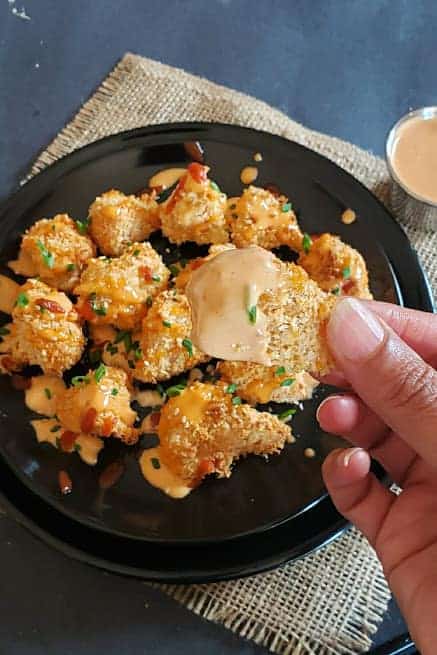 Golden Crispy Vegetables using Low Oil
In most restaurants where they serve Bang Bang Cauliflower, it is fried. To change the fried and greasy food into skinny and healthy recipe, you have to think creatively. Savory ,crispy things are super delicious but we can't keep eating fried , greasy food on the regular basis. So you use simple hacks to make dishes relatively crispy without much oil.
In this recipe, I show you how to air fry these cauliflower bites using just oil mist. You can also pan fry them on the stove using fraction of the oil used in deep frying. For crispy breading, I use Panko Style Breadcrumbs which are superbly light and airy. You can hear the crisp crunch as you bite.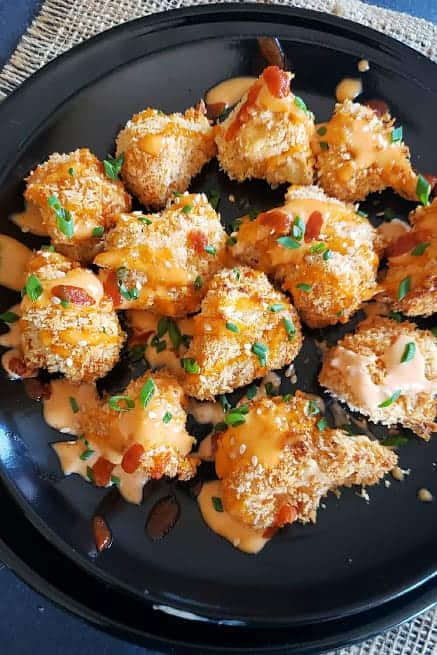 Ingredients :
Detail measurements are listed in the recipe card below. Here's what you need and easy substitutions suggestions
Cauliflower – The star ingredient of the show. Cut the cauliflower in bite size florets. You can also use broccoli florets.
For the Breading – All purpose flour and panko bread crumbs. I used gluten free version of both. A pinch of baking powder helps in making the breading airy. For wet ingredients I used buttermilk. You can also use regular milk and mix it with apple cider vinegar or lemon juice. For seasoning the flour, I used garlic powder, onion salt and smoked paprika.
Bang Bang Sauce – Mayonnaise, a clove of minced garlic and Sweet Chili Sauce. I add hint of maple syrup for hint of sweetness.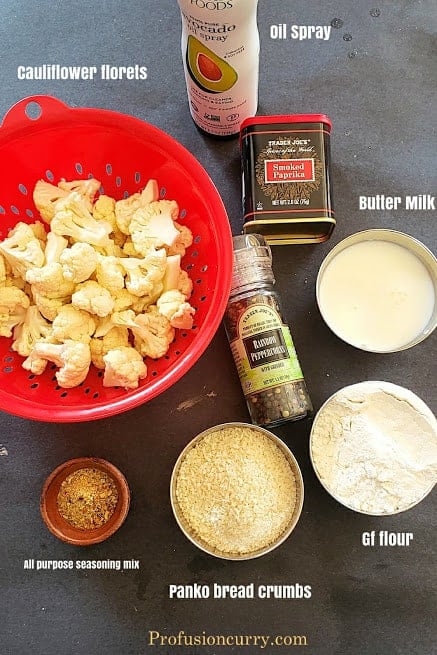 How to Make ?
Step by step detailed instructions are included in the recipe card below. Here's the basic overview of how to make this recipe.
Cut the cauliflower into bite size florets. Discard the stems and outer leaves.
Prepare the batter mixture.
Make an assembly line with cut florets, batter, bread crumbs and air fryer basket / baking sheet.
Dip the florets in the batter, thoroughly coat them, then dredge into crumbs and arrange on the air fryer basket.
Bake / Air fry till golden brown and crispy.
Prepare the sauce by whisking all the ingredients.
Drizzle the sauce over air fried nuggets. Garnish and Devour !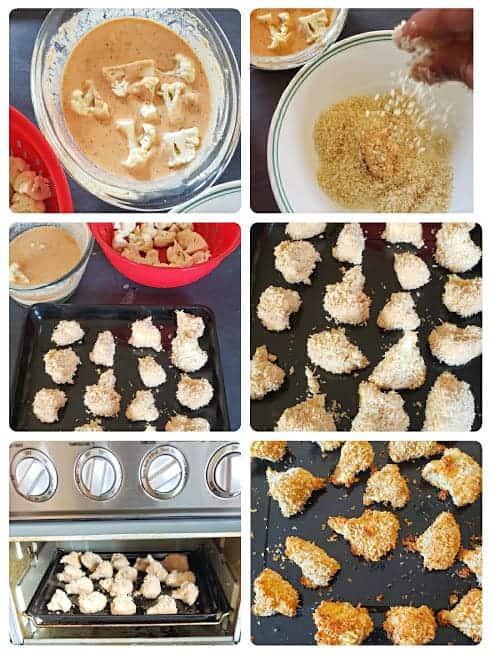 Our popular Air Fryer Recipes: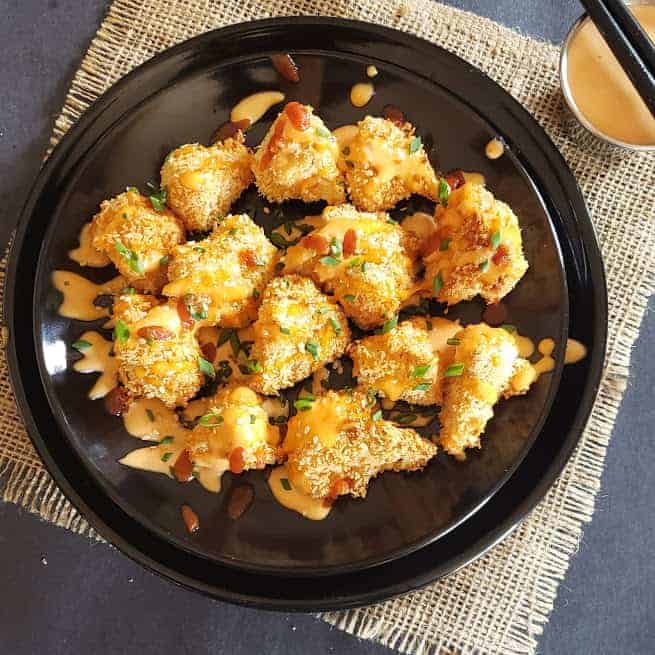 ♥ Follow us on PINTEREST and like our FACEBOOK page. We love creating delicious, plant based recipes from around the world. DO JOIN US ♥
We would love to hear your feedback!! Use the PIN button in the recipe card or image below to pin this recipe !
★ If you make this Air Fryer Bang Bang Skinny Cauliflower Bites Recipe , do let us know how you like it by ★ star rating it and leaving a comment below.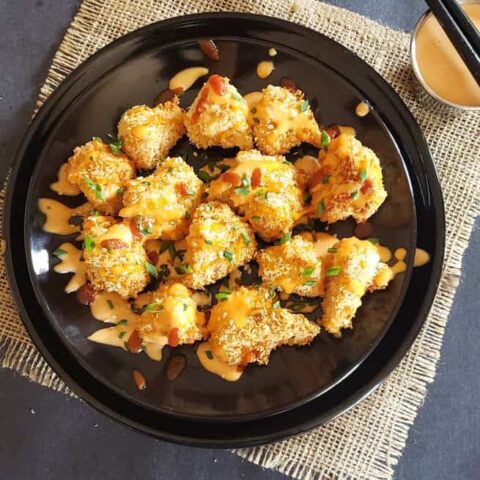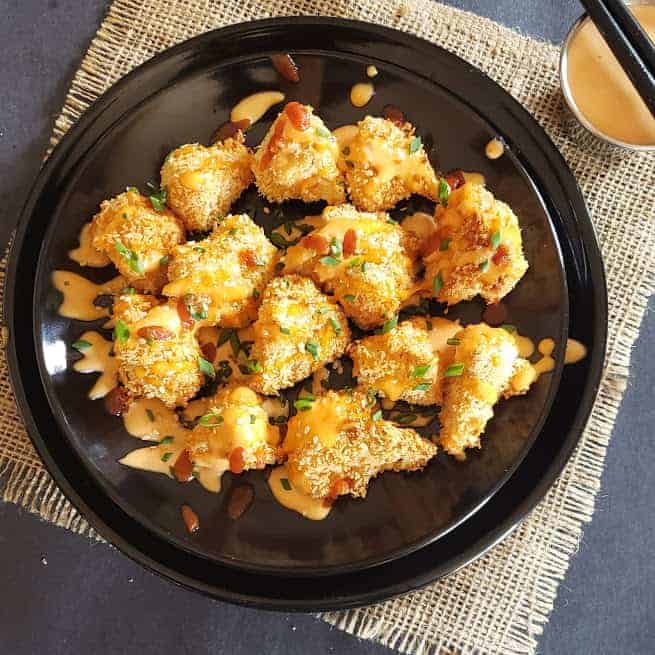 Air Fryer Bang Bang Skinny Cauliflower
Bang Bang Skinny Cauliflower Bites make an extremely popular appetizer. Bang-bang sauce is a delectable combination of creamy, spicy and sweet chili sauce .Sautéed tender cauliflower bites are crisp coated and drizzled with this creamy, spicy yummy sauce!
Ingredients
Breaded Cauliflower Bites
1 head cauliflower, cut into florets
1 cup buttermilk
1/2 teaspoon sea salt
1/2 teaspoon ground black pepper
1 teaspoon garlic powder
1/4 teaspoon baking powder
Chives and sesame seeds for garnish
For Bang Bang Sauce
Instructions
Using a knife, cut off the leaves of Cauliflower. Cut it into bite size florets.
To make a Bang Bang Sauce, whisk all the sauce ingredients together in a bowl. Set aside in the refrigerator.
In a bowl, mix the all purpose flour, garlic powder, onion salt baking powder and smoked paprika. Add the buttermilk and make a smooth paste / batter. It should easily coat the florets. If the batter is too thin, add more flour and if it's too thick, add more buttermilk or water.
Make an assembly line with a bowl of wet mixture and bowl of panko breadcrumbs. Keep the air fryer basket nearby.
Start off by dipping the florets in the wet batter. Work in batches. Dredge the batter covered bites into the breadcrumbs and put onto the airfryer basket. Repeat the process for all the florets.
Make sure there is enough space between coated florets. You need to air circulate properly. Don't overcrowd them.
Pop it in the airfryer. Choose the temparature at 350 °F . Set the timer for 15 minutes. Mid-way through cooking, take them out, spray some oil and shake them some for even cooking.
Remove from the airfryer after the timer goes off. These bites should be golden brown and crispy from all sides.
Drizzle the sauce all over. Sprinkle some sesame seeds and chives for garnish. Serve warm and immediately with extra sauce on the side to dip. Enjoy !
Oven Instructions:
Preheat the oven to 400 Fahrenheit /204 degrees Celsius. Line a baking sheet with a silicone baking sheet or greased foil. Prepare the breaded bites as above. Then put the baking sheet in the oven and bake for 20 minutes. Half way through, take them out and spray some oil and flip them upside down for even baking.
Serving instructions remain the same as above.
Notes
To make this recipe Vegan
To replace buttermilk, use unsweetened almond milk or other plant milk + two teaspoons lemon juice or apple cider vinegar. Also use vegan, plant-based mayonnaise.
To make this recipe keto friendly
Use almond flour instead of regular all purpose flour.
To make this recipe Gluten-free
I use both all purpose flour and panko breadcrumbs that are certified Gluten-free.
* This recipe can be made in multiples of different air fryers including Air Fryer Lid for Instant Pot 6 Qt or 8 Qt Pressure Cooker - Crunch Lid. Since brands vary in temparature settings, adjust cooking time accrodingly.
Nutrition Information:
Yield:

6
Serving Size:

5-8 nuggets
Amount Per Serving:
Calories:

364
Total Fat:

18g
Saturated Fat:

3g
Trans Fat:

0g
Unsaturated Fat:

14g
Cholesterol:

9mg
Carbohydrates:

43g
Fiber:

4g
Sugar:

10g
Protein:

9g
Nutritional values are provided as a courtesy and the values are approximate. The values will change depending on the exact ingredients, measurements and brands used. As always, for specific health issues and dietary requirements please consult medical professional.