Stuffed Okra with Indian spices has incredible flavors packed into one simplistic dish. Crispy texture, bold fiery flavor and a sweet coconut finish are highlights of this dry curry.
This recipe is also called as Bharali Bhendi, bharva bhendi ( bhindi ) , Crispy Masala Bhindi , sukhi bhendi subzi , bharwan bhindi in different regions of India. It all refers to okra ( lady finger vegetable) stuffed with Indian spices and cooked to perfection.
I am listing couple of different ways to make the stuffing. Air-fryer, oven or stove top instructions are also included to make this recipe in jiffy.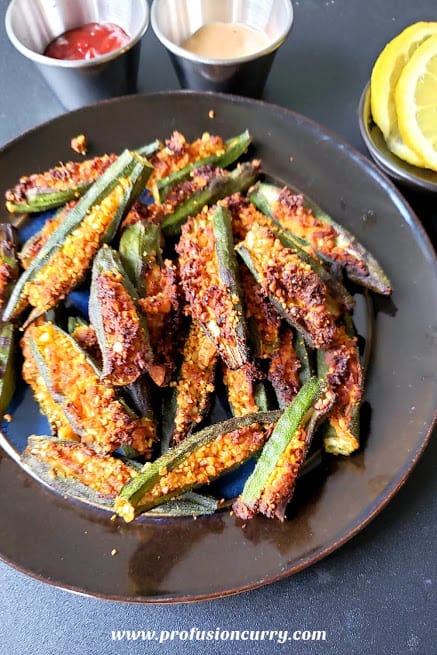 You will love this Crispy Vegetable Air fryer recipe because
It's low calorie, super tasty, nice and crispy

Non deep fried

Not as time consuming since, cutting okra for stuffing is less tedious. Also okra doesn't get slimy at all.

This dish is VEGAN, GLUTEN-FREE, PALEO and LOW-CARB recipe.
My mom used to make incredibly delicious yet super simple Bhendi Stir fry. She would just sauté cut onions and okra in iron kadhai until it got crispy, slightly burnt. Simple lemon and salt and red chilli powder was seasoning but that was finger licking delicious meal. Oh how badly I miss her and her cooking !
When it comes to okra, there are two camps .. lovers and haters… I like to eat crispy bhendi it but always felt tedious to cook it. Especially if it gets slimy textured, I just couldn't do it.
But my husband likes bhendi .. Every now and then he craves it. So I decided to experiment cooking it differently.
Before air fryer, making stuffed okra involved using lot of oil or deep frying. So we sometimes used to eat it at restaurants, but I rarely made it at home.
However, since I brought air fryer, things changed dramatically! It was one of my first recipes that I tried. It really is a perfect Air fryer recipe. Now, it has become a weekly lunch or dinner menu item for us.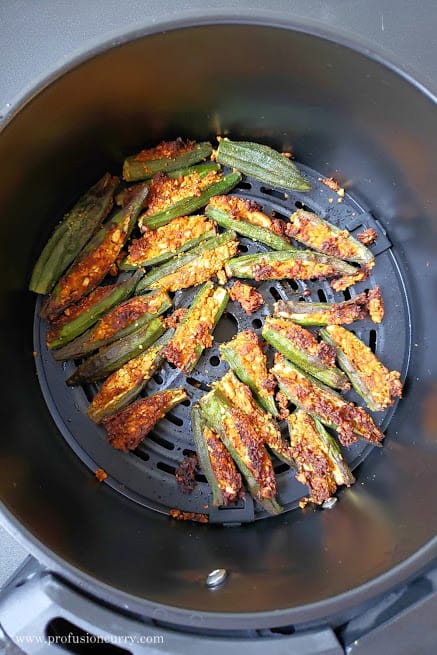 HOW TO MAKE STUFFED OKRA
Wash the okra under cold water. And make sure it's completely dry before you start cutting. Thoroughly drying it is very important, since it helps with okra not becoming slimy while cutting.
Also use a dry cutting board and knife. Start off by cutting the top and bottom ends. Slit the okra in the middle and slightly open it up for stuffing. After cutting a few okras if you notice your knife is getting the white slimy stuff on , clean it with kitchen towel.
Prepare Stuffing. Using a spoon, stuff each cavity of okra.
Spray some oil on stuffed okra. Arrange it single layer on air fryer basket. Stuffing side up.
Air fry at 350 for 10 minutes. Check halfway to ensures even cooking.
Once it's done air frying, remove it on a serving plate. Garnish with chopped cilantro leaves and serve warm.
You can do the same recipe in the oven. Lay the stuffed okra on parchment lined baking sheet. Bake at 350 . To make it perfectly brown, you might want to broil it for couple minutes at the end.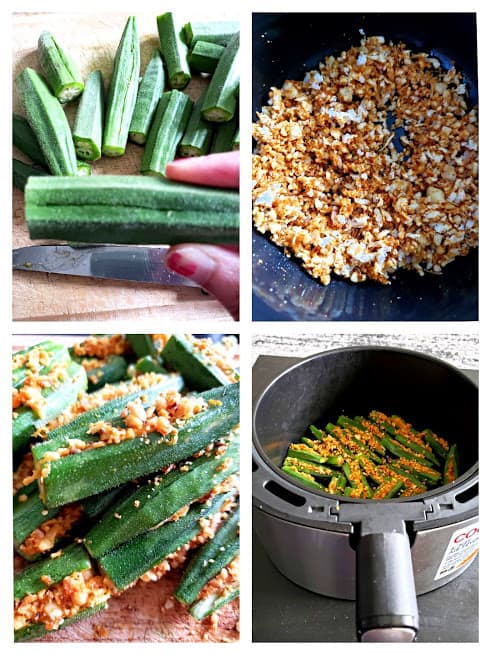 Pro tips for Choosing the best okra for stuffing
Okra comes in many sizes. Short, thick, long and slender.
Look for fresh, young okra that is bright in green color and has no black or brown spots. One tip is to break the end by pushing your thumb. If it breaks easily, it's fresher.
For stuffing recipes, I prefer short or medium and thick okra. They are not woody and also have smaller seeds as compared to the long, slender okra.
Long and slender ( truly called lady finger ) type of okra is best for cutting into pieces and stir frying.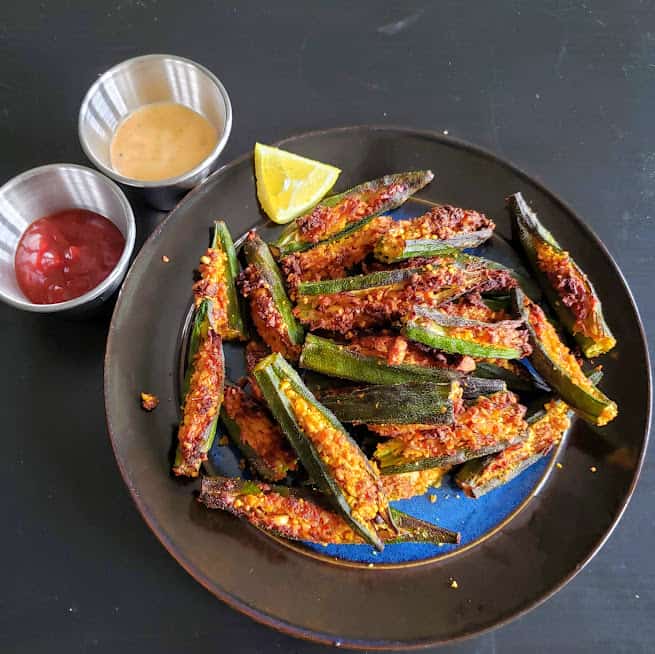 INDIAN SPICED STUFFED OKRA INGREDIENTS
Fresh Okra – Please see the suggestions to choose best fresh okra for stuffing.
For stuffing – I use roasted and coarsely ground peanuts + coconut ( either dry, fresh or frozen works ) as a main stuffing ingredient. Amchur powder (dry mango powder) helps get a tangy taste
Flavoring and spices : turmeric powder , red chili powder, pinch of asafoetida or hing and a good quality garam masala powder are used for masala. A teaspoon raw sugar or powdered jaggery adds a tinge of sweetness which we like. Use salt as required.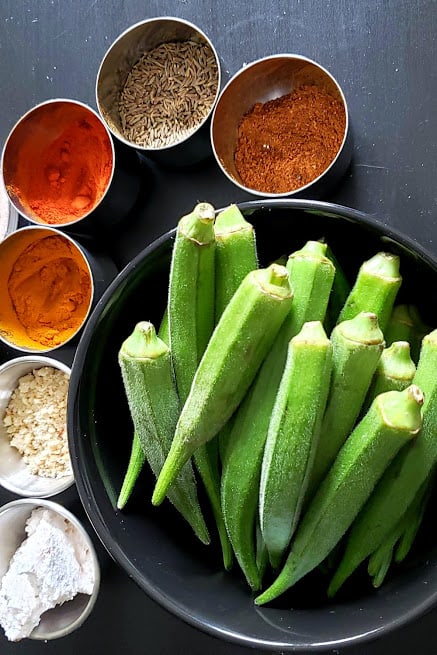 Suggestions for alternative stuffing
Besides the stuffing mentioned in the recipe, you can make Bharwan Besan Bhindi by using different stuffing. This stuffing also tastes amazing. You can dry roast following ingredients to make that stuffing.
1/2 cup besan flour
1 tablespoon cumin coriander powder
1 teaspoon amchur powder
2 teaspoon garam masala
1 teaspoon sesame seeds powder
1/2 teaspoon turmeric powder
1/2 teaspoon red chili powder
1 pinch asafoetida (hing)
1 teaspoon raw sugar or powdered jaggery or add as per taste (optional)
salt as required
All other instructions remain the same. I use both the stuffing interchangeably and we love both of them . Let us know which one do you like.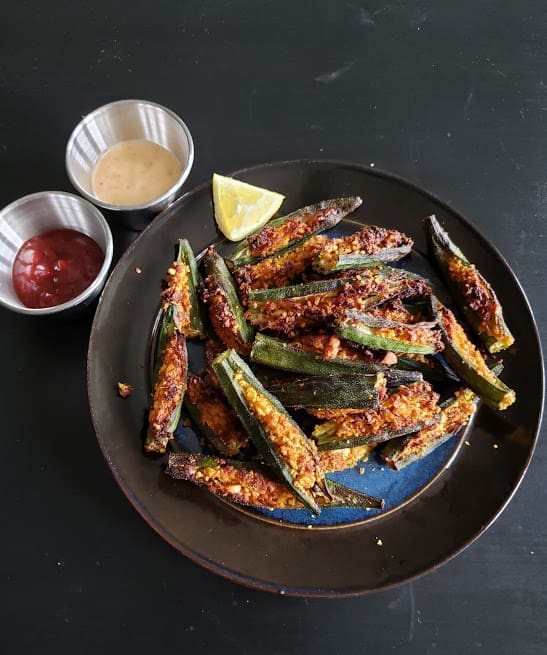 The beauty of this Indian dinner curry recipe is that it can serve as an appetizer, plant-based entrée or side dish. Here are couple of my other favorite Indian recipe pairings:
Chutney : Roasted Red Pepper Chutney
Curry : Aloo Matar or Baingan Bharta or Rajma Masala or Paneer Jalfrezi
Dal : Dal Makhani or Spinach Dal
Rice : Tawa Pulao or Turmeric Lemon Rice
Don't forget to take pictures when you make our delicious recipes. Tag us with #profusioncurry on Instagram ! We would love to feature your creation.
Join us on Pinterest and FACEBOOK . You will love all our delicious, wholesome, plant based recipes from around the world.
★ If you make this STUFFED OKRA – BHARWA BHINDI RECIPE , do let us know how you like it by ★ star rating it and leaving a comment below.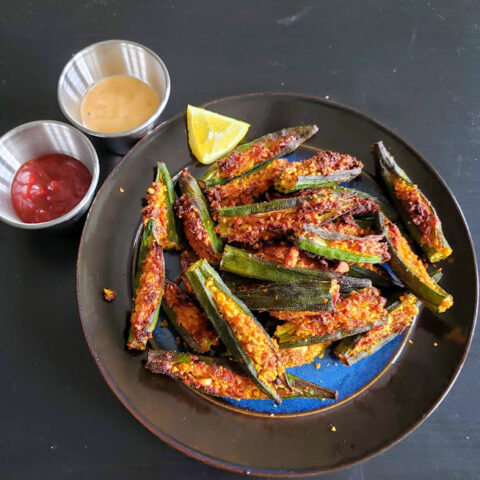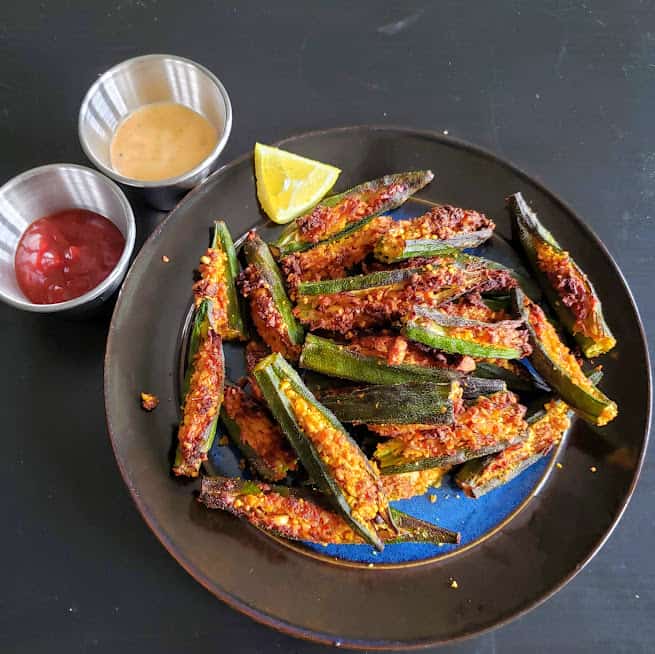 Stuffed Okra - Bharwa Bhindi Recipe
Stuffed Okra or Bharwa Bhindi is a popular Indian side dish easy to make in airfryer or on the stove. Okra is stuffed with spicy and tangy masala filling to make this low calorie, vegan and gluten free recipe.
Ingredients
200 grams okra (bhindi or bhendi or lady finger)
chopped cilantro (coriander) leaves for garnish
¼ cup roasted peanuts coarsely ground
¼ cup tightly packed grated coconut
salt as required
Instructions
PREPARING AND STUFFING THE OKRA :
Wash the okra. Spread okra on a clean kitchen towel and pat dry to absorb any extra moisture.
Make a vertical (lengthwise) slit on each okra, be careful not to cut through the okra. It will still be intact on the other side. Slightly open it up for stuffing.
Prepare the stuffing by mixing all the ingredients listed under stuffing until well combined.
Stuff each okra generously with the prepared stuffing (masala).
Save any leftover stuffing (masala) for later use.
INSTRUCTIONS FOR AIR FRYER STUFFED OKRA (BHARWA BHINDI)
Spray the air fryer basket with some cooking oil.
Place the stuffed okra in a single layer in the air fryer basket. Spray okra with some cooking oil.
Air fry okra at 325F for 10 minutes. Remove the basket and check for the doneness of okra.
Change the temperature to 350 F and let it cook for 5 more minutes
Note: Different air fryer have different temperature settings. Adjust cooking time as needed.
Take out cooked crispy okra in a serving dish. Garnish with some fresh cilantro and some freshly squeezed lemon juice (optional). Serve warm.
INSTRUCTIONS FOR STOVE TOP STUFFED OKRA (BHARWA BHINDI)
Heat a wok / frying pan. Add couple of tablespoons of oil. When oil is hot carefully put all the stuffed okra onto the frying pan. Let the okra sear for 1-2 minutes on a high heat.
Now using the tongs, flip the okra upside down. Reduce the heat to low, cover and cook for 5-6 minutes. Remove the lid and let it cook for additional 5 minutes. It takes around 10-12 minutes for okra to be perfectly cooked. Try not to flip the okra too much so the stuffing stays intact.
Add all the leftover stuffing(masala) and let it cook for additional 2 minutes. Turn off the heat.
Take out cooked crispy okra in a serving dish. Garnish with some fresh cilantro and some freshly squeezed lemon juice (optional). Serve warm.
Notes
Do not add leftover stuffing until very last minute of cooking. It burns quickly and the whole dish tastes bitter.
Depending upon which method of cooking you are using, use oil accordingly. You will need 2-3 tablespoon of oil for stovetop method. For airfryer and oven method, use few spritz of oil spray.
You can do the same recipe in the oven. Lay the stuffed okra on parchment lined baking sheet. Bake at 350 F for 10-12 minutes . To make it perfectly brown, you might want to broil it for couple minutes at the end.
Recommended Products
As an Amazon Associate and member of other affiliate programs, I earn from qualifying purchases.
Nutrition Information:
Yield:

6
Serving Size:

4-5 stuffed okras
Amount Per Serving:
Calories:

118
Total Fat:

7g
Saturated Fat:

4g
Trans Fat:

0g
Unsaturated Fat:

3g
Cholesterol:

0mg
Sodium:

172mg
Carbohydrates:

13g
Fiber:

3g
Sugar:

8g
Protein:

3g
Nutritional values are provided as a courtesy and the values are approximate. The values will change depending on the exact ingredients, measurements and brands used. As always, for specific health issues and dietary requirements please consult medical professional.