Fig Arugula Salad With Maple Vinaigrette is truly a showstopper salad. Stunning colors and delicious flavors make it perfect side dish for holiday dinners and entertaining. You will fall in love with this fresh, healthy and luscious salad.
If you have browsed through our recipe collection, you will notice that we like easy and beautiful food at Profusioncurry Kitchen!! It's so rewarding to mix and match simple ingredients to make elegant and delicious recipes. And this salad is certainly one of them.
THE RECIPE CARD IS LOCATED TOWARDS THE END. Amazon affiliate link disclosure is below as well. Before scrolling to the recipe card, do check the HELPFUL RECIPE TIPS in the post.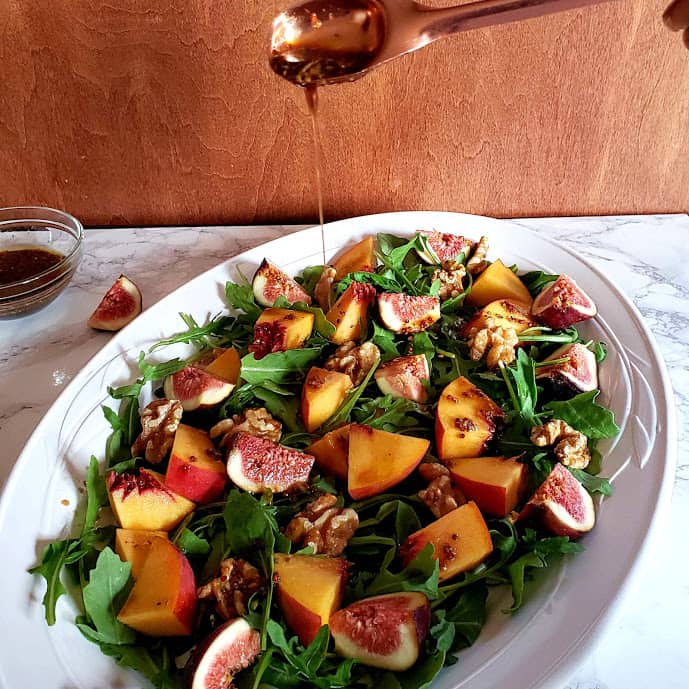 Towards the end of the summer, early fall, fresh figs start to make appearance in farmer's and produce market. In midwest , local grown peaches are still easily available. So I love to pair these two fruits with vibrant greens and voila!! This super star salad happens !!
4 main ingredients + delectable salad dressing is all you need to make this gorgeous fig salad. Doesn't get easier than that , does it ?
What are ingredients of Fig Arugula Salad With Maple Vinaigrette Recipe?
This recipe includes two major categories of ingredients. You start with a base of fruits and greens. And then there is robustly flavored salad dressing.. nom nom good !!
Arugula – I love arugula or rocket leaves. The bright greens provide excellent base with fresh tart , slightly bitter and peppery flavor.
Figs – We can use either black or green mission figs. Choose ripe and slightly soft fruit.
Peaches – Peaches add superb texture, bright color and sweet juicy texture to this beautiful salad.
Walnuts – Handful of walnuts make it hearty and crunchy. The earthy nutty flavor further enhances the taste.
Maple Lemon Vinaigrette– This earthy, tangy and sweet vegan salad dressing ties it all together.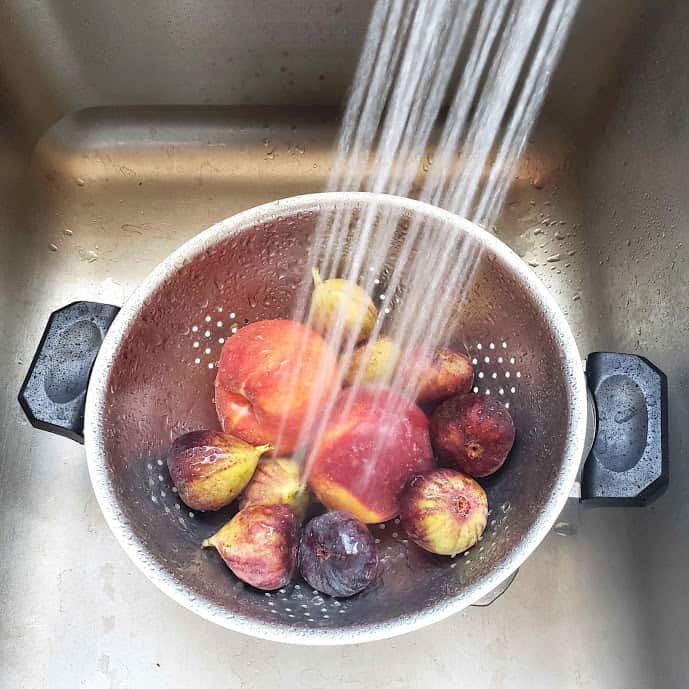 WHAT IS THE MAPLE LEMON VINAIGRETTE DRESSING MADE OF?
Maple lemon vinaigrette is bright and bold dressing for this festive salad. The simple ingredients are :

maple syrup,
lemon juice,
Extra virgin Olive Oil
dijon mustard,
balsamic vinegar and
dash of salt and pepper.
I like to add a teaspoon of all purpose seasoning like 21 seasoning salute for extra pop.
The tangy flavors and citrus juices soften and tone down the bitterness of the arugula and further enhance the sweetness of the fruit. You will love the flavor explosion!!
You can use this maple vinaigrette as a marinade to flavor any grilled veggies. It tastes amazing smeared on a toast or wrap. So you can make a big batch and save it for later use.
Fig Arugula Peach Salad Serving Suggestions
This salad is a great side dish for brunch, lunch or dinner ( so basically every meal ). It's wonderful as part of a holiday spread, fall and autumn gatherings or summer bbq and potlucks. You can turn a simple weeknight meal into fancy affair by using this salad.
For brunch, try serving it with a avocado toast! It also tastes amazing with Savory Chia Oats Bowl and Indian Puffed Rice Dish called Pohe
For the lunch or dinner, pair it with Creamy Lemon Basil Pasta or Moroccan Style Sweet Potato and Lentil Stew. For the festive spread this salad goes superbly with Whole Roasted Cauliflower and Turmeric Lemon Rice. As an added bonus, all these delicious recipes are healthy, vegan and gluten free !!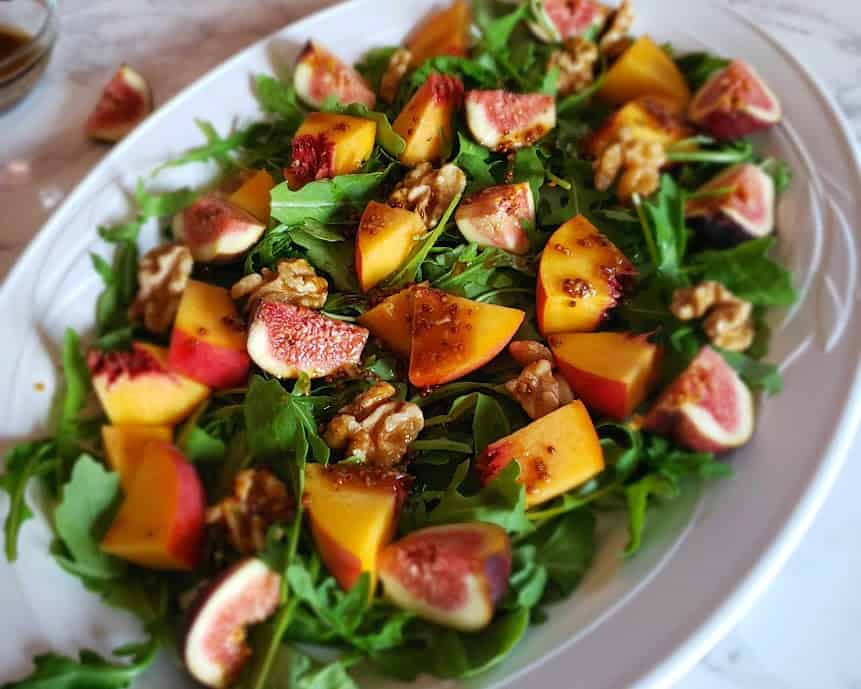 Serving and storage tip for Fig Arugula Peach Salad
I do not recommend storing the prepared salad for too long. You can always make and refrigerate the dressing / vinaigrette ahead of time. However once the salad is mixed and tossed, do not keep it waiting too long.
Fig balsamic dressing and salad recipe variations
Like most simple salads, this one is easy to play with. You could make it with the fruits you like too.
Add in your favorite fresh herb – mint or basil or parsley would be excellent.
You can use toasted pine nuts, cashews or almonds instead of the walnuts. Dried cranberries are good too.
Toss in a little cheese – crumbled feta, blue cheese or herbed goat cheese would be delectable.
Mix in some apples and pomegranate instead of peaches .. just as perfect choice for fall.
Simple ingredients BIG flavors, this recipe also is wholesome, vegan and gluten and soy free !! So nourish your taste buds guilt free!!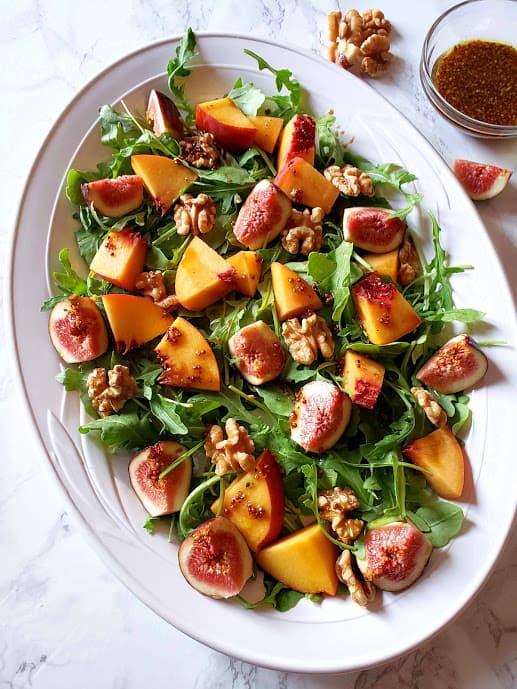 We would love to hear your feedback!! Use the PIN button in the recipe card or image below to pin this recipe !
★ If you make this recipe, do let us know how you like it by ★star rating it and leaving a comment below.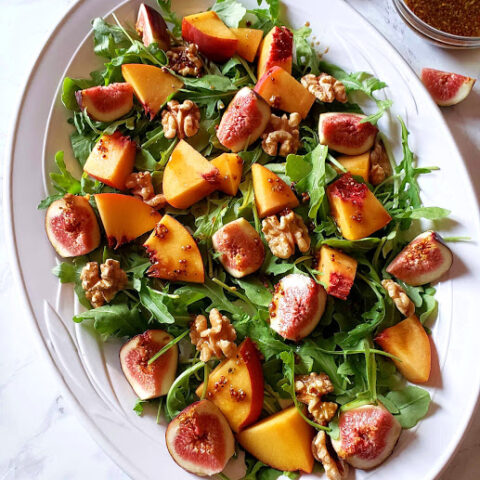 Fig Arugula Salad With Maple Vinaigrette
Fig Arugula Salad With Maple Vinaigrette is truly a showstopper salad. Stunning colors and delicious flavors make it perfect side dish for holiday dinners and entertaining. You will fall in love with this fresh, healthy and luscious salad.
Ingredients
4 cups baby arugula
8 figs, cleaned and quartered
2 peaches, pit removed and quartered
1/2 cup walnuts
For Maple Lemon Vinaigrette:
2 tbsp maple syrup
1 tablespoon lemon juice
1 tbsp balsamic vinegar
2 tsp extra virgin olive oil ( skip for wfpb)
1 tsp dijon mustard
1 teaspoon all purpose seasoning ( 21 seasoning salute)
salt and pepper to taste
Instructions
In a large bowl add arugula, cut figs, peaches and walnuts.


To make the vinaigrette dressing whisk together all ingredients.


Toss salad with dressing and serve immediately or cover the bowl and place in the refrigerator until ready to serve.
Nutrition Information:
Yield:

6
Serving Size:

1
Amount Per Serving:
Calories:

171
Total Fat:

8g
Saturated Fat:

1g
Trans Fat:

0g
Unsaturated Fat:

6g
Cholesterol:

0mg
Sodium:

332mg
Carbohydrates:

27g
Fiber:

4g
Sugar:

21g
Protein:

3g
If you love this salad recipe, try some more delicious and colorful recipes like this Harvest Kale Salad , this Classic Crispy Brussels Sprouts , or this

Rainbow Veggies and Rice Noodles

.
Don't forget to follow us on Pinterest and FACEBOOK page. We love creating delicious, wholesome, plant based recipes from around the world. Do join us !!