Are you looking for Healthy Vegan Thanksgiving Recipes? Then look no further! It's the most magical time of the year. Lots of parties, celebrations and family time. Time to create lovely memories, reflect back on your blessings and rejuvenation for upcoming new year.
Being a vegan definitely doesn't have be an issue to enjoy the delicious Thanksgiving feast and other dinner parties. To help you with your menu planning, we have put together a stunning roundup of Delicious Vegan Thanksgiving Dinner Recipes.
We have got you covered with festive vegan appetizers and salads, main entrée and dessert too. These recipes are VEGAN, GLUTENFREE, SOY FREE and loaded with whole food plant based ingredients.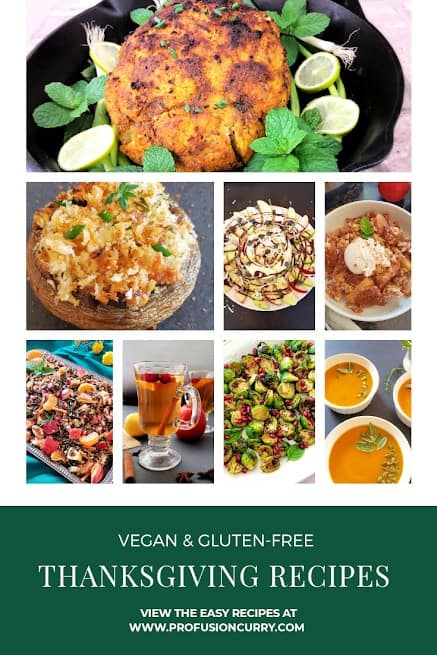 EASY SUBSTITUTIONS
Some of the recipes include vegan and non vegan options in details. This is to show that it is super easy to make substitutes and make the dinner party enjoyable for everyone.
We prefer not to use imitation meat items so no tofu-turkey here. With these recipes, you will have fabulous Thanksgiving celebration everyone will enjoy.
OUR TOP PICKS OF KITCHEN TOOLS FOR EASY ENTERTAINING
A lot of these recipes are made in Instant Pot. In case you are in a market for new Kitchen Gadget, this is it!! A lot of hard to make and time consuming dishes are now super simplified using Instant Pot.
I also extensively use my Cast Iron Skillet to sauté and roast the veggies. I love the convenience of using one pot iron rich Cast Iron Skillet for many recipes. A Food Processor always comes in handy to reduce the muscle power in grating , kneading and food prepping.
An Air-Fryer is yet another Kitchen gadget I used a lot. For lowering calories and getting crisp healthy recipes, it is a must have.
The recipes in this round-up are easy to prepare. With little planning, you will be enjoy the most awaited holiday season to the fullest. Simple, delicious and beautiful all these lovely holiday options will make your gatherings a joyous celebration !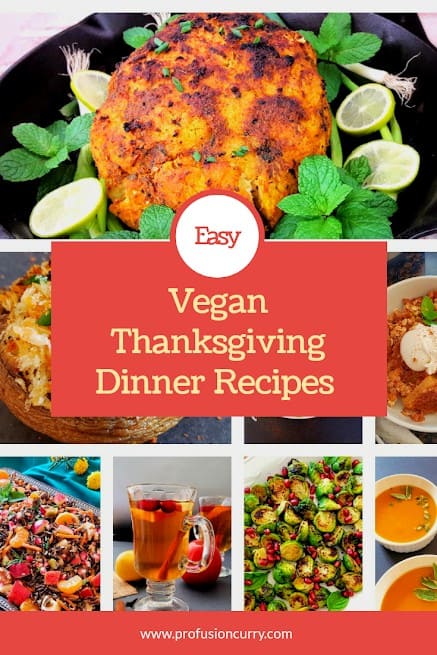 LIST OF APPETIZERS, DIPS FOR GRAZING BOARD AND DRINKS:
VARIETY OF SOUPS AND SALADS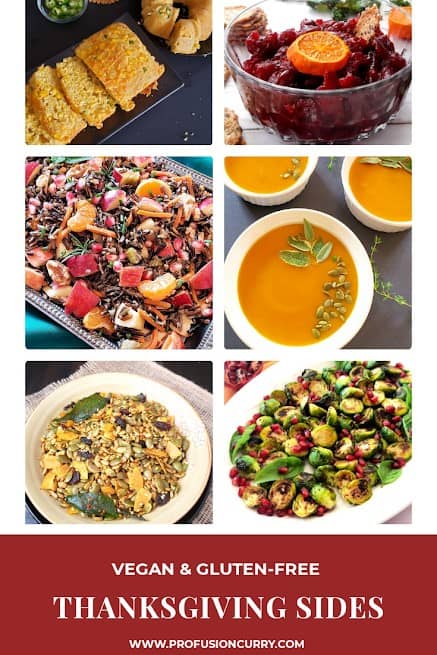 THE MAIN COURSE – STAR ATTRACTION
Whole Roasted Cauliflower – This visually striking preparation of cauliflower will make a star centerpiece for your festival dinner party. Whole30, Keto-friendly & Vegan dish, it's also easy to make and guaranteed to impress your guests.

FABULOUS SIDES
VEGAN DESSERTS
Let us know how you like this recipe round up by leaving a comment. And while you're at it, take a picture of your dinner spread and tag it #profusioncurry on Instagram. We love seeing what you come up with. Cheers, friends!
Join us on Pinterest and FACEBOOK . You will love all our delicious, wholesome, plant based recipes from around the world.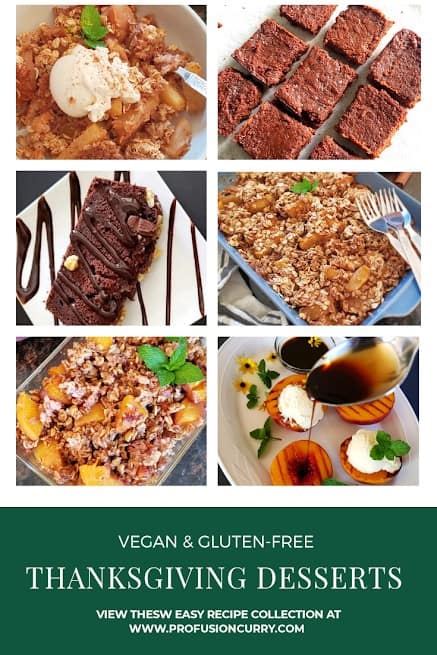 *SOME OF THE LINKS IN THIS POST ARE AFFILIATE LINKS AND WE WILL RECEIVE A SMALL COMMISSION ( at no extra cost to you) IF YOU MAKE A PURCHASE AFTER CLICKING ON OUR LINK. THANK YOU FOR SUPPORTING OUR WORK HERE AT PROFUSIONCURRY!
Hope you get to try some of these recipes to make it fabulous Vegan Thanksgiving this year! And if you do, don't forget to let us know how they turned out for you! Love and blessings to all from Team ProfusionCurry.
Bon Appetit!!
Vegan Thanksgiving Recipe collection is full of delicious recipes from Profusioncurry. You will love these popular and favorite recipes ranging from starters and appetizers and drinks to desserts. The easy to make and scrumptious side dishes will make your dinner gatherings memorable. Use this collections for worry free holiday dinner. #thanksgiving #holidaydinner #veganthanksgivingdinner #holidayrecipes