Rainbow Autumn Salad that's brimming with nutrients and bursting with the colors of the season. Easy and beautiful, Healthy and Nourishing ! Perfect for regular dinner or a fancy dinner party. It can even become whole meal weeknight BUDDHA BOWL by adding some plant protein like chickpeas or quinoa. GF, Vegan and WFPB recipe!
This Rainbow Autumn Salad could not be more beautiful. So many colors of the healthy veggies in this salad! And the taste definitely matches the bright palette. With the holidays approaching and as the year comes to an end, our focus tends to change from healthy to indulgent food. Simple but seasonal salads like the one featured here can keep our focus intact. Cheers to healthy eating vibes year round.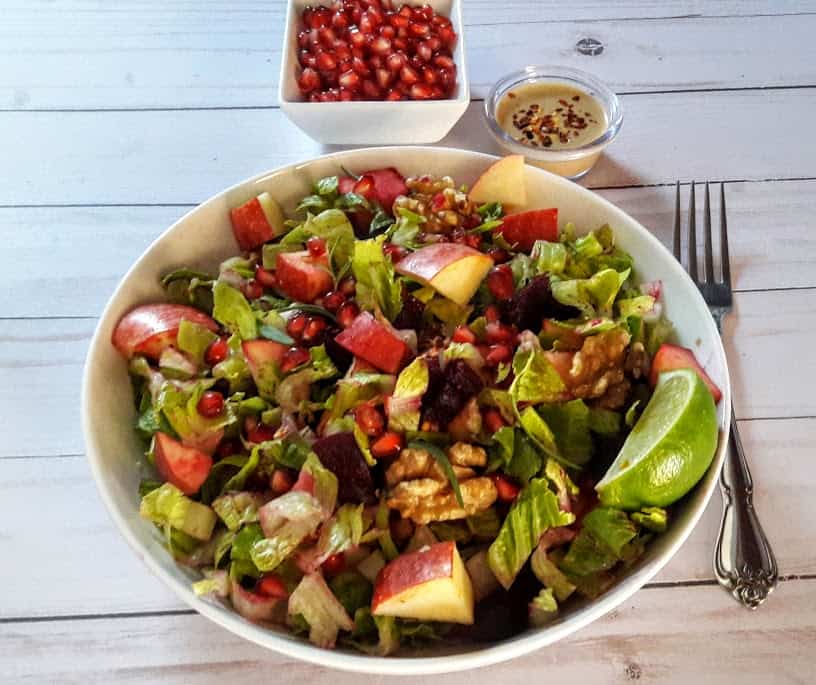 Fall/ autumn season sure means comforting warm soups. But not always. You also need raw, beautiful salads that lift your mood with fresh energy. Also if soup is comforting, salad is refreshing so you can have multiple actions going all at once. Using bounty of nature and goodness of seasonal produce, you can create beautiful meals without much muscle power and time. That's the beauty of this wonderful salad.
This Rainbow Autumn Salad recipe includes veggies that are abundantly available in season with their lovely fall colors, flavors and textures. It's nourishing, refreshing and delightful all at once. This recipe really brings in contrast of textures and flavors. It is Sweet and savory. Soft and crunchy.
WHAT GOES INTO RAINBOW AUTUMN SALAD ?

All the beautiful seasonal produce that is readily available. For the base of the salad and nice crunch in every bite, we use Crisp Romain lettuce. We add cooked beets for vibrant colors and soft sweet treat. Walnuts add earthy feel to the mix and much needed healthy fat so we absorb all the nutrients easily. Pomegranate seeds, a treasured super food makes it look and taste fancy. Adding seasonal apples gives it a good volume and brings it all together !
Then comes the dressing that pulls all of it together. I love using Tahini to make exotic smooth dressings. A classic middle eastern delicacy, Tahini is mildly nutty, creamy, and savory sauce. You blend it with lime juice, chili flakes and pinch of salt. A perfect sauce with minimal ingredients but BIG flavors.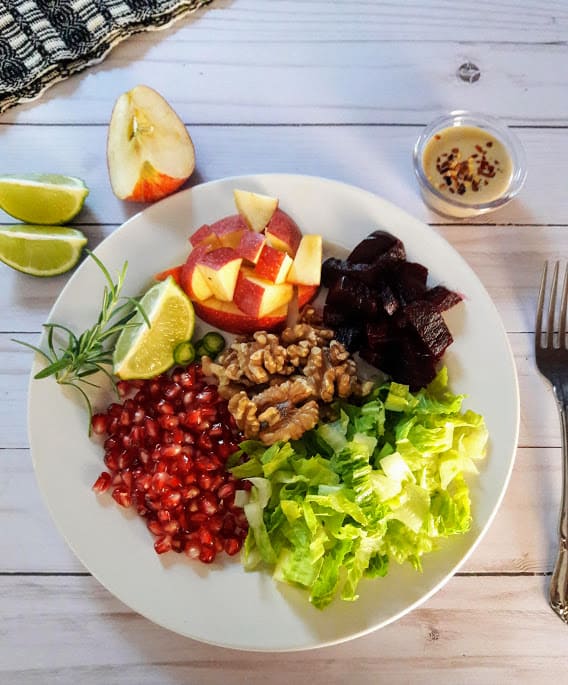 WHAT SUBSTITUTIONS CAN I MAKE FOR THIS RAINBOW AUTUMN SALAD RECIPE?
You can substitute walnuts with any nuts you prefer. Almonds or pistachios will work well here. Apples could be replaced with pears, oranges or even grapefruit. Carrots or sweet potatoes could be used in place of beets. If you are allergic to sesame and tahini, a simple oil vinaigrette will do too.
I am singing big long praises of this hearty autumn salad . There are so many scrumptious flavors and delicious textures going on in this mood-lifting dynamite salad. You will love making it often. Plus it's Paleo-diet friendly, soy free, dairy free, gluten free, and grain free. Enjoy!"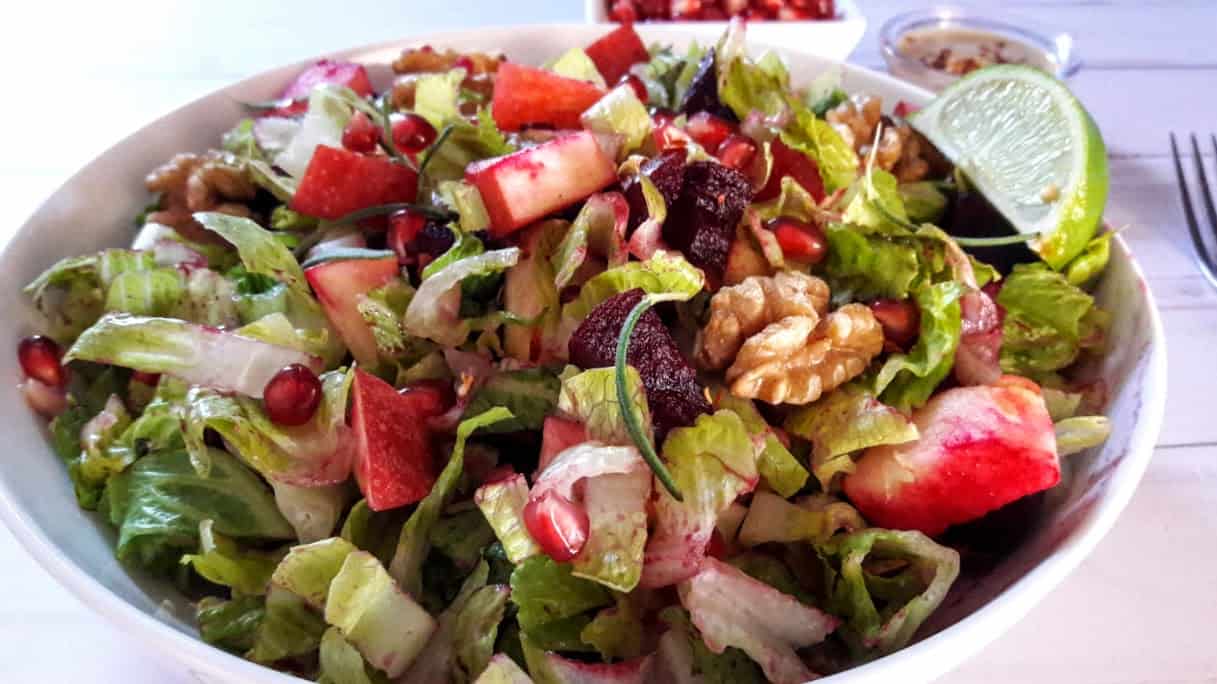 Are you looking for a few more healthy and flavorful salad options for your dinner roundups? I recommend checking out some of my other favorites
Thai Zucchini Noodles With Peanut Sauce
Or
Tex Mex Quinoa Salad
Or
Italian Style Zoodles
♥Let us know how you like this post by leaving a comment and rating it so other readers know it too. And while you're at it, take a picture and tag it #profusioncurry on Instagram! We love seeing what you come up with. Cheers, friends !!
Want to save it for later? Check our Pinterest Board for more recipe ideas and creations. Pin this recipe for later use.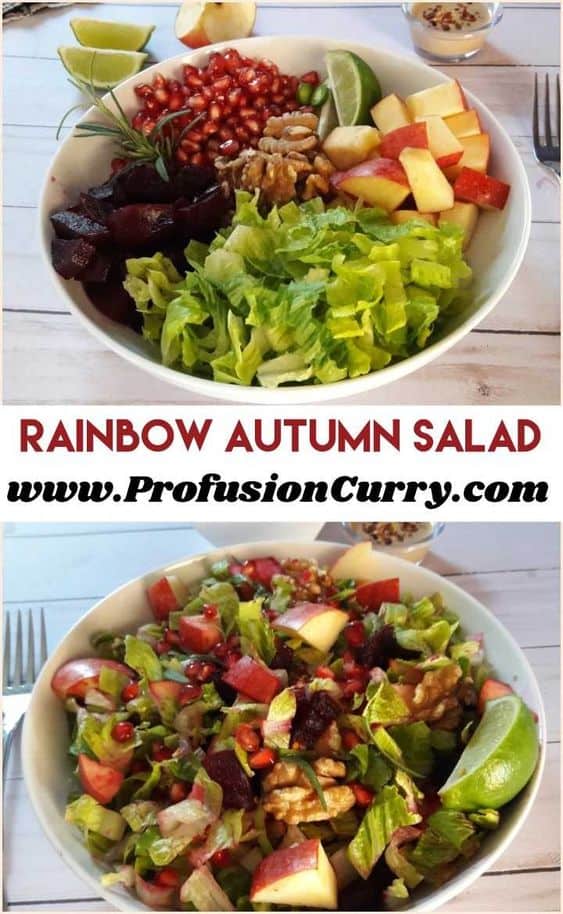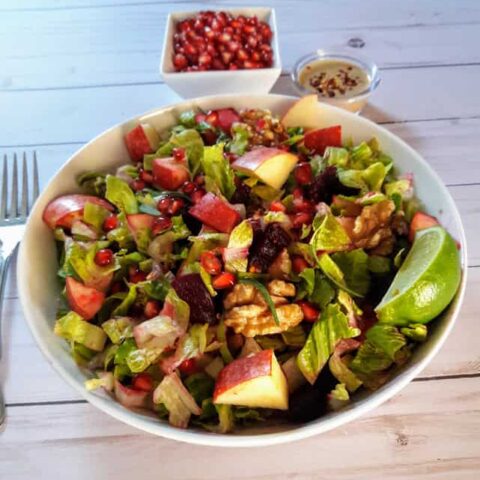 Rainbow Autumn Salad
Rainbow Autumn Salad that's bursting with the colors of the season. Perfect for Thanksgiving or a dinner party.Paleo-diet friendly, Vegan, GF and Grain Free Recipe
Ingredients
4 Cups of chopped Romain Lettuce
2 Cup cooked beets -diced
2 cup cut Apples
1 cup Walnuts
1 Pommegrante Seeds
For the Dressing
Juice of 1 Lime
3 Tablespoon Tahini
2 Tablespoon Water
Salt and Chili Flakes -Per taste
Instructions
Combine the lettuce, beets, apples, walnuts and pomegranate seeds together.
Whisk all ingredients under the dressing well so everything mixes well.
Pour the dressing over the salad
Toss everything well together. Your colorful Rainbow Autumn Salad is ready to be devoured. Bon Appetite !!
Nutrition Information:
Yield:

6
Serving Size:

1 cup
Amount Per Serving:
Calories:

211
Total Fat:

16g
Saturated Fat:

2g
Trans Fat:

0g
Unsaturated Fat:

13g
Cholesterol:

0mg
Sodium:

147mg
Carbohydrates:

17g
Fiber:

4g
Sugar:

10g
Protein:

5g
Nutritional values are provided as a courtesy and the values are approximate. The values will change depending on the exact ingredients, measurements and brands used. As always, for specific health issues and dietary requirements please consult medical professional.
*SOME OF THE LINKS IN THIS POST ARE AFFILIATE LINKS AND WE WILL RECEIVE A SMALL COMMISSION ( at no extra cost to you) IF YOU MAKE A PURCHASE AFTER CLICKING ON OUR LINK. THANK YOU FOR SUPPORTING OUR WORK HERE AT PROFUSIONCURRY