More often than not, every household ends up with over ripen bananas that nobody wants to eat. As such we prefer not waste the food too. Banana Walnut muffins give you a great alternative to use up those ripen , not so liked bananas. Its a complete makeover that's hard to resist! The added bonus of baking these muffins at home is that the house smells heavenly.
This basic recipe can be used with several variations. On its own, its very easy to make , intensely flavorful and super moist. Every bite gives you that satisfying comforting taste. This recipe can be changed to countless variations, if variety is your thing. You can add different fruits to make it apricot, mango or fig muffins. You can change the flour to make it gluten free and last but not least, you can change nuts to pecans, almonds or even pine nuts. Possibilities are endless.

These muffins come together quickly. Most of the ingredients are easily available and are probably in your pantry already. They are delicious, moist and stay fresh for days. They offer great choice for breakfast, dessert or a quick sweet snack. Wonderful choice for school snack since their shape stays intact and are easier to eat. Just in case you have leftovers, they freeze well too.
INGREDIENTS:
· 3 ripe Bananas
· Handful of chopped Walnuts
· 2 Eggs
· ½ cup full-fat yogurt OR Greek yogurt
· ⅓ Cup Honey
· 1 teaspoon vanilla extract
· 1½ cups whole wheat flour
· 1 teaspoon baking soda
Toppings: ( Choose one-choose all; or mix and match , your choice )
· Dark chocolate chips
· Blueberries
· Chopped walnuts
· Some exotic options like dried apricots, dates or figs
METHOD:
1. Preheat oven to 350°F.
2. In a large bowl, mash the bananas into a fine paste.
3. Add the eggs and whisk together until well incorporated.
4. Add in the full fat yogurt /Greek yogurt, honey, and vanilla extract, and mix.
5. Pour the flour over the wet mixture then sprinkle the baking soda.
6. Stir in chopped Walnuts.
7. Using a spatula, fold the wet and dry ingredients together until the dry bits of the flour have disappeared.
8. Using a medium ice cream scoop, portion the batter evenly into a greased muffin tin. Do not fill more than ¾ of the tin.
9. Tap the pan twice gently on your work surface to get rid of any air bubbles.
10. Top the muffins with your choice of toppings.
11. Bake for 20 minutes, until the muffins have risen and set.
12. Let muffins rest in pan on wire rack for 5 minutes. Remove from pan and let cool completely on rack. Devour !!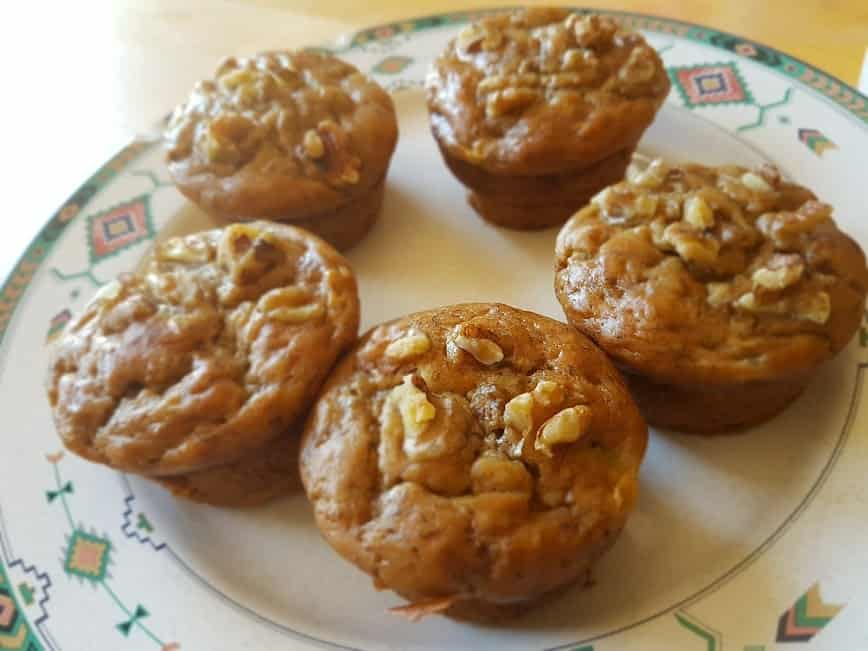 I hope you enjoy these muffins. Quick, simple and delicious – it's everything you want in a Banana Walnut Muffin!!
————————————————————————————————————————————
■Let us know how you like this recipe by leaving a comment and rating it so other readers know it too. And while you're at it, take a picture and tag it #profusioncurry on Instagram! We love seeing what you come up with. Cheers, friends■