This Green Pea and Mint Soup is awesomely delicious combination of flavors. It instantly reminds you of spring breeze. The mint gives very unusual and unexpected twist to this refreshing soup. It is light, airy and perfect to elevate the mood coming out of dreaded dark winter. GF, Vegan, Dairy and Soy Free, Low calorie recipe with InstantPot and Stove Top Instructions included.
Calender tilts towards March and the mood starts to sing spring. The sunlight starts to linger longer. The anticipation of the brand new, exciting season that's about to unfold is just soo exciting.
Asparagus, strawberries and fresh peas start to make their appearance in the grocery stores. It's not that they aren't available throughout the year but they feel extra fresh in the beginning of the Spring season.
THE RECIPE CARD IS LOCATED RIGHT AT THE END. Amazon affiliate link disclosure is below as well. If you are looking to spice things up around your dinner time, don't forget to follow us on Pinterest and like our FACEBOOK page. We love creating delicious , plant based recipes from around the world. DO JOIN US !!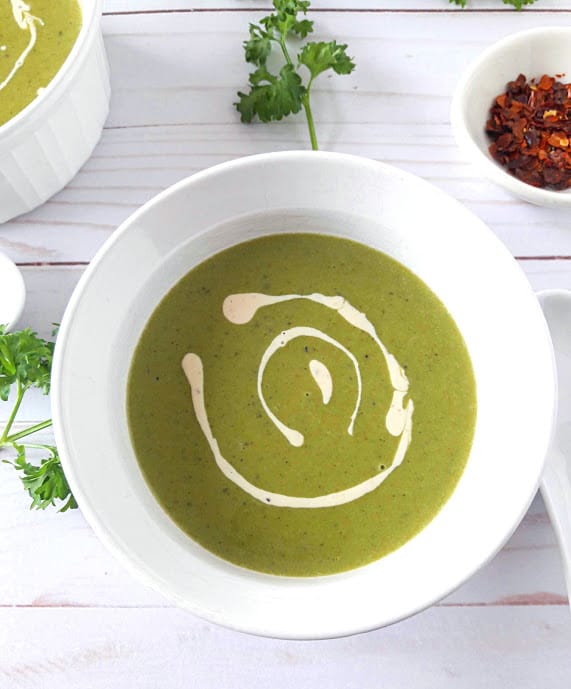 To celebrate the spirit of spring, we like to make several dinners that are simple and refreshing. Bright colors of seasonal vegetables and fresh herbs come together to create some lively preparations that are also quick and easy.
This Green Pea and Mint Soup is a little "spring harvest" in a bowl. A low calorie soup that is velvety smooth and delicately flavored. It makes you linger around the dinner table a tad more. Just as mint leaves a lovely lingering after taste of good dinner, so does this soup.
This beautiful spring soup makes a healthy vegan, gluten-free and grain-free meal that is packed with veggies and protein! A perfect soup to serve for St. Patrick Day or spring get togethers where color Green rules the show !!☘☘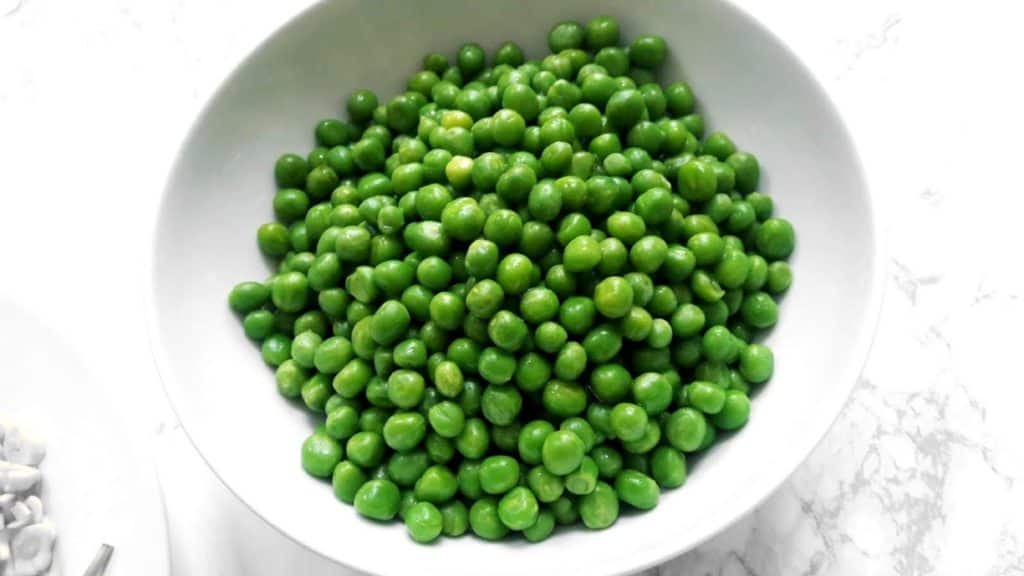 This soup embraces the seasonal flavors while keeping things light, healthy, and flavorful. This delicious and light fresh peas and mint soup finished with vibrantly ripe and juicy lemon brings you joy and nourishment at once.
You don't need to spend a lot of time cooking in the kitchen making this beautiful vegan soup. This is an easy recipe that takes less than thirty-minutes from start to finish.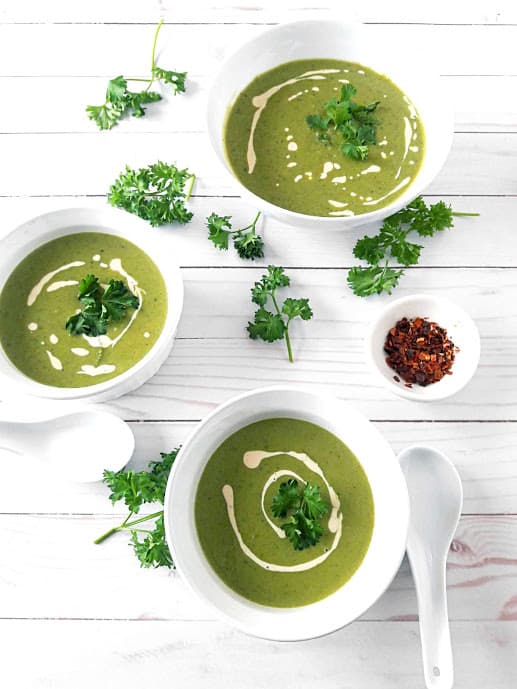 WHAT ARE THE INGREDIENTS OF GREEN PEA AND MINT SOUP
as the name suggests, the green peas and mint are the star ingredients in this recipe. If the fresh hulled peas are readily available, do use them. Otherwise you can even use frozen peas. If using frozen, I like to use the Petite Green Pea variety as they tend to be little sweeter and tender than the regular peas. WE also use onions and garlic as aromatics and usual suspects of salt and pepper as flavor enhancers. To round up the flavors, add a good squeeze of lemon juice just before serving.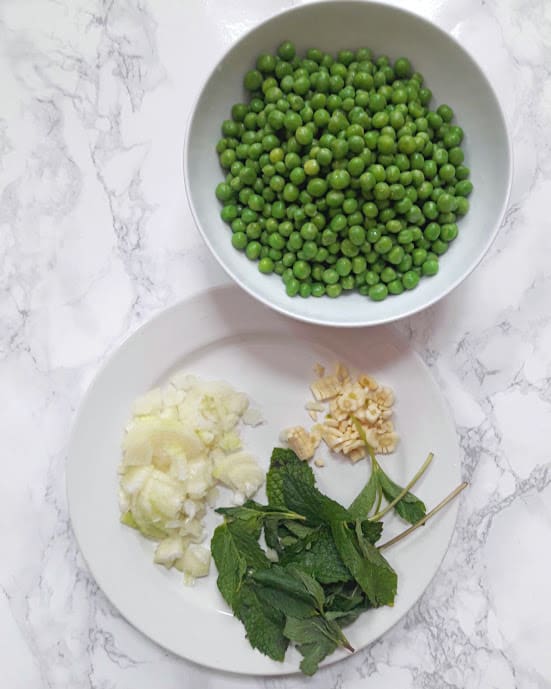 HOW TO MAKE GREEN PEAS AND MINT SOUP
To make this refreshing Green Pea and Mint Soup, we first cook the onion and garlic till they sizzle. Then add peas, mint, vegetable broth and salt and pepper.
If you are using InstantPot, you presure cook it for 4 minutes. If you are using the Dutch oven, you let it simmer for about ten minutes till the peas are tender and soft.
After it's done cooking, you blend the mixture to smooth puree. I like to blend the soup using immersion blender. If you want to blend it in upright blender, make sure it cools down well before you blend it.
The soup will thicken substantially over time. So use some water or broth when you reuse it. It freezes pretty well and can be a good meal prep option too. The soup is satisfying and filling.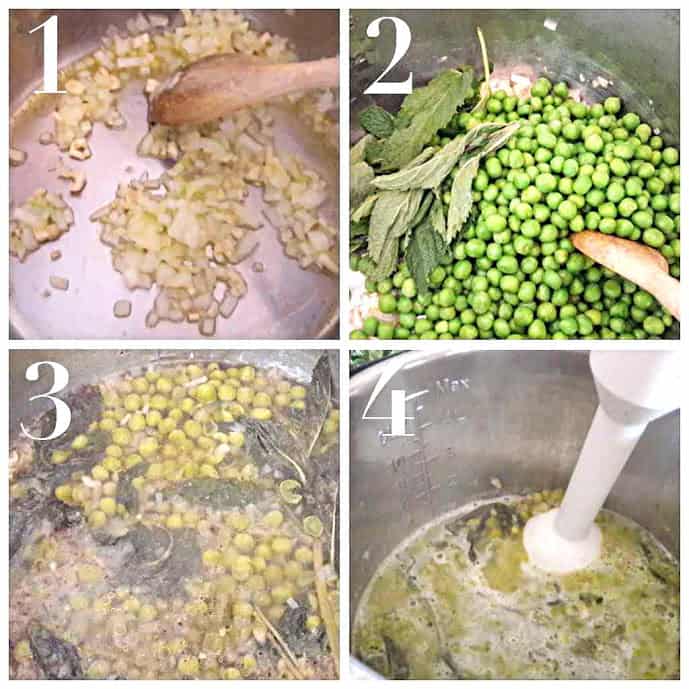 This soup reminds me of Gazpacho ( yet another beautiful and delicious summer soup) . It can be served either warm or cold. I personally like it slightly chilled with the side of crusty bread and hearty fresh salad.
Try some of our Reader's Favorites INSTANTPOT dinner creations from the Profusion Curry for the delicious and healthy dinner options
A few Kitchen Tricks To Make It Hearty And Velvety Creamy Soup

InstantPot :
I am using InstantPot to make this delicious soup. You won't believe how easy and convenient it is to use InstantPot and whip up this soup. Practically a dump and go recipe, this soup actually tastes like it's simmered for hours.
Immersion Blender
To make thicker soup, I prefer to use Immersion Blender. Beauty of Immersion blender is that you can blend it as much as your desired consistency. Also, you can immersion blend it while the soup is still warm eliminating the need to wait for it cool down and reheat ( unlike traditional blenders )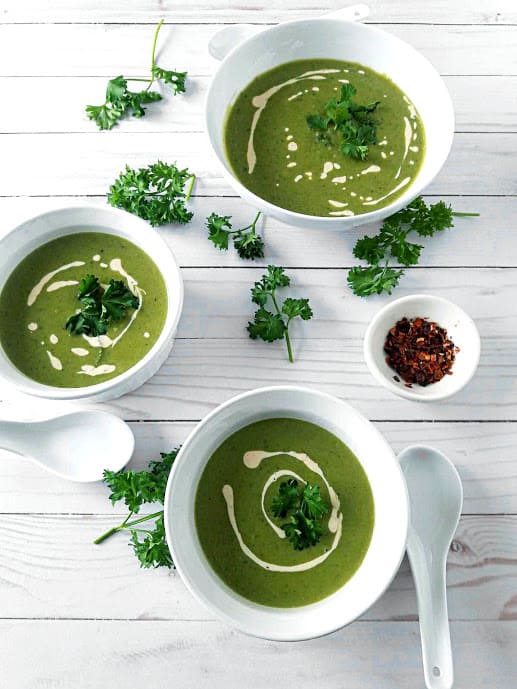 If you make this Green Pea and Mint Soup , do let us know how you like it by ★ star rating it and leaving a comment below. We would love to hear your feedback !! Use the PIN button to pin the recipe.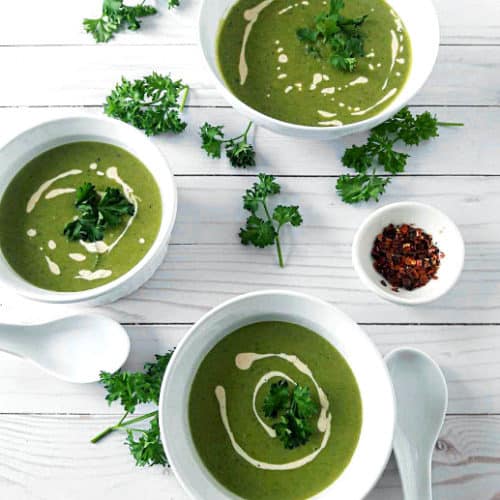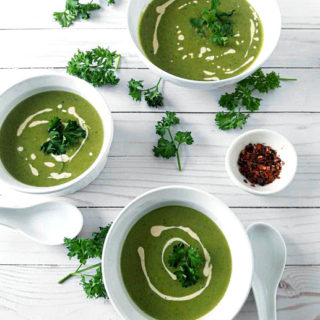 Green Pea and Mint Soup
Green Pea and Mint Soup is refreshingly delicious soup that celebrates the spring and summer seasonal produce. The light and velvety soup is vegan, GF and easy to prepare.
Ingredients
1

tablespoon

oil

1

onion

rough chopped

4

cloves

of garlic minced

4

cups

green peas fresh or frozen

6

cups

vegetable broth

½

cup

mint leaves

Juice of 1 lemon

Salt and pepper per taste
Instructions
InstantPot Directions
Turn on the Sauté button on your Instant Pot and add the oil. When heated, add the onions and sauté for 2-3 minutes until slightly translucent.

Add garlic and continue to saute for a minute. Add green peas and mint leaves. Stir in vegetables broth or water. Mix everything well. Add salt and pepper. Check the taste of the seasoning.

Press CANCEL. Close the InstantPot lid with vent in sealing position. Select MANUAL high pressure and adjust to 4 minutes setting. InstantPot will come to pressure and do the cooking.

When it beeps after cooking, wait for 5 minutes on KEEP WARM timer and then release the leftover pressure manually. Carefully open the lid.

Using the immersion blender, blend the soup well. It will make the soup creamy, velvety and thicken it further. Check the seasoning. Add a good squeeze of lemon juice and mix well.

Pour in a serving bowl with ladle. Serve warm or at room temperature. Enjoy your delicious creation!!
Stove Top Instructions
In a large pot, warm the oil and add the onion and garlic and let them sizzle some. about 5 minutes.

Add the peas, mint leaves and vegetable broth and let it come to boil. About 5 minutes.

Cover and let it cook for 5 minutes on medium heat until peas are mushy soft. Turn off the heat.

Using the immersion blender, blend the soup well. Check the seasoning. Add a good squeeze of lemon juice and mix well. Serve warm or cold. Enjoy your delicious creation!!
Nutrition
Serving:
1
g
Calories:
206
kcal
Carbohydrates:
34
g
Protein:
10
g
Fat:
4
g
Polyunsaturated Fat:
3
g
Sodium:
1086
mg
Fiber:
10
g
Sugar:
13
g