It's been a gorgeous summer season so far here in Chicago. Schools are out and kids are having blast with relaxed schedules and leisurely activities. In my mind, perfect summer is with long weekend with lots of sunshine, great food and time spent with family and friends. Currently we are on repeat for this delicate, flavorful version of snow cones aka watermelon mint popsicles. Make it in bowl or tray to scoop it or make it like an ice cone to slurp it –fun is to munch on these icy treat when temperatures are soaring above average outside and you need a thirst quencher. A wonderful way to beat the heat with this incredibly refreshing icy treat.
Watermelon the quintessential summer favorite! Every summer we make it over and over again. When the star ingredient is watermelon, which we always seem to have in our house during the summer months. Eating seasonal produce makes you stay close to the nature isn't it ? Lemonade is another one. I fell that a big glass container filled with lemonade is sign of inviting home Adding a pinch of salt on watermelon makes it even tastier. The breezy long summer days call for indulging in these no cook, easy to make recipes. Get your little munchkins involved in making them. After all, summer is time spent with family and friends and summer is hoping that it never ends!!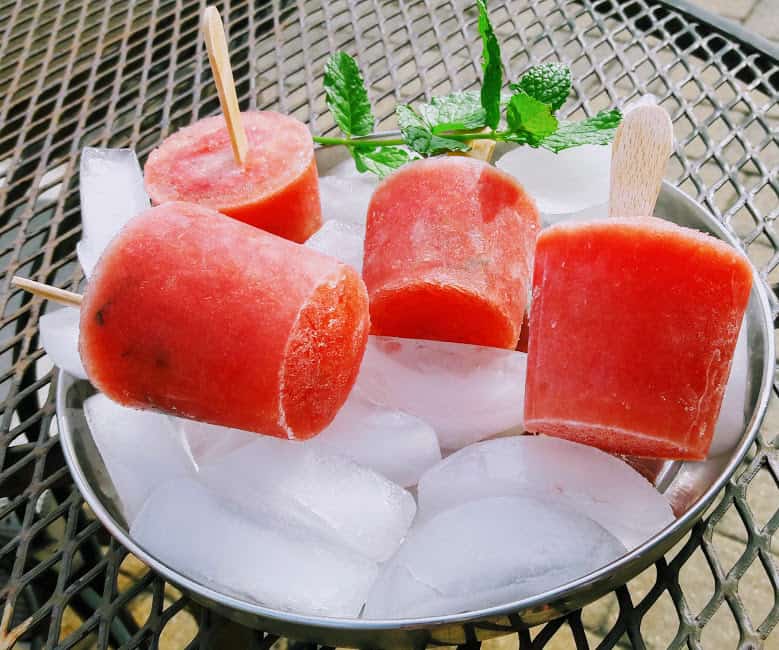 This is one of the very easy recipes to make. However, the presentation of these will score very high for you. Kids are in awe when they see these chilled colorful treats. All natural ingredients creating super sensational summer treat. Dairy free, Gluten free , Nourishing Healthy Snack – and No added sugar or colors !!! So indulge generously and guilt free !!
Ingredient:
3 cups fresh watermelon juice
1 tbsp. lime juice
1 Spring of fresh Mint (about 10-12 leaves)
1 tsp. Pink Himalayan Salt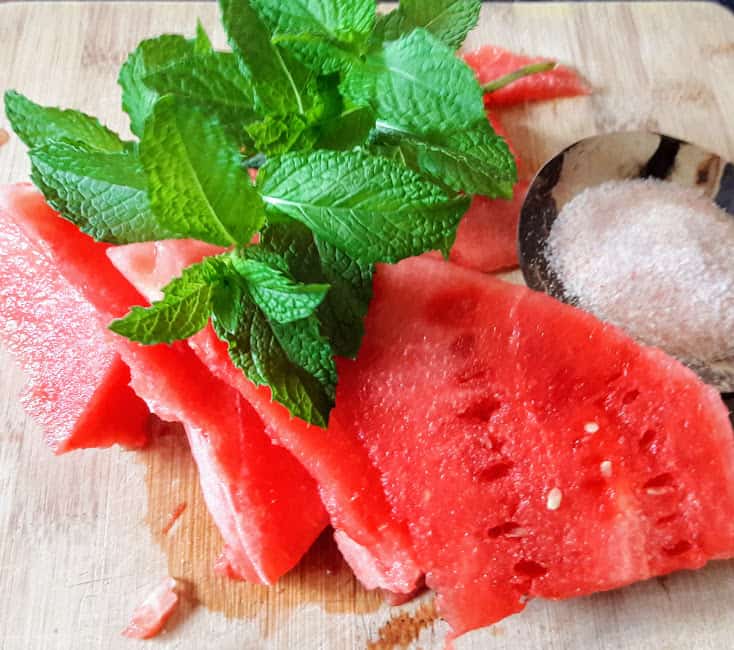 Directions:
Place watermelon chunks in the blender and blend until smooth. I use seedless watermelon. So I don't sieve it. In case you have seeds in yours's, then pour the watermelon juice through a fine mesh sieve to make sure you discard any seeds and pieces.
Mix in the lime juice and salt. Add chopped mint leaves. Mix everything together well.
Pour the mixture into the mold. I used reusable paper cups. Fill it ¾ cup. You can use Popsicle molds, or even flat Pyrex dish to make it like a granita. Cover with plastic wrap, insert Popsicle stick in the middle if using the cups. Place into the freezer.
Freeze the mixture until the edges begin to set, about 2 hours. Times will vary depending of the type of mold used.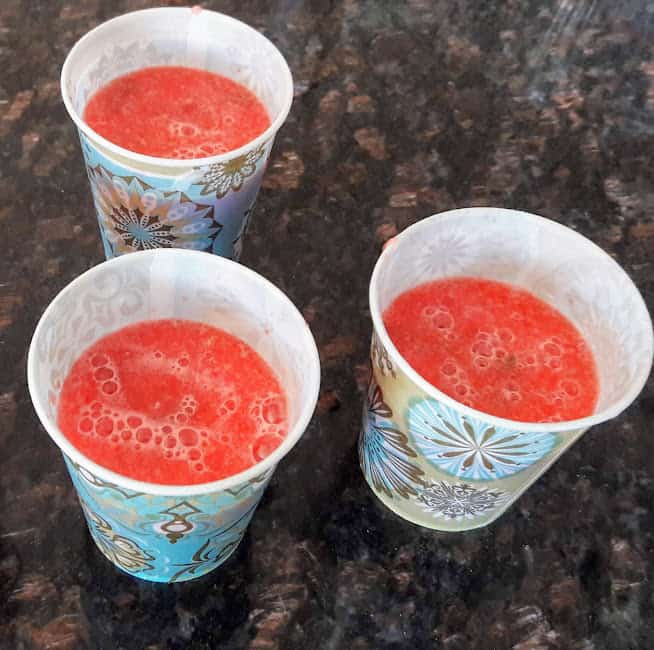 Check after about 2 hours and your refreshing treat should be ready. It should have grainy, icy texture to it. In case you feel it's watery, keep it longer.
Your pretty and delightful summer treat is ready. Easy breezy beautiful cool treat !!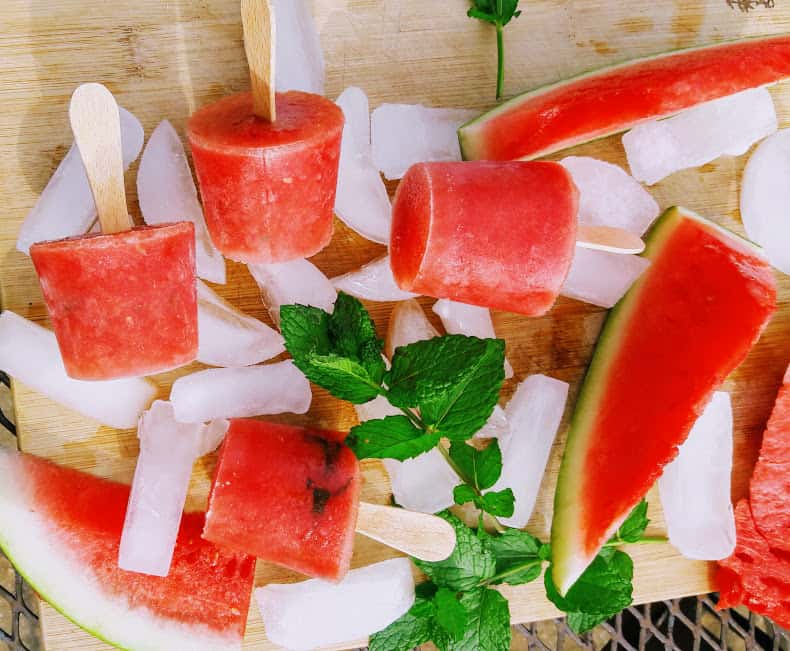 Notes:
Watermelon pairs well with any citrus fruit. For variations, you can use limes, clementine or blood oranges too.
For some exotic taste, add tablespoon of rose water to above mixture. It gives very unique and exotic taste. It's often adds a wow factor on pool parties even for the adults.
♥ We would love to hear your feedback . Do let us know how you like this post by leaving a comment and rating it so other readers know it too. And while you're at it, take a picture and tag it #profusioncurry on Instagram! We love seeing what you come up with. Cheers, friends !!